Abstract
The aim of this study was to evaluate the mutation profile of BRAF wild-type craniopharyngiomas and ameloblastomas. Pre-screening by immunohistochemistry and pyrosequencing for identifying BRAF wild-type tumors was performed on archived specimens of ameloblastic tumors (n = 20) and craniopharyngiomas (n = 62). Subsequently, 19 BRAF wild-type tumors (nine ameloblastic tumors and ten craniopharyngiomas) were analyzed further using next-generation sequencing (NGS) targeting hot spot mutations of 22 cancer-related genes. Thereby, we found craniopharyngiomas mainly CTNNB1 mutated (8/10), including two FGFR3/CTNNB1-double mutated tumors. Ameloblastic tumors were often FGFR2 mutated (4/9; including one FGFR2/TP53/PTEN-triple mutated case) and rarely CTNNB1/TP53-double mutated (1/9) and KRAS-mutated (1/9). In the remaining samples, no mutation could be detected in the 22 genes under investigation. In conclusion, mutation profiles of BRAF wild-type craniopharyngiomas and ameloblastomas share mutations of FGFR genes and have additional mutations with potential for targeted therapy.
This is a preview of subscription content, log in to check access.
Access options
Buy single article
Instant access to the full article PDF.
US$ 39.95
Price includes VAT for USA
Subscribe to journal
Immediate online access to all issues from 2019. Subscription will auto renew annually.
US$ 199
This is the net price. Taxes to be calculated in checkout.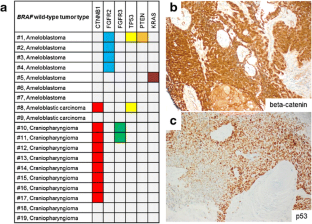 References
1.

Schiebler TH, Schmidt W, Zilles K (1995) Anatomie. Springer, Berlin

2.

Sekine S, Takata T, Shibata T, Mori M, Morishita Y, Noguchi M, Uchida T, Kanai Y, Hirohashi S (2004) Expression of enamel proteins and LEF1 in adamantinomatous craniopharyngioma: evidence for its odontogenic epithelial differentiation. Histopathology 45:573–579

3.

Negoto T, Sakata K, Aoki T, Orito K, Nakashima S, Hirohata M, Sugita Y, Morioka M (2015) Sequential pathological changes during malignant transformation of a craniopharyngioma: a case report and review of the literature. Surg Neurol Int 6:50

4.

Li J, DU H, Li P, Zhang J, Tian W, Tang W (2014) Ameloblastic carcinoma: an analysis of 12 cases with a review of the literature. Oncol Lett 8:914–920

5.

Heikinheimo K, Kurppa KJ, Elenius K (2015) Novel targets for the treatment of ameloblastoma. J Dent Res 94:237–240

6.

Gomes CC, Diniz MG, Gomez RS (2014) Progress towards personalized medicine for ameloblastoma. J Pathol 232:488–491

7.

Gump JM, Donson AM, Birks DK, Amani VM, Rao KK, Griesinger AM, Kleinschmidt-DeMasters BK, Johnston JM, Anderson RC, Rosenfeld A, Handler M, Gore L, Foreman N, Hankinson TC (2015) Identification of targets for rational pharmacological therapy in childhood craniopharyngioma. Acta Neuropathol Commun 3:30

8.

Kurppa KJ, Catón J, Morgan PR, Ristimäki A, Ruhin B, Kellokoski J, Elenius K, Heikinheimo K (2014) High frequency of BRAF V600E mutations in ameloblastoma. J Pathol 232:492–498

9.

Brown NA, Rolland D, McHugh JB, Weigelin HC, Zhao L, Lim MS, Elenitoba-Johnson KS, Betz BL (2014) Activating FGFR2-RAS-BRAF mutations in ameloblastoma. Clin Cancer Res 20:5517–5526

10.

Pakneshan S, Salajegheh A, Smith RA, Lam AK (2013) Clinicopathological relevance of BRAF mutations in human cancer. Pathology 45:346–356

11.

Brastianos PK, Taylor-Weiner A, Manley PE, Jones RT, Dias-Santagata D, Thorner AR, Lawrence MS, Rodriguez FJ, Bernardo LA, Schubert L, Sunkavalli A, Shillingford N, Calicchio ML, Lidov HG, Taha H, Martinez-Lage M, Santi M, Storm PB, Lee JY, Palmer JN, Adappa ND, Scott RM, Dunn IF, Laws ER Jr, Stewart C, Ligon KL, Hoang MP, Van Hummelen P, Hahn WC, Louis DN, Resnick AC, Kieran MW, Getz G, S S (2014) Exome sequencing identifies BRAF mutations in papillary craniopharyngiomas. Nat Genet 46:161–165

12.

Sekine S, Sato S, Takata T, Fukuda Y, Ishida T, Kishino M, Shibata T, Kanai Y, Hirohashi S (2003) Beta-catenin mutations are frequent in calcifying odontogenic cysts, but rare in ameloblastomas. Am J Pathol 163:1707–1712

13.

Bartels S, Lehmann U (2015) Analysis of mutational hotspots in routinely processed bone marrow trephines by pyrosequencing®. Methods Mol Biol 1315:103–114

14.

Bartels S, Schipper E, Hasemeier B, Kreipe H, Lehmann U (2016) Routine clinical mutation profiling using next generation sequencing and a customized gene panel improves diagnostic precision in myeloid neoplasms. Oncotarget 7:30084–30093

15.

Lemound J, Schenk M, Keller G, Stucki-Koch A, Witting S, Kreipe H, Hussein K (2017) Cytogenetic and immunohistochemical biomarker profiling of therapy-relevant factors in salivary gland carcinomas. J Oral Pathol Med 45:655–663

16.

Diniz MG, Duarte AP, Villacis RA, Guimarães BV, Duarte LC, Rogatto SR, Gomez RS, Gomes CC (2016) Rare copy number alterations and copy-neutral loss of heterozygosity revealed in ameloblastomas by high-density whole-genome microarray analysis. J Oral Pathol Med 46:371–376. https://doi.org/10.1111/jop.12505

17.

Brastianos PK, Shankar GM, Gill CM, Taylor-Weiner A, Nayyar N, Panka DJ, Sullivan RJ, Frederick DT, Abedalthagafi M, Jones PS, Dunn IF, Nahed BV, Romero JM, Louis DN, Getz G, Cahill DP, Santagata S, Curry WT Jr, Barker FG 2nd (2015) Dramatic response of BRAF V600E mutant papillary craniopharyngioma to targeted therapy. J Natl Cancer Inst 108:djv310

18.

Tan S, Pollack JR, Kaplan MJ, Colevas AD, West RB (2016) BRAF inhibitor treatment of primary BRAF-mutant ameloblastoma with pathologic assessment of response. Oral Surg Oral Med Oral Pathol Oral Radiol 122:e5–e7

19.

Kaye FJ, Ivey AM, Drane WE, Mendenhall WM, Allan RW (2014) Clinical and radiographic response with combined BRAF-targeted therapy in stage 4 ameloblastoma. J Natl Cancer Inst 107:378

20.

Hussain I, Eloy JA, Carmel PW, Liu JK (2013) Molecular oncogenesis of craniopharyngioma: current and future strategies for the development of targeted therapies. J Neurosurg 119:106–112

21.

Gomes DC, Jamra SA, Leal LF, Colli LM, Campanini ML, Oliveira RS, Jr Martinelli CE, Elias PC, Moreira AC, Machado HR, Saggioro F, Neder L, Castro M, Antonini SR (2015) Sonic hedgehog pathway is upregulated in adamantinomatous craniopharyngiomas. Eur J Endocrinol 172:603–608

22.

Katoh M (2016) FGFR inhibitors: effects on cancer cells, tumor microenvironment and whole-body homeostasis (Review). Int J Mol Med 38:3–15

23.

Oikonomou E, Koustas E, Goulielmaki M, Pintzas A (2014) BRAF vs RAS oncogenes: are mutations of the same pathway equal? Differential signalling and therapeutic implications. Oncotarget 5:11752–11777
Funding
This study was funded by "Niedersächsische Krebsgesellschaft, e.V." (Hannover, DE).
Ethics declarations
Conflict of interest
The authors declare that they have no conflict of interest.
About this article
Cite this article
Bartels, S., Adisa, A., Aladelusi, T. et al. Molecular defects in BRAF wild-type ameloblastomas and craniopharyngiomas—differences in mutation profiles in epithelial-derived oropharyngeal neoplasms. Virchows Arch 472, 1055–1059 (2018). https://doi.org/10.1007/s00428-018-2323-3
Received:

Revised:

Accepted:

Published:

Issue Date:
Keywords
BRAF
CTNNB1, FGFR

Ameloblastoma

Ameloblastic carcinoma

Craniopharyngioma