Abstract
Ewing's sarcoma family of tumors (ESFT) are aggressive neoplasms with scant tumor-infiltrating lymphocytes. We analyzed the immunohistochemical (IHC) expression of PD-L1 and PD-1 and their prognostic significance in clinically localized neoplasms in a cohort of 370 ESFT. Slides prepared from tissue microarrays were stained for PD-L1, PD-1, and CD8. Membranous/cytoplasmic staining over 5% of tumor cells was regarded as positive for PD-L1 and PD-1. Prognostic analysis was done considering only clinically localized tumors (n = 217). PD-L1 expression was present in 19% of ESFT, while PD-1 was expressed in 26%. Forty-eight percent of tumors were negative and 12% were positive for both PD-L1 and PD-1. Metastatic tumors displayed higher expression of PD-L1 (p < 0.0001). Histological subtypes were not correlated with PD-L1 or PD-1 positivity. ESFT with elevated proliferation index (Ki-67) were associated with higher PD-L1 expression (p = 0.049). Regarding prognosis, no significant association was found between PD-L1 expression and progression-free survival (PFS) or overall survival (OS), whereas lack of PD-1 expression in tumor cells was correlated with both poor PFS (p = 0.02) and poor OS (p = 0.004). Tumor-infiltrating CD8(+) T lymphocytes were observed in 15.4% of ESFT with informative results (347 tumors). No correlation was found between tumor-infiltrating CD8(+) T lymphocytes and ESFT histological subtypes, tumor location, or PD-1 and PD-L1 expression, nor with PFS (p = 0.473) or OS (p = 0.087). PD-L1 expression was not significantly related to prognosis. PD-1 was expressed in 26% of ESFT tumor cells and may have prognostic and therapeutic implications. CD8 expression in tumor-infiltrating lymphocytes was not related to prognosis.
This is a preview of subscription content, log in to check access.
Access options
Buy single article
Instant access to the full article PDF.
US$ 39.95
Price includes VAT for USA
Subscribe to journal
Immediate online access to all issues from 2019. Subscription will auto renew annually.
US$ 199
This is the net price. Taxes to be calculated in checkout.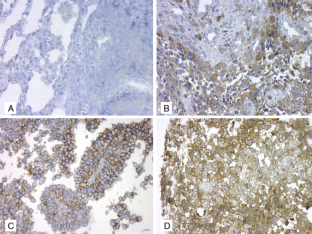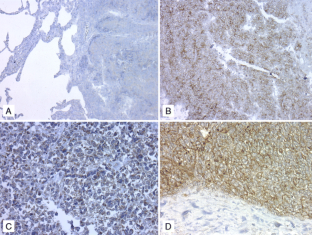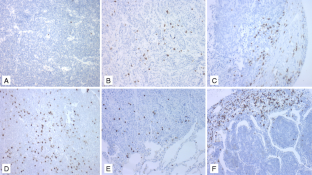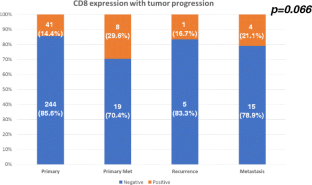 References
1.

Kovar H, Amatruda J, Brunet E, Burdach S, Cidre-Aranaz F, de Alava E, Dirksen U, van der Ent W, Grohar P, Grünewald TG, Helman L, Houghton P, Iljin K, Korsching E, Ladanyi M, Lawlor E, Lessnick S, Ludwig J, Meltzer P, Metzler M, Mora J, Moriggl R, Nakamura T, Papamarkou T, Radic Sarikas B, Rédini F, Richter GH, Rossig C, Schadler K, Schäfer BW, Scotlandi K, Sheffield NC, Shelat A, Snaar-Jagalska E, Sorensen P, Stegmaier K, Stewart E, Sweet-Cordero A, Szuhai K, Tirado OM, Tirode F, Toretsky J, Tsafou K, Üren A, Zinovyev A, Delattre O (2016) The second European interdisciplinary Ewing sarcoma research summit—a joint effort to deconstructing the multiple layers of a complex disease. Oncotarget 7:8613–8624. https://doi.org/10.18632/oncotarget.6937

2.

Folpe AL, Goldblum JR, Rubin BP, Shehata BM, Liu W, Dei Tos AP, Weiss SW (2005) Morphologic and immunophenotypic diversity in Ewing family tumors: a study of 66 genetically confirmed cases. Am J Surg Pathol 29:1025–1033

3.

de Alava E (2017) Ewing sarcoma, an update on molecular pathology with therapeutic implications. Surg Pathol Clin 10:575–585. https://doi.org/10.1016/j.path.2017.04.001

4.

Llombart-Bosch A, Machado I, Navarro S, Bertoni F, Bacchini P, Alberghini M, Karzeladze A, Savelov N, Petrov S, Alvarado-Cabrero I, Mihaila D, Terrier P, Lopez-Guerrero JA, Picci P (2009) Histological heterogeneity of Ewing's sarcoma/PNET: an immunohistochemical analysis of 415 genetically confirmed cases with clinical support. Virchows Arch 455:397–411. https://doi.org/10.1007/s00428x-009-0842-7

5.

Kager L, Whelan J, Dirksen U, Hassan B, Anninga J, Bennister L, Bovée JVMG, Brennan B, Broto JM, Brugières L, Cleton-Jansen AM, Copland C, Dutour A, Fagioli F, Ferrari S, Fiocco M, Fleuren E, Gaspar N, Gelderblom H, Gerrand C, Gerß J, Gonzato O, van der Graaf W, Hecker-Nolting S, Herrero-Martín D, Klco-Brosius S, Kovar H, Ladenstein R, Lancia C, LeDeley MC, McCabe MG, Metzler M, Myklebost O, Nathrath M, Picci P, Potratz J, Redini F, Richter GHS, Reinke D, Rutkowski P, Scotlandi K, Strauss S, Thomas D, Tirado OM, Tirode F, Vassal G, Bielack SS (2016) The ENCCA-WP7/EuroSarc/EEC/PROVABES/EURAMOS 3rd European bone sarcoma networking meeting/joint workshop of EU bone sarcoma translational research networks; Vienna, Austria, September 24-25, 2015. Workshop report. Clin Sarcoma Res 16(6):3

6.

Bacci G, Ferrari S, Bertoni F, Rimondini S, Longhi A, Bacchini P, Forni C, Manfrini M, Donati D, Picci P (2000) Prognostic factors in nonmetastatic Ewing's sarcoma of bone treated with adjuvant chemotherapy: analysis of 359 patients at the Istituto Ortopedico Rizzoli. J Clin Oncol 18:4–11. https://doi.org/10.1200/JCO.2000.18.1.4

7.

Gaspar N, Hawkins DS, Dirksen U, Lewis IJ, Ferrari S, Le Deley MC, Kovar H, Grimer R, Whelan J, Claude L, Delattre O, Paulussen M, Picci P, Sundby Hall K, van den Berg H, Ladenstein R, Michon J, Hjorth L, Judson I, Luksch R, Bernstein ML, Marec-Bérard P, Brennan B, Craft AW, Womer RB, Juergens H, Oberlin O (2015) Ewing sarcoma: current management and future approaches through collaboration. J Clin Oncol 33:3036–3046. https://doi.org/10.1200/JCO.2014.59.5256

8.

Cotterill SJ, Ahrens S, Paulussen M, Jürgens HF, Voûte PA, Gadner H, Craft AW (2000) Prognostic factors in Ewing's tumor of bone: analysis of 975 patients from the European intergroup cooperative Ewing's sarcoma study group. J Clin Oncol 18:3108–3114. https://doi.org/10.1200/JCO.2000.18.17.3108

9.

Ahmed SK, Robinson SI, Okuno SH, Rose PS, Issa Laack NN (2014) Adult Ewing sarcoma: survival and local control outcomes in 36 patients with metastatic disease. Am J Clin Oncol 37:423–429. https://doi.org/10.1097/COC.0b013e31827de65e

10.

Arpaci E, Yetisyigit T, Seker M, Uncu D, Uyeturk U, Oksuzoglu B, Demirci U, Coskun U, Kucukoner M, Isıkdogan A, Inanc M, Alkis N, Ozkan M (2013) Prognostic factors and clinical outcome of patients with Ewing's sarcoma family of tumors in adults: multicentric study of the Anatolian Society of Medical Oncology. Med Oncol 30:469. https://doi.org/10.1007/s12032-013-0469-z

11.

Pan HY, Morani A, Wang WL, Hess KR, Paulino AC, Ludwig JA, Lin PP, Daw NC, Mahajan A (2015) Prognostic factors and patterns of relapse in Ewing sarcoma patients treated with chemotherapy and R0 resection. Int J Radiat Oncol Biol Phys 92:349–357. https://doi.org/10.1016/j.ijrobp.2015.01.022

12.

Uyeturk U, Helvaci K, Demirci A, Sonmez OU, Turker I, Afsar, Zengin N (2016) Clinical outcomes and prognostic factors of adult's Ewing sarcoma family of tumors: single center experience. Contemp Oncol 20:141–146. https://doi.org/10.5114/wo.2016.58487

13.

Ashour M, Shammari S, Shafik H, Mohialdien A (2017) Prognosis and outcome of adult patients with Ewing sarcoma (local experience). J Cancer Therapy 8:764–772. https://doi.org/10.4236/jct.2017.88066

14.

Ladenstein R, Pötschger U, Le Deley MC, Whelan J, Paulussen M, Oberlin O, van den Berg H, Dirksen U, Hjorth L, Michon J, Lewis I, Craft A, Jürgens H (2010) Primary disseminated multifocal Ewing sarcoma: results of the euro-EWING 99 trial. J Clin Oncol 28:3284–3291. https://doi.org/10.1200/JCO.2009.22.9864

15.

McCaughan GJ, Fulham MJ, Mahar A, Soper J, Hong AM, Stalley PD, Tattersall MH, Bhadri VA (2016) Programmed cell death-1 blockade in recurrent disseminated Ewing sarcoma. J Hematol Oncol 9:48. https://doi.org/10.1186/s13045-016-0278-x

16.

Pardoll DM (2012) The blockade of immune checkpoints in cancer immunotherapy. Nat Rev Cancer 12:252–264. https://doi.org/10.1038/nrc3239

17.

Taube JM, Klein A, Brahmer JR, Xu H, Pan X, Kim JH, Chen L, Pardoll DM, Topalian SL, Anders RA (2014) Association of PD-1, PD-1 ligands, and other features of the tumor immune microenvironment with response to anti-PD-1 therapy. Clin Cancer Res 20:5064–5074. https://doi.org/10.1158/1078-0432.CCR-13-3271

18.

Wang X, Teng F, Kong L, Yu J (2016) PD-L1 expression in human cancers and its association with clinical outcomes. Onco Targets Ther 9:5023–5039. https://doi.org/10.2147/OTT.S105862

19.

Zheng P, Zhou Z (2015) Human cancer immunotherapy with PD-1/PD-L1 blockade. Biomark Cancer 7(Suppl 2):15–18. https://doi.org/10.4137/BIC.S29325

20.

Chen L, Han X (2015) Anti-PD-1/PD-L1 therapy of human cancer: past, present, and future. J Clin Invest 125:3384–3391. https://doi.org/10.1172/JCI80011

21.

Scognamiglio G, De Chiara A, Di Bonito M, Tatangelo F, Losito NS, Anniciello A, De Cecio R, D'Alterio C, Scala S, Cantile M, Botti G (2016) Variability in Immunohistochemical detection of programmed death ligand 1 (PD-L1) in cancer tissue types. Int J Mol Sci 17(5e):21

22.

Sholl LM, Aisner DL, Allen TC, Beasley MB, Borczuk AC, Cagle PT, Capelozzi V, Dacic S, Hariri L, Kerr KM, Lantuejoul S, Mino-Kenudson M, Raparia K, Rekhtman N, Roy-Chowdhuri S, Thunnissen E, Tsao MS, Yatabe Y, Members of Pulmonary Pathology Society (2016) Programmed death ligand-1 immunohistochemistry—a new challenge for pathologists: a perspective from members of the pulmonary pathology society. Arch Pathol Lab Med 140(4):341–344

23.

Garon EB, Rizvi NA, Hui R, Leighl N, Balmanoukian AS, Eder JP, Patnaik A, Aggarwal C, Gubens M, Horn L, Carcereny E, Ahn MJ, Felip E, Lee JS, Hellmann MD, Hamid O, Goldman JW, Soria JC, Dolled-Filhart M, Rutledge RZ, Zhang J, Lunceford JK, Rangwala R, Lubiniecki GM, Roach C, Emancipator K, Gandhi L, KEYNOTE-001Investigators (2015) Pembrolizumab for the treatment of non-small-cell lung cancer. N Engl J Med 372(21):2018–2028. https://doi.org/10.1056/NEJMoa1501824

24.

Schmidt LH, Kümmel A, Görlich D, Mohr M, Bröckling S, Mikesch JH, Grünewald I, Marra A, Schultheis AM, Wardelmann E, Müller-Tidow C, Spieker T, Schliemann C, Berdel WE, Wiewrodt R, Hartmann W (2015) PD-1 and PD-L1 expression in NSCLC indicate a favorable prognosis in defined subgroups. PLoS One 10(8):e0136023. https://doi.org/10.1371/journal.pone.0136023

25.

Brahmer J, Reckamp KL, Baas P, Crinò L, Eberhardt WE, Poddubskaya E, Antonia S, Pluzanski A, Vokes EE, Holgado E, Waterhouse D, Ready N, Gainor J, Arén Frontera O, Havel L, Steins M, Garassino MC, Aerts JG, Domine M, Paz-Ares L, Reck M, Baudelet C, Harbison CT, Lestini B, Spigel DR (2015) Nivolumab versus docetaxel in advanced squamous-cell non-small-cell lung cancer. N Engl J Med 373(2):123–135. https://doi.org/10.1056/NEJMoa1504627

26.

Takada K, Okamoto T, Toyokawa G, Kozuma Y, Matsubara T, Haratake N, Akamine T, Takamori S, Katsura M, Shoji F, Oda Y, Maehara Y (2017) The expression of PD-L1 protein as a prognostic factor in lung squamous cell carcinoma. Lung Cancer 104:7–15. https://doi.org/10.1016/j.lungcan.2016.12.006

27.

D'Incecco A, Andreozzi M, Ludovini V, Rossi E, Capodanno A, Landi L, Tibaldi C, Minuti G, Salvini J, Coppi E, Chella A, Fontanini G, Filice ME, Tornillo L, Incensati RM, Sani S, Crinò L, Terracciano L, Cappuzzo F (2015) PD-1 and PD-L1 expression in molecularly selected non-small-cell lung cancer patients. Br J Cancer 112(1):95–102. https://doi.org/10.1038/bjc.2014.555

28.

Darb-Esfahani S, Kunze CA, Kulbe H, Sehouli J, Wienert S, Lindner J, Budczies J, Bockmayr M, Dietel M, Denkert C, Braicu I, Jöhrens K (2016) Prognostic impact of programmed cell death-1 (PD-1) and PD-ligand 1 (PD-L1) expression in cancer cells and tumor-infiltrating lymphocytes in ovarian high grade serous carcinoma. Oncotarget 7(2):1486–1499. https://doi.org/10.18632/oncotarget.6429

29.

Leite KRM, Reis ST, Junior JP, Zerati M, Gomes DO, Camara-Lopes LH, Srougi M (2015) PD-L1 expression in renal cell carcinoma clear cell type is related to unfavorable prognosis. Diagn Pathol 10(1):189. https://doi.org/10.1186/s13000-015-0414-x

30.

Botta GP, Granowicz E, Costantini C (2017) Advances on immunotherapy in genitourinary and renal cell carcinoma. Transl Cancer Res 6(1):17–29. https://doi.org/10.21037/tcr.2017.02.09

31.

Espinosa E, Márquez-Rodas I, Soria A, Berrocal A, Manzano JL, Gonzalez-Cao M, Martin-Algarra S, Spanish Melanoma Group (GEM) (2017) Predictive factors of response to immunotherapy—a review from the Spanish melanoma group (GEM). Ann Transl Med 5:189

32.

Alessi C, Scapulatempo Neto C, Viana CR, Vazquez VL (2017) PD-1/PD-L1 and VEGF-A/VEGF-C expression in lymph node microenvironment and association with melanoma metastasis and survival. Melanoma Res 27(6):565–572. https://doi.org/10.1097/CMR.0000000000000396

33.

Jacquelot N, Roberti MP, Enot DP, Rusakiewicz S, Ternès N, Jegou S, Woods DM, Sodré AL, Hansen M, Meirow Y, Sade-Feldman M, Burra A, Kwek SS, Flament C, Messaoudene M, Duong CPM, Chen L, Kwon BS, Anderson AC, Kuchroo VK, Weide B, Aubin F, Borg C, Dalle S, Beatrix O, Ayyoub M, Balme B, Tomasic G, Di Giacomo AM, Maio M, Schadendorf D, Melero I, Dréno B, Khammari A, Dummer R, Levesque M, Koguchi Y, Fong L, Lotem M, Baniyash M, Schmidt H, Svane IM, Kroemer G, Marabelle A, Michiels S, Cavalcanti A, Smyth MJ, Weber JS, Eggermont AM, Zitvogel L (2017) Predictors of responses to immune checkpoint blockade in advanced melanoma. Nat Commun 8(1):592. https://doi.org/10.1038/s41467-017-00608-2

34.

Amaral T, Meraz-Torres F, Garbe C (2017) Immunotherapy in managing metastatic melanoma: which treatment when? Expert Opin Biol Ther 17(12):1523–1538. https://doi.org/10.1080/14712598.2017.1378640

35.

Wolchok JD, Chiarion-Sileni V, Gonzalez R, Rutkowski P, Grob JJ, Cowey CL, Lao CD, Wagstaff J, Schadendorf D, Ferrucci PF, Smylie M, Dummer R, Hill A, Hogg D, Haanen J, Carlino MS, Bechter O, Maio M, Marquez-Rodas I, Guidoboni M, McArthur G, Lebbé C, Ascierto PA, Long GV, Cebon J, Sosman J, Postow MA, Callahan MK, Walker D, Rollin L, Bhore R, Hodi FS, Larkin J (2017) Overall survival with combined Nivolumab and Ipilimumab in advanced melanoma. N Engl J Med 377(14):1345–1356. https://doi.org/10.1056/NEJMoa1709684

36.

Robert C, Long GV, Brady B (2015) Nivolumab in previously untreated melanoma without BRAF mutation. N Engl J Med 372(4):320–330. https://doi.org/10.1056/NEJMoa1412082

37.

D'Angelo SP, Shoushtari AN, Agaram NP, Kuk D, Qin LX, Carvajal RD, Dickson MA, Gounder M, Keohan ML, Schwartz GK, Tap WD (2015) Prevalence of tumor-infiltrating lymphocytes and PD-L1 expression in the soft tissue sarcoma microenvironment. Hum Pathol 46(3):357–365. https://doi.org/10.1016/j.humpath.2014.11.001

38.

Aoki T, Hino M, Koh K, Kyushiki M, Kishimoto H, Arakawa Y, Motohashi S (2016) Low frequency of programmed death ligand 1 expression in pediatric cancers. Pediatr Blood Cancer 63(8):1461–1464. https://doi.org/10.1002/pbc.26018

39.

Mackall CL, Rhee EH, Read EJ, Khuu HM, Leitman SF, Bernstein D, Tesso M, Long LM, Grindler D, Merino M, Kopp W, Tsokos M, Berzofsky JA, Helman LJ (2008) A pilot study of consolidative immunotherapy in patients with high-risk pediatric sarcomas. Clin Cancer Res 14(15):4850–4858. https://doi.org/10.1158/1078-0432.CCR-07-4065

40.

Merchant MS, Bernstein D, Amoako M, Baird K, Fleisher TA, Morre M, SteinbergSM SM, Stroncek DF, Venkatasan AM, Wood BJ, Wright M, Zhang H, Mackall CL (2016) Adjuvant immunotherapy to improve outcome in high-risk pediatric sarcomas. Clin Cancer Res 22(13):3182–3191. https://doi.org/10.1158/1078-0432.CCR-15-2550

41.

Paydas S, Bagir EK, Deveci MA, Gonlusen G (2016) Clinical and prognostic significance of PD-1 and PD-L1 expression in sarcomas. Med Oncol 33(8):93. https://doi.org/10.1007/s12032-016-0807-z

42.

Kim C, Kim EK, Jung H, Chon HJ, Han JW, Shin KH, Hu H, Kim KS, Choi YD, Kim S, Lee YH, Suh JS, Ahn JB, Chung HC, Noh SH, Rha SY, Kim SH, Kim HS (2016) Prognostic implications of PD-L1 expression in patients with soft tissue sarcoma. BMC Cancer 16(1):434. https://doi.org/10.1186/s12885-016-2451-6

43.

Kim JR, Moon YJ, Kwon KS, Bae JS, Wagle S, Kim KM, Park HS, Lee H, Moon WS, Chung MJ, Kang MJ, Jang KY (2013) Tumor infiltrating PD1-positive lymphocytes and the expression of PD-L1 predict poor prognosis of soft tissue sarcomas. PLoS One 8(12):e82870. https://doi.org/10.1371/journal.pone.0082870

44.

Raj S, Bui M, Gonzales R, Letson D, Antonia SJ (2014) Impact of PDL1 expression on clinical outcomes in subtypes of sarcoma. Ann Oncol 25:iv494–iv510

45.

Spurny C, Kailayangiri S, Jamitzky S, Altvater B, Wardelmann E, Dirksen U, Hardes J, Hartmann W, Rossig C (2017) Programmed cell death ligand 1 (PD-L1) expression is not a predominant feature in Ewing sarcomas. Pediatr Blood Cancer. https://doi.org/10.1002/pbc.26719

46.

Pinto N, Park JR, Murphy E, Yearley J, McClanahan T, Annamalai L, Hawkins DS, Rudzinski ER (2017) Patterns of PD-1, PD-L1, and PD-L2 expression in pediatric solid tumors. Pediatr Blood Cancer. https://doi.org/10.1002/pbc.26613

47.

van Erp AEM, Versleijen-Jonkers YMH, Hillebrandt-Roeffen MHS, van Houdt L, Gorris MAJ, van Dam LS, Mentzel T, Weidema ME, Savci-Heijink CD, Desar IME, Merks HHM, van Noesel MM, Shipley J, van der Graaf WTA, Flucke UE, MeyerWentrup FAG (2017) Expression and clinical association of programmed cell death-1, programmed death-ligand-1 and CD8(+) lymphocytes in primary sarcomas is subtype dependent. Oncotarget 8(41):71371–71384. https://doi.org/10.18632/oncotarget.19071

48.

Chowdhury F, Dunn S, Mitchell S, Mellows T, Ashton-Key M, Gray JC (2015) PD-L1 and CD8+PD1+ lymphocytes exist as targets in the pediatric tumor microenvironment for immunomodulatory therapy. OncoImmunology 4:e1029701. https://doi.org/10.1080/2162402X.2015.1029701

49.

Crompton BD, Stewart C, Taylor-Weiner A, Alexe G, Kurek KC, Calicchio ML, Kiezun A, Carter SL, Shukla SA, Mehta SS, Thorner AR, de Torres C, Lavarino C, Suñol M, McKenna A, Sivachenko A, Cibulskis K, Lawrence MS, Stojanov P, Rosenberg M, Ambrogio L, Auclair D, Seepo S, Blumenstiel B, DeFelice M, Imaz-Rosshandler I, Schwarz-Cruz Y, Celis A, Rivera MN, Rodriguez-Galindo C, Fleming MD, Golub TR, Getz G, Mora J, Stegmaier K (2014) The genomic landscape of pediatric Ewing sarcoma. Cancer Discov 4(11):1326–1341. https://doi.org/10.1158/2159-8290.CD-13-1037

50.

Ahmadzadeh M, Johnson LA, Heemskerk B, Wunderlich JR, Dudley ME, White DE, Rosenberg SA (2009) Tumor antigen-specific CD8 T cells infiltrating the tumor express high levels of PD-1 and are functionally impaired. Blood 114(8):1537–1544. https://doi.org/10.1182/blood-2008-12-195792

51.

Berghuis D, Santos SJ, Baelde HJ, Taminiau AH, Egeler RM, Schilham MW, Hogendoorn PC, Lankester AC (2011) Pro-inflammatory chemokine-chemokine receptor interactions within the Ewing sarcoma microenvironment determine CD8(+) T-lymphocyte infiltration and affect tumour progression. J Pathol 223(3):347–357. https://doi.org/10.1002/path.2819

52.

Altvater B, Kailayangiri S, Theimann N, Ahlmann M, Farwick N, Chen C, Pscherer S, Neumann I, Mrachatz G, Hansmeier A, Hardes J, Gosheger G, Juergens H, Rossig C (2014) Common Ewing sarcoma-associated antigens fail to induce natural T cell responses in both patients and healthy individuals. Cancer Immunol Immunother 63(10):1047–1060. https://doi.org/10.1007/s00262-014-1574-3

53.

Berghuis D, de Hooge AS, Santos SJ, Horst D, Wiertz EJ, van Eggermond MC, van den Elsen PJ, Taminiau AH, Ottaviano L, Schaefer KL, Dirksen U, Hooijberg E, Mulder A, Melief CJ, Egeler RM, Schilham MW, Jordanova ES, Hogendoorn PC, Lankester AC (2009) Reduced human leukocyte antigen expression in advanced-stage Ewing sarcoma: implications for immune recognition. J Pathol 218(2):222–231. https://doi.org/10.1002/path.2537

54.

Koirala P, Roth ME, Gill J, Piperdi S, Chinai JM, Geller DS, Hoang BH, Park A, Fremed MA, Zang X, Gorlick R (2016) Immune infiltration and PD-L1 expression in the tumor microenvironment are prognostic in osteosarcoma. Sci Rep 6(1):30093. https://doi.org/10.1038/srep30093

55.

Gooden MJM, de Bock GH, Leffers N, Daemen T, Nijman HW (2011) The prognostic influence of tumour-infiltrating lymphocytes in cancer: a systematic review with meta-analysis. Br J Cancer 105(1):93–103. https://doi.org/10.1038/bjc.2011.189
Acknowledgments
The authors thank David Harrison for the English review and editing of the manuscript. The authors also thank Laura Martínez for her technical assistance.
Funding
This study was supported by grant no. 18814 from EuroBoNeT, grant from the IVO Foundation, and AIRC IG18451 (KS).
Ethics declarations
Conflict of interest
The authors declare that they have no conflict of interest.
About this article
Cite this article
Machado, I., López-Guerrero, J.A., Scotlandi, K. et al. Immunohistochemical analysis and prognostic significance of PD-L1, PD-1, and CD8+ tumor-infiltrating lymphocytes in Ewing's sarcoma family of tumors (ESFT). Virchows Arch 472, 815–824 (2018). https://doi.org/10.1007/s00428-018-2316-2
Received:

Revised:

Accepted:

Published:

Issue Date:
Keywords
Ewing sarcoma

PD-1

PD-L1

Immunohistochemistry

Prognostic factor