Abstract
In squamous cell carcinoma (SCC) of the lung, mutations within the genes of fibroblast growth factor receptors (FGFR) such as K660N/K660E in FGFR2 and R248C/S249C in FGFR3 and FGFR1 gene amplification have been described, but their prognostic relevance still remains unclear. In order to detect the mutation frequencies and to define their prognostic value for associated clinicopathologic features and survival of patients, resected ΔNp63/p40-positive SCC of the lung (n = 101) were screened for FGFR1 gene amplification by fluorescence in situ hybridization performed on formalin-fixed paraffin embedded tissues and for the presumed driver mutations in genes of FGFR2 and FGFR3 by PCR and Sanger sequencing. Twenty-two of 101 SCCs (22%) were positive for amplification based on a FGFR1/centromere (chromosome 8) ratio > 2.0 or higher. In advanced tumor stages (III–IV), the overall survival of patients carrying FGFR1 gene amplification was significantly higher (p = 0.006). Among women, FGFR1 gene amplification was significantly associated with longer overall survival (p = 0.023). The presence of FGFR1 gene amplification was associated with patient age (65 versus 69 years, p = 0.046), but not with gender, tumor stage, histologic subtype, tumor grade, or ΔNp63/p40 immunoreactivity. The S249C mutation in the FGFR3 gene was identified in one out of 101 SCCs (1%); the K600N, K660E, or R248C mutations were not identified. These results suggest that FGFR1 gene amplification is a frequent alteration in SCC of the lung and appears not to be a negative but rather a favorable prognostic marker for women and particularly for patients with advanced SCC of the lung (stage III–IV).
This is a preview of subscription content, log in to check access.
We're sorry, something doesn't seem to be working properly.
Please try refreshing the page. If that doesn't work, please contact support so we can address the problem.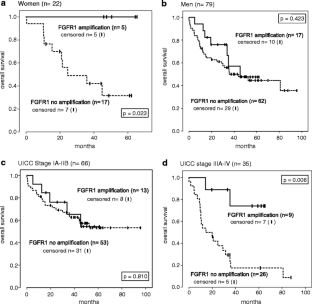 References
1.

Siegel RL, Miller KD, Jemal A (2015) Cancer statistics, 2015: cancer statistics, 2015. CA Cancer J Clin 65(1):5–29. https://doi.org/10.3322/caac.21254

2.

Stewart BW, & Kleihues P (eds)(203) World cancer report. Lyn

3.

Böcker W, Denk H, Heitz PU (eds) (2001) Pathologie, 2. Urban & Fischer, München Jena

4.

Travis WD (2014) The 2015 WHO classification of lung tumors. Pathologe 35(S2):188–188

5.

Xie F et al (2016) The clinical pathological characteristics and prognosis of FGFR1 gene amplification in non-small-cell lung cancer: a meta-analysis. OncoTargets Ther, 171–181. https://doi.org/10.2147/OTT.S91848

6.

Wang Y et al (2015) The role of FGFR1 gene amplification as a poor prognostic factor in squamous cell lung cancer: a meta-analysis of published data. Biomed Res Int 2015:1–10

7.

Miao J-L, Liu R-J, Zhou J-H, Meng S-H et al (2016) Fibroblast growth factor receptor 1 gene amplification in nonsmall cell lung cancer. Chin Med J 129(23):2868–2872. https://doi.org/10.4103/0366-6999.194649

8.

Knights V, Cook SJ (2010) De-regulated FGF receptors as therapeutic targets in cancer. 125(1):105-17. https://doi.org/10.1016/j.pharmthera.2009.10.001

9.

Hammerman PS, Lawrence MS, Voet D, Jing R, Cibulskis K, Sivachenko A, Stojanov P, McKenna A, Lander ES, Gabriel S, Getz G, Sougnez C, Imielinski M, Helman E, Hernandez B, Pho NH, Meyerson M, Chu A, Chun HJE, Mungall AJ, Pleasance E, Gordon Robertson A, Sipahimalani P, Stoll D, Balasundaram M, Birol I, Butterfield YSN, Chuah E, Coope RJN, Corbett R, Dhalla N, Guin R, He A, Hirst C, Hirst M, Holt RA, Lee D, Li HI, Mayo M, Moore RA, Mungall K, Ming Nip K, Olshen A, Schein JE, Slobodan JR, Tam A, Thiessen N, Varhol R, Zeng T, Zhao Y, Jones SJM, Marra MA, Saksena G, Cherniack AD, Schumacher SE, Tabak B, Carter SL, Pho NH, Nguyen H, Onofrio RC, Crenshaw A, Ardlie K, Beroukhim R, Winckler W, Hammerman PS, Getz G, Meyerson M, Protopopov A, Zhang J, Hadjipanayis A, Lee S, Xi R, Yang L, Ren X, Zhang H, Shukla S, Chen PC, Haseley P, Lee E, Chin L, Park PJ, Kucherlapati R, Socci ND, Liang Y, Schultz N, Borsu L, Lash AE, Viale A, Sander C, Ladanyi M, Todd Auman J, Hoadley KA, Wilkerson MD, Shi Y, Liquori C, Meng S, Li L, Turman YJ, Topal MD, Tan D, Waring S, Buda E, Walsh J, Jones CD, Mieczkowski PA, Singh D, Wu J, Gulabani A, Dolina P, Bodenheimer T, Hoyle AP, Simons JV, Soloway MG, Mose LE, Jefferys SR, Balu S, O'Connor BD, Prins JF, Liu J, Chiang DY, Neil Hayes D, Perou CM, Cope L, Danilova L, Weisenberger DJ, Maglinte DT, Pan F, van den Berg DJ, Triche Jr T, Herman JG, Baylin SB, Laird PW, Getz G, Noble M, Voet D, Saksena G, Gehlenborg N, DiCara D, Zhang J, Zhang H, Wu CJ, Yingchun Liu S, Lawrence MS, Zou L, Sivachenko A, Lin P, Stojanov P, Jing R, Cho J, Nazaire MD, Robinson J, Thorvaldsdottir H, Mesirov J, Park PJ, Chin L, Schultz N, Sinha R, Ciriello G, Cerami E, Gross B, Jacobsen A, Gao J, Arman Aksoy B, Weinhold N, Ramirez R, Taylor BS, Antipin Y, Reva B, Shen R, Mo Q, Seshan V, Paik PK, Ladanyi M, Sander C, Akbani R, Zhang N, Broom BM, Casasent T, Unruh A, Wakefield C, Craig Cason R, Baggerly KA, Weinstein JN, Haussler D, Benz CC, Stuart JM, Zhu J, Szeto C, Scott GK, Yau C, Ng S, Goldstein T, Waltman P, Sokolov A, Ellrott K, Collisson EA, Zerbino D, Wilks C, Ma S, Craft B, Wilkerson MD, Todd Auman J, Hoadley KA, Du Y, Cabanski C, Walter V, Singh D, Wu J, Gulabani A, Bodenheimer T, Hoyle AP, Simons JV, Soloway MG, Mose LE, Jefferys SR, Balu S, Marron JS, Liu Y, Wang K, Liu J, Prins JF, Neil Hayes D, Perou CM, Creighton CJ, Zhang Y, Travis WD, Rekhtman N, Yi J, Aubry MC, Cheney R, Dacic S, Flieder D, Funkhouser W, Illei P, Myers J, Tsao MS, Penny R, Mallery D, Shelton T, Hatfield M, Morris S, Yena P, Shelton C, Sherman M, Paulauskis J, Meyerson M, Baylin SB, Govindan R, Akbani R, Azodo I, Beer D, Bose R, Byers LA, Carbone D, Chang LW, Chiang D, Chu A, Chun E, Collisson E, Cope L, Creighton CJ, Danilova L, Ding L, Getz G, Hammerman PS, Neil Hayes D, Hernandez B, Herman JG, Heymach J, Ida C, Imielinski M, Johnson B, Jurisica I, Kaufman J, Kosari F, Kucherlapati R, Kwiatkowski D, Ladanyi M, Lawrence MS, Maher CA, Mungall A, Ng S, Pao W, Peifer M, Penny R, Robertson G, Rusch V, Sander C, Schultz N, Shen R, Siegfried J, Sinha R, Sivachenko A, Sougnez C, Stoll D, Stuart J, Thomas RK, Tomaszek S, Tsao MS, Travis WD, Vaske C, Weinstein JN, Weisenberger D, Wigle DA, Wilkerson MD, Wilks C, Yang P, John Zhang J, Jensen MA, Sfeir R, Kahn AB, Chu AL, Kothiyal P, Wang Z, Snyder EE, Pontius J, Pihl TD, Ayala B, Backus M, Walton J, Baboud J, Berton DL, Nicholls MC, Srinivasan D, Raman R, Girshik S, Kigonya PA, Alonso S, Sanbhadti RN, Barletta SP, Greene JM, Pot DA, Tsao MS, Bandarchi-Chamkhaleh B, Boyd J, Weaver JE, Wigle DA, Azodo IA, Tomaszek SC, Christine Aubry M, Ida CM, Yang P, Kosari F, Brock MV, Rogers K, Rutledge M, Brown T, Lee B, Shin J, Trusty D, Dhir R, Siegfried JM, Potapova O, Fedosenko KV, Nemirovich-Danchenko E, Rusch V, Zakowski M, Iacocca MV, Brown J, Rabeno B, Czerwinski C, Petrelli N, Fan Z, Todaro N, Eckman J, Myers J, Kimryn Rathmell W, Thorne LB, Huang M, Boice L, Hill A, Penny R, Mallery D, Curley E, Shelton C, Yena P, Morrison C, Gaudioso C, Bartlett JMS, Kodeeswaran S, Zanke B, Sekhon H, David K, Juhl H, van Le X, Kohl B, Thorp R, Viet Tien N, van Bang N, Sussman H, Duc Phu B, Hajek R, Phi Hung N, Khan KZ, Muley T, Mills Shaw KR, Sheth M, Yang L, Buetow K, Davidsen T, Demchok JA, Eley G, Ferguson M, Dillon LAL, Schaefer C, Guyer MS, Ozenberger BA, Palchik JD, Peterson J, Sofia HJ, Thomson E, Hammerman PS, Neil Hayes D, Wilkerson MD, Schultz N, Bose R, Chu A, Collisson EA, Cope L, Creighton CJ, Getz G, Herman JG, Johnson BE, Kucherlapati R, Ladanyi M, Maher CA, Robertson G, Sander C, Shen R, Sinha R, Sivachenko A, Thomas RK, Travis WD, Tsao MS, Weinstein JN, Wigle DA, Baylin SB, Govindan R, Meyerson M (2012) Comprehensive genomic characterization of squamous cell lung cancers. Nature 489(7417):519–525. https://doi.org/10.1038/nature11404

10.

Liao RG, Jung J, Tchaicha J, Wilkerson MD, Sivachenko A, Beauchamp EM, Liu Q, Pugh TJ, Pedamallu CS, Hayes DN, Gray NS, Getz G, Wong KK, Haddad RI, Meyerson M, Hammerman PS (2013) Inhibitor-sensitive FGFR2 and FGFR3 mutations in lung squamous cell carcinoma. Cancer Res 73(16):5195–5205. https://doi.org/10.1158/0008-5472.CAN-12-3950

11.

Shi Y-J, Tsang JY, Ni Y-B, Chan S-K, Chan K-F, Tse GM (2016) FGFR1 is an adverse outcome indicator for luminal A breast cancers. Oncotarget 7(4):5063–5073. https://doi.org/10.18632/oncotarget.6563

12.

Lim S, Koh MJ, Jeong HJ, Cho NH, Choi YD, Cho DY, Lee HY, Rha SY (2016) Fibroblast growth factor receptor 1 overexpression is associated with poor survival in patients with resected muscle invasive urothelial carcinoma. Yonsei Med J 57(4):831–839. https://doi.org/10.3349/ymj.2016.57.4.831

13.

Liu X, Zhang W, Geng D, He J, Zhao Y, Yu L (2014) Clinical significance of fibroblast growth factor receptor-3 mutations in bladder cancer: a systematic review and meta-analysis. Genet Mol Res 13(1):1109–1120. https://doi.org/10.4238/2014.February.20.12

14.

Ipenburg NA, Koole K, Liem KS, van Kempen PMW, Koole R, van Diest PJ, van Es RJJ, Willems SM (Feb. 2016) Fibroblast growth factor receptor family members as prognostic biomarkers in head and neck squamous cell carcinoma: a systematic review. Target Oncol 11(1):17–27. https://doi.org/10.1007/s11523-015-0374-9

15.

Wittekind C, Meyer H-J (2010) TNM: Klassifikation maligner Tumoren, 7th edn. Wiley-VCH Verlag, Weinheim

16.

Bishop JA, Teruya-Feldstein J, Westra WH, Pelosi G, Travis WD, Rekhtman N (2011) p40 (ΔNp63) is superior to p63 for the diagnosis of pulmonary squamous cell carcinoma. Mod Pathol 25(3):405–415. https://doi.org/10.1038/modpathol.2011.173

17.

Kievits T et al (1990) Rapid subchromosomal localization of cosmids by nonradioactive in situ hybridization. Cytogenet Cell Genet, 53:134–136. https://doi.org/10.1159/000132913

18.

Wilkinson DG (ed) (1992) In situ hybridization: a practical approach. IRL Press at Oxford University Press, Oxford

19.

Schildhaus H-U, Heukamp LC, Merkelbach-Bruse S, Riesner K, Schmitz K, Binot E, Paggen E, Albus K, Schulte W, Ko YD, Schlesinger A, Ansén S, Engel-Riedel W, Brockmann M, Serke M, Gerigk U, Huss S, Göke F, Perner S, Hekmat K, Frank KF, Reiser M, Schnell R, Bos M, Mattonet C, Sos M, Stoelben E, Wolf J, Zander T, Buettner R (2012) Definition of a fluorescence in-situ hybridization score identifies high-and low-level FGFR1 amplification types in squamous cell lung cancer. Mod Pathol 25(11):1473–1480. https://doi.org/10.1038/modpathol.2012.102

20.

Webster M, Donoghue D (1997) FGFR Activation in skeletal disorders: too much of a good thing. Trends in Genetics, 13(5):178-182. http://doi.org/10.1016/S0168-9525(97)01131-1

21.

Burke D, Wilkes D, Blundell TL, Malcolm S (1998) Fibroblast growth factor receptors: lessons from the genes. Trends Biochem Sci 23(2):59–62. https://doi.org/10.1016/S0968-0004(97)01170-5

22.

Mohammadi M, Olsen SK, Ibrahimi OA (2005) Structural basis for fibroblast growth factor receptor activation. Cytokine Growth Factor Rev 16(2):107–137. https://doi.org/10.1016/j.cytogfr.2005.01.008

23.

Goeckenjan G, Sitter H, Thomas M, Branscheid D, Flentje M, Griesinger F, Niederle N, Stuschke M, Blum T, Deppermann KM, Ficker J, Freitag L, Lübbe A, Reinhold T, Späth-Schwalbe E, Ukena D, Wickert M, Wolf M, Andreas S, Auberger T, Baum R, Baysal B, Beuth J, Bickeböller H, Böcking A, Bohle R, Brüske I, Burghuber O, Dickgreber N, Diederich S, Dienemann H, Eberhardt W, Eggeling S, Fink T, Fischer B, Franke M, Friedel G, Gauler T, Gütz S, Hautmann H, Hellmann A, Hellwig D, Herth F, Heußel C, Hilbe W, Hoffmeyer F, Horneber M, Huber R, Hübner J, Kauczor HU, Kirchbacher K, Kirsten D, Kraus T, Lang S, Martens U, Mohn-Staudner A, Müller KM, Müller-Nordhorn J, Nowak D, Ochmann U, Passlick B, Petersen I, Pirker R, Pokrajac B, Reck M, Riha S, Rübe C, Schmittel A, Schönfeld N, Schütte W, Serke M, Stamatis G, Steingräber M, Steins M, Stoelben E, Swoboda L, Teschler H, Tessen H, Weber M, Werner A, Wichmann HE, Irlinger Wimmer E, Witt C, Worth H (2010) Prävention, Diagnostik, Therapie und Nachsorge des Lungenkarzinoms. Pneumologie 64(S 02):e1–e164. https://doi.org/10.1055/s-0029-1243837

24.

Kadota K, Nitadori Ji, Woo KM, Sima CS, Finley DJ, Rusch VW, Adusumilli PS, Travis WD (2014) Comprehensive pathological analyses in lung squamous cell carcinoma: single cell invasion, nuclear diameter, and tumor budding are independent prognostic factors for worse outcomes. J Thorac Oncol 9(8):1126–1139. https://doi.org/10.1097/JTO.0000000000000253

25.

Weichert W et al (2015) Proposal of a prognostically relevant grading scheme for pulmonary squamous cell carcinoma. Eur Respir J, 47(3):938-46. https://doi.org/10.1183/13993003.00937-2015

26.

Whitson B, Groth S, Andrade R, Habermann E, Maddaus M, D'Cunha J (2012) T1/T2 nonesmall-cell lung cancer treated by lobectomy: does tumor anatomic location matter? JSR J Surg Res, 77(2):185-90. https://doi.org/10.1016/j.jss.2012.05.022

27.

Inamura K (2017) Lung cancer: understanding its molecular pathology and the 2015 WHO classification. Front Oncol 7:193. https://doi.org/10.3389/fonc.2017.00193

28.

Heist RS, Sequist LV, Engelman JA (May 2012) Genetic changes in squamous cell lung cancer: a review. J Thorac Oncol 7(5):924–933. https://doi.org/10.1097/JTO.0b013e31824cc334

29.

Heist RS, Mino-Kenudson M, Sequist LV, Tammireddy S, Morrissey L, Christiani DC, Engelman JA, Iafrate AJ (2012) FGFR1 amplification in squamous cell carcinoma of the lung. J Thorac Oncol 7(12):1775–1780. https://doi.org/10.1097/JTO.0b013e31826aed28

30.

Pilotto S, Sperduti I, Novello S, Peretti U, Milella M, Facciolo F, Vari S, Leuzzi G, Vavalà T, Marchetti A, Mucilli F, Crinò L, Puma F, Kinspergher S, Santo A, Carbognin L, Brunelli M, Chilosi M, Scarpa A, Tortora G, Bria E (2015) Risk stratification model for resected squamous-cell lung cancer patients according to clinical and pathological factors. J Thorac Oncol 10(9):1341–1348. https://doi.org/10.1097/JTO.0000000000000628

31.

Kinoshita T, Ohtsuka T, Hato T, Goto T, Kamiyama I, Tajima A, Emoto K, Hayashi Y, Kohno M (2014) Prognostic factors based on clinicopathological data among the patients with resected peripheral squamous cell carcinomas of the lung. J Thorac Oncol 9(12):1779–1787. https://doi.org/10.1097/JTO.0000000000000338

32.

Tiseo M, Gelsomino F, Alfieri R, Cavazzoni A, Bozzetti C, de Giorgi AM, Petronini PG, Ardizzoni A (2015) FGFR as potential target in the treatment of squamous non small cell lung cancer. Cancer Treat Rev 41(6):527–539. https://doi.org/10.1016/j.ctrv.2015.04.011

33.

Weiss J, Sos ML, Seidel D, Peifer M, Zander T, Heuckmann JM, Ullrich RT, Menon R, Maier S, Soltermann A, Moch H, Wagener P, Fischer F, Heynck S, Koker M, Schöttle J, Leenders F, Gabler F, Dabow I, Querings S, Heukamp LC, Balke-Want H, Ansén S, Rauh D, Baessmann I, Altmüller J, Wainer Z, Conron M, Wright G, Russell P, Solomon B, Brambilla E, Brambilla C, Lorimier P, Sollberg S, Brustugun OT, Engel-Riedel W, Ludwig C, Petersen I, Sänger J, Clement J, Groen H, Timens W, Sietsma H, Thunnissen E, Smit E, Heideman D, Cappuzzo F, Ligorio C, Damiani S, Hallek M, Beroukhim R, Pao W, Klebl B, Baumann M, Buettner R, Ernestus K, Stoelben E, Wolf J, Nürnberg P, Perner S, Thomas RK (2010) Frequent and focal FGFR1 amplification associates with therapeutically tractable FGFR1 dependency in squamous cell lung cancer. Sci Transl Med 2(62):62ra93–62ra93. https://doi.org/10.1126/scitranslmed.3001451

34.

Weeden CE et al (2017) Cisplatin increases sensitivity to FGFR inhibition in patient-derived xenograft models of lung squamous cell carcinoma. Mol Cancer Ther, 1610-1622.https://doi.org/10.1158/1535-7163.MCT-17-0174

35.

Wynes MW, Hinz TK, Gao D, Martini M, Marek LA, Ware KE, Edwards MG, Bohm D, Perner S, Helfrich BA, Dziadziuszko R, Jassem J, Wojtylak S, Sejda A, Gozgit JM, Bunn PA, Camidge DR, Tan AC, Hirsch FR, Heasley LE (2014) FGFR1 mRNA and protein expression, not gene copy number, predict FGFR TKI sensitivity across all lung cancer Histologies. Clin Cancer Res Off J Am Assoc Cancer Res 20(12):3299–3309. https://doi.org/10.1158/1078-0432.CCR-13-3060

36.

Liao RG, Watanabe H, Meyerson M, Hammerman PS (2012) Targeted therapy for squamous cell lung cancer. Lung Cancer Manag 1(4):293–300. https://doi.org/10.2217/lmt.12.40

37.

Stratton MR, Campbell PJ, Futreal PA (2009) The cancer genome. Nature 458(7239):719–724. https://doi.org/10.1038/nature07943

38.

Kim Y, Hammerman PS, Kim J, Yoon Ja, Lee Y, Sun JM, Wilkerson MD, Pedamallu CS, Cibulskis K, Yoo YK, Lawrence MS, Stojanov P, Carter SL, McKenna A, Stewart C, Sivachenko AY, Oh IJ, Kim HK, Choi YS, Kim K, Shim YM, Kim KS, Song SY, Na KJ, Choi YL, Hayes DN, Kim J, Cho S, Kim YC, Ahn JS, Ahn MJ, Getz G, Meyerson M, Park K (2014) Integrative and comparative genomic analysis of lung squamous cell carcinomas in East Asian patients. J Clin Oncol 32(2):121–128. https://doi.org/10.1200/JCO.2013.50.8556

39.

Hernandez S (2006) Prospective study of FGFR3 mutations as a prognostic factor in nonmuscle invasive urothelial bladder carcinomas. J Clin Oncol 24(22):3664–3671. https://doi.org/10.1200/JCO.2005.05.1771

40.

Yang W, Yao YW, Zeng JL, Liang WJ, Wang L, Bai CQ, Liu CH, Song Y (2014) Prognostic value of FGFR1 gene copy number in patients with non-small cell lung cancer: a meta-analysis. J Thorac Dis 6(6):803–809. https://doi.org/10.3978/j.issn.2072-1439.2014.05.02

41.

Yuan Y, Liu L, Chen H, Wang Y, Xu Y, Mao H, Li J, Mills GB, Shu Y, Li L, Liang H (2016) Comprehensive characterization of molecular differences in cancer between male and female patients. Cancer Cell 29(5):711–722. https://doi.org/10.1016/j.ccell.2016.04.001

42.

Nishino T, Yoshida T, Inoue S, Fujiwara S, Goto M, Minato T, Furukita Y, Yamamoto Y, Yuasa Y, Yamai H, Takechi H, Toba H, Takizawa H, Yoshida M, Seike J, Miyoshi T, Tangoku A (2017) Gender differences in clinicopathological features and prognosis of squamous cell carcinoma of the esophagus. Esophagus 14(2):122–130. https://doi.org/10.1007/s10388-016-0554-4

43.

von Loga K, Kohlhaussen J, Burkhardt L, Simon R, Steurer S, Burdak-Rothkamm S, Jacobsen F, Sauter G, Krech T (2015) FGFR1 amplification is often homogeneous and strongly linked to the squamous cell carcinoma subtype in esophageal carcinoma. PLoS One 10(11):e0141867. https://doi.org/10.1371/journal.pone.0141867
Acknowledgements
The authors thank J. Michaely and M. Ertz for excellent technical assistance, J. Schöpe for comments on statistical evaluation, and A. Seibold for editing the manuscript.
Funding
This work was supported by scholarship (Deutschlandstipendium) from Federal Ministry of Education and Research (Germany) to F. A. V. Flockerzi and by the FP7 European projects CHIC (grant no. 600841).
Ethics declarations
Conflict of interest
The authors declare that they have no conflict of interest.
Competing financial interests
The authors declare no competing financial interests.
Statement of ethical approval
This study was performed within the FP7-ICT programme (ID number 600841) according with the Declaration of Helsinki and approved by the Ethik Kommission an der Ärztekammer des Saarlandes.
Additional information
Statement
The authors hereby state that the article is original, presently not under consideration for publication in another journal and has not been published previously except, part of it, in the form of an abstract (Virchows Archiv, European Journal of Pathology, Volume 469 Supplement 1 September 2016).
About this article
Cite this article
Flockerzi, F.A., Roggia, C., Langer, F. et al. FGFR1 gene amplification in squamous cell carcinomas of the lung: a potential favorable prognostic marker for women and for patients with advanced cancer. Virchows Arch 472, 759–769 (2018). https://doi.org/10.1007/s00428-017-2282-0
Received:

Revised:

Accepted:

Published:

Issue Date:
Keywords
FGFR1

Squamous cell carcinoma of the lung

Non-small cell lung cancer

Prognosis

Women

Advanced cancer