Abstract
Anti-synthetase syndrome is an autoimmune disease characterized by autoantibodies toward amino acyl-tRNA synthetases (ARS), anti-Jo 1 being the most commonly detected. Muscle damage develops in up to 90% of ARS-positive patients, characterized by a necrotizing myositis restricted to the perifascicular region. This topographic distribution of muscle damage may lead to a misdiagnosis of dermatomyositis (DM) at muscle biopsy. We compared morphological, immunohistochemical, and histoenzymatic features of muscle from ARS-positive patients (n = 11) with those of DM (n = 7) providing clues for their differential diagnosis. In addition, we evaluated markers of mitochondrial damage to provide a further distinction between these two entities. Necrosis occurred in the majority of ARS patients, mainly located in the perifascicular region. It was often limited to small foci of fibers, always associated with myocyte regeneration. This last often overwhelmed necrosis, representing occasionally the main finding. In DM, necrosis/regeneration was scarce while the peculiar feature was a diffuse atrophy of perifascicular fibers. These last showed decreased cytochrome c oxidase (COX) stain and mitochondrial DNA depletion, consistent with mitochondrial dysfunction. In contrast to DM, ARS displayed scattered COX-deficient fibers, not restricted to the perifascicular region. This feature occurred in up to 91% of patients, being prominent only in two.
This is a preview of subscription content, log in to check access.
Access options
Buy single article
Instant access to the full article PDF.
US$ 39.95
Price includes VAT for USA
Subscribe to journal
Immediate online access to all issues from 2019. Subscription will auto renew annually.
US$ 199
This is the net price. Taxes to be calculated in checkout.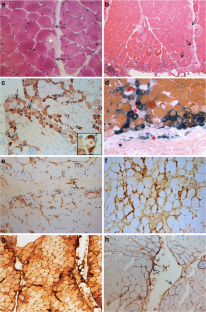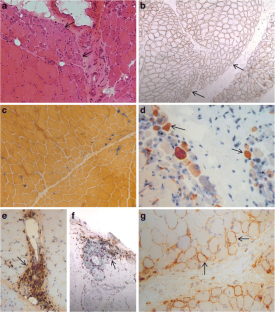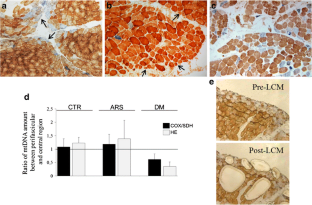 References
1.

Dalakas MC (2015) Inflammatory muscle diseases. N Engl J Med 372(18):1734–1747. https://doi.org/10.1056/NEJMra1402225

2.

Hoogendijk JE, Amato AA, Lecky BR, Choy EH, Lundberg IE, Rose MR, Vencovsky J, de Visser M, Hughes RA (2004) 119th ENMC international workshop: trial design in adult idiopathic inflammatory myopathies, with the exception of inclusion body myositis, 10–12 October 2003, Naarden, The Netherlands. Neuromuscul Disord 14(5):337–345. https://doi.org/10.1016/j.nmd.2004.02.006

3.

Troyanov Y, Targoff I, Tremblay JL, Goulet JR, Raymond Y, Senécal JL (2005) Novel classification of idiopathic inflammatory myopathies based on overlap clinical features and autoantibodies: analysis of 100 French Canadian patients with myositis. Medicine (Baltimore) 84(4):231–249. https://doi.org/10.1097/01.md.0000173991.74008.b0

4.

Love LA, Leff RL, Fraser DD, Targoff IN, Dalakas M, Plotz PH et al (1991) A new approach to the classification of idiopathic inflammatory myopathy: myositis-specific autoantibodies define useful homogeneous patient groups. Med Baltim 170:360–374

5.

Koenig M, Fritzler MJ, Targoff IN, Troyanov Y, Senécal J (2007) Heterogeneity of autoantibodies in 100 patients with autoimmune myositis: insights into clinical features and outcomes. Arthritis Res Ther 9(4):R78. https://doi.org/10.1186/ar2276

6.

Senécal JL, Raynauld JP, Troyanov Y (2017) Editorial: a new classification of adult autoimmune myositis. Arthritis Rheumatol 69(5):878–884. https://doi.org/10.1002/art.40063

7.

Iaccarino L, Gatto M, Bettio S, Caso F, Rampudda M, Zen M, Ghirardello A, Punzi L, Doria A (2013) Overlap connective tissue disease syndromes. Autoimmun Rev 12(3):363–373. https://doi.org/10.1016/j.autrev.2012.06.004

8.

Brouwer R, Hengstman GJ, Vree Egberts W, Ehrfeld H, Bozic B, Ghirardello A, Grøndal G, Hietarinta M, Isenberg D, Kalden JR, Lundberg I, Moutsopoulos H, Roux-Lombard P, Vencovsky J, Wikman A, Seelig HP, van Engelen BG, van Venrooij WJ (2001) Autoantibody profiles in the sera of European patients with myositis. Ann Rheum Dis 60(2):116–123. https://doi.org/10.1136/ard.60.2.116

9.

Mescam-Mancini L, Allenbach Y, Hervier B, Devilliers H, Mariampillay K, Dubourg O, Maisonobe T, Gherardi R, Mezin P, Preusse C, Stenzel W, Benveniste O (2015) Anti-Jo 1 antibody-positive patients show a characteristic necrotizing perifascicular myositis. Brain 138(Pt 9):2485–2492. https://doi.org/10.1093/brain/awv192

10.

Uruha A, Suzuki S, Suzuki N, Nishino I (2016) Perifascicular necrosis in anti-synthetase syndrome beyond anti-Jo 1. Brain 139(Pt 9):e50. https://doi.org/10.1093/brain/aww125

11.

Allenbach Y, Hervier B, Stenzel W, Benveniste O (2016) Reply: Perifascicular necrosis in anti-synthetase syndrome beyond anti-Jo 1. Brain 139(Pt 9):e51. https://doi.org/10.1093/brain/aww126

12.

Batten FE (1912) Case of dermatomyositis in a child with pathological report. Proc R Soc Med 5(Neurol Sect):103–114

13.

Banker BQ, Victor M (1966) Dermatomyositis (systemic angiopathy) of childhood. Medicine 45(4):261–289. https://doi.org/10.1097/00005792-196607000-00001

14.

Carpenter S, Karpati G, Rothman S, Watters G (1976) The childhood type of dermatomyositis. Neurology 26(10):952–962. https://doi.org/10.1212/WNL.26.10.952

15.

Emslie-Smith AM, Engel AG (1990) Microvascular changes in early and advanced dermatomyositis: a quantitative study. Ann Neurol 27(4):343–356. https://doi.org/10.1002/ana.410270402

16.

Lahoria R, Selcen D, Engel AG (2016) Microvascular alterations and the role of complement in dermatomyositis. Brain 139(Pt 7):1891–1903. https://doi.org/10.1093/brain/aww122

17.

Varadhachary AS, Weihl CC, Pestronk A (2010) Mitochondrial pathology in immune and inflammatory myopathies. Curr Opin Rheumatol 22(6):651–657. https://doi.org/10.1097/BOR.0b013e32833f108a

18.

Oldfors A, Moslemi AR, Jonasson L, Ohlsson M, Kollberg G, Lindberg C (2006) Mitochondrial abnormalities in inclusion-body myositis. Neurology 66(2 Suppl 1):S49–S55. https://doi.org/10.1212/01.wnl.0000192127.63013.8d

19.

Miró O, Casademont J, Grau JM, Jarreta D, Urbano-Marquez A, Cardelllach F (1998) Histological and biochemical assessment of mitochondrial function in dermatomyositis. Br J Rheumatol 37(10):1047–1053. https://doi.org/10.1093/rheumatology/37.10.1047

20.

Giordano C, Sebastiani M, Plazzi G, Travaglini C, Sale P, Pinti M, Tancredi A, Liguori R, Montagna P, Bellan M, Valentino ML, Cossarizza A, Hirano M, d'Amati G, Carelli V (2006) Mitochondrial neurogastrointestinal encephalomyopathy: evidence of mitochondrial DNA depletion in the small intestine. Gastroenterology 130(3):893–901. https://doi.org/10.1053/j.gastro.2006.01.004

21.

Giordano C, d'Amati G (2011) Evaluation of gastrointestinal mtDNA depletion in mitochondrial neurogastrointestinal encephalomyopathy (MNGIE). Methods Mol Biol 755:223–232. https://doi.org/10.1007/978-1-61779-163-5_18

22.

Murphy JL, Ratnaike TE, Shang E, Falkous G, Blakely EL, Alston CL, Taivassalo T, Haller RG, Taylor RW, Turnbull DM (2012) Cytochrome c oxidase-intermediate fibres: importance in understanding the pathogenesis and treatment of mitochondrial myopathy. Neuromuscul Disord 22(8):690–698. https://doi.org/10.1016/j.nmd.2012.04.003

23.

Brooke MH, Engel WK (1969) The histographic analysis of human muscle biopsies with regard to fiber types. 2. Disease of the upper and lower motor neuron. Neurology 19(4):378–393. https://doi.org/10.1212/WNL.19.4.378

24.

Vitali C, Bombardieri S, Jonsson R, Moutsopoulos HM, Alexander EL, Carsons SE, Daniels TE, Fox PC, Fox RI, Kassan SS, Pillemer SR, Talal N, Weisman MH (2002) Classification criteria for Sjögren's syndrome: a revised version of the European criteria proposed by the American-European Consensus Group. Ann Rheum Dis 61(6):554–558. https://doi.org/10.1136/ard.61.6.554

25.

Cavagna L, Nuño L, Scirè CA, Govoni M, Longo FJ, Franceschini F, Neri R, Castañeda S, Sifuentes Giraldo WA, Caporali R, Iannone F, Fusaro E, Paolazzi G, Pellerito R, Schwarting A, Saketkoo LA, Ortego-Centeno N, Quartuccio L, Bartoloni E, Specker C, Murcia TP, la Corte R, Furini F, Foschi V, Corral JB, Airò P, Cavazzana I, Martínez-Barrio J, Hinojosa M, Giannini M, Barsotti S, Menke J, Triantafyllias K, Vitetta R, Russo A, Bajocchi G, Bravi E, Barausse G, Bortolotti R, Selmi C, Parisi S, Montecucco C, González-Gay MA, AENEAS (American, European NEtwork of Antisynthetase Syndrome) collaborative group (2015) Clinical spectrum time course in anti Jo-1 positive antisynthetase syndrome: results from an international retrospective multicenter study. Medicine (Baltimore) 94(32):e1144. https://doi.org/10.1097/MD.0000000000001144

26.

Mahler M, Miller FW, Fritzler MJ (2014) Idiopathic inflammatory myopathies and the anti-synthetase syndrome: a comprehensive review. Autoimmun Rev 13(4–5):367–371. https://doi.org/10.1016/j.autrev.2014.01.022

27.

Cavazzana I, Fredi M, Ceribelli A, Mordenti C, Ferrari F, Carabellese N, Tincani A, Satoh M, Franceschini F (2016) Testing for myositis specific autoantibodies: comparison between line blot and immunoprecipitation assays in 57 myositis sera. J Immunol Methods 433:1–5. https://doi.org/10.1016/j.jim.2016.02.017

28.

Troyanov Y, Targoff IN, Payette MP, Raynauld JP, Chartier S, Goulet JR, Bourré-Tessier J, Rich E, Grodzicky T, Fritzler MJ, Joyal F, Koenig M, Senécal JL (2014) Redefining dermatomyositis: a description of new diagnostic criteria that differentiate pure dermatomyositis from overlap myositis with dermatomyositis features. Medicine (Baltimore) 93(24):318–332. https://doi.org/10.1097/MD.0000000000000222

29.

Pestronk A (2011) Acquired immune and inflammatory myopathies: pathologic classification. Curr Opin Rheumatol 23(6):595–604. https://doi.org/10.1097/BOR.0b013e32834bab42

30.

Greenberg SA, Pinkus JL, Pinkus GS, Burleson T, Sanoudou D, Tawil R, Barohn RJ, Saperstein DS, Briemberg HR, Ericsson M, Park P, Amato AA (2005) Interferon-alpha/beta-mediated innate immune mechanisms in dermatomyositis. Ann Neurol 57(5):664–678. https://doi.org/10.1002/ana.20464

31.

Woo M, Chung SJ, Nonaka I (1988) Perifascicular atrophic fibers in childhood dermatomyositis with particular reference to mitochondrial changes. J Neurol Sci 88(1–3):133–143. https://doi.org/10.1016/0022-510X(88)90211-0

32.

Alhatou MI, Sladky JT, Bagasra O, Glass JD (2004) Mitochondrial abnormalities in dermatomyositis: characteristic pattern of neuropathology. J Mol Histol 35(6):615–619. https://doi.org/10.1007/s10735-004-2194-6

33.

Rygiel KA, Miller J, Grady JP, Rocha MC, Taylor RW, Turnbull DM (2015) Mitochondrial and inflammatory changes in sporadic inclusion body myositis. Neuropathol Appl Neurobiol 41(3):288–303. https://doi.org/10.1111/nan.12149

34.

Colafrancesco S, Priori R, Valesini G (2015) Inflammatory myopathies and overlap syndromes: update on histological and serological profile. Best Pract Res Clin Rheumatol 29(6):810–825. https://doi.org/10.1016/j.berh.2016.02.005

35.

Temiz P, Weihl CC, Pestronk A (2009) Inflammatory myopathies with mitochondrial pathology and protein aggregates. J Neurol Sci 278(1–2):25–29. https://doi.org/10.1016/j.jns.2008.11.010
Ethics declarations
The authors declare that the study has been done according to ethical standards.
Conflict of interest
The authors declare that they have no conflict of interest.
Additional information
All the authors take responsibility for all aspects of the reliability and freedom from bias of the data presented and their discussed interpretation.
Electronic supplementary material
About this article
Cite this article
Cerbelli, B., Pisano, A., Colafrancesco, S. et al. Anti-aminoacyl-tRNA synthetase-related myositis and dermatomyositis: clues for differential diagnosis on muscle biopsy. Virchows Arch 472, 477–487 (2018). https://doi.org/10.1007/s00428-017-2269-x
Received:

Revised:

Accepted:

Published:

Issue Date:
Keywords
Myositis

Anti-synthetase syndrome

Dermatomyositis

Muscle biopsy

mtDNA damage