Abstract
This study was a comprehensive analysis of placental phenotypes in hypertensive conditions of pregnancy, including recently described placental hypoxic lesions and lesions of shallow placentation. To this end, consecutive placentas from > 21 weeks pregnancies that were signed out by the author at 4 tertiary care centers on 3 continents were included. Twenty-four clinical and 50 placental phenotypes were studied in 6 groups and statistically compared: 91 cases of gestational hypertension, 187 cases of mild preeclampsia, 211 cases of severe preeclampsia, 84 cases of HELLP or eclampsia, 127 cases of chronic hypertension, and 55 cases of preeclampsia superimposed on chronic hypertension. Twenty percent of the placental and clinical phenotypes were statistically significantly different between the groups. Gestational hypertension and chronic hypertension distinguished themselves by having the highest perinatal mortality, lowest cesarean section rates, highest acute chorioamnionitis, and highest fetal vascular ectasia but conspicuously fewer differences in hypoxic and thrombotic lesions. The preeclamptic groups showed the highest rates of decidual arteriolopathy (both hypertrophic and atherosis), uterine pattern of chronic placental injury, villous infarctions, and clusters of maternal floor multinucleate trophoblasts. Based on placental pathology, severe preeclampsia may be more of a placental disease and mild preeclampsia more of a maternal disease; however, the significant overlap among the groups does not make the difference absolute, and the occurrence of decidual arteriolopathy in gestational hypertension and chronic hypertension may indicate that the conditions could be regarded as "occult preeclampsia."
This is a preview of subscription content, log in to check access.
Access options
Buy single article
Instant access to the full article PDF.
US$ 39.95
Price includes VAT for USA
Subscribe to journal
Immediate online access to all issues from 2019. Subscription will auto renew annually.
US$ 199
This is the net price. Taxes to be calculated in checkout.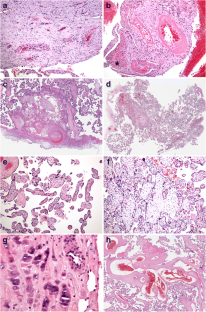 References
1.

Brosens I, Pijnenborg R, Vecruysse L, Romero R (2011) The "great obstetrical syndromes" are associated with disorders of deep placentation. Am J Obstet Gynecol 204:193–201

2.

Sibai B, Dekker G, Kupferminc M (2005) Pre-eclampsia. Lancet 365:785–799

3.

Shamshiraz AA, Paidas M, Krikun G (2012) Preeclampsia, hypoxia, thrombosis, and inflammation. J Pregnancy 2012:374047. https://doi.org/10.1155/2012/374047

4.

Eastabrook G, Brown M, Sargent I (2011) The origins and end-organ consequence of pre-eclampsia. Best Pract Res Clin Obstet Gynaecol 25:435–447

5.

Roberts DJ, Post MD (2008) The placenta in pre-eclampsia and intrauterine growth restriction. J Clin Pathol 61:1254–1260

6.

Aurioles-Garibay A, Hernandez-Andrade E, Romero R, Qureshi F, Ahn H, Jacques SM, Garcia M, Yeo L, Hassan SS (2014) Prenatal diagnosis of a placental infarction hematoma associated with fetal growth restriction, preeclampsia and fetal death: clinicopathological correlation. Fetal Diagn Ther 36:154–161

7.

Baergen RN (2005) Manual of Benirschke and Kaufmann's pathology of the human placenta. Springer, New York

8.

Stevens DU, Al-Nasiry S, Bulten J, Spaanderman MEA (2012) Decidual vasculopathy and adverse perinatal outcome in preeclamptic pregnancy. Placenta 33:630–633

9.

Helfrich BB, Chilukuri N, He H, Cerda SR, Hong X, Wang G, Pearson C, Burd I, Wang X (2017) Maternal vascular malperfusion of the placental bed associated with hypertensive disorders in the Boston Birth Cohort. Placenta 52:106–113

10.

Naicker T, Khedun SM, Moodley J, Pijnenborg R (2003) Quantitative analysis of trophoblast invasion in preeclampsia. Acta Obstet Gynecol Scand 82:722–729

11.

Von Dadelszen P, Magee LA, Roberts JM (2003) Subclassification of preeclampsia. Hypertens Pregnancy 22:143–148

12.

Nelson DB, Ziadie MS, McIntire DD, Rogers BB, Leveno KJ (2014) Placental pathology suggesting that preeclampsia is more than one disease. Am J Obstet Gynecol 210:66e1–66e7

13.

Cunningham FG, Leveno KJ, Bloom SL, Hauth JC, Gilstrap LC III, Wenstrom KD (2005) Williams obstetrics, 22nd edn. McGraw-Hill, New York

14.

Egbor M, Ansari T, Morris N, Green CJ, Sibbons PD (2006) Morphometric placental villous and vascular abnormalities in early- and late-onset pre-eclampsia with and without fetal growth restriction. BJOG 113:580–589

15.

Gibbins KJ, Silver RM, Pinar H, Reddy UM, Parker CB, Thorsten V, Willinger M, Dudley DJ, Bukowski R, Saade GR, Koch MA, Conway D, Hogue CJ, Stoll BJ, Goldenberg RL (2016) Stillbirth, hypertensive disorders of pregnancy, and placental pathology. Placenta 43:61–68

16.

Huppertz B (2008) Placental origins of preeclampsia: challenging the current hypothesis. Hypertension 51:970–975

17.

Kovo M, Schreiber L, Ben-Haroush A, Wand S, Golan A, Bar J (2010) Placental vascular lesion differences in pregnancy-induced hypertension and normotensive fetal growth restriction. Am J Obstet Gynecol 202:561.e1–561.e5

18.

Ogge G, Chaiworapongsa T, Romero R, Hussein Y, Kusanovic JP, Yeo L, Kim CJ, Hassan SS (2011) Placental lesions associated with maternal underperfusion are more frequent in early-onset than in late-onset preeclampsia. J Perinat Med 39:641–652

19.

Parks WT (2015) Placental hypoxia: the lesions of maternal malperfusion. Semin Perinatol 39:9–19

20.

Roberts JM, CWG R (1993) Preeclampsia: more than pregnancy-induced hypertension. Lancet 342(8858):1447–1451

21.

Kovo M, Schreiber L, Ben-Haroush A, Gold E, Golan A, Bar J (2012) The placental component in early-onset and late-onset preeclampsia in relation to fetal growth restriction. Prenat Diagn 32:632–637

22.

Salafia CM, Pezzullo JC, Ghidini A, Lopèz-Zeno JA, Whittington SS (1998) Clinical correlations of patterns of placental pathology in preterm pre-eclampsia. Placenta 19:67–72

23.

Moldenhauer JS, Stanek J, Warshak C, Khoury J, Sibai B (2003) The frequency and severity of placental findings in women with preeclampsia are gestational age dependent. Am J Obstet Gynecol 189:1173–1177

24.

Stanek J, Biesiada J (2012) Clustering of maternal/fetal clinical conditions and outcomes and placental lesions. Am J Obstet Gynecol 206:493.a1–493.a9

25.

Stanek J, Biesiada J, Trzeszcz M (2014) Clinicoplacental phenotypes vary with gestational age: an analysis by classical and clustering methods. Acta Obstet Gynecol Scand 93:392–398

26.

Stanek J (2014) Comparison of placental pathology in preterm, late-preterm, near-term, and term births. Am J Obstet Gynecol 210:234.e1–234.e6

27.

Stanek J (2013) Hypoxic patterns of placental injury: a review. Arch Pathol Lab Med 137:706–720

28.

Stanek J (2011) Chorionic disc extravillous trophoblasts in placental diagnosis. Am J Clin Pathol 136:540–547

29.

Stanek J (2011) Placental membrane and placental disc microscopic chorionic cysts share similar clinicopathologic correlations. Pediatr Dev Pathol 14:1–9

30.

Stanek J, Biesiada J (2012) Sensitivity and specificity of finding of multinucleate trophoblastic giant cells in decidua in placentas from high-risk pregnancies. Hum Pathol 43:261–268

31.

Stanek J, Drummond Z (2007) Occult placenta accreta: the missing link in the diagnosis of abnormal placentation. Pediatr Dev Pathol 10:266–262

32.

Stanek J, Biesiada J (2014) Relation of placental diagnosis in stillbirth to fetal maceration and gestational age at delivery. J Perinat Med 42:457–471

33.

Khong TY, Mooney EE, Ariel I, Balmus NCM, Boyd TK, Brundler MA et al (2016) Sampling and definitions of placental lesions. Amsterdam placental workshop group consensus statement. Arch Pathol Lab Med 140:698–713

34.

Maloney KF, Heller D, Baergen RN (2012) Types of maternal hypertensive disease and their association with pathologic lesions and clinical factors. Fetal Pediatr Pathol 31:319–323

35.

Zhang J, Klebanoff MA, Lvine RJ, Puri M, Moyer P (1999) The puzzling association between smoking and hypertension during pregnancy. Am J Obstet Gynecol 181:1407–1413

36.

Stanek J (2017) Decidual arteriolopathy with or without associated hypertension modifies the underlying histomorphology in placentas from diabetic mothers. J Obstet Gynaecol Res 43:839–847

37.

Zhang P, Schmidt M, Cook L (2006) Maternal vasculopathy and histologic diagnosis of preeclampsia: poor correlation of histologic changes and clinical manifestation. Am J Obstet Gynecol 194:1050–1056

38.

Pathak S, Lees CC, Hackett G, Jessop F, Sebire NJ (2011) Frequency and clinical significance of placental histological lesions in an unselected population at or near term. Virchows Arch 459:565–572

39.

Fox H, Sebire NJ (2007) Pathology of the placenta. Saunders, London

40.

Kraus FT, Redline RW, Gersell DJ, Nelson DM, Dicke JM (2004) Placental pathology. American Registry of Pathology, Washington

41.

Sebire NJ, Goldin RD, Regan L (2005) Term preeclampsia is associated with minimal histopathological placental features regardless of clinical severity. J Obstet Gynaecol 25:117–118

42.

Smulian J, Shen-Schwartz S, Scorza W, Kinzler W, Vintzileos A (2004) A clinicohistopathologic comparison between HELLP syndrome and severe preeclampsia. J Matern Fetal Neonatal Med 16:287–293

43.

Vinnars MT, Wijnaendts LC, Westgren M, Bolte AC, Papadogiannakis N, Nasiell J (2008) Severe preeclampsia with and without HELLP differ with regard to placental pathology. Hypertension 51:1295–1299
Ethics declarations
This study was approved by the institutional board (IRB #2016-7942).
Conflict of interest
The author declares that he has no conflict of interest.
About this article
Cite this article
Stanek, J. Placental pathology varies in hypertensive conditions of pregnancy. Virchows Arch 472, 415–423 (2018). https://doi.org/10.1007/s00428-017-2239-3
Received:

Revised:

Accepted:

Published:

Issue Date:
Keywords
Gestational hypertension

Preeclampsia

HELLP

Chronic hypertension

Superimposed preeclampsia

Placenta