Abstract
We have previously shown that galectin-4 expression is an independent predictor for lymph node metastasis and serves as an adverse prognostic indicator in patients with acinar adenocarcinoma of the lung. In contrast, thyroid transcription factor-1 (TTF-1) expression in non-small cell lung carcinoma has been shown to be associated with a favorable prognosis. In the present study, 208 cases of acinar adenocarcinoma of the lung and 36 cases with distant metastatic lesions of lung adenocarcinoma were immunohistochemically examined for expression of galectin-4 and TTF-1 to elucidate their correlation with clinicopathological factors. TTF-1 expression was observed in 145 cases (69.7%) and associated with smaller tumor size, infrequent pleural invasion, and lower TNM stage. Galectin-4 expression was observed in 86 cases (41.3%). Furthermore, galectin-4-positive carcinoma cells and TTF-1-positive carcinoma cells existed exclusively within the same lesion. Expressions of TTF-1 and galectin-4 were favorable and adverse prognostic factors, respectively. Approximately 40% (15/36 cases) of lung adenocarcinoma at the distant metastatic sites were immunohistochemically negative for TTF-1. Four out of five galectin-4-positive metastatic lesions were negative for TTF-1. We found an inverse correlation between galectin-4 and TTF-1 expressions in acinar adenocarcinoma, and this phenomenon was also found to be present in metastatic sites. These findings suggest that we should not exclude the possibility of metastatic adenocarcinoma of the lung, even if the tumor cells are immunohistochemically negative for TTF-1 in the primary unknown tumor, because aggressive lung adenocarcinomas often lack TTF-1 expression.
This is a preview of subscription content, log in to check access.
Access options
Buy single article
Instant access to the full article PDF.
US$ 39.95
Price includes VAT for USA
Subscribe to journal
Immediate online access to all issues from 2019. Subscription will auto renew annually.
US$ 199
This is the net price. Taxes to be calculated in checkout.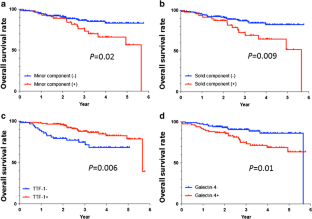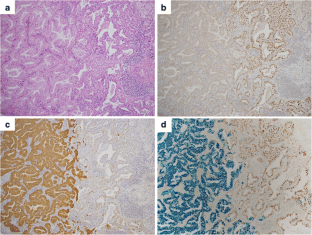 References
1.

World Health Organization Estimated incidence, mortality and prevalence worldwide in 2012. GLOBOCAN 2012; Available at: http://globocan.iarc.fr/Pages/fact_sheets_cancer.aspx Accessed on March 2016

2.

Minguet J, Smith KH, Bramlage P (2016) Targeted therapies for treatment of non-small cell lung cancer—recent advances and future perspectives. Int J Cancer 138:2549–2561

3.

Hayashi T, Saito T, Fujimura T, Hara K, Takamochi K, Mitani K, Mineki R, Kazuno S, Oh S, Ueno T, Suzuki K, Yao T (2013) Galectin-4, a novel predictor for lymph node metastasis in lung adenocarcinoma. PLoS One 8:e81883

4.

Martins SJ, Takagaki TY, Silva AG, Gallo CP, Silva FB, Capelozzi VL (2009) Prognostic relevance of TTF-1 and MMP-9 expression in advanced lung adenocarcinoma. Lung Cancer 64:105–109

5.

Yatabe Y, Mitsudomi T, Takahashi T (2002) TTF-1 expression in pulmonary adenocarcinomas. Am J Surg Pathol 26:767–773

6.

Nagashio R, Ueda J, Ryuge S, Nakashima H, Jiang S, Kobayashi M, Yanagita K, Katono K, Satoh Y, Masuda N, Murakumo Y, Hachimura K, Sato Y (2015) Diagnostic and prognostic significances of MUC5B and TTF-1 expressions in resected non-small cell lung cancer. Sci Rep 5:8649

7.

Saad RS, Liu YL, Han H, Landreneau RJ, Silverman JF (2004) Prognostic significance of thyroid transcription factor-1 expression in both early-stage conventional adenocarcinoma and bronchioloalveolar carcinoma of the lung. Hum Pathol 35:3–7

8.

Anagnostou VK, Syrigos KN, Bepler G, Homer RJ, Rimm DL (2009) Thyroid transcription factor 1 is an independent prognostic factor for patients with stage I lung adenocarcinoma. J Clin Oncol 27:271–278

9.

Perner S, Wagner PL, Soltermann A, LaFargue C, Tischler V, Weir BA, Weder W, Meyerson M, Giordano TJ, Moch H, Rubin MA (2009) TTF1 expression in non-small cell lung carcinoma: association with TTF1 gene amplification and improved survival. J Pathol 217:65–72

10.

Liu C, Glasser SW, Wan H, Whitsett JA (2002) GATA-6 and thyroid transcription factor-1 directly interact and regulate surfactant protein-C gene expression. J Biol Chem 277:4519–4525

11.

Zhang L, Whitsett JA, Stripp BR (1997) Regulation of Clara cell secretory protein gene transcription by thyroid transcription factor-1. Biochem Biophys Acta 1350:359–367

12.

Ray MK, Chen CY, Schwartz RJ, DeMayo FJ (1996) Transcriptional regulation of a mouse Clara cell-specific protein (mCC10) gene by the NKx transcription factor family members thyroid transcription factor 1 and cardiac muscle-specific homeobox protein (CSX). Mol Cell Biol 16:2056–2064

13.

Zamecnik J, Kodet R (2002) Value of thyroid transcription factor-1 and surfactant apoprotein A in the differential diagnosis of pulmonary carcinomas: a study of 109 cases. Virchows Arch 440:353–361

14.

Elola MT, Blidner AG, Ferragut F, Bracalente C, Rabinovich GA (2015) Assembly, organization and regulation of cell-surface receptors by lectin-glycan complexes. Biochem J 469:1–16

15.

Hippo Y, Yashiro M, Ishii M, Taniguchi H, Tsutsumi S, Hirakawa K, Kodama T, Aburatani H (2001) Differential gene expression profiles of scirrhous gastric cancer cells with high metastatic potential to peritoneum or lymph nodes. Cancer Res 61:889–895

16.

Kondoh N, Wakatsuki T, Ryo A, Hada A, Aihara T, Horiuchi S, Goseki N, Matsubara O, Takenaka K, Shichita M, Tanaka K, Shuda M, Yamamoto M (1999) Identification and characterization of genes associated with human hepatocellular carcinogenesis. Cancer Res 59:4990–4996

17.

Bacigalupo ML, Manzi M, Rabinovich GA, Troncoso MF (2013) Hierarchical and selective roles of galectins in hepatocarcinogenesis, liver fibrosis and inflammation of hepatocellular carcinoma. World J Gastroenterol 19:8831–8849

18.

Hughes RC (1999) Secretion of the galectin family of mammalian carbohydrate-binding proteins. Biochim Biophys Acta 1473:172–185

19.

Barrrow H, Guo X, Wandall HH, Pedersen JW, Fu B, Zhao Q, Chen C, Rhodes JM, Yu LG (2011) Serum galectin-2, -4, and -8 are greatly increased in colon and breast cancer patients and promote cancer cell adhesion to blood vascular endothelium. Clin Cancer Res 17:7035–7046

20.

Watanabe M, Takemasa I, Kaneko N, Yokoyama Y, Matsuo E, Iwasa S, Mori M, Matsuura N, Monden M, Nishimura O (2011) Clinical significance of circulating galectins as colorectal cancer markers. Oncol Rep 25:1217–1226

21.

Travis WD, Brambilla E, Burke AP, Marx A, Nicholson AG (2015) World Health Organization classification of tumours of the lung, pleura, thymus and heart, 4th edn. IARC Press, Lyon

22.

Imamhasan A, Mitomi H, Saito T, Hayashi T, Takahashi M, Kajiyama Y, Yao T (2012 Nov) Immunohistochemical and oncogenetic analyses of the esophageal basaloid squamous cell carcinoma in comparison with conventional squamous cell carcinomas. Hum Pathol 43(11):2012–2023. doi:10.1016/j.humpath.2012.02.010

23.

Barletta JA, Yeap BY, Chirieac LR (2010) Prognostic significance of grading in lung adenocarcinoma. Cancer 116:659–669

24.

Kadota K, Suzuki K, Kachala SS, Zabor EC, Sima CS, Moreira AL, Yoshizawa A, Riely GJ, Rusch VW, Adusumilli PS, Travis WD (2012) A grading system combining architectural features and mitotic count predicts recurrence in stage I lung adenocarcinoma. Mod Pathol 25:1117–1127

25.

Xu L, Tavora F, Burke A (2013) Histologic features associated with metastatic potential in invasive adenocarcinomas of the lung. Am J Surg Pathol 37:1100–1108

26.

Jonckheere N, Velghe A, Ducourouble MP, Copin MC, Renes IB, Seuningen I (2011) The mouse Muc5b mucin gene is transcriptionally regulated by thyroid transcription factor-1 (TTF-1) and GATA-6 transcription factors. FEBS J 278:282–294

27.

Hirsch FR, Suda K, Wiens J, Bunn PA Jr (2016) New and emerging targeted treatments in advanced non-small-cell lung cancer. Lancet 388:1012–1024

28.

Inamura K, Takeuchi K, Togashi Y, Nomura K, Ninomiya H, Okui M, Satoh Y, Okumura S, Nakagawa K, Soda M, Choi YL, Niki T, Mano H, Ishikawa Y (2008) EML4-ALK fusion is linked to histological characteristics in a subset of lung cancers. J Thorac Oncol 3:13–17

29.

Inamura K, Takeuchi K, Togashi Y, Hatano S, Ninomiya H, Motoi N, Mun MY, Sakao Y, Okumura S, Nakagawa K, Soda M, Choi YL, Mano H, Ishikawa Y (2009) EML4-ALK lung cancers are characterized by rare other mutations, a TTF-1 cell lineage, an acinar histology, and young onset. Modern Pathol 22:508–515

30.

Inamura K, Ninomiya H, Ishikawa Y, Matsubara O (2010) Is the epidermal growth factor receptor status in lung cancers reflected in clinicopathologic features? Arch Pathol Lab Med 134:66–72

31.

Rekhtman N, Ang DC, Riely GJ, Ladanyi M, Moreira AL (2013) KRAS mutations are associated with solid growth pattern and tumor-infiltrating leukocytes in lung adenocarcinoma. Mod Pathol 26(10):1307–1319. doi:10.1038/modpathol.2013.74

32.

Mitsudomi T (2014) Molecular epidemiology of lung cancer and geographic variations with special reference to EGFR mutations. Transl Lung Cancer Res 3:205–211

33.

Somaiah N, Fidler MJ, Garrett-Mayer E, Wahlquist A, Shirai K, Buckingham L, Hensing T, Bonomi P, Simon GR (2014) Epidermal growth factor receptor (EGFR) mutations are exceptionally rare in thyroid transcription factor (TTF-1)-negative adenocarcinomas of the lung. Oncoscience 1:522–528

34.

Takagi T, Katagiri H, Kim Y, Suehara Y, Kubota D, Akaike K, Ishii M, Mukaihara K, Okubo T, Murata H, Takahashi M, Kaneko K, Saito T (2015) Skeletal metastasis of unknown primary origin at the initial visit: a retrospective analysis of 286 cases. PLoS One 10:e0129428
Ethics declarations
Conflict of interest
The authors declare that they have no conflict of interest.
Research involving human participants and/or animals
Not applicable. This study was approved by the research ethics committee of Juntendo University (2012014).
Electronic supplementary material
About this article
Cite this article
Hara, K., Saito, T., Hayashi, T. et al. Inverse correlation between galectin-4 and TTF-1 in lung adenocarcinoma. Virchows Arch 471, 375–382 (2017). https://doi.org/10.1007/s00428-017-2202-3
Received:

Revised:

Accepted:

Published:

Issue Date:
Keywords
Lung adenocarcinoma

Acinar

TTF-1

Galectin-4

Prognosis