Abstract
Breast cancer is a heterogeneous disease. Surrogate classification of intrinsic subtypes of invasive carcinomas by combined immunohistochemistry for estrogen receptor (ER), progesterone receptor (PR), HER2, and Ki67 (4-IHC) has increased steadily since the 2011 St Gallen symposium, due to its rapid subtyping of tumors at a reasonable cost. An important step in improving 4-IHC reproducibility and reliability will be to provide reference values from the routine use of standardized 4-IHC followed by image analysis. The aims of the current study were (1) to analyze invasive breast carcinomas using standardized 4-IHC and quantitative image analysis and (2) to compare the results obtained in the classification of biological subtypes using current Ki67 and PR threshold values proposed by different authors to sub-classifying the luminal A-like and the luminal B-like (HER2-negative) subtypes. Five hundred twenty-one tumors were analyzed by standardized immunohistochemistry, with automatic image analysis, and HER2 FISH technique. Positivity for ER was found in 82.7% and for PR in 70.1% of cases. Using the Allred scoring system, hormone receptor results showed a bimodal distribution, particularly for ER. HER2 positivity was found in 15.7% of cases, and the mean Ki67 score was 32.3%. Using the most recently proposed surrogate definitions for the classification of luminal breast cancer subtypes, the percentages of different subtypes that we found were similar to those published with genomic platforms: 40.7% luminal A-like, 32.4% luminal B-like/HER2-negative, 9.8% luminal B-like/HER2-positive, 6.0% HER2-positive, and 11.1% triple negative. Standardized 4-IHC with automatic image analysis constitutes a low-cost method for surrogate definitions of biological subtypes of breast cancer that delivers accurate results in a day.
This is a preview of subscription content, log in to check access.
Access options
Buy single article
Instant access to the full article PDF.
US$ 39.95
Price includes VAT for USA
Subscribe to journal
Immediate online access to all issues from 2019. Subscription will auto renew annually.
US$ 199
This is the net price. Taxes to be calculated in checkout.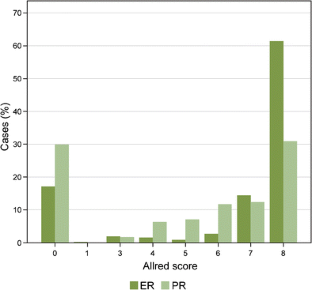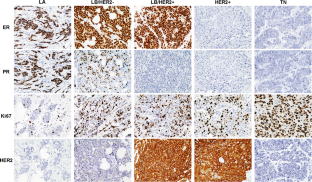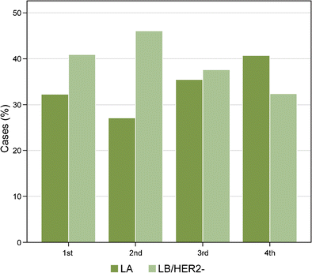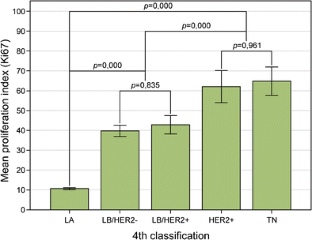 References
1.

Howlader N, Noone AM, Krapcho M, et al (2013) SEER cancer statistics review, 1975–2010, National Cancer Institute. Bethesda, MD. http://seer.cancer.gov/archive/csr/1975_2010/

2.

Berry DA, Cronin KA, Plevritis SK, Fryback DG, Clarke L, Zelen M, Mandelblatt JS, Yakovlev AY, Habbema JD, Feuer EJ (2005) Effect of screening and adjuvant therapy on mortality from breast cancer. N Engl J Med 353:1784–1792

3.

Schneeweiss A, Ruckhäberle E, Huober J (2015) Chemotherapy for metastatic breast cancer - an anachronism in the era of personalised and targeted oncological therapy? Geburtshilfe Frauenheilkd 75:574–583

4.

Bast RC Jr, Lilja H, Urban N, Rimm DL, Fritsche H, Gray J, Veltri R, Klee G, Allen A, Kim N, Gutman S, Rubin MA, Hruszkewycz A (2005) Translational crossroads for biomarkers. Clin Cancer Res 11:6103–6108

5.

Rojo MG, Bueno G, Slodkowska J (2009) Review of imaging solutions for integrated quantitative immunohistochemistry in the pathology daily practice. Folia Histochem Cytobiol 47:349–354

6.

Spitale A, Mazzola P, Soldini D, Mazzucchelli L, Bordoni A (2009) Breast cancer classification according to immunohistochemical markers: clinicopathologic features and short-term survival analysis in a population-based study from the south of Switzerland. Ann Oncol 20:628–635

7.

Koka R, Ioffe OB (2013) Breast carcinoma: is molecular evaluation a necessary part of current pathological analysis? Semin Diagn Pathol 30:321–328

8.

Goldhirsch A, Wood WC, Coates AS et al (2011) Strategies for subtypes-dealing with the diversity of breast cancer: highlights of the St Gallen international expert consensus on the primary therapy of early breast cancer 2011. Ann Oncol 22:1736–1747

9.

Goldhirsch A, Winer EP, Coates AS et al (2013) Personalizing the treatment of women with early breast cancer: highlights of the St Gallen international expert consensus on the primary therapy of early breast cancer. Ann Oncol 24:2206–2223

10.

Cheang MC, Chia SK, Voduc D, Gao D, Leung S, Snider J, Watson M, Davies S, Bernard PS, Parker JS, Perou CM, Ellis MJ, Nielsen TO (2009) Ki67 index, HER2 status, and prognosis of patients with luminal B breast cancer. J Natl Cancer Inst 101:736–750

11.

Prat A, Cheang MC, Martín M, Parker JS, Carrasco E, Caballero R, Tyldesley S, Gelmon K, Bernard PS, Nielsen TO, Perou CM (2013) Prognostic significance of progesterone receptor positive tumor cells within immunohistochemically defined luminal a breast cancer. Clin Oncol 31:203–209

12.

Maisonneuve P, Disalvatore D, Rotmensz N, Curigliano G, Colleoni M, Dellapasqua S, Pruneri G, Mastropasqua MG, Luini A, Bassi F, Pagani G, Viale G, Goldhirsch A (2014) Proposed new clinicopathological surrogate definitions of luminal a and luminal B (HER2-negative) intrinsic breast cancer subtypes. Breast Cancer Res 16:R65

13.

Allred DC, Harvey JM, Berardo M, Clark GM (1998) Prognostic and predictive factors in breast cancer by immunohistochemical analysis. Mod Pathol 11:155–168

14.

Hammond ME, Hayes DF, Dowsett M et al (2010) American Society of Clinical Oncology/College of American Pathologists guideline recommendations for immunohistochemical testing of estrogen and progesterone receptors in breast cancer. J Clin Oncol 28:2784–2795

15.

Wolff AC, Hammond ME, Hicks DG et al (2013) Recommendations for human epidermal growth factor receptor 2 testing in breast cancer: American Society of Clinical Oncology/College of American Pathologists clinical practice guideline update. J Clin Oncol 31:3997–4013

16.

Dowsett M, Nielsen TO, A'Hern R et al (2011) Assessment of Ki67 in breast cancer: recommendations from the international Ki67 in breast cancer working group. J Natl Cancer Inst 103:1656–1664

17.

Bastien RR, Rodríguez-Lescure Á, Ebbert MT et al (2012) PAM50 breast cancer subtyping by RT-qPCR and concordance with standard clinical molecular markers. BMC Med Genet 5:44

18.

Nadji M, Gomez-Fernandez C, Ganjei-Azar P, Morales AR (2005) Immunohistochemistry of estrogen and progesterone receptors reconsidered: experience with 5,993 breast cancers. Am J Clin Pathol 123:21–27

19.

Grann VR, Troxel AB, Zojwalla NJ, Jacobson JS, Hershman D, Neugut AI (2005) Hormone receptor status and survival in a population-based cohort of patients with breast carcinoma. Cancer 103:2241–2251

20.

De Maeyer L, Van Limbergen E, De Nys K, Moerman P, Pochet N, Hendrickx W, Wildiers H, Paridaens R, Smeets A, Christiaens MR, Vergote I, Leunen K, Amant F, Neven P (2008) Does estrogen receptor negative/progesterone receptor positive breast carcinoma exist? J Clin Oncol 26:335–336

21.

Paik S, Shak S, Tang G, Kim C, Baker J, Cronin M, Watson D, Bryant J, Costantino J, Wolmark N (2005) Expression of the 21 genes in the recurrence score assay and tamoxifen clinical benefit in the NSABP study B-14 of node negative, estrogen receptor positive breast cancer. J Clin Oncol 23(16S):510

22.

Cserni G, Francz M, Kálmán E, Kelemen G, Komjáthy DC, Kovács I, Kulka J, Sarkadi L, Udvarhelyi N, Vass L, Vörös A (2011) Estrogen receptor negative and progesterone receptor positive breast carcinomas-how frequent are they? Pathol Oncol Res 17:663–668

23.

Rakha EA, El-Sayed ME, Green AR, Paish EC, Powe DG, Gee J, Nicholson RI, Lee AH, Robertson JF, Ellis IO (2007) Biological and clinical characteristics of breast cancer with single hormone receptor-positive phenotype. J Clin Oncol 25:4772–4778

24.

Rhodes A, Jasani B (2009) The oestrogen receptor-negative/progesterone receptor-positive breast tumour: a biological entity or a technical artefact? J Clin Pathol 62:95–96

25.

Chan M, Chang MC, González R, Lategan B, del Barco E, Vera-Badillo F, Quesada P, Goldstein R, Cruz I, Ocana A, Cruz JJ, Amir E (2015) Outcomes of estrogen receptor negative and progesterone receptor positive breast cancer. PLoS One 10:e0132449

26.

Schroth W, Winter S, Büttner F, Goletz S, Faißt S, Brinkmann F, Saladores P, Heidemann E, Ott G, Gerteis A, Alscher MD, Dippon J, Schwab M, Brauch H, Fritz P (2016) Clinical outcome and global gene expression data support the existence of the estrogen receptor-negative/progesterone receptor-positive invasive breast cancer phenotype. Breast Cancer Res Treat 155:85–97

27.

Badve S, Nakshatri H (2009) Oestrogen-receptor-positive breast cancer: towards bridging histopathological and molecular classifications. J Clin Pathol 62:6–12

28.

Collins LC, Botero ML, Schnitt SJ (2005) Bimodal frequency distribution of estrogen receptor immunohistochemical staining results in breast cancer: an analysis of 825 cases. Am J Clin Pathol 123:16–20

29.

Reisenbichler ES, Lester SC, Richardson AL, Dillon DA, Ly A, Brock JE (2013) Interobserver concordance in implementing the 2010 ASCO/CAP recommendations for reporting ER in breast carcinomas: a demonstration of the difficulties of consistently reporting low levels of ER expression by manual quantification. Am J Clin Pathol 140:487–494

30.

Dekker TJ, ter Borg S, Hooijer GK, Meijer SL, Wesseling J, Boers JE, Schuuring E, Bart J, van Gorp J, Bult P, Riemersma SA, van Deurzen CH, Sleddens HF, Mesker WE, Kroep JR, Smit VT, van de Vijver MJ (2015) Quality assessment of estrogen receptor and progesterone receptor testing in breast cancer using a tissue microarray-based approach. Breast Cancer Res Treat 152:247–252

31.

Phillips T, Murray G, Wakamiya K, Askaa J, Huang D, Welcher R, Pii K, Allred DC (2007) Development of standard estrogen and progesterone receptor immunohistochemical assays for selection of patients for antihormonal therapy. Appl Immunohistochem Mol Morphol 15:325–331

32.

Hanna WM, Rüschoff J, Bilous M, Coudry RA, Dowsett M, Osamura RY, Penault-Llorca F, van de Vijver M, Viale G (2014) HER2 in situ hybridization in breast cancer: clinical implications of polysomy 17 and genetic heterogeneity. Mod Pathol 27:4–18

33.

Inwald EC, Klinkhammer-Schalke M, Hofstädter F, Zeman F, Koller M, Gerstenhauer M, Ortmann O (2013) Ki-67 is a prognostic parameter in breast cancer patients: results of a large population-based cohort of a cancer registry. Breast Cancer Res Treat 139:539–552

34.

Abubakar M, Orr N, Daley F, Coulson P, Ali HR, Blows F, Benitez J, Milne R, Brenner H, Stegmaier C, Mannermaa A, Chang-Claude J, Rudolph A, Sinn P, Couch FJ, Devilee P, Tollenaar RA, Seynaeve C, Figueroa J, Sherman ME, Lissowska J, Hewitt S, Eccles D, Hooning MJ, Hollestelle A, Martens JW, van Deurzen CH, Investigators K, Bolla MK, Wang Q, Jones M, Schoemaker M, Wesseling J, van Leeuwen FE, Van 't Veer L, Easton D, Swerdlow AJ, Dowsett M, Pharoah PD, Schmidt MK, Garcia-Closas M (2016) Prognostic value of automated KI67 scoring in breast cancer: a centralised evaluation of 8088 patients from 10 study groups. Breast Cancer Res 18(1):104

35.

Sun J, Chen C, Wei W, Zheng H, Yuan J, Tu YI, Yao F, Wang L, Yao X, Li J, Li Y, Sun S (2015) Associations and indications of Ki67 expression with clinicopathological parameters and molecular subtypes in invasive breast cancer: a population-based study. Oncol Lett 10:1741–1748

36.

Hayashi S, Kitada M, Sato K, Matsuda Y, Ishibashi K, Oikawa K, Miyokawa N, Hirata S (2014) Histological grade as an alternative to the Ki67 labeling index is only available for luminal-type breast cancers. Breast Cancer 21:47–51

37.

Arima N, Nishimura R, Osako T, Nishiyama Y, Fujisue M, Okumura Y, Nakano M, Tashima R, Toyozumi Y (2016) The importance of tissue handling of surgically removed breast cancer for an accurate assessment of the Ki-67 index. J Clin Pathol 69:255–259

38.

Puig-Vives M, Sánchez MJ, Sánchez-Cantalejo J, Torrella-Ramos A, Martos C, Ardanaz E, Chirlaque MD, Perucha J, Díaz JM, Mateos A, Machón M, Marcos-Gragera R (2013) Distribution and prognosis of molecular breast cancer subtypes defined by immunohistochemical biomarkers in a Spanish population-based study. Gynecol Oncol 130:609–614

39.

Inwald EC, Koller M, Klinkhammer-Schalke M, Zeman F, Hofstädter F, Gerstenhauer M, Brockhoff G, Ortmann O (2015) 4-IHC classification of breast cancer subtypes in a large cohort of a clinical cancer registry: use in clinical routine for therapeutic decisions and its effect on survival. Breast Cancer Res Treat 153:647–658

40.

Yao K, Goldschmidt R, Turk M, Wesseling J, Stork-Sloots L, de Snoo F, Cristofanilli M (2015) Molecular subtyping improves diagnostic stratification of patients with primary breast cancer into prognostically defined risk groups. Breast Cancer Res Treat 154:81–88

41.

Cuzick J, Dowsett M, Pineda S, Wale C, Salter J, Quinn E, Zabaglo L, Mallon E, Green AR, Ellis IO, Howell A, Buzdar AU, Forbes JF (2011) Prognostic value of a combined estrogen receptor, progesterone receptor, Ki-67, and human epidermal growth factor receptor 2 immunohistochemical score and comparison with the genomic health recurrence score in early breast cancer. J Clin Oncol 29:4273–4278

42.

Barton S, Zabaglo L, A'Hern R, Turner N, Ferguson T, O'Neill S, Hills M, Smith I, Dowsett M (2012) Assessment of the contribution of the IHC4+C score to decision making in clinical practice in early breast cancer. Br J Cancer 106:1760–1765

43.

Vuong D, Simpson PT, Green B, Cummings MC, Lakhani SR (2014) Molecular classification of breast cancer. Virchows Arch 465:1–14
Acknowledgements
The manuscript was edited for English language by Pamela V Lear PhD, Oxford University, UK.
Ethics declarations
Conflict of interest
The authors declare that they have no conflict of interest.
About this article
Cite this article
Gándara-Cortes, M., Vázquez-Boquete, Á., Fernández-Rodríguez, B. et al. Breast cancer subtype discrimination using standardized 4-IHC and digital image analysis. Virchows Arch 472, 195–203 (2018). https://doi.org/10.1007/s00428-017-2194-z
Received:

Revised:

Accepted:

Published:

Issue Date:
Keywords
Breast cancer

4-IHC

Image analysis

Biological subtypes