Abstract
Several different histological subtypes of penile carcinoma had been described in the last decades, many with different biological behavior and prognosis. The association of two histological subtypes (mixed tumors) can be observed in one third of the cases. The most common association is of warty and basaloid tumors, two HPV-related carcinomas. Here, we described a mixed papillary-sarcomatoid carcinoma, never reported before. Although it is a clinical aspect of a low-grade verruciform tumor, its prognosis showed it to be very aggressive due to the sarcomatoid component hidden above the papillary component. The two components showed opposite cadherin/vimentin expression pointed to epithelial-mesenchymal transition between them.
This is a preview of subscription content, log in to check access.
Access options
Buy single article
Instant access to the full article PDF.
US$ 39.95
Price includes VAT for USA
Subscribe to journal
Immediate online access to all issues from 2019. Subscription will auto renew annually.
US$ 199
This is the net price. Taxes to be calculated in checkout.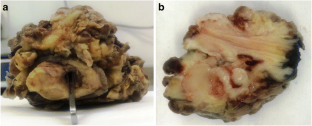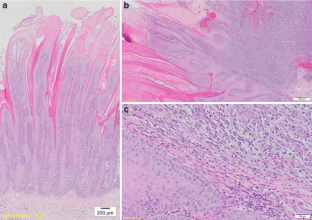 References
1.

Cubilla AL, Amin MB, Ayalla G et al (2016) Tumor of the penis. In: Humphrey PA, Ulbright TM, Reuter VE (eds) The 2016 WHO classification of tumours of the urinary system and male genital organs. IARC, Lyon, pp 259–286

2.

Guimarães GC, Cunha IW, Soares FA et al (2009) Penile squamous cell carcinoma clinicopathological features, nodal metastasis and outcome in 333 cases. J Urol 182(2):528–534

3.

Chaux A, Soares F, Rodríguez I et al (2010) Papillary squamous cell carcinoma, not otherwise specified (NOS) of the penis: clinicopathologic features, differential diagnosis, and outcome of 35 cases. Am J Surg Pathol 34(2):223–230

4.

Velazquez EF, Melamed J, Barreto JE et al (2005) Sarcomatoid carcinoma of the penis: a clinicopathologic study of 15 cases. Am J Surg Pathol 29(9):1152–1158

5.

Chaux A, Caballero C, Soares F et al (2009) The prognostic index: a useful pathologic guide for prediction of nodal metastases and survival in penile squamous cell carcinoma. Am J Surg Pathol 33(7):1049–1057

6.

Oertell J, Caballero C, Iglesias M et al (2011) Differentiated precursor lesions and low-grade variants of squamous cell carcinomas are frequent findings in foreskins of patients from a region of high penile cancer incidence. Histopathology 58(6):925–933

7.

Sanchez DF, Soares F, Alvarado-Cabrero I et al (2015) Pathological factors, behavior, and histological prognostic risk groups in subtypes of penile squamous cell carcinomas (SCC). Semin Diagn Pathol 32(3):222–231

8.

Chaux A, Reuter V, Lezcano C et al (2009) Comparison of morphologic features and outcome of resected recurrent and nonrecurrent squamous cell carcinoma of the penis: a study of 81 cases. Am J Surg Pathol 33(9):1299–1306

9.

Cunha IW, Souza MJ, da Costa WH et al (2016) Epithelial-mesenchymal transition (EMT) phenotype at invasion front of squamous cell carcinoma of the penis influences oncological outcomes. Urol Oncol 34(10):433.e19–433.e26
Acknowledgements
The authors acknowledge the Departments of Pathology and Urology from A. C. Camargo Cancer Center for the support in writing this paper and also FAPESP grant no. 2009/52088-3.
Ethics declarations
Conflict of interest
All authors declare that they have no conflicts of interest regarding this publication.
About this article
Cite this article
Bovolim, G., da Costa, W.H., Guimaraes, G.C. et al. Mixed papillary-sarcomatoid carcinoma of the penis: report of an aggressive subtype. Virchows Arch 471, 815–818 (2017). https://doi.org/10.1007/s00428-017-2191-2
Received:

Revised:

Accepted:

Published:

Issue Date:
Keywords
Penile carcinoma; sarcomatoid differentiation

Male cancer

Epithelial-mesenchymal transition

Penile malignancies