Abstract
We report the case of an 81-year-old patient with a pleomorphic giant cell adenocarcinoma of the prostate. After diagnosis, he rapidly developed bone metastasis and died within 1 year. This variant of acinar adenocarcinoma is extremely rare and prognosis is poor. This entity has been included into the 2016 WHO classification. The principal differential diagnosis is urothelial carcinoma. To assess the prostatic origin, routine immunohistochemistry can be problematic. Loss of epitopes in this poorly differentiated entity can occur, such as loss of expression of PSA and p504s. We recently described a very sensitive and specific marker of prostate cancer, HOXB13, which once again has proven to be highly specific and sensitive. This is the first description of a pleomorphic giant cell prostate cancer expressing HOXB13.
This is a preview of subscription content, log in to check access.
Access options
Buy single article
Instant access to the full article PDF.
US$ 39.95
Price includes VAT for USA
Subscribe to journal
Immediate online access to all issues from 2019. Subscription will auto renew annually.
US$ 199
This is the net price. Taxes to be calculated in checkout.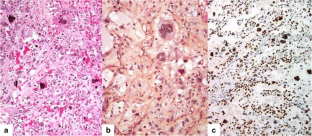 References
1.

Varinot J, Cussenot O, Roupret M, Conort P, Bitker MO, Chartier-Kastler E, Cheng L, Compérat E (2013) HOXB13 is a sensitive and specific marker of prostate cells, useful in distinguishing between carcinomas of prostatic and urothelial origin. Virchows Arch 463(6):803–809

2.

Varinot J, Furudoï A, Drouin S, Phe V, Penna RR, Roupret M, Bitker MO, Cussenot O, Compérat E (2016) HOXB13 protein expression in metastatic lesions is a promising marker for prostate origin. Virchows Arch 468(5):619–622

3.

Moch H, Humphrey PA, Ulbright TM, Reuter V (2016) WHO classification of tumours of the urinary system and male genital organs. International Agency for Research on Cancer, Lyon

4.

Mai KT, Burns BF, Morash D (1996) Giant-cell carcinoma of the prostate. J Urol Pathol 5:167–174

5.

Parwani AV, Herawi M, Epstein JI (2006 Oct) Pleomorphic giant cell adenocarcinoma of the prostate: report of 6 cases. Am J Surg Pathol 30(10):1254–1259

6.

Lopez-Beltran A, Eble JN, Bostwick DG (2005 May) Pleomorphic giant cell carcinoma of the prostate. Arch Pathol Lab Med. 129(5):683–685

7.

Epstein JI, Egevad L, Amin MB, Delahunt B, Srigley JR, Humphrey PA, Grading Committee (2016) The 2014 International Society of Urological Pathology (ISUP) consensus conference on Gleason Grading of prostatic carcinoma: definition of grading patterns and proposal for a new grading system. Am J Surg Pathol 40(2):244–252

8.

Sanfrancesco J, McKenney JK, Leivo MZ, Gupta S, Elson P, Hansel DE (2016) Sarcomatoid urothelial carcinoma of the bladder: analysis of 28 cases with emphasis on clinicopathologic features and markers of epithelial-to-mesenchymal transition. Arch Pathol Lab Med 140(6):543–551

9.

Barresi V, Ieni A, Cardia R, Licata L, Vitarelli E, Reggiani Bonetti L, Tuccari G (2016) HOXB13 as an immunohistochemical marker of prostatic origin in metastatic tumors. APMIS 124(3):188–193
Ethics declarations
The authors have accepted principles of ethical and professional conduct.
Funding
No funding was received.
Conflict of interest
The authors declare that they have no conflict of interest.
About this article
Cite this article
Larnaudie, L., Compérat, E., Conort, P. et al. HOXB13 a useful marker in pleomorphic giant cell adenocarcinoma of the prostate: a case report and review of the literature. Virchows Arch 471, 133–136 (2017). https://doi.org/10.1007/s00428-017-2134-y
Received:

Revised:

Accepted:

Published:

Issue Date:
Keywords
Prostate cancer

Pleomorphic

Giant cell

Adenocarcinoma

HOXB13