This is a preview of subscription content, log in to check access.
Access options
Buy single article
Instant access to the full article PDF.
US$ 39.95
Price includes VAT for USA
Subscribe to journal
Immediate online access to all issues from 2019. Subscription will auto renew annually.
US$ 199
This is the net price. Taxes to be calculated in checkout.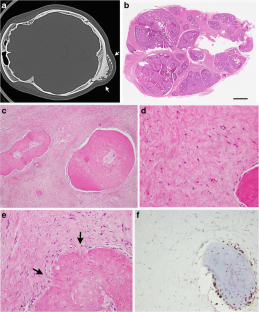 References
1.

Selesnick SH, Desloge RB, Bullough PG (1999) Protuberant fibro-osseous lesions of the temporal bone: a unique clinicopathologic diagnosis. Am J Otol 20:394–396

2.

SIA SF, Davidson AS, Soper JR, Gerarchi P, Bonar SF (2010) Protuberant fibro-osseous lesion of the temporal bone: "Bullough lesion". Am J Surg Pathol 34:1217–1223

3.

Lee M, Song JS, Chun S-M, Lee JH, Hong SH, Cho K-J (2014) Protuberant fibro-osseous lesions of the temporal bone. Two additional case reports. Am J Surg Pathol 38:1510–1515

4.

Evans HL (1995) Desmoplastic fibroblastoma: a report of seven cases. Am J Surg Pathol 19:1077–1081

5.

Miettinen M, Fetch JF (1998) Collagenous fibroma (desmoplastic fibroblastoma): a clinicopathologic analysis of 63 cases of a distinctive soft tissue lesion with stellate-shaped fibroblasts. Hum Pathol 29:676–682

6.

Kato I, Yoshida A, Ikegami M et al (2016) FOSL1 immunohistochemistry clarifies the distinction between desmoplastic fibroblastoma and fibroma of tendon sheath. Histopathology 69:1012–1020

7.

Goldblum JR, Folpe AL, Weiss SW (2014) Enzinger & Weiss's soft tissue tumors, sixth edn. Elsevier, Philadelphia

8.

Dadlani R, Ghosal N, Hegde AS, Gupta K (2014) Giant calvarial desmoplastic fibroblastoma. J Clin Neurosci 21:696–699

9.

Rank JP, Rostad SW (1998) Perineurioma with ossification: a case report with immunehistochemical and ultrastructureal studies. Arch Pathol Lab Med 122:366–370

10.

Hisaoka M, Matsuyama A, Aoki T, Sakamoto A, Yokoyama K (2012) Low-grade fibromyxoid sarcoma with prominent giant rosettes and heterotopic ossification. Pathol Res Pract 208:557–560

11.

Lee SE, Lee EH, Park H et al (2012) The diagnostic utility of the GNAS mutation in patients with fibrous dysplasia: meta-analysis of 168 sporadic cases. Hum Pathol 43:1234–1242
Ethics declarations
Conflict of interest
The authors declare that they have no conflict of interest.
Funding
This study was partly supported by a JSPS KAKEN grant (no. 15 K08389).
About this article
Cite this article
Sato, N., Aoki, T., Mukai, N. et al. Protuberant fibro-osseous lesion of the skull: two cases with occipital lesions. Virchows Arch 470, 717–720 (2017). https://doi.org/10.1007/s00428-017-2111-5
Received:

Revised:

Accepted:

Published:

Issue Date:
Keywords
Temporal Bone

Fibrous Dysplasia

Fibrous Stroma

Lambdoid Suture

Outer Table