Abstract
There is mounting evidence on the importance of some biological processes in tumor growth, such as vascular supply, apoptosis, autophagy, and senescence. We have investigated these processes in polymorphous low-grade adenocarcinoma (PLGA), in an attempt to identify those that are relevant for this particular lesion. We analyzed 31 cases of PLGA using immunohistochemistry to antibodies against CD34 and CD105 to detect blood vessels; against D2-40 to detect lymphatic vessels; against Bax, Bcl-2, and survivin to explore cell apoptosis; and against Beclin and LCB3 to investigate autophagy and against p21 and p16 to assess senescence. Our results showed that PLGA growth does not depend on newly formed vessels but only on preexisting vasculature. Furthermore, PLGA is promoted by autophagy, sustained by both anti-apoptotic and anti-senescence signals, and stimulated by Bcl-2 and survivin.
This is a preview of subscription content, log in to check access.
Access options
Buy single article
Instant access to the full article PDF.
US$ 39.95
Price includes VAT for USA
Subscribe to journal
Immediate online access to all issues from 2019. Subscription will auto renew annually.
US$ 199
This is the net price. Taxes to be calculated in checkout.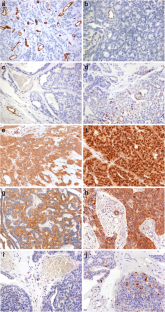 References
1.

Luna MA, Wenig BM (2005) Polymorphous low-grade adenocarcinoma. In: Barnes L, Eveson JW, Reichart P, Sidransky D, Ed. Pathol. Genet. Head Neck Tumours. pp 223–224

2.

Freedman PD, Lumerman H (1983) Lobular carcinoma of intraoral minor salivary gland origin. Oral Surgery, Oral Med Oral Pathol 56:157–165. doi:10.1016/0030-4220(83)90282-7

3.

Batsakis JG, Pinkston GR, Luna MA et al (1983) Adenocarcinomas of the oral cavity: a clinicopathologic study of terminal duct carcinomas. J Laryngol Otol 97:825–835. doi:10.1017/S0022215100095062

4.

El-Naaj IA, Leiser Y, Wolff A, Peled M (2011) Polymorphous low grade adenocarcinoma: case series and review of surgical management. J Oral Maxillofac Surg 69:1967–1972. doi:10.1016/j.joms.2010.10.010

5.

Carmeliet P, Jain RK (2000) Angiogenesis in cancer and other diseases. Nature 407:249–257. doi:10.1038/35025220

6.

Detmar M, Hirakawa S (2002) The formation of lymphatic vessels and its importance in the setting of malignancy. J Exp Med 196:713–718

7.

Ouyang L, Shi Z, Zhao S et al (2012) Programmed cell death pathways in cancer: a review of apoptosis, autophagy and programmed necrosis. Cell Prolif 45:487–498. doi:10.1111/j.1365-2184.2012.00845.x

8.

Townson JL, Naumov GN, Chambers AF (2003) The role of apoptosis in tumor progression and metastasis. Curr Mol Med 3:631–642

9.

Roberg K, Jonsson A-C, Grénman R, Norberg-Spaak L (2007) Radiotherapy response in oral squamous carcinoma cell lines: evaluation of apoptotic proteins as prognostic factors. Head Neck 29:325–334. doi:10.1002/hed

10.

Levine B (2007) Cell biology: autophagy and cancer. Nature 446:745–747. doi:10.1038/446745a

11.

Lindqvist LM, Simon a K, Baehrecke EH (2015) Current questions and possible controversies in autophagy. Cell Death Discov 1:15036. doi:10.1038/cddiscovery.2015.36

12.

Cosway B, Lovat P (2016) The role of autophagy in squamous cell carcinoma of the head and neck. Oral Oncol 54:1–6. doi:10.1016/j.oraloncology.2015.12.007

13.

Burada F, Nicoli ER, Ciurea ME et al (2015) Autophagy in colorectal cancer: an important switch from physiology to pathology. World J Gastrointest Oncol 7:271–284. doi:10.4251/wjgo.v7.i11.271

14.

Parkhitko AA, Favorova OO, Henske EP (2013) Autophagy: mechanisms, regulation, and its role in tumorigenesis. Biochemistry 78:355–367. doi:10.1134/S0006297913040044

15.

Campisi J, d'Adda di Fagagna F (2007) Cellular senescence: when bad things happen to good cells. Nat Rev Mol Cell Biol 8:729–740. doi:10.1038/nrm2233

16.

Collado M, Serrano M (2010) Senescence in tumours: evidence from mice and humans. Nat Rev Cancer 10:51–57. doi:10.1038/nrc2772

17.

Kuilman T, Michaloglou C, Mooi WJ, Peeper DS (2010) The essence of senescence. Genes Dev 24:2463–2479. doi:10.1101/gad.1971610

18.

Michal M, Skálová A, Simpson RHW et al (1999) Cribriform adenocarcinoma of the tongue: a hitherto unrecognized type of adenocarcinoma characteristically occurring in the tongue. Histopathology 35:495–501. doi:10.1046/j.1365-2559.1999.00792.x

19.

Skalova A, Sima R, Kaspirkova-Nemcova J et al (2011) Cribriform adenocarcinoma of minor salivary gland origin principally affecting the tongue: characterization of new entity. Am J Surg Pathol 35:1168–1176. doi:10.1097/PAS.0b013e31821e1f54

20.

Weinreb I, Zhang L, Tirunagari LMS et al (2014) Novel PRKD gene rearrangements and variant fusions in cribriform adenocarcinoma of salivary gland origin. Genes Chromosom Cancer 53:845–856. doi:10.1002/gcc.22195

21.

Carmeliet P, Jain RK (2011) Molecular mechanisms and clinical applications of angiogenesis. Nature 473:298–307. doi:10.1038/nature10144

22.

Wong RSY (2011) Apoptosis in cancer: from pathogenesis to treatment. J Exp Clin Cancer Res 30:87. doi:10.1186/1756-9966-30-87

23.

Um H-D (2016) Bcl-2 family proteins as regulators of cancer cell invasion and metastasis: a review focusing on mitochondrial respiration and reactive oxygen species. Oncotarget 7:5193–5203. doi:10.18632/oncotarget.6405

24.

Hirano H, Yamaguchi T, Yokota S et al (2015) Survivin expression in lung cancer: association with smoking, histological types and pathological stages. Oncol Lett 10:1456–1462

25.

Ko YH, Roh SY, Won HS et al (2010) Survivin expression in resected adenoid cystic carcinoma of the head and neck. Head Neck Oncol 30:30

26.

Ettl T, Stiegler C, Zeitler K et al (2012) EGFR, HER2, survivin, and loss of pSTAT3 characterize high-grade malignancy in salivary gland cancer with impact on prognosis. Hum Pathol 43:921–931. doi:10.1016/j.humpath.2011.08.006

27.

Kondo Y, Kanzawa T, Sawaya R, Kondo S (2005) The role of autophagy in cancer development and response to therapy. Nat Rev Cancer 5:726–734. doi:10.1038/nrc1692

28.

El-Khattouti A, Selimovic D, Haikel Y, Hassan M (2013) Crosstalk between apoptosis and autophagy: molecular mechanisms and therapeutic strategies in cancer. J Cell Death 6:37–55. doi:10.4137/JCD.S11034

29.

Beauséjour CM, Krtolica A, Galimi F et al (2003) Reversal of human cellular senescence: roles of the p53 and p16 pathways. EMBO J 22:4212–4222. doi:10.1093/emboj/cdg417

30.

Dimri GP (2005) What has senescence got to do with cancer? Cancer Cell 7:505–512. doi:10.1016/j.ccr.2005.05.025
Acknowledgements
The authors would like to thank Jeruza Bossonaro and Nadir Freitas for their technical expertise.
Authors' contributions
All authors contributed equally to the preparation of the article.
Ethics declarations
This study was approved by the Ethics Committee of the São Leopoldo Mandic Institute and Research Center (number 916.794).
Funding
The authors are also extremely grateful to FAPESP (São Paulo Research Foundation) and CNPq for their financial support (FAPESP #2015/12418-5 and CNPQ #304031/2014-3).
Conflict of interest
The authors declare that they have no conflict of interest.
About this article
Cite this article
Soares, A.B., Martinez, E.F., Ribeiro, P.F.A. et al. Factors that may influence polymorphous low-grade adenocarcinoma growth. Virchows Arch 470, 437–443 (2017). https://doi.org/10.1007/s00428-017-2085-3
Received:

Revised:

Accepted:

Published:

Issue Date:
Keywords
Polymorphous low-grade adenocarcinoma

Angiogenesis

Apoptosis

Autophagy

Senescence

Bcl2

Survivin

LC3B