Abstract
We analyzed CpG-island hypermethylation status in 12 genes of paraffin-embedded tissues from 38 rheumatoid arthritis (RA) patients with methotrexate (MTX)-associated large B cell lymphoproliferative disorder (BLPD), 11 RA patients with non-MTX-associated BLPD (non-MTX-BLPD), 22 controls with diffuse large B cell lymphoma (DLBCL), and 10 controls with Epstein–Barr virus (EBV)+ DLBCL. Among them, tumor cells from EBV+ MTX-BLPD patients and control EBV+ DLBCL patients had significantly lower median incidence of CpG island methylator phenotype (CIMP) than those from non-MTX-BLPD and control DLBCL groups (2.3 and 1.7 vs. 4.3 and 4.4; P < 0.01 for each). In the MTX-BLPD group, EBV+ patients showed lower median CIMP than EBV− patients (2.3 vs. 3.2); they also had significantly lower hypermethylation incidence in four apoptosis-related genes, especially death-associated protein kinase (14 vs. 55 %), higher incidence of massive tumor necrosis (86 vs. 27 %), and lower BCL2 protein expression (19 vs. 86 %) than did the control DLBCL group (P < 0.01 for all). In all clinical stages, EBV+ MTX-BLPD patients had better prognoses than the EBV− MTX-BLPD (P = 0.011), non-MTX-BLPD (P = 0.002), and control DLBCL groups (P = 0.015). MTX-BLPD patients without hypermethylated RAS-associated domain family-1A (RASSF1A) or O 6 -methyl guanine-DNA methyltransferase (MGMT) had significantly better prognosis than those with hypermethylation of those genes (P = 0.033). We conclude that in RA patients with MTX-BLPD, EBV infection is associated with a lower incidence of CIMP, apoptosis-related gene hypermethylation, and BCL2 expression, which can induce tumor regression by MTX withdrawal and lead to better prognoses.
This is a preview of subscription content, log in to check access.
Access options
Buy single article
Instant access to the full article PDF.
US$ 39.95
Price includes VAT for USA
Subscribe to journal
Immediate online access to all issues from 2019. Subscription will auto renew annually.
US$ 199
This is the net price. Taxes to be calculated in checkout.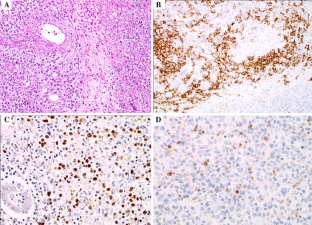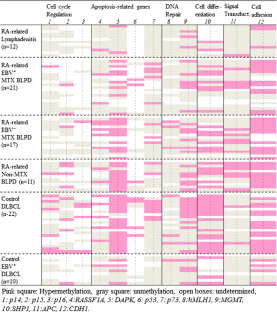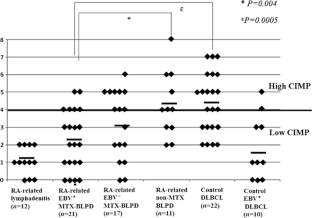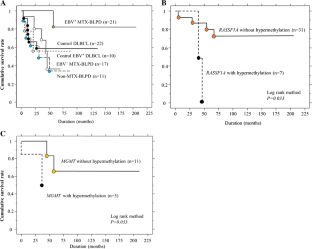 Abbreviations
APC :

Adenomatous polyposis coli

BLPD:

Large B cell lymphoproliferative disorder

CDH1 :

Cadherin-1

CIMP:

CpG island methylator phenotype

DAPK :

Death-associated protein kinase

DLBCL:

Diffuse large B cell lymphoma

EBER:

EBV-encoded RNA

EBV:

Epstein–Barr virus

hMLH1 :

Human MutL homolog-1

LMP:

Latent membrane protein

MGMT :

O 6-Methyl guanine-DNA methyltransferase

ML:

Malignant lymphoma

MTX:

Methotrexate

MTX-LPD:

MTX-associated lymphoproliferative disorders

non-MTX:

Non-MTX associated

RA:

Rheumatoid arthritis

RASSF1A :

RAS-associated domain family-1A

SHP1 :

Src homology region-2 domain-containing phosphatase-1
References
1.

Smitten A, TA S, MC H, Suissa S (2008) A meta-analysis of the incidence of malignancy in adult patients with rheumatoid arthritis. Arthritis Res Ther 10:R45. doi:10.1186/ar2404

2.

Wong AK, Kerkoutian S, Said J, Rashidi H, Pullarkat ST (2011) Risk of lymphoma in patients receiving antitumor necrosis factor therapy: a meta-analysis of published randomized controlled studies. Clin Rheumatol 31:631–636. doi:10.1007/s10067-011-1895-y. E

3.

Yamada T, Nakajima A, Inoue E, Tanaka E, Taniguchi A, Momohara S, Yamanaka H (2011) Incidence of malignancy in Japanese patients with rheumatoid arthritis. Rheumatol Int 31:1487–1492. doi:10.1007/s00296-010-1524-0

4.

Kamel OW, van de Rijn M, Weiss LM, Del Zoppo GJ, Hench PK, Robbins BA, Montqomery PG, Warnke RA, Dorfman RF (1993) Brief report: reversible lymphomas associated with Epstein–Barr virus occurring during methotrexate therapy for rheumatoid arthritis and dermatomyositis. N Engl J Med 328:1317–1321. doi:10.1056/NEJM199305063281806

5.

Feng WH, Cohen JI, Fischer S, Li L, Sneller M, Goldbach-Mansky R, Raab-Traub N, Delecluse HJ, Kenney SC (2004) Reactivation of latent Epstein–Barr virus by methotrexate: a potential contribution to methotrexate-associated lymphomas. J Natl Can Inst 96:1691–1702. doi:10.1093/jnci/djh313

6.

Rizzi R, Curci P, Delia M, Rinaldi E, Chiefa A, Specchia G, Liso V (2009) Spontaneous remission of "methotrexate-associated lymphoproliferative disorders" after discontinuation of immunosuppressive treatment for autoimmune disease. Review of the literature. Med Oncol 26:1–9. doi:10.1007/s12032-008-9069-8

7.

Swerdlow SH, Campo E, Pileri ES, Harris NL, Stein H, Siebert R, Advani R, Ghielmini M, Salles GA, Zelenetz AD, Jaffe ES (2016) The 2016 revision of the World Health Organization classification of lymphoid neoplasms. Blood 127:2375–2390. doi:10.1182/blood-2016-01-643569

8.

Ichikawa A, Arakawa F, Kiyasu J, Sato K, Miyoshi H, Niino D, Kimura Y, Takeuchi M, Yoshida M, Ishibashi Y, Nakashima S, Sugita Y, Miura O, Ohshima K (2013) Methotrexate/iatrogenic lymphoproliferative disorders in rheumatoid arthritis: histology, Epstein–Barr virus, and clonality are important predictors of disease progression and regression. Eur J Haematol 91:20–28. doi:10.1111/ejh.12116

9.

Kondo S, Tanimoto K, Yamada K, Yoshimoto G, Suematsu E, Fujisaki T, Tamura K, Takeshita M, Okamura S (2013) Mature T/NK-cell lymphoproliferative disease and Epstein–Barr virus infection are more frequent in patients with rheumatoid arthritis treated with methotrexate. Virch Arch 462:399–407. doi:10.1007/s00428-013-1389-1. E

10.

Saha A, Robertson ES (2011) Epstein-Barr virus-associated B-cell lymphomas: pathogenesis and clinical outcomes. Clin Can Res 17:3056–3063. doi:10.1158/1078-0432

11.

Yamada K, Oshiro Y, Okamura S, Fujisaki T, Kondo S, Nakayama Y, Suematsu E, Tamura K, Takeshita M (2015) Clinicopathological characteristics and rituximab addition to cytotoxic therapies in patients with rheumatoid arthritis and methotrexate-associated large B lymphoproliferative disorders. Histopathol 67:70–80. doi:10.1111/his.12627

12.

Kondo T, Oka T, Sato H, Shinnou Y, Washio K, Takano M, Morito T, Takata K, Ohara N, Ouchida M, Shimizu K, Yoshino T (2009) Accumulation of aberrant CpG hypermethylation by Helicobacter pylori infection promotes development and progression of gastric MALT lymphoma. Int J Oncol 35:547–557. doi:10.3892/ijo_00000366

13.

Sato H, Oka T, Shinnou Y, Kondo T, Washio K, Takano M, Takata K, Morito T, Huang X, Tamura M, Kitamura Y, Ohara N, Ouchida M, Ohshima K, Shimizu K, Tanimoto M, Takahashi K, Matsuoka M, Utsunomiya A, Yoshino T (2010) Multi-step aberrant CpG island hyper-methylation is associated with the progression of adult-T cell leukemia/lymphoma. Am J Pathol 176:402–415. doi:10.2353/ajpath.2010.090236?

14.

Zong L, Seto Y (2014) CpG island methylator phenotype, helicobacter pylori, Epstein-Barr virus, and microsatellite instability and prognosis in gastric cancer: a systemic review and meta-analysis. PLoS One 9:e86097. doi:10.1371/journal.pone.0086097

15.

Juo YY, Johnston FM, Zhang DY, Juo HH, Wang H, Pappou EP, Yu T, Easwaran H, Baylin S, van Engeland M, Ahuja N (2014) Prognostic value of CpG island methylator phenotype among colorectal cancer patients: a systemic review and meta-analysis. Ann Oncol 25:2314–2327. doi:10.1093/annonc/mdu149

16.

Kaneko Y, Sakurai S, Hironaka M, Sato S, Oguni S, Sakuma Y, Sato K, Sugano K, Saito K (2013) Distinct methylated profiles in Helicobacter pylori dependent and independent gastric MALT lymphoma. Gut 52:641–646. doi:10.1136/gut.52.5.641

17.

Amara K, Trimeche M, Ziadi S, Laatiri A, Hachana M, Sriha B, Mokni M, Korbi S (2007) Presence of simian virus 40 DNA sequences in diffuse large B-cell lymphomas in Tunisia correlates with aberrant promoter hypermethylation of multiple tumor suppressor genes. Int J Can 121:2693–2702. doi:10.1002/ijc.23038

18.

Amara K, Trimeche M, Ziadi S, Laatiri A, Hachana M, Korbi S (2008) Prognostic significance of aberrant promoter hypermethylation of CpG islands in patients with diffuse large B-cell lymphoma. Ann Oncol 19:1774–1786. doi:10.1093/annonc/mdn374

19.

Rossi D, Gaidano G, Gloghini A, Deambrogi C, Franceschetti S, Berra E, Cerri M, Vendramin C, Conconi A, Viglio A, Muti G, Oreste P, Morra E, Paulli M, Capello D, Carbone A (2003) Frequent aberrant promoter hypermethylation of O6-methylguanine-DNA methyltransferase and death-associated protein kinase genes in immunodeficiency- related lymphomas. Brit J Haematol 123:475–478. doi:10.1046/j.1365-2141.2003.04644.x

20.

Au WY, Ma ES, Choy C, Chung LP, Fung TK, Liang R, Kwong YL (2006) Therapy-related lymphomas in patients with autoimmune diseases after treatment with disease-modifying anti-rheumatic drugs. Am J Hematol 81:5–11. doi:10.1002/ajh.20508?

21.

Takacs M, Segesdi J, Banati F, Koroknai A, Wolf H, Niller HH, Minarovits J (2009) The importance of epigenetic alterations in the development of Epstein-Barr virus-related lymphomas. Medit J Hemat Infect Dis 1(2):e2009012. doi:10.4084/MJHID.2009.012

22.

Dhiab MB, Ziadi S, Mestiri S, Gacem RB, Ksiaa F, Trimeche M (2015) DNA methylation patterns in EBV-positive and EBV-negative Hodgkin lymphomas. Cell Oncol 38:453–462. doi:10.1007/s13402-015-0242-8

23.

Aletaha D, Neogi T, Silman AJ, Funovits J, Felson DT, Bingham CO, Birnbaum NS, Burmester GR, Bykerk VP, Cohen MD, Combe B, Costenbader KH, Dougados M, Emery P, Ferraccioli G, Hazes JMW, Hobbs K, Huizinga TW, Kavanaugh A (2010) Rheumatoid arthritis classification criteria. Arthritis Rheum 62:2569–2581. doi:10.1002/art.27584

24.

Kikuma K, Yamada K, Nakamura S, Ogami A, Nimura S, Hirahashi M, Yonemasu H, Urabe S, Naito S, Matsuki Y, Sadahira Y, Takeshita M (2014) Detailed clinicopathological characteristics and possible lymphomagenesis of type II intestinal enteropathy-associated T cell lymphoma in Japan. Hum Pathol 45:1276–1284. doi:10.1016/j.humpath.2013.10.038

25.

Niitsu N, Okamoto M, Nakamine H, Hirano M (2010) Clinicopathologic correlations of diffuse large B-cell lymphoma in rheumatoid arthritis patients treated with methotrexate. Cancer Sci 101:1309–1313. doi:10.1111/j.1349-7006.2010.01517.x

26.

Fu Q, He C, Mao Z (2013) Epstein-Barr virus interactions with the BCL2 protein family and apoptosis in human tumor cells. J Zhejiang Univ Sci B 14:8–24. doi:10.1631/jzus.B1200189

27.

Johnson LR, Nalesnik MA, Swerdlow SH (2006) Impact of Epstein-Barr virus in monomorphic B-cell posttransplant lymphoproliferative disorders. Am J Surg Pathol 30:1604–1612. doi:10.1097/01.pas.0000213317.59176.d2?

28.

Oyama T, Ichimura K, Suzuki R, Suzumiya J, Ohshima K, Yatabe Y, Yokoi T, Kojima M, Kamiya Y, Taji H, Kagami Y, Ogura M, Saito H, Morishima Y, Nakamura S (2003) Senile EBV+ B-cell lymphoproliferative disorders. A clinicopathologic study of 22 patients. Am J Surg Pathol 27:16–26 ISSN: 0147–5185

29.

Montes-Moreno S, Odqvist L, Diaz-Perez JA, Lopez AB, de Villambrosía SG, Mazorra F, Castillo ME, Lopez M, Pajares R, García JF, Mollejo M, Camacho FI, Ruiz-Marcellán C, Adrados M, Ortiz N, Franco R, Ortiz-Hidalgo C, Suarez-Gauthier A, Young KH, Piris MA (2012) EBV-positive diffuse large B-cell lymphoma of the elderly is an aggressive post-germinal center B-cell neoplasm characterized by prominent nuclear factor-κB activation. Mod Pathol 25:968–982. doi:10.1038/modpathol.2012.52

30.

Pratt Z, Zhang J, Sugden B (2012) The latent membrane protein 1 (LMP1) oncogene of Epstein-Barr virus can simultaneously induce and inhibit apoptosis in B cells. J Virol 86:4380–4393. doi:10.1128/JVI.06966-11

31.

Camilleri-Broët S, Davi F, Feuillard J, Bourgeois C, Seilhean D, Hauw JJ, Raphaël M (1995) High expression of latent membrane protein 1 of Epstein-Barr virus and BCL2 oncoprotein in acquired immunodeficiency syndrome-related primary brain lymphomas. Blood 86:432–435

32.

Hofscheier A, Ponciano A, Bonzheim I, Adam P, Lome-Maldonado C, Vela T, Cortes E, Ortiz-Hidalgo C, Fend F, Quintanilla-Martinez L (2011) Geographic variation in the prevalence of Epstein-Barr virus-positive diffuse large B-cell lymphoma of the elderly: a comparative analysis of a Mexican and a German population. Modern Pathol 24:1046–1054. doi:10.1038/modpathol.2011.62

33.

Feuillard J, Schuhmacher M, Kohanna S, Asso-Bonnet M, Ledeur F, Joubert-Caron R, Bissières P, Polack A, Bornkamm GW, Raphaël M (2000) Inducible loss of NF-kB activity is associated with apoptosis and BCL2 down-regulation in Epstein-Barr virus-transformed B lymphocytes. Blood 95:2068–2075

34.

Xu JX, Hoshida Y, Hongyo T, Sasaki T, Miyazato H, Tomita Y, Aozasa K (2007) Analysis of p53 and Bak gene mutations in lymphoproliferative disorders developing rheumatoid arthritis. J Cancer Res Clin Oncol 133:125–133. doi:10.1007/s00432-006-0152-2

35.

Craig FE, Johnson LR, Harvey SA, Nalesnik MA, Luo JH, Bhattacharya SD, Swerdlow SH (2007) Gene expression profiling of Epstein-Barr virus-positive and -negative monomorphic B-cell posttransplant lymphoproliferative disorders. Diagn Mol Pathol 16:158–168. doi:10.1097/PDM.0b013e31804f54a9
Acknowledgments
We are grateful to Dr. Tetsuo Hamada for his skillful advice and to Tomomi Okabe, Kaori Saga, and Masako Ishiguro for their technical assistance with immunohistochemistry and PCR analysis.
Authors' contributions
K. Y.-E. and M.T. designed the experiments. S.O., T.F., E.S., and K.T. retrieved and reviewed clinical data. K. Y.-E., Y.O., Y.M., and M.T. contributed histological diagnoses and collected patient samples. K. Y.-E. and M.T. performed immunohistochemistry scoring. K. Y.-E., T.F., and M.T. contributed DNA analysis. Statistical analysis was performed by K. Y.-E. and M.T. The manuscript was written by K.Y. and M. T. and approved by all contributing authors.
Ethics declarations
The study was approved by the Institutional Review Board of Fukuoka University Hospital. Institutional ethical approval was obtained in compliance with the Declaration of Helsinki.
Conflict of interest
The authors declare that they have no competing interests.
About this article
Cite this article
Ejima-Yamada, K., Oshiro, Y., Okamura, S. et al. Epstein–Barr virus infection and gene promoter hypermethylation in rheumatoid arthritis patients with methotrexate-associated B cell lymphoproliferative disorders. Virchows Arch 470, 205–215 (2017). https://doi.org/10.1007/s00428-016-2030-x
Received:

Revised:

Accepted:

Published:

Issue Date:
Keywords
Rheumatoid arthritis

Methotrexate

B cell lymphoproliferative disorder

Epstein–Barr virus

CpG islands

DNA methylation