Abstract
Tissue transglutaminase 2 (TG2) is involved in many biological processes, from wound healing to neurodegeneration. Recently, there has been an increasing interest in this enzyme as a potential prognostic marker or therapy target in human neoplasms. The aim of this study was to analyze expression of TG2 messenger RNA (mRNA) and protein in colon cancer samples and to evaluate the potential value of TG2 as prognostic marker. We investigated not only expression level but also location of the protein in a series of human tumors. In silico analysis using the GSE39582 dataset showed that TG2 mRNA expression is associated with earlier relapse. The results of qPCR in our cohort showed TG2 mRNA to be up-regulated in 25 out of 70 samples (34 %). Kaplan-Meier plots and log-rank test showed that patients with high TG2 mRNA expression have significantly worse prognosis in terms of overall survival (OS) and a trend to earlier recurrence. Immunohistochemical staining of tumor sections for TG2 revealed stromal staining in 152 cases (88 %) and epithelial cell staining in 105 cases (62 %). In stage II patients, stromal expression showed a significant association with disease-free survival (DFS). In patients with metastatic disease, TG2 expression was also associated with poor prognosis. Cox multivariate analysis showed that TG2 expression in epithelial cells is significantly and independently associated with OS, together with node involvement and presence of metastasis. Stromal TG2 expression was associated with DFS. In summary, in non-metastatic colorectal cancer patients, stromal TG2 expression is significantly associated with DFS and epithelial TG2 expression with OS, independently of node involvement and metastasis.
This is a preview of subscription content, log in to check access.
Access options
Buy single article
Instant access to the full article PDF.
US$ 39.95
Price includes VAT for USA
Subscribe to journal
Immediate online access to all issues from 2019. Subscription will auto renew annually.
US$ 199
This is the net price. Taxes to be calculated in checkout.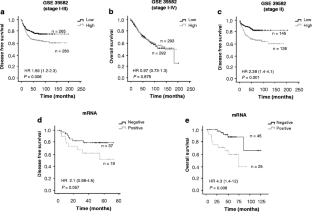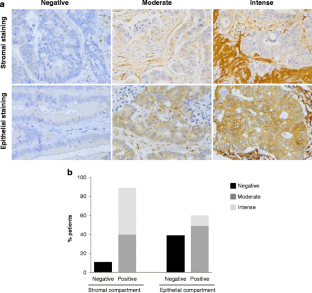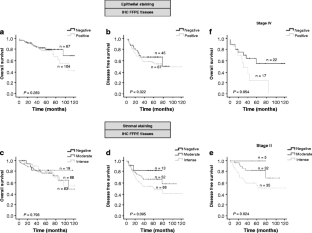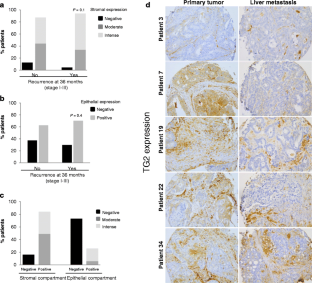 References
1.

Filiano AJ, Bailey CD, Tucholski J, Gundemir S, Johnson GV (2008) Transglutaminase 2 protects against ischemic insult, interacts with HIF1beta, and attenuates HIF1 signaling. FASEB J 22:2662–2675

2.

Huang L, Xu AM, Liu W (2015) Transglutaminase 2 in cancer. Am J Cancer Res 5:2756–2776

3.

Agnihotri N, Kumar S, Mehta K (2013) Tissue transglutaminase as a central mediator in inflammation-induced progression of breast cancer. Breast Cancer Res 15:202

4.

Stephens P, Grenard P, Aeschlimann P, Langley M, Blain E, Errington R, Kipling D, Thomas D, Aeschlimann D (2004) Crosslinking and G-protein functions of transglutaminase 2 contribute differentially to fibroblast wound healing responses. J Cell Sci 117:3389–3403

5.

Wang Z, Collighan RJ, Gross SR, Danen EH, Orend G, Telci D, Griffin M (2010) RGD-independent cell adhesion via a tissue transglutaminase-fibronectin matrix promotes fibronectin fibril deposition and requires syndecan-4/2 alpha5beta1 integrin co-signaling. J Biol Chem 285:40212–40229

6.

Mehta K (2005) Mammalian transglutaminases: a family portrait. Prog Exp Tumor Res 38:1–18

7.

Mehta K, Kumar A, Kim HI (2010) Transglutaminase 2: a multi-tasking protein in the complex circuitry of inflammation and cancer. Biochem Pharmacol 80:1921–1929

8.

Aeschlimann D, Thomazy V (2000) Protein crosslinking in assembly and remodelling of extracellular matrices: the role of transglutaminases. Connect Tissue Res 41:1–27

9.

Telci D, Griffin M (2006) Tissue transglutaminase (TG2)—a wound response enzyme. Front Biosci 11:867–882

10.

Chen SH, Lin CY, Lee LT, Chang GD, Lee PP, Hung CC, Kao WT, Tsai PH, Schally AV, Hwang JJ, Lee MT (2010) Up-regulation of fibronectin and tissue transglutaminase promotes cell invasion involving increased association with integrin and MMP expression in A431 cells. Anticancer Res 30:4177–4186

11.

Wang Z, Griffin M (2013) The role of TG2 in regulating S100 A4-mediated mammary tumour cell migration. PLoS One 8:e57017

12.

Erdem M, Erdem S, Sanli O, Sak H, Kilicaslan I, Sahin F, Telci D (2014) Up-regulation of TGM2 with ITGB1 and SDC4 is important in the development and metastasis of renal cell carcinoma. Urol Oncol 32:25 e13–25 e20

13.

Chhabra A, Verma A, Mehta K (2009) Tissue transglutaminase promotes or suppresses tumors depending on cell context. Anticancer Res 29:1909–1919

14.

Ai L, Kim WJ, Demircan B, Dyer LM, Bray KJ, Skehan RR, Massoll NA, Brown KD (2008) The transglutaminase 2 gene (TGM2), a potential molecular marker for chemotherapeutic drug sensitivity, is epigenetically silenced in breast cancer. Carcinogenesis 29:510–518

15.

Mangala LS, Fok JY, Zorrilla-Calancha IR, Verma A, Mehta K (2007) Tissue transglutaminase expression promotes cell attachment, invasion and survival in breast cancer cells. Oncogene 26:2459–2470

16.

Cao L, Shao M, Schilder J, Guise T, Mohammad KS, Matei D (2012) Tissue transglutaminase links TGF-beta, epithelial to mesenchymal transition and a stem cell phenotype in ovarian cancer. Oncogene 31:2521–2534

17.

Giordano A, Gao H, Anfossi S, Cohen E, Mego M, Lee BN, Tin S, De Laurentiis M, Parker CA, Alvarez RH, Valero V, Ueno NT, De Placido S, Mani SA, Esteva FJ, Cristofanilli M, Reuben JM (2012) Epithelial-mesenchymal transition and stem cell markers in patients with HER2-positive metastatic breast cancer. Mol Cancer Ther 11:2526–2534

18.

Kumar A, Xu J, Brady S, Gao H, Yu D, Reuben J, Mehta K (2010) Tissue transglutaminase promotes drug resistance and invasion by inducing mesenchymal transition in mammary epithelial cells. PLoS One 5:e13390

19.

Kim SY (2011) Transglutaminase 2: a new paradigm for NF-kappaB involvement in disease. Adv Enzymol Relat Areas Mol Biol 78:161–195

20.

Wang Y, Ande SR, Mishra S (2012) Phosphorylation of transglutaminase 2 (TG2) at serine-216 has a role in TG2 mediated activation of nuclear factor-kappa B and in the downregulation of PTEN. BMC Cancer 12:277

21.

Antonyak MA, Miller AM, Jansen JM, Boehm JE, Balkman CE, Wakshlag JJ, Page RL, Cerione RA (2004) Augmentation of tissue transglutaminase expression and activation by epidermal growth factor inhibit doxorubicin-induced apoptosis in human breast cancer cells. J Biol Chem 279:41461–41467

22.

Kim Y, Eom S, Kim K, Lee YS, Choe J, Hahn JH, Lee H, Kim YM, Ha KS, Ro JY, Jeoung D (2010) Transglutaminase II interacts with rac1, regulates production of reactive oxygen species, expression of snail, secretion of Th2 cytokines and mediates in vitro and in vivo allergic inflammation. Mol Immunol 47:1010–1022

23.

Calcagno AM, Salcido CD, Gillet JP, CP W, Fostel JM, Mumau MD, Gottesman MM, Varticovski L, Ambudkar SV (2010) Prolonged drug selection of breast cancer cells and enrichment of cancer stem cell characteristics. J Natl Cancer Inst 102:1637–1652

24.

Kumar A, Gao H, Xu J, Reuben J, Yu D, Mehta K (2011) Evidence that aberrant expression of tissue transglutaminase promotes stem cell characteristics in mammary epithelial cells. PLoS One 6:e20701

25.

Torres S, Garcia-Palmero I, Herrera M, Bartolome RA, Pena C, Fernandez-Acenero MJ, Padilla G, Pelaez-Garcia A, Lopez-Lucendo M, Rodriguez-Merlo R, Garcia de Herreros A, Bonilla F, Casal JI (2015) LOXL2 is highly expressed in cancer-associated fibroblasts and associates to poor colon cancer survival. Clin Cancer Res 21:4892–4902

26.

Assi J, Srivastava G, Matta A, Chang MC, Walfish PG, Ralhan R (2013) Transglutaminase 2 overexpression in tumor stroma identifies invasive ductal carcinomas of breast at high risk of recurrence. PLoS One 8:e74437

27.

Singer CF, Hudelist G, Walter I, Rueckliniger E, Czerwenka K, Kubista E, Huber AV (2006) Tissue array-based expression of transglutaminase-2 in human breast and ovarian cancer. Clin Exp Metastasis 23:33–39

28.

Leicht DT, Kausar T, Wang Z, Ferrer-Torres D, Wang TD, Thomas DG, Lin J, Chang AC, Lin L, Beer DG (2014) TGM2: a cell surface marker in esophageal adenocarcinomas. J Thorac Oncol 9:872–881

29.

Park MJ, Baek HW, Rhee YY, Lee C, Park JW, Kim HW, Moon KC (2015) Transglutaminase 2 expression and its prognostic significance in clear cell renal cell carcinoma. J Pathol Transl Med 49:37–43

30.

Miyoshi N, Ishii H, Mimori K, Tanaka F, Hitora T, Tei M, Sekimoto M, Doki Y, Mori M (2010) TGM2 is a novel marker for prognosis and therapeutic target in colorectal cancer. Ann Surg Oncol 17:967–972

31.

Cellura D, Pickard K, Quaratino S, Parker H, Strefford JC, Thomas GJ, Mitter R, Mirnezami AH, Peake NJ (2015) miR-19-mediated inhibition of transglutaminase-2 leads to enhanced invasion and metastasis in colorectal cancer. Mol Cancer Res 13:1095–1105

32.

Torres S, Bartolome RA, Mendes M, Barderas R, Fernandez-Acenero MJ, Pelaez-Garcia A, Pena C, Lopez-Lucendo M, Villar-Vazquez R, de Herreros AG, Bonilla F, Casal JI (2013) Proteome profiling of cancer-associated fibroblasts identifies novel proinflammatory signatures and prognostic markers for colorectal cancer. Clin Cancer Res 19:6006–6019

33.

Antonyak MA, Li B, Boroughs LK, Johnson JL, Druso JE, Bryant KL, Holowka DA, Cerione RA (2011) Cancer cell-derived microvesicles induce transformation by transferring tissue transglutaminase and fibronectin to recipient cells. Proc Natl Acad Sci U S A 108:4852–4857

34.

Verderio E, Gaudry C, Gross S, Smith C, Downes S, Griffin M (1999) Regulation of cell surface tissue transglutaminase: effects on matrix storage of latent transforming growth factor-beta binding protein-1. J Histochem Cytochem 47:1417–1432

35.

Hwang JY, Mangala LS, Fok JY, Lin YG, Merritt WM, Spannuth WA, Nick AM, Fiterman DJ, Vivas-Mejia PE, Deavers MT, Coleman RL, Lopez-Berestein G, Mehta K, Sood AK (2008) Clinical and biological significance of tissue transglutaminase in ovarian carcinoma. Cancer Res 68:5849–5858

36.

Verma A, Guha S, Diagaradjane P, Kunnumakkara AB, Sanguino AM, Lopez-Berestein G, Sood AK, Aggarwal BB, Krishnan S, Gelovani JG, Mehta K (2008) Therapeutic significance of elevated tissue transglutaminase expression in pancreatic cancer. Clin Cancer Res 14:2476–2483

37.

Badarau E, Collighan RJ, Griffin M (2013) Recent advances in the development of tissue transglutaminase (TG2) inhibitors. Amino Acids 44:119–127

38.

Budillon A, Carbone C, Di Gennaro E (2013) Tissue transglutaminase: a new target to reverse cancer drug resistance. Amino Acids 44:63–72

39.

Pinkas DM, Strop P, Brunger AT, Khosla C (2007) Transglutaminase 2 undergoes a large conformational change upon activation. PLoS Biol 5:e327

40.

Yang LL, Liang CY, TC L, Zhi CY, Liu B, Zhou JH, Liu XM, Gao HC, Huang W (2013) Role of tissue transglutaminase and effect of cantharidinate in human colorectal cancer. Mol Med Rep 8:1812–1816
Acknowledgments
The authors acknowledge no conflict of interest for the elaboration of the present report.
Ethics declarations
This work is in accordance with National and International Ethical Standards and has been approved by the Ethical Committee of Hospital Clínico San Carlos and Fundación Jiménez Díaz.
Funding
ST was a recipient of the Juan de la Cierva program. IGP was supported by a contract S2010/BMD-2344/Colomics2 from the Comunidad de Madrid. This research was supported by grants BIO2012–31,023 and BIO2015–66,489-R from the MINECO and PRB2 (IPT13/0001-ISCIII-SGEFI/FEDER) from the Instituto de Salud Carlos III-FEDER.
Conflict of interest
The authors declare that they have no conflict of interest.
Additional information
María Jesús Fernández-Aceñero and Sofía Torres contributed equally to this work.
Electronic supplementary material
About this article
Cite this article
Fernández-Aceñero, M.J., Torres, S., Garcia-Palmero, I. et al. Prognostic role of tissue transglutaminase 2 in colon carcinoma. Virchows Arch 469, 611–619 (2016). https://doi.org/10.1007/s00428-016-2020-z
Received:

Revised:

Accepted:

Published:

Issue Date:
Keywords
Transglutaminase 2

Colon carcinoma

Prognosis

mRNA

Metastasis