Abstract
Spindle cell lipoma represents a distinct clinicopathological entity and is related to cellular angiofibroma and mammary-type myofibroblastoma. Spindle cell lipomas are composed of mature lipogenic cells and a variable number of CD34-positive spindle cells that show loss of retinoblastoma protein expression. Spindle cell lipomas occasionally express S-100 protein. We studied one case of purely dermal spindle cell lipoma and four cases of classical subcutaneous spindle cell lipoma arising in one female and four male patients (age ranged from 55 to 69 years). The neoplasms arose on the nose, the chin, the neck, the forehead and retroauricular, and all lesions had been marginally or incompletely excised. The studied cases showed classical histological and immunohistochemical features of spindle cell lipoma and, in addition, strong expression of S-100 protein by spindle-shaped tumour cells. S-100-expression in spindle cell lipoma may cause problems in the differential diagnosis with neural and melanocytic neoplasms and emphasizes the plasticity of the spindle cells in spindle cell lipoma.
This is a preview of subscription content, log in to check access.
Access options
Buy single article
Instant access to the full article PDF.
US$ 39.95
Price includes VAT for USA
Subscribe to journal
Immediate online access to all issues from 2019. Subscription will auto renew annually.
US$ 199
This is the net price. Taxes to be calculated in checkout.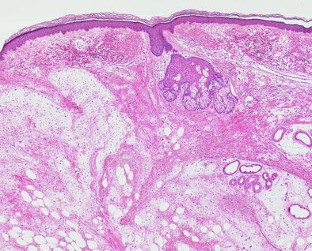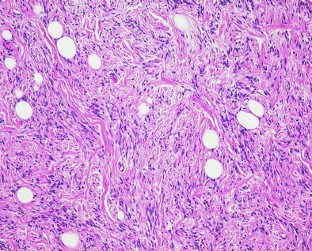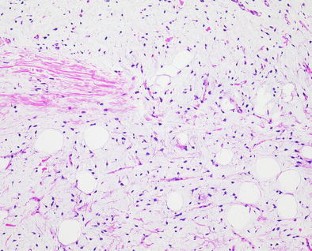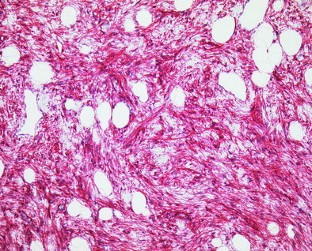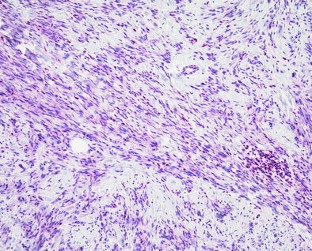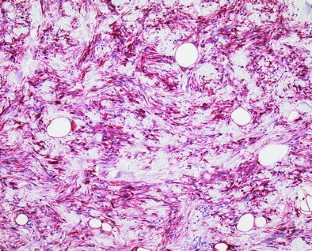 References
1.

Akaike K, Suehara Y, Takagi T, Kaneko K, Yamashita A, Yao T, Saito T (2015) Spindle cell lipoma of the wrist, occurring in a distinctly rare location: a case report with review of the literature. Int J Clin Exp Pathol 8(3):3299–3303

2.

Billings SD, Henley JD, Summerlin DJ, Vakili S, Tomich CE (2006) Spindle cell lipoma of the oral cavity. Am J Dermatopathol 28(1):28–31

3.

Lau SK, Bishop JA, Thompson LD (2015) Spindle cell lipoma of the tongue: a clinicopathologic study of 8 cases and review of the literature. Head Neck Pathol 9(2):253–259

4.

French CA, Mentzel T, Kutzner H, Fletcher CDM (2000) Intradermal spindle cell/pleomorphic lipoma: a distinct subset. Am J Dermatopathol 22(6):496–501

5.

Fanburg-Smith JC, Devaney KO, Miettinen M, Weiss SW (1998) Multiple spindle cell lipomas: a report of 7 familial and 11 nonfamilial cases. Am J Surg Pathol 22(1):40–48

6.

Hawley IC, Krausz T, Evans DJ, Fletcher CDM (1994) Spindle cell lipoma—a pseudoangiomatous variant. Histopathology 24(6):565–569

7.

Billings SD, Folpe AL (2007) Diagnostically challenging spindle cell lipomas: a report of 34 "low-fat" and "fat-free" variants. Am J Dermatopathol 29(5):437–442

8.

Templeton SF, Solomon AR (1996) Spindle cell lipoma is strongly CD34 positive. An immunohistochemical study. J Pathol 23(6):546–550

9.

Chen BJ, Marino-Enriquez A, Fletcher CDM, Hornick JL (2012) Loss of retinoblastoma protein expression in spindle cell/pleomorphic lipoma and cytogenetically related tumors: an immunohistochemical study with diagnostic implications. Am J Surg Pathol 36(8):1119–11128

10.

Tardio JC, Aramburu JA, Santonja C (2004) Desmin expression in spindle cell lipomas: a potential diagnostic pitfall. Virchows Arch 445(4):354–358

11.

Sandberg AA (2004) Updates on the cytogenetics and molecular genetics of bone and soft tissue tumors: lipoma. Cancer Genet Cytogenet 150(2):93–115

12.

Flucke U, van Krieken JH, Mentzel T (2011) Cellular angiofibroma: analysis of 25 cases emphasizing its relationship to spindle cell lipoma and mammary-type myofibroblastoma. Mod Pathol 24(1):82–89

13.

Howitt BE, Fletcher CDM (2016) Mammary-type myofibroblastoma: clinicopathologic characterization in a series of 143 cases. Am J Surg Pathol 40(3):361–367

14.

Doyle LA, Vivero M, Flecher CDM, Mertens F, Hornick JL (2014) Nuclear expression of STAT6 distinguishes solitary fibrous tumor from histologic mimics. Am J Surg Pathol 27(3):390–395

15.

Nonaka D, Chiriboga L, Rubin BP (2008) Sox 10: a pan-schwannian and melanocytic marker. Am J Surg Pathol 32(9):1291–1298

16.

Beham A, Schmid C, Hödl S, Fletcher CDM (1989) Spindle cell and pleomorphic lipoma: an immunohistochemical and histogenetic analysis. J Pathol 158(3):219–222
Ethics declarations
The authors declare that the study was done according to the ethical standards.
Conflict of interest
The authors declare that they have no conflict of interest.
Funding
There is no funding.
About this article
Cite this article
Mentzel, T., Rütten, A., Hantschke, M. et al. S-100 protein expressing spindle cells in spindle cell lipoma: a diagnostic pitfall. Virchows Arch 469, 435–438 (2016). https://doi.org/10.1007/s00428-016-1996-8
Received:

Revised:

Accepted:

Published:

Issue Date:
Keywords
Spindle cell lipoma

Lipoma

S-100 protein