Abstract
DIPNECH is characterized by neuroendocrine cell hyperplasia, tumorlets, and eventually carcinoid tumors. Although it is regarded by some authors as a preneoplastic condition, this issue is controversial. New pathologic criteria have recently been proposed for the diagnosis of DIPNECH, and a subgroup of carcinoid tumors expressing developing neural transcription factors (DNTFs), with clinicopathologic features similar to those of DIPNECH, has been recognized. This paper reports on the clinical and pathological findings in three cases of DIPNECH and investigates the expression of three DNTFs (TTF1, ASCL1, and POU3F2). All patients were female, with a mean age of 63 years, and all lesions were located in the periphery of the lung. In two cases, typical carcinoids were associated with a spindle-cell component. All neuroendocrine proliferations were DNTF positive. The morphologic (spindle-cell component), phenotypic (DNTF expression), and clinicopathologic (peripheral tumors, female predominance) similarities suggest that DIPNECH may be a preneoplastic lesion for peripheral carcinoids.
This is a preview of subscription content, log in to check access.
Access options
Buy single article
Instant access to the full article PDF.
US$ 39.95
Price includes VAT for USA
Subscribe to journal
Immediate online access to all issues from 2019. Subscription will auto renew annually.
US$ 199
This is the net price. Taxes to be calculated in checkout.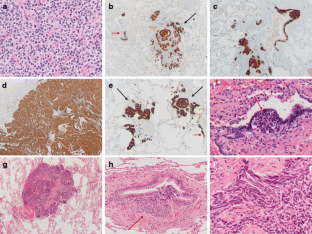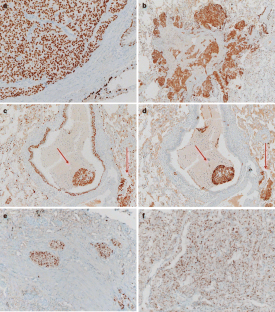 References
1.

Davies SJ, Gosney JR, Hansell DM et al (2007) Diffuse idiopathic pulmonary neuroendocrine cell hyperplasia: an under-recognised spectrum of disease. Thorax 62:248–252

2.

Gosney JR, Austin JHM, Jett J et al (2015) Diffuse idiopathic pulmonary neuroendocrine cell hyperplasia. In: Travis WD, Brambilla E, Burke AP, Marx A, Nicholson AG (eds) Tumors of the lung, pleura thymus and heart. IARC Press, Lyons, pp 78–79

3.

Aguayo SM, Miller YE, Waldron JA Jr et al (1992) Brief report: idiopathic diffuse hyperplasia of pulmonary neuroendocrine cells and airways disease. New Engl J Med 327:1285–1288

4.

Wirtschafter E, Walts AE, Liu ST, Marchevsky AM (2015) Diffuse idiopathic pulmonary neuroendocrine cell hyperplasia of the lung (DIPNECH): current best evidence. Lung 193:659–667

5.

Travis WD, Colby TV, Corrin B, Shimosato Y, Branbilla E (1999) Histological typing of lung and pleural tumors. In: World Health Organization International Histological Classification of Tumours, vol 3rd. Springer, Berlin

6.

Gorshtein A, Gross DJ, Barak D et al (2012) Diffuse idiopathic pulmonary neuroendocrine cell hyperplasia and the associated lung neuroendocrine tumors: clinical experience with a rare entity. Cancer 118:612–619

7.

Yazawa T (2015) Recent advances in histogenesis research of lung neuroendocrine cancers: evidence obtained from functional analyses of primitive neural/neuroendocrine cell-specific transcription factors. Pathol Int 65:277–285

8.

Nishikawa E, Osada H, Okazaki Y et al (2011) miR-375 is activated by ASH1 and inhibits YAP1 in a lineage-dependent manner in lung cancer. Cancer Res 71:6165–6173

9.

Kashiwagi K, Ishii J, Sakaeda M et al (2012) Differences of molecular expression mechanisms among neural cell adhesion molecule 1, synaptophysin, and chromogranin A in lung cancer cells. Pathol Int 63:232–245

10.

Yazawa T, Kamma H, Fujiwara M et al (1999) Lack of class II transactivator causes severe deficiency of HLA-DR expression in small cell lung cancer. J Pathol 187:191–199

11.

Osada H, Tomida S, Yatabe Y et al (2008) Roles of achaete-scute homologue 1 in DKK1 and E-cadherin repression and neuroendocrine differentiation in lung cancer. Cancer Res 68:1647–1655

12.

Lazzaro D, Price M, De Felice M, Di Lauro R (1991) The transcription factor is expressed at the onset of thyroid and lung morphogenesis and in restricted regions of the fetal brain. Development 113:1093–1104

13.

Hosono Y, Yamaguchi T, Mizutani E et al (2012) MYBPH, a transcriptional target of TTF-1, inhibits ROCK1, and reduces cell motility and metastasis. EMBO J 31:481–493

14.

Saito RA, Watabe T, Horiguchi K et al (2009) Thyroid transcription factor-1 inhibits transforming growth factor-β-mediated epithelial-to-mesenchymal transition in lung adenocarcinoma cells. Cancer Res 69:2783–2791

15.

Ishii J, Sato H, Yazawa T et al (2014) Class III/IV POU transcription factors expressed in small cell lung cancer cells are involved in proneural/neuroendocrine differentiation. Pathol Int 64:415–422

16.

Endo T, Yazawa T, Shishido-Hara Y et al (2014) Expression of developing neural transcription factors in lung carcinoid tumors. Pathol Int 64:365–374

17.

Folpe AL, Gown AM, Lamps LW et al (1999) Thyroid transcription factor-1: immunohistochemical evaluation in pulmonary neuroendocrine tumors. Mod Pathol 12:5–8

18.

Andersen B, Rosenfeld MG (2001) POU domain factors in the neuroendocrine system: lessons from developmental biology provide insights into human diseases. Endocr Rev 22:2–35

19.

Augustyn A, Borromeo M, Wang T et al (2014) ASCL1 is a lineage oncogene providing therapeutic targets for high-grade neuroendocrine lung cancers. Proc Natl Acad Sci U S A 111:14788–14793

20.

Sturm N, Rossi G, Lantuejoul S et al (2002) Expression of thyroid transcription factor-1 in the spectrum of neuroendocrine cell lung proliferations with special interest in carcinoids. Hum Pathol 33:175–182

21.

Du EZ, Goldstraw P, Zacharias J et al (2004) TTF-1 expression is specific for lung primary in typical and atypical carcinoids: TTF-1-positive carcinoids are predominantly in peripheral location. Hum Pathol 35:825–831

22.

Gosney JR, Williams IJ, Dodson AR, Foster CS (2011) Morphology and antigen expression profile of pulmonary neuroendocrine cells in reactive proliferations and diffuse idiopathic pulmonary neuroendocrine cell hyperplasia (DIPNECH). Histopathology 59:751–762

23.

Marchevsky AM, Wirtschafter E, Walts AE (2015) The spectrum of changes in adults with multifocal pulmonary neuroendocrine proliferations: what is the minimum set of pathologic criteria to diagnose DIPNECH? Hum Pathol 46:176–181
Ethics declarations
This study was performed according to the clinical standards of the 1975 and 1983 Declaration of Helsinki and was approved by the Ethical Committee of the Virgen Macarena Hospital, Seville, Spain (12th October 2015).
Conflict of interest
The authors declare that they have no conflict of interest.
Source of funding
None.
About this article
Cite this article
Escudero, A.G., Zarco, E.R., Arjona, J.C.G. et al. Expression of developing neural transcription factors in diffuse idiopathic pulmonary neuroendocrine cell hyperplasia (DIPNECH). Virchows Arch 469, 357–363 (2016). https://doi.org/10.1007/s00428-016-1962-5
Received:

Revised:

Accepted:

Published:

Issue Date:
Keywords
DIPNECH

Lung neuroendocrine tumors

Developing neural transcription factors

Pathology

Preneoplastic lesion