Abstract
The current paradigm concerning the mechanism of peritoneal dissemination of gastric cancer is that it occurs through an invasive process in which cancer cells directly penetrate the gastric wall and exfoliate into the peritoneal cavity. However, some experimental studies suggest the lymphatic route as an alternative. We present five early gastric cancer cases, which support this alternative pathway of peritoneal dissemination without direct invasion in the serosa. We investigated all patients with early gastric cancer who underwent curative gastrectomy between September 2002 and February 2015 at the Shizuoka Cancer Center, Japan. We examined them by intraoperative peritoneal lavage cytology and frozen section diagnosis of peritoneal nodules during laparotomy. Peritoneal dissemination was defined as peritoneal metastasis by positive cytology or histological diagnosis. Among 1509 early gastric cancers, five cases (0.3 %, 95 % CI 0.1–0.8 %) presented peritoneal dissemination detected by lavage cytology and frozen section diagnosis of peritoneal nodules. Histological examination revealed that the primary tumors invaded the submucosal layer using the lymphatic route, through which they metastasized to regional lymph nodes. Our data indicate that gastric cancer may give rise to peritoneal dissemination even at an early stage, probably through the lymphatic route without direct invasion into the serosa.
This is a preview of subscription content, log in to check access.
Access options
Buy single article
Instant access to the full article PDF.
US$ 39.95
Price includes VAT for USA
Subscribe to journal
Immediate online access to all issues from 2019. Subscription will auto renew annually.
US$ 199
This is the net price. Taxes to be calculated in checkout.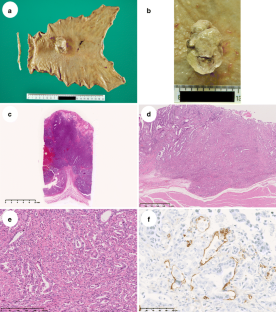 References
1.

Jemal A, Bray F, Center MM, Ferlay J, Ward E, Forman D (2011) Global cancer statistics. CA Cancer J Clin 61(2):69–90. doi:10.3322/caac.20107

2.

Allum WH, Fielding JW (1990) Gastric cancer: a 25-year review. Br J Surg 77(3):353

3.

Boku N (2011) Past and present achievements, and future direction of the Gastrointestinal Oncology Study Group (GIOSG), a Division of Japan Clinical Oncology Group (JCOG). Jpn J Clin Oncol 41(12):1315–1321

4.

Thomassen I, van Gestel Y, van Ramshorst B, Luyer M, Bosscha K, Nienhuijs S, Lemmens V, de Hingh I (2014) Peritoneal carcinomatosis of gastric origin: a population-based study on incidence, survival and risk factors. Int J Cancer 134(3):622–628

5.

Bando E, Yonemura Y, Takeshita Y, Taniguchi K, Yasui T, Yoshimitsu Y, Fushida S, Fujimura T, Nishimura G, Miwa K (1999) Intraoperative lavage for cytological examination in 1,297 patients with gastric carcinoma. Am J Surg 178(3):256–262

6.

Bang Y-J, Van Cutsem E, Feyereislova A, Chung H, Shen L, Sawaki A, Lordick F, Ohtsu A, Omuro Y, Satoh T, Aprile G, Kulikov E, Hill J, Lehle M, Rüschoff J, Kang Y-K (2010) Trastuzumab in combination with chemotherapy versus chemotherapy alone for treatment of HER2-positive advanced gastric or gastro-oesophageal junction cancer (ToGA): a phase 3, open-label, randomised controlled trial. Lancet (London, England) 376(9742):687–697

7.

Webb A, Cunningham D, Scarffe JH, Harper P, Norman A, Joffe JK, Hughes M, Mansi J, Findlay M, Hill A, Oates J, Nicolson M, Hickish T, O'Brien M, Iveson T, Watson M, Underhill C, Wardley A, Meehan M (1997) Randomized trial comparing epirubicin, cisplatin, and fluorouracil versus fluorouracil, doxorubicin, and methotrexate in advanced esophagogastric cancer. J Clin Oncol 15(1):261–267

8.

Wagner A, Unverzagt S, Grothe W, Kleber G, Grothey A, Haerting J, Fleig W (2010) Chemotherapy for advanced gastric cancer. Cochrane Database Syst Rev 3:CD004064

9.

Ajani J, Moiseyenko V, Tjulandin S, Majlis A, Constenla M, Boni C, Rodrigues A, Fodor M, Chao Y, Voznyi E, Marabotti C, Van Cutsem E (2007) Clinical benefit with docetaxel plus fluorouracil and cisplatin compared with cisplatin and fluorouracil in a phase III trial of advanced gastric or gastroesophageal cancer adenocarcinoma: the V-325 Study Group. J Clin Oncol 25(22):3205–3209

10.

Yang X-J, Huang C-Q, Suo T, Mei L-J, Yang G-L, Cheng F-L, Zhou Y-F, Xiong B, Yonemura Y, Li Y (2011) Cytoreductive surgery and hyperthermic intraperitoneal chemotherapy improves survival of patients with peritoneal carcinomatosis from gastric cancer: final results of a phase III randomized clinical trial. Ann Surg Oncol 18(6):1575–1581

11.

Gill R, Al Adra D, Nagendran J, Campbell S, Shi X, Haase E, Schiller D (2011) Treatment of gastric cancer with peritoneal carcinomatosis by cytoreductive surgery and HIPEC: a systematic review of survival, mortality, and morbidity. J Surg Oncol 104(6):692–698

12.

Glockzin G, Piso P (2012) Current status and future directions in gastric cancer with peritoneal dissemination. Surg Oncol Clin N Am 21(4):625–633

13.

Glehen O, Gilly F, Arvieux C, Cotte E, Boutitie F, Mansvelt B, Bereder J, Lorimier G, Quenet F, Elias D (2010) Peritoneal carcinomatosis from gastric cancer: a multi-institutional study of 159 patients treated by cytoreductive surgery combined with perioperative intraperitoneal chemotherapy. Ann Surg Oncol 17(9):2370–2377

14.

Kodera Y, Yamamura Y, Shimizu Y, Torii A, Hirai T, Yasui K, Morimoto T, Kato T (1999) Peritoneal washing cytology: prognostic value of positive findings in patients with gastric carcinoma undergoing a potentially curative resection. J Surg Oncol 72(2):60–64

15.

Hagiwara A, Takahashi T, Sawai K, Taniguchi H, Shimotsuma M, Okano S, Sakakura C, Tsujimoto H, Osaki K, Sasaki S (1993) Milky spots as the implantation site for malignant cells in peritoneal dissemination in mice. Cancer Res 53(3):687–692

16.

Yamamoto M, Taguchi K, Baba H, Endo K, Kohnoe S, Okamura T, Maehara Y (2006) Peritoneal dissemination of early gastric cancer: report of a case. Surg Today 36(9):835–838

17.

Kakushima N, Kamoshida T, Hirai S, Hotta S, Hirayama T, Yamada J, Ueda K, Sato M, Okumura M, Shimokama T, Oka Y (2003) Early gastric cancer with Krukenberg tumor and review of cases of intramucosal gastric cancers with Krukenberg tumor. J Gastroenterol 38(12):1176–1180

18.

Japanese gastric cancer treatment guidelines 2010 (ver. 3) (2011). Gastric Cancer 14 (2):113-123

19.

Japanese Gastric Cancer A (2011) Japanese classification of gastric carcinoma: 3rd english edition. Gastric Cancer 14(2):101–112. doi:10.1007/s10120-011-0041-5

20.

Koike H, Ichikawa D, Kitamura K, Tsuchihashi Y, Yamagishi H (2004) Perinodal involvement of cancer cells in gastric cancer patients. Surgery 135(3):266–272

21.

Etoh T, Sasako M, Ishikawa K, Katai H, Sano T, Shimoda T (2006) Extranodal metastasis is an indicator of poor prognosis in patients with gastric carcinoma. Br J Surg 93(3):369–373

22.

Yoo CH, Noh SH, Shin DW, Choi SH, Min JS (2000) Recurrence following curative resection for gastric carcinoma. Br J Surg 87(2):236–242

23.

Shimada S, Yagi Y, Shiomori K, Honmyo U, Hayashi N, Matsuo A, Marutsuka T, Ogawa M (2001) Characterization of early gastric cancer and proposal of the optimal therapeutic strategy. Surgery 129(6):714–719

24.

Moriguchi S, Maehara Y, Korenaga D, Sugimachi K, Nose Y (1992) Risk factors which predict pattern of recurrence after curative surgery for patients with advanced gastric cancer. Surg Oncol 1(5):341–346

25.

Sasako M, Sano T, Yamamoto S, Kurokawa Y, Nashimoto A, Kurita A, Hiratsuka M, Tsujinaka T, Kinoshita T, Arai K, Yamamura Y, Okajima K (2008) D2 lymphadenectomy alone or with para-aortic nodal dissection for gastric cancer. N Engl J Med 359(5):453–462

26.

Farley DR, Donohue JH, Nagorney DM, Carpenter HA, Katzmann JA, Ilstrup DM (1992) Early gastric cancer. Br J Surg 79(6):539–542

27.

Guadagni S, Reed PI, Johnston BJ, De Bernardinis G, Catarci M, Valenti M, di Orio F, Carboni M (1993) Early gastric cancer: follow-up after gastrectomy in 159 patients. Br J Surg 80(3):325–328

28.

Roviello F, Marrelli D, de Manzoni G, Morgagni P, Di Leo A, Saragoni L, De Stefano A (2003) Prospective study of peritoneal recurrence after curative surgery for gastric cancer. Br J Surg 90(9):1113–1119

29.

Huang B, Sun Z, Wang Z, Lu C, Xing C, Zhao B, Xu H (2013) Factors associated with peritoneal metastasis in non-serosa-invasive gastric cancer: a retrospective study of a prospectively-collected database. BMC Cancer 13:57

30.

Thomassen I, van Gestel Y, van Ramshorst B, Luyer M, Bosscha K, Nienhuijs S, Lemmens V, de Hingh I (2014) Peritoneal carcinomatosis of gastric origin: a population-based study on incidence, survival and risk factors. Int J Cancer 134(3):622–628

31.

Guadagni S, Catarci M, Kinoshitá T, Valenti M, De Bernardinis G, Carboni M (1997) Causes of death and recurrence after surgery for early gastric cancer. World J Surg 21(4):434–439
Acknowledgments
We thank Ms. Minako Ishii for sample collection.
Ethics declarations
All participants gave their written informed consent, and this study was approved by the institutional review board (institutional code number: 25-J42-25-1-3).
Competing interests
The authors declare no competing interests.
About this article
Cite this article
Yoshida, M., Sugino, T., Kusafuka, K. et al. Peritoneal dissemination in early gastric cancer: importance of the lymphatic route. Virchows Arch 469, 155–161 (2016). https://doi.org/10.1007/s00428-016-1960-7
Received:

Revised:

Accepted:

Published:

Issue Date:
Keywords
Gastric cancer

Neoplastic processes

Neoplasm seeding

Lymphatic metastasis

Lymphatic vessels