Abstract
To assess the usefulness and limitations of placental histology when morphological umbilical cord (UC) abnormality coexists with clinical UC compromise, 5634 consecutive placentas were divided into four groups and statistically compared: group 1—182 placentas from pregnancies with clinical features of UC compromise (variable decelerations, UC entanglement, prolapse, or true knot at delivery); group 2—1355 placentas with abnormal UC morphology or insertion; group 3—152 placentas with at least one phenotype from group 1 and one from group 2; group 4—3945 placentas with no clinical or morphological UC-related phenotypes (control group).Differences were analyzed by ANOVA or χ 2. Of 68 phenotypes studied, 13 clinical and 18 placental phenotypes were statistically significant. In group 1, 2 phenotypes were most common (oligohydramnios and abnormal fetal heart rate tracing). In group 2, 6 phenotypes were most common, including 4 clinical (abnormal umbilical artery Dopplers, nonmacerated stillbirth, multiple pregnancy, and fetal growth restriction) and 2 placental. In group 3, 23 phenotypes were most common, including 7 clinical (gestational hypertension, polyhydramnios, induction of labor, cesarean section, macerated stillbirth, congenital malformations, and abnormal 3rd stage of labor) and 16 placental. The existence of clinical signs of UC compromise alone was associated with the absence of pathomorphological placental abnormalities. However, the coexistence of clinical and abnormal morphological UC phenotypes was statistically significantly associated with placental histological signs of decreased fetal blood flow, hypoxia (acute and chronic post uterine), shallow placental implantation, and/or amnion nodosum. Thus, confirmation of clinical UC compromise should not be expected on placental examination if no morphological UC abnormality or abnormal UC insertion has been found.
This is a preview of subscription content, log in to check access.
Access options
Buy single article
Instant access to the full article PDF.
US$ 39.95
Price includes VAT for USA
Subscribe to journal
Immediate online access to all issues from 2019. Subscription will auto renew annually.
US$ 199
This is the net price. Taxes to be calculated in checkout.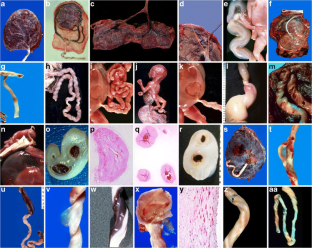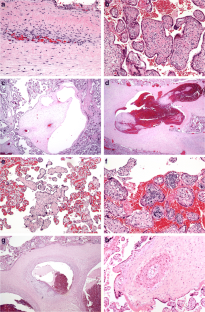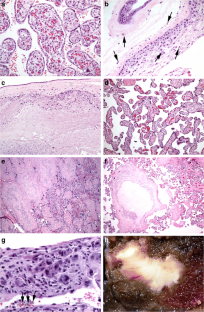 References
1.

Fox H, Sebire NJ (2007) Pathology of the placenta. Saunders, London

2.

Cunningham FG, Leveno KJ, Bloom SL, Hauth JC, Gilstrap LC III, Wenstrom KD (2005) Williams obstetrics, 22nd edn. McGraw-Hill, New York

3.

Pásztor N, Keresztúri A, Kozinszky Z, Pál A (2014) Identification of causes of stillbirth through autopsy and placental examination reports. Fetal Pediatr Pathol 33:49–54

4.

Parast MM, Crum CP, Boyd TK (2008) Placental histologic criteria for umbilical blood flow restriction in unexpected stillbirth. Hum Pathol 39:948–953

5.

Collins JH (2002) Umbilical cord accidents: human studies. Semin Perinatal 26:79–82

6.

Stanek J (2014) Comparison of placental pathology in preterm, late-preterm, near-term, and term births. Am J Obstet Gynecol 210(234):e1–e6

7.

Korteweg FJ, Erwich JJHM, Holm JP, Ravisé JM, van der Meer J, Veeger NJGM, Timmer A (2009) Diverse placental pathologies as the main causes of fetal death. Obstet Gynecol 114:809–817

8.

de Laat MWM, van der Meu JJC, Visser GHA, Franx A, Nikkels PGJ (2007a) Hypercoiling of the umbilical cord and placental maturation defect: associated pathology? Pediatr Dev Pathol 10:293–299

9.

Baergen RN (2007) Cord abnormalities, structural lesions, and cord "accidents". Sem Diagn Pathol 24:23–32

10.

Wang G, Bove KE, Stanek J (1998) Pathological evidence of prolonged umbilical cord encirclement as a cause of fetal death. Am J Perinatol 15:585–588

11.

Chan JSY, Baergen RN (2012) Gross umbilical cord complications are associated with placental lesions of circulatory stasis and fetal hypoxia. Pediatr Dev Pathol 15:487–494

12.

Nishio J, Nakai Y, Mine M, Imanaka M, Ogita S (1999) Characteristics of blood flow in intrauterine growth-restricted fetuses with hypercoiled cord. Ultrasound Obstet Gynecol 13:171–175

13.

Peyter AC, Delhaes F, Baud D, Vial Y, Diaceri G, Menétrey S, Hohlfeld P, Tolsa JF (2014) Intrauterine growth restriction is associated with structural alterations in human umbilical cord and decreased nitric oxide-induced relaxation of umbilical vein. Placenta 35:891–899

14.

Rana J, Ebert GA, Kappy KA (1995) Adverse perinatal outcome in patients with an abnormal umbilical coiling index. Obstet Gynecol 85:573–577

15.

Stanek J (1987) Induction of labor: necessity, convenience, or... uncertainty? Ginekol Pol 58:232–239

16.

Kashanian M, Akbarian A, Kouhpayehzadeh J (2006) The umbilical coiling index and adverse perinatal outcome. Int J Gynaecol Obstet 95:8–13

17.

Tantbirojn P, Saleemuddin A, Sirois K, Crum CP, Boyd TK, Tworoger S, Parast MM (2009) Gross abnormalities of the umbilical cord: related placental histology and clinical significance. Placenta 30:1083–1088

18.

Hasegawa J, Matsuoka R, Ischizuka K, Kotani M, Nakamura M, Mikoshiba T, Sekizawa A, Okai T (2009) Atypical variable deceleration in the first stage of labor is a characteristic fetal heart-rate pattern for velamentous cord insertion and hypercoiled cord. J Obstet Gynaecol Res 35:35–39

19.

Blackburn W (2006) Umbilical cord. In:Stevenson RE, Hall JG (eds) Human malformations and related anomalies, 2nd edition. Oxford University Press, Oxford, New York: 1413–1472

20.

Baergen RN, Malicki D, Behling C, Benirschke K (2001) Morbidity, mortality, and placental pathology in excessively long umbilical cords: retrospective study. Pediatr Dev Pathol 4:144–153

21.

Rogers MS, Ip YW, Qin Y, Rogers SM, Sahota D (2003) Relationship between umbilical cord morphology and nuchal cord entanglement. Acta Obstet Gynecol Scand 82:32–37

22.

Strong TH, Jarles DL, Vega JS, Feldman DB (1994) The umbilical coiling index. Am J Obstet Gynecol 170:29–32

23.

de Laat MW, van Alderen ED, Franx A, Visser GH, Bots ML, Nikkels PG (2007b) The umbilical coiling index in complicated pregnancy. Eur J Obstet Gynecol Reprod Biol 130:66–72

24.

Ernst LM, Minturn L, Huang MH, Curry E, Su EJ (2013) Gross pattern of umbilical cord coiling: correlations with placental histology and stillbirth. Placenta 34:583–588

25.

Gambhir PS, Gupte S, Kamat AD, Patankar A, Kulkarni VD, Phadke MA (2011) Chronic umbilical entanglements causing intrauterine fetal demise in the second trimester. Pediatr Dev Pathol 14:252–254

26.

Georgiou HM, Rice GE, Walker SP, Wein P, Gude NM, Permezel M (2001) The effect of vascular coiling on venous perfusion during experimental umbilical cord encirclement. Am J Obstet Gynecol 184:673–678

27.

Machin GA, Ackerman J, Gilbert-Barness E (2000) Abnormal umbilical cord coiling is associated with adverse perinatal outcome. Pediatr Dev Pathol 3:462–471

28.

Stanek J (2013a) Periarterial stem villous edema is associated with hypercoiled umbilical cord and stem obliterative endarteritis. OJOG 3(9 A):9–14

29.

Furman B, Erez O, Senior L, Shoham-Vardi I, Bar-David J, Maymon E, Mazor M (2000) Hydramnios and small for gestational age: prevalence and clinical significance. Acta Obstet Gynecol Scand 79:31–36

30.

Boyle JJ, Katz VL (2005) Umbilical cord prolapse in current obstetric practice. J Reprod Med 50:303–306

31.

Coulter JB, Scott JM, Jordab MM (1975) Oedema of the umbilical cord and respiratory distress in the newborn. Br J Obstet Gynaecol 82:453–459

32.

Hasegawa J, Matsuoka R, Ichizuka K, Sekizawa A, Farina A, Okai T (2006) Velamentous cord insertion into the lower third of the uterus is associated with intrapartum fetal heart rate abnormalities. Ultrasound Obstet Gynecol 27:425–429

33.

Hershkovitz R, Silberstwin T, Sheiner E, Shoham-Vardi I, Holcberg G, Katz M, Mazor M (2001) Risk factors associated with true knots of the umbilical cord. Eur J Obstet Gynecol Reprod Biol 98:36–39

34.

Peng HQ, Smith-Levitin M, Rochelson B, Kahn E (2006) Umbilical cord stricture and overcoiling are common causes of fetal demise. Pediatr Dev Pathol 9:14–19

35.

Joshi V (1994) Handbook of placental pathology. Igaku-Shoin, New York, Tokyo

36.

Lepais L, Gaillot-Durand L, Boutitie F, Lebreton F, Buffin R, Huissoud C, Massardier J, Guibaud L, Devouassoux-Shisheboran M, Allias F (2014) Fetal thrombotic vasculopathy is associated with thromboembolic events and adverse perinatal outcome but not with neurologic complications: a retrospective cohort study of 54 cases with a 3-year follow-up of children. Placenta 35:611–617

37.

Kraus FT, Redline RW, Gersell DJ, Nelson DM, Dicke JM (2004) Placental pathology. American Registry of Pathology, Washington, DC

38.

Baergen RN (2005) Manual of Benirschke and Kaufmann's Pathology of the Human Placenta. Springer, New York, NY

39.

Stanek J (2013b) Hypoxic patterns of placental injury: a review. Arch Pathol Lab Med 137:706–720

40.

Stanek J, Biesiada J (2014) Relation of placental diagnosis in stillbirth to fetal maceration and gestational age at delivery. J Perinat Med 42:457–471

41.

Benirschke K, Kaufmann P, Baergen RN (2006) Pathology of the human placenta. Springer, New York

42.

Altshuler G (1996) Role of the placenta in perinatal pathology (revisited). Pediatr Pathol Lab Med 16:207–233

43.

Kulkarni ML, Prakash S, Matadh S, Ashok C, Pradeep N, Avinash T, Kulkarni AM (2007) Absence of Wharton's jelly around the umbilical arteries. Indian J Pediatr 74:787–789

44.

Silver RK, Dooley SL, MacGregor SN, Depp R (1998) Fetal acidosis in prolonged pregnancy cannot be attributed to cord compression alone. Am J Obstet Gynecol 159:666–669

45.

Sarno AP, Polzin WJ, Feinstein SJ, Maslow A (1995) Transabdominal amnioinfusion in preterm pregnancies complicated by fetal growth restriction, oligohydramnios and umbilical cord compression. Fetal Diagn Ther 10:408–414

46.

Chang KTE (2009) Pathological examination of the placenta: Raison d'être, clinical relevance and medicolegal utility. Singap Med J 50:1123–1133

47.

Saleemuddin A, Tantbirojn P, Sirois K, Crum CP, Boyd TK, Tworoger S, Parast MM (2010) Obstetric and perinatal complications in placentas with fetal thrombotic vasculopathy. Pediatr Dev Pathol 13:459–464

48.

Carey JC, Rayburn WF (2000) Nuchal cord encirclements and risk of stillbirth. Int J Gynecol Obstet 69:173–174

49.

Kidron D, Bernheim J, Aviram R (2009) Placental findings contributing to fetal death, a study of 120 stillbirths between 23 and 40 weeks gestation. Placenta 30:700–704

50.

Ptacek I, Sebire NJ, Man JA, Brownbill P, Heazell AEP (2014) Systematic review of placental pathology reported in association with stillbirth. Placenta 35:552–562

51.

Ryan WD, Trivedi N, Benirschke K, LaCoursiere DY, Parast MM (2012) Placental histologic criteria for diagnosis of cord accident: sensitivity and specificity. Pediatr Dev Pathol 15:275–280

52.

Chang KTE, Keating S, Costa S, Machin G, Kingdom J, Shannon P (2011) Third trimester stillbirths: correlative neuropathology and placental pathology. Pediatr Dev Pathol 14:345–352

53.

Stanek J (2015) Placental hypoxic overlap lesions: a clinicopathologic correlation. J Obstet Gynecol Res 41:358–369

54.

Pathak S, Lees CC, Hackett G, Jessop F, Sebire NJ (2011) Frequency and clinical significance of placental histological lesions in an unselected population at or near term. Virchows Arch 459:565–572

55.

Redline RW (2008) Cerebral palsy in term infants: a clinicopathologic analysis of 158 medicolegal case reviews. Pediatr Dev Pathol 11:456–464

56.

Bianchi DW, Crombleholme TM, D'Alton ME, Malone FD (2010) Fetology. Diagnosis and management of the fetal patient. 2nd edition. McGraw Hill Medical, New York:741–745.

57.

Ariel I, Anteby E, Hamani Y, Redline RW (2004) Placental pathology in fetal thrombophilia. Hum Pathol 35:729–733

58.

Avagliano L, Locatelli A, Danti L, Felis S, Mecacci F, Bulfamante GP (2015) Placental histology in clinically unexpected severe acidemia at term. Early Hum Dev 91:339–343

59.

Jessop FA, Lees CC, Pathak S, Hook CE, Sebire NJ (2014) Umbilical cord coiling: clinical outcomes in an unselected population and systematic review. Virchows Arch 464:105–112
Ethics declarations
Funding
No funding was presented in the study.
Conflict of interest
The author declares that he has no conflict of interest.
About this article
Cite this article
Stanek, J. Association of coexisting morphological umbilical cord abnormality and clinical cord compromise with hypoxic and thrombotic placental histology. Virchows Arch 468, 723–732 (2016). https://doi.org/10.1007/s00428-016-1921-1
Received:

Revised:

Accepted:

Published:

Issue Date:
Keywords
Umbilical cord

Placenta

Hypoxia

Stasis-induced fetal thrombotic vasculopathy