Abstract
Neural components in mature teratomas are common and the general assumption is that they are quite similar to those in the mature central nervous system (CNS). We investigated 44 ovarian teratomas by immunohistochemistry to determine cellular and structural immaturity of neural elements. Most teratomas contained cells differentiating into astrocytes positive for nestin, a neural stem cell marker. These nestin-positive astrocytes generally co-expressed glial fibrillary acidic protein-delta, an immature astrocyte marker. Olig2-positive cells were randomly scattered. Areas comprising cells that differentiated into neurons were positive for NeuN and synaptophysin. The border between white and gray matter was ill-defined and more NeuN-positive cells were distributed in areas that were positive for myelin basic protein, indicating that the distribution of neurons and glial cells was disturbed. Peripheral nerve bundles positive for Schwann/2E, an antigen specific for myelinating Schwann cells, were mixed within CNS-like tissues. These results show that apparently mature teratomas are not in fact mature, at least in terms of neural elements, as they harbor immature cells and structural abnormalities. The neural elements of surgically resected teratomas might represent a premature state of the human CNS, and thus be potentially useful for studies of developmental neurobiology as well as gliomagenesis.
This is a preview of subscription content, log in to check access.
Access options
Buy single article
Instant access to the full article PDF.
US$ 39.95
Price includes VAT for USA
Subscribe to journal
Immediate online access to all issues from 2019. Subscription will auto renew annually.
US$ 199
This is the net price. Taxes to be calculated in checkout.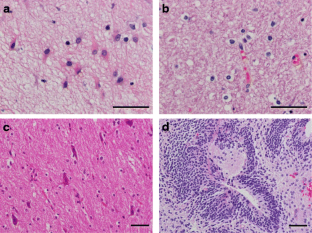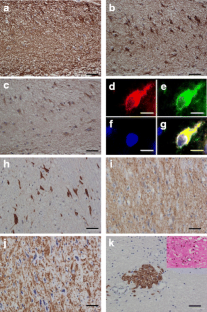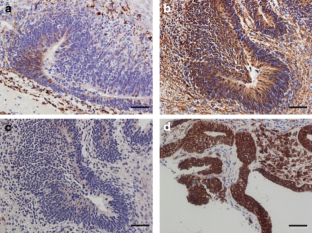 References
1.

Virchow R (1863) Die Krankhaften Geschwülste. Bd I Hirschwald, Berlin, p 96

2.

Willis RA (1951) Teratomas, in atlas of tumor pathology, section III, Fascicle 9. Armed Forced Institute of Pathology, Washington

3.

Matz MH (1961) Benign cystic teratomas of the ovary: a review. Obset Gynecol Surv 16:591–594

4.

Prat J, Nogales FF, Cao D, Vang R, Carinelli SG, Zaloudek CJ (2014) Germ cell tumours. In: Kurman RJ, Carcangiu ML, Herrington CS, Young RH (eds) WHO classification of tumours of female reproductive organs, 4th edn. IARC Press, Lyon, pp 57–62

5.

Caruso PA, Marsh MR, Minkowitz S, Karten G (1971) An intense clinicopathologic study of 305 teratomas of the ovary. Cancer 27:343–348. doi:10.1002/1097-0142(197102)27:2<343::AID-CNCR2820270215>3.0.CO;2-B

6.

Khan MM, Sharif N, Ahmad S (2014) Morphological spectrum of mature ovarian teratoma. Gomal J Med Sci 12:76–80

7.

Norris HJ, Zirkin HJ, Benson WL (1976) Immature (malignant) teratoma of the ovary: a clinical and pathologic study of 58 cases. Cancer 37:2359–2372. doi:10.1002/1097-0142(197605)37:5<2359::AID-CNCR2820370528>3.0.CO;2-Q

8.

Nogales FF, Aguilar D (1983) Neural tissue in human teratomas. In: Damjanov I, Knowles BB, Solter D (eds) The human teratomas: experimental and clinical biology. Humana Press, Clifton

9.

Trojanowski JQ, Hickey WF (1984) Human teratomas express differentiated neural antigens. An immunohistochemical study with anti-neurofilament, anti-glial filament, and anti-myelin basic protein monoclonal antibodies. Am J Pathol 115:383–389

10.

Sangruchi T, Sobel RA (1989) Microglial and neural differentiation in human teratomas. Acta Neuropathol 78:258–263. doi:10.1007/BF00687755

11.

Nakazato Y, Ishizeki J, Takahashi K, Yamaguchi H, Kamei T, Mori T (1982) Localization of S-100 protein and glial fibrillary acidic protein-related antigen in pleomorphic adenoma of the salivary glands. Lab Invest 46:621–626

12.

Yokoo H, Nobusawa S, Takebayashi H, Ikenaka K, Isoda K, Kamiya M, Sasaki A, Hirato J, Nakazato Y (2004) Anti-human Olig2 antibody as a useful immunohistochemical marker of normal oligodendrocytes and gliomas. Am J Pathol 164:1717–1725. doi:10.1016/S0002-9440(10)63730-3

13.

Arai H, Hirato J, Nakazato Y (1998) A novel marker of Schwann cells and myelin of the peripheral nervous system. Pathol Int 48:206–214. doi:10.1111/j.1440-1827.1998.tb03894.x

14.

Nogales FF, Preda O, Dulcey I (2012) Gliomatosis peritonei as a natural experiment in tissue differentiation. Int J Dev Biol 56:969–974. doi:10.1387/ijdb.120172fn

15.

Nogales FF, Dulcey I, Preda O (2014) Germ cell tumors of the ovary: an update. Arch Pathol Lab Med 138:351–362. doi:10.5858/arpa.2012-0547-RA

16.

García-Galvis OF, Cabrera-Ozoria C, Fernández JA, Stolnicu S, Nogales FF (2008) Malignant Müllerian mixed tumor of the ovary associated with yolk sac tumor, neuroepithelial and trophoblastic differentiation (teratoid carcinosarcoma). Int J Gynecol Pathol 27:515–520. doi:10.1097/PGP.0b013e31817b06c7

17.

Lendahl U, Zimmerman LB, McKay RD (1990) CNS stem cells express a new class of intermediate filament protein. Cell 60:585–595. doi:10.1016/0092-8674(90)90662-X

18.

Tohyama T, Lee VM, Rorke LB, Marvin M, McKay RD, Trojanowski JQ (1992) Nestin expression in embryonic human neuroepithelium and in human neuroepithelial tumor cells. Lab Invest 66:303–313

19.

Krupkova O Jr, Loja T, Zambo I, Veselska R (2010) Nestin expression in human tumors and tumor cell lines. Neoplasma 57:291–298. doi:10.4149/neo_2010_04_291

20.

Mokrý J, Čížková D, Filip S, Ehrmann J, Österreicher J, Kolář Z, English D (2004) Nestin expression by newly formed human blood vessels. Stem Cells Dev 13:658–664. doi:10.1089/scd.2004.13.658

21.

Mokrý J, Ehrmann J, Karbanová J, Čížková D, Soukup T, Suchánek J, Filip S, Kolář Z (2008) Expression of intermediate filament nestin in blood vessels of neural and non-neural tissues. Acta Medica (Hradec Kralove) 51:173–179

22.

Roelofs RF, Fischer DF, Houtman SH, Sluijs JA, Van Haren W, Van Leeuwen FW, Hol EM (2005) Adult human subventricular, subgranular, and subpial zones contain astrocytes with a specialized intermediate filament cytoskeleton. Glia 52:289–300. doi:10.1002/glia.20243

23.

Martinian L, Boer K, Middeldorp J, Hol EM, Sisodiya SM, Squier W, Aronica E, Thom M (2009) Expression patterns of glial fibrillary acidic protein (GFAP)-delta in epilepsy-associated lesional pathologies. Neuropathol Appl Neurobiol 35:394–405. doi:10.1111/j.1365-2990.2008.00996.x

24.

van den Berge SA, Middeldorp J, Zhang CE, Curtis MA, Leonard BW, Mastroeni D, Voorn P, van de Berg WD, Huitinga I, Hol EM (2010) Long-term quiescent cells in the aged human subventricular neurogenic system specifically express GFAP-δ. Aging Cell 9:313–326. doi:10.1111/j.1474-9726.2010.00556.x

25.

Brehar FM, Arsene D, Brinduse LA, Gorgan MR (2014) Immunohistochemical analysis of GFAP-δ and nestin in cerebral astrocytomas. Brain Tumor Pathol 32:90–98. doi:10.1007/s10014-014-0199-8

26.

Tamagno I, Schiffer D (2006) Nestin expression in reactive astrocytes of human pathology. J Neurooncol 80:227–233. doi:10.1007/s11060-006-9181-6

27.

Xue D, Peng Y, Wang F, Allan RW, Cao D (2011) RNA‐binding protein LIN28 is a sensitive marker of ovarian primitive germ cell tumours. Histopathology 59:452–459. doi:10.1111/j.1365-2559.2011.03949.x

28.

Berger N, Pochaczevsky R (1969) Astrocytoma-containing ovarian teratoma in childhood. Am J Roentgenol Radium Ther Nucl Med 107:647–651. doi:10.2214/ajr.107.3.647

29.

Skopelitou A, Mitselou A, Michail M, Mitselos V, Stefanou D (2002) Pilocytic astrocytoma arising in a dermoid cyst of the ovary: a case presentation. Virchows Arch 440:105–106. doi:10.1007/s00428-001-0546-0

30.

Reid HA, van der Walt JD, Fox H (1983) Neuroblastoma arising in a mature cystic teratoma of the ovary. J Clin Pathol 36:68–73. doi:10.1136/jcp.36.1.68

31.

Bjersing L, Cajander S, Rogo K, Ottosson UB, Stendahl U (1988) Glioblastoma multiform in a dermoid cyst of the ovary. Eur J Gynaecol Oncol 10:389–392

32.

Hirschowitz L, Ansari A, Cahill DJ, Bamford DS, Love S (1997) Central neurocytoma arising within a mature cystic teratoma of the ovary. Int J Gynecol Pathol 16:176–179

33.

Opris I, Ducrotoy V, Bossut J, Lamy A, Sabourin JC (2009) Oligodendroglioma arising in an ovarian mature cystic teratoma. Int J Gynecol Pathol 28:367–371. doi:10.1097/PGP.0b013e318196c4c0

34.

Ünal B, Güleç F, Şedele M (2014) Oligodendroglioma arising in mature cystic teratoma. Case Rep Oncol Med 2014:745462. doi:10.1155/2014/745462
Ethics declarations
The Ethics Committee at Gunma University approved the present study on June 30, 2015.
Conflict of interest
The authors declare that they have no competing interests.
About this article
Cite this article
Takayama, Y., Matsumura, N., Nobusawa, S. et al. Immunophenotypic features of immaturity of neural elements in ovarian teratoma. Virchows Arch 468, 337–343 (2016). https://doi.org/10.1007/s00428-015-1891-8
Received:

Revised:

Accepted:

Published:

Issue Date:
Keywords
Mature teratoma

Immature teratoma

Maturity

Neural element