Abstract
Adipophilin, a lipid droplet-associated protein that regulates lipid droplet structure and formation, is expressed in a wide variety of tumors. The aims of this study were to evaluate the frequency and distribution pattern of adipophilin expression in gastric epithelial neoplasia and to correlate these variables with clinicopathological features and the mucin phenotype. We retrospectively examined 159 cases of gastric epithelial neoplasia, which were classified according to the Vienna classification system as 52 noninvasive low-grade adenoma (category 3), 65 noninvasive high-grade neoplasia (category 4), and 42 invasive neoplasia (category 5). Immunohistochemistry for adipophilin was performed, and phenotypic marker expression was determined by immunohistostaining with MUC2, MUC5AC, CD10, MUC6, and villin. Adipophilin was expressed in 41 of the 52 (79 %) category 3 cases, in 42 of the 65 (65 %) category 4 cases, and in 23 of the 42 (55 %) category 5 cases. Expression of adipophilin was only present in lesions with complete or incomplete intestinal phenotypes. Adipophilin was expressed more frequently in the surface epithelium in category 3, whereas there was a stepwise increase in cryptal staining of adipophilin from category 3 to category 5. In conclusion, adipophilin expression is closely related to the intestinal differentiation of the tumor. The pattern of immunostaining for adipophilin might be a useful new marker for discriminating adenomas from adenocarcinomas.
This is a preview of subscription content, log in to check access.
Access options
Buy single article
Instant access to the full article PDF.
US$ 39.95
Price includes VAT for USA
Subscribe to journal
Immediate online access to all issues from 2019. Subscription will auto renew annually.
US$ 199
This is the net price. Taxes to be calculated in checkout.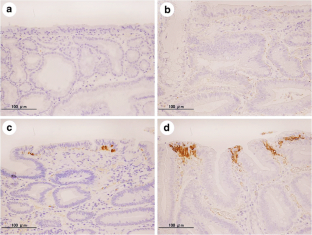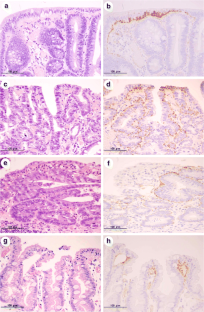 References
1.

Lauren P (1965) The two histological main types of gastric carcinoma: diffuse and so-called intestinal-type carcinoma. An attempt at a histo-clinical classification. Acta Pathol Microbiol Scand 64:31–49

2.

Nakamura K, Sugano H, Takagi K (1968) Carcinoma of the stomach in incipient phase: its histogenesis and histological appearances. Gann 59:251–258

3.

Oehlert W, Keller P, Henke M, Strauch M (1979) Gastric mucosal dysplasia: what is its clinical significance? Front Gastrointest Res 4:173–182

4.

Ming SC, Bajtai A, Correa P, Elster K, Jarvi OH, Munoz N, Nagayo T, Stemmerman GN (1984) Gastric dysplasia. Significance and pathologic criteria. Cancer 54:1794–1801

5.

Schlemper RJ, Itabashi M, Kato Y, Lewin KJ, Riddell RH, Shimoda T, Sipponen P, Stolte M, Watanabe H, Takahashi H, Fujita R (1997) Differences in diagnostic criteria for gastric carcinoma between Japanese and western pathologists. Lancet 349:1725–1729

6.

Schlemper RJ, Riddell RH, Kato Y et al (2000) The Vienna classification of gastrointestinal epithelial neoplasia. Gut 47:251–255

7.

Fertitta AM, Comin U, Terruzzi V et al (1993) Clinical significance of gastric dysplasia: a multicenter follow-up study. Gastrointestinal Endoscopic Pathology Study Group. Endoscopy 25:265–268

8.

Farinati F, Rugge M, Di Mario F, Valiante F, Baffa R (1993) Early and advanced gastric cancer in the follow-up of moderate and severe gastric dysplasia patients. A prospective study. I.G.G.E.D.—Interdisciplinary Group on Gastric Epithelial Dysplasia. Endoscopy 25:261–264

9.

Di Gregorio C, Morandi P, Fante R, De Gaetani C (1993) Gastric dysplasia. A follow-up study. Am J Gastroenterol 88:1714–1719

10.

Rugge M, Farinati F, Di Mario F, Baffa R, Valiante F, Cardin F (1991) Gastric epithelial dysplasia: a prospective multicenter follow-up study from the Interdisciplinary Group on Gastric Epithelial Dysplasia. Hum Pathol 22:1002–1008

11.

Rugge M, Farinati F, Baffa R, Sonego F, Di Mario F, Leandro G, Valiante F (1994) Gastric epithelial dysplasia in the natural history of gastric cancer: a multicenter prospective follow-up study. Interdisciplinary Group on Gastric Epithelial Dysplasia. Gastroenterology 107:1288–1296

12.

Yamada H, Ikegami M, Shimoda T, Takagi N, Maruyama M (2004) Long-term follow-up study of gastric adenoma/dysplasia. Endoscopy 36:390–396

13.

Yao K, Iwashita A, Tanabe H, Nishimata N, Nagahama T, Maki S, Takaki Y, Hirai F, Hisabe T, Nishimura T, Matsui T (2008) White opaque substance within superficial elevated gastric neoplasia as visualized by magnification endoscopy with narrow-band imaging: a new optical sign for differentiating between adenoma and carcinoma. Gastrointest Endosc 68:574–580

14.

Yao K, Iwashita A, Nambu M, Tanabe H, Nagahama T, Maki S, Ishikawa H, Matsui T, Enjoji M (2012) Nature of white opaque substance in gastric epithelial neoplasia as visualized by magnifying endoscopy with narrow-band imaging. Dig Endosc 24:419–425

15.

Ueo T, Yonemasu H, Yada N et al (2013) White opaque substance represents an intracytoplasmic accumulation of lipid droplets: immunohistochemical and immunoelectron microscopic investigation of 26 cases. Dig Endosc 25:147–155

16.

Straub BK, Herpel E, Singer S, Zimbelmann R, Breuhahn K, Macher-Goeppinger S, Warth A, Lehmann-Koch J, Longerich T, Heid H, Schirmacher P (2010) Lipid droplet-associated PAT-proteins show frequent and differential expression in neoplastic steatogenesis. Mod Pathol 23:480–492

17.

Heid HW, Moll R, Schwetlick I, Rackwitz HR, Keenan TW (1998) Adipophilin is a specific marker of lipid accumulation in diverse cell types and disease. Cell Tissue Res 294:309–321

18.

Kabashima A, Yao T, Sugimachi K, Tsuneyoshi M (2000) Gastric or intestinal phenotypic expression in the carcinomas and background mucosa of multiple early gastric carcinomas. Histopathology 37:513–522

19.

Matsubara J, Honda K, Ono M et al (2011) Identification of adipophilin as a potential plasma biomarker for colorectal cancer using label-free quantitative mass spectrometry and protein microarray. Cancer Epidemiol Biomarkers Prev 20:2195–2203

20.

Siurala M, Tarpila S (1968) Absorptive function of intestinal metaplasia of the stomach. Scand J Gastroenterol 3:76–79

21.

Tanaka M, Usuda K, Ookura Y et al (2003) Significance of magnifying endoscopy in diagnosis of duodenal elevated lesions [in Japanese with English abstract]. Stomach Intestine 38:1709–1720

22.

West AB, Isaac CA, Carboni JM, Morrow JS, Mooseker MS, Barwick KW (1988) Localization of villin, a cytoskeletal protein specific to microvilli, in human ileum and colon and in colonic neoplasms. Gastroenterology 94:343–352

23.

Groisman GM, Amar M, Livne E (2002) CD10: a valuable tool for the light microscopic diagnosis of microvillous inclusion disease (familial microvillous atrophy). Am J Surg Pathol 26:902–907

24.

Niwa T, Ikehara Y, Nakanishi H, Tanaka H, Inaba K, Tsukamoto T, Ichinose M, Tatematsu M (2005) Mixed gastric- and intestinal-type metaplasia is formed by cells with dual intestinal and gastric differentiation. J Histochem Cytochem 53:75–85

25.

Tajima Y, Shimoda T, Nakanishi Y, Yokoyama N, Tanaka T, Shimizu K, Saito T, Kawamura K, Kusano M, Kumagai K (2001) Gastric and intestinal phenotypic marker expression in gastric carcinomas and its prognostic significance: Immunohistochemical analysis of 136 lesions. Oncology 61:212–220

26.

Yamachika T, Inada K, Fijimitsu Y, Nakamura S, Yamamura Y, Kitou T, Itzkowitz SH, Werther JL, Miki K, Tatematsu M (1997) Intestinalization of gastric signet ring cell carcinomas with progression. Virchows Arch 431:103–110

27.

Tsukashita S, Kushima R, Bamba M, Sugihara H, Hattori T (2001) MUC gene expression and histogenesis of adenocarcinoma of the stomach. Int J Cancer 94:166–170
Acknowledgments
We thank Dr. Tetsuya Ueo (Oita Red Cross Hospital) for the advice on immunohistochemical staining methods and Mrs. Noriko Sasahara for her technical assistance. This work was partially supported by the Central Research Institute for Endoscopy, Fukuoka University. This work was supported in part by a Grant-in-Aid for General Scientific Research from the Ministry of Education, Science, Sports, and Culture (#26460428 to T. Yao), Tokyo, Japan.
Ethics declarations
Conflict of interests
The authors declare that they have no competing interests.
About this article
Cite this article
Gushima, R., Yao, T., Kurisaki-Arakawa, A. et al. Expression of adipophilin in gastric epithelial neoplasia is associated with intestinal differentiation and discriminates between adenoma and adenocarcinoma. Virchows Arch 468, 169–177 (2016). https://doi.org/10.1007/s00428-015-1870-0
Received:

Revised:

Accepted:

Published:

Issue Date:
Keywords
Adipophilin

Lipid droplet

Gastric epithelial neoplasia

Mucin phenotype