Abstract
The concept of unidirectional differentiation of the haematopoietic stem cell has been challenged after recent findings that human B cell progenitors and even mature B cells can be reprogrammed into histiocytic/dendritic cells by altering expression of lineage-associated transcription factors. The conversion of mature B cell lymphomas to Langerhans cell neoplasms is not well documented. Three previous reports have described clonally related follicular lymphoma and Langerhans cell tumours, whereas no case has been published of clonally related marginal zone lymphoma and Langerhans cell sarcoma. We describe the case of a 77-year-old patient who developed a Langerhans cell sarcoma and 6 years later a nodal marginal zone lymphoma. Mutation status examination showed 100 % gene identity to the germline sequence, suggesting direct trans-differentiation or dedifferentiation of the nodal marginal zone lymphoma to the Langerhans cell sarcoma rather than a common progenitor. We found inactivation of paired box 5 (PAX-5) in the lymphoma cells by methylation, along with duplication of part of the long arm of chromosomes 16 and 17 in the sarcoma cells. The absence of PAX-5 could have triggered B cells to differentiate into macrophages and dendritic cells. On the other hand, chromosomal imbalances might have activated genes involved in myeloid lineage maturation, transcription activation and oncogenesis. We hypothesize that this occurred because of previous therapies for nodal marginal zone lymphoma. Better understanding of this phenomenon may help in unravelling the molecular interplay between transcription factors during haematopoietic lineage commitment and may expand the spectrum of clonally related mature B cell neoplasms and Langerhans cell tumours.
This is a preview of subscription content, log in to check access.
We're sorry, something doesn't seem to be working properly.
Please try refreshing the page. If that doesn't work, please contact support so we can address the problem.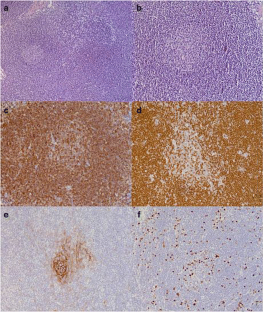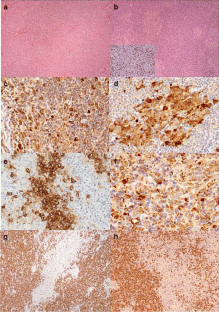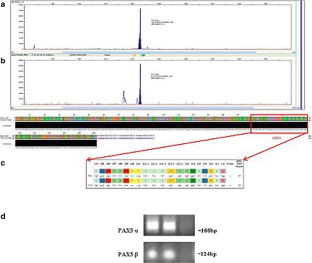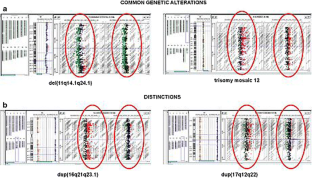 References
1.

Jaffe ES, Harris NL, Stein H, Campo E, Pileri SA, Swerdlow SH (2008) Introduction and overview of the classification of the lymphoid neoplasms. In: Swerdlow SH, Campo E, Harris NL, Jaffe ES, Pileri SA, Stein H, Thiele J, Vardiman JW (eds) WHO classification of tumours of haematopoietic and lymphoid tissues, 4th edn. IARC Press, Lyon, pp 158–166

2.

Chao MP, Seita J, Weissman IL (2008) Establishment of a normal hematopoietic and leukemia stem cell hierarchy. Cold Spring Harb Symp Quant Biol 73:439–449

3.

Wang E, Hutchinson CB, Huang Q, Sebastian S, Rehder C, Kanaly A, Moore J, Datto M (2010) Histiocytic sarcoma arising in indolent small B-cell lymphoma: report of two cases with molecular/genetic evidence suggestive of a 'transdifferentiation' during the clonal evolution. Leuk Lymphoma 51:802–812

4.

Chen W, Jaffe R, Zhang L, Hill C, Block AM, Sait S, Song B, Liu Y, Cai D (2013) Langerhans cell sarcoma arising from chronic lymphocytic lymphoma/small lymphocytic leukemia: lineage analysis and BRAF V600E mutation study. N Am J Med Sci 5:386–391

5.

Ratei R, Hummel M, Anagnostopoulos I, Jähne D, Arnold R, Dörken B, Mathas S, Benter T, Dudeck O, Ludwig WD, Stein H (2010) Common clonal origin of an acute B-lymphoblastic leukemia and a Langerhans' cell sarcoma: evidence for hematopoietic plasticity. Haematologica 95:1461–1466

6.

Feldman AL, Berthold F, Arceci RJ, Abramowsky C, Shehata BM, Mann KP, Lauer SJ, Pritchard J, Raffeld M, Jaffe ES (2005) Clonal relationship between precursor T-lymphoblastic leukaemia/lymphoma and Langerhans-cell histiocytosis. Lancet Oncol 6:435–437

7.

Pastor-Jane L, Escoda-Teigell L, Martínez-González S, Turégano-Fuentes P, Requena-Caballero L (2011) Multiorgan histiocytosis after B-cell acute lymphoblastic leukemia. Am J Dermatopathol 33:516–520

8.

Raj A, Bendon R, Moriarty T, Suarez C, Bertolone S (2001) Langerhans cell histiocytosis following childhood acute lymphoblastic leukemia. Am J Hematol 68:284–286

9.

Rodig SJ, Payne EG, Degar BA, Rollins B, Feldman AL, Jaffe ES, Androkites A, Silverman LB, Longtine JA, Kutok JL, Fleming MD, Aster JC (2008) Aggressive Langerhans cell histiocytosis following T-ALL: clonally related neoplasms with persistent expression of constitutively active NOTCH1. Am J Hematol 83:116–121

10.

Aubert-Wastiaux H, Barbarot S, Mechinaud F, Bossard C, Stalder JF (2011) Childhood Langerhans cell histiocytosis associated with T cell acute lymphoblastic leukemia. Eur J Dermatol 21:109–110

11.

Fraser CR, Wang W, Gomez M, Zhang T, Mathew S, Furman RR, Knowles DM, Orazi A, Tam W (2009) Transformation of chronic lymphocytic leukemia/small lymphocytic lymphoma to interdigitating dendritic cell sarcoma: evidence for transdifferentiation of the lymphoma clone. Am J Clin Pathol 132:928–939

12.

Bassarova A, Trøen G, Fosså A, Ikonomou IM, Beiske K, Nesland JM, Delabie J (2009) Transformation of B cell lymphoma to histiocytic sarcoma: somatic mutations of PAX-5 gene with loss of expression cannot explain transdifferentiation. J Hematop 2:135–141

13.

Wang E, Papalas J, Hutchinson CB, Kulbacki E, Huang Q, Sebastian S, Rehder C, Silbermins D, Moore J, Datto M (2011) Sequential development of histiocytic sarcoma and diffuse large b-cell lymphoma in a patient with a remote history of follicular lymphoma with genotypic evidence of a clonal relationship: a divergent (bilineal) neoplastic transformation of an indolent B-cell lymphoma in a single individual. Am J Surg Pathol 35:457–463

14.

Feldman AL, Arber DA, Pittaluga S, Martinez A, Burke JS, Raffeld M, Camos M, Warnke R, Jaffe ES (2008) Clonally related follicular lymphomas and histiocytic/dendritic cell sarcomas: evidence for transdifferentiation of the follicular lymphoma clone. Blood 111:5433–5543

15.

Shao H, Xi L, Raffeld M, Feldman AL, Ketterling RP, Knudson R, Rodriguez-Canales J, Hanson J, Pittaluga S, Jaffe ES (2011) Clonally related histiocytic/dendritic cell sarcoma and chronic lymphocytic leukemia/small lymphocytic lymphoma: a study of seven cases. Mod Pathol 24:1421–1432

16.

West DS, Dogan A, Quint PS, Tricker-Klar ML, Porcher JC, Ketterling RP, Law ME, McPhail ED, Viswanatha DS, Kurtin PJ, Dao LN, Ritzer RD, Nowakowski GS, Feldman AL (2013) Clonally related follicular lymphomas and Langerhans cell neoplasms: expanding the spectrum of transdifferentiation. Surg Pathol 37:978–986

17.

Zhang D, McGuirk J, Ganguly S, Persons DL (2009) Histiocytic/dendritic cell sarcoma arising from follicular lymphoma involving the bone: a case report and review of literature. Int J Hematol 89:529–532

18.

Brunner P, Rufle A, Dirnhofer S, Lohri A, Willi N, Cathomas G, Tzankov A, Juskevicius D (2014) Follicular lymphoma transformation into histiocytic sarcoma: indications for a common neoplastic progenitor. Leukemia 28:1937–1940

19.

Iwasaki H, Akashi K (2007) Myeloid lineage commitment from the hematopoietic stem cell. Immunity 26:726–740

20.

Chen W, Wang J, Wang E, Lu Y, Lau SK, Weiss LM, Huang Q (2010) Detection of clonal lymphoid receptor gene rearrangements in langerhans cell histiocytosis. Am J Surg Pathol 34:1049–1057

21.

Buser L, Bihl M, Rufle A, Mickys U, Tavoriene I, Griskevicius L, Tzankov A (2014) Unique composite hematolymphoid tumor consisting of a pro-T lymphoblastic lymphoma and an indeterminate dendritic cell tumor: evidence for divergent common progenitor cell differentiation. Pathobiology 81:199–205

22.

Cobaleda C, Jochum W, Busslinger M (2007) Conversion of mature B cells into T cells by dedifferentiation to uncommitted progenitors. Nature 449:473–477

23.

Carotta S, Nutt SL (2008) Losing B cell identity. Bioessays 30:203–207

24.

Katz SC, Baldwin K, Karakousis G, Moraco N, Buglino A, Singer S, Brennan MF (2011) Soft tissue sarcoma diagnosed subsequent to lymphoma is associated with prior radiotherapy and decreased survival. Cancer 117:4756–4763

25.

Licci S, Boscaino A, De Palma M, Del Nonno F, D'Antonio A (2008) Concurrence of marginal zone B-cell lymphoma MALT-type and Langerhans cell histiocytosis in a thyroid gland with Hashimoto disease. Ann Hematol 87:855–857

26.

Egeler RM, Neglia JP, Puccetti DM, Brennan CA, Nesbit ME (1993) Association of Langerhans cell histiocytosis with malignant neoplasms. Cancer 71:865–873

27.

Christie LJ, Evans AT, Bray SE, Smith ME, Kernohan NM, Levison DA, Goodlad JR (2006) Lesions resembling Langerhans cell histiocytosis in association with other lymphoproliferative disorders: a reactive or neoplastic phenomenon? Hum Pathol 37:32–39

28.

Edelbroek JR, Vermeer MH, Jansen PM, Stoof TJ, van der Linden MM, Horváth B, van Baarlen J, Willemze R (2012) Langerhans cell histiocytosis first presenting in the skin in adults: frequent association with a second haematological malignancy. Br J Dermatol 167:1287–1294

29.

Magni M, Di Nicola M, Carlo-Stella C, Matteucci P, Lavazza C, Grisanti S, Bifulco C, Pilotti S, Papini D, Rosai J, Gianni AM (2002) Identical rearrangement of immunoglobulin heavy chain gene in neoplastic Langerhans cells and B-lymphocytes: evidence for a common precursor. Leuk Res 26:1131–1133

30.

Vandewoestyne ML, Pede VC, Lambein KY, Dhaenens MF, Offner FC, Praet MM, Philippé JJ, Kipps TJ, Deforce DL (2011) Laser microdissection for the assessment of the clonal relationship between chronic lymphocytic leukemia/small lymphocytic lymphoma and proliferating B cells within lymph node pseudofollicles. Leukemia 25:883–888

31.

Ambrosio MR, Rocca BJ, Ginori A, Mourmouras V, Amato T, Vindigni C, Lazzi S, Leoncini L A look into the evolution of epstein-barr virus induced lymphoproliferative disorders: a case study. In press on AJCP

32.

Lazzi S, Bellan C, Onnis A, De Falco G, Sayed S, Kostopoulos I, Onorati M, D'Amuri A, Santopietro R, Vindigni C, Fabbri A, Righi S, Pileri S, Tosi P, Leoncini L (2009) Rare lymphoid neoplasms coexpressing B- and T-cell antigens. The role of PAX-5 gene methylation in their pathogenesis. Hum Pathol 40:1252–1261

33.

Jaffe R, Weiss LM, Facchetti F (2008) Tumors derived from Langerhans cells. In: Swerdlow SH, Campo E, Harris NL, Jaffe ES, Pileri SA, Stein H, Thiele J, Vardiman JW (eds) WHO classification of tumours of haematopoietic and lymphoid tissues, 4th edn. IARC Press, Lyon, pp 358–360

34.

Bikos V, Darzentas N, Hadzidimitriou A, Davis Z, Hockley S, Traverse-Glehen A, Algara P, Santoro A, Gonzalez D, Mollejo M, Dagklis A, Gangemi F, Bosler DS, Bourikas G, Anagnostopoulos A, Tsaftaris A, Iannitto E, Ponzoni M, Felman P, Berger F, Belessi C, Ghia P, Papadaki T, Dogan A, Degano M, Matutes E, Piris MA, Oscier D, Stamatopoulos K (2012) Over 30% of patients with splenic marginal zone lymphoma express the same immunoglobulin heavy variable gene: ontogenetic implications. Leukemia 26(7):1638–1646

35.

Liu H, Zhou J, Cheng P, Ramachandran I, Nefedova Y, Gabrilovich DI (2013) Regulation of dendritic cell differentiation in bone marrow during emergency myelopoiesis. J Immunol 191:1916–1926

36.

Wong WW, Vince JE, Lalaoui N, Lawlor KE, Chau D, Bankovacki A, Anderton H, Metcalf D, O'Reilly L, Jost PJ, Murphy JM, Alexander WS, Strasser A, Vaux DL, Silke J (2014) cIAPs and XIAP regulate myelopoiesis through cytokine production in an RIPK1- and RIPK3-dependent manner. Blood 123:2562–2572

37.

Fu L, Lin-Lee YC, Pham LV, Tamayo A, Yoshimura L, Ford RJ (2006) Constitutive NF-kappaB and NFAT activation leads to stimulation of the BLyS survival pathway in aggressive B-cell lymphomas. Blood 107:4540–4548

38.

Chang SK, Mihalcik SA, Jelinek DF (2008) B lymphocyte stimulator regulates adaptive immune responses by directly promoting dendritic cell maturation. J Immunol 180:7394–7403
Conflict of interest
The authors declare that they have no conflict of interest.
About this article
Cite this article
Ambrosio, M.R., De Falco, G., Rocca, B.J. et al. Langerhans cell sarcoma following marginal zone lymphoma: expanding the knowledge on mature B cell plasticity. Virchows Arch 467, 471–480 (2015). https://doi.org/10.1007/s00428-015-1814-8
Received:

Revised:

Accepted:

Published:

Issue Date:
Keywords
Langerhans cell sarcoma

Marginal zone lymphoma

Trans-differentiation

GeneScan

Array comparative genomic hybridization