Abstract
Germ line mutations in genes that encode proteins involved in the DNA damage response predispose patients to a variety of tumors. Checkpoint kinase 2, encoded by the CHEK2 gene, is important in transducing the DNA damage response. Germ line CHEK2 mutations are seen in a subset of patients with a familial breast cancer and sarcoma phenotype. We report a case of retroperitoneal dedifferentiated liposarcoma in a 61-year-old female with germ line CHEK2 mutation. MDM2 gene amplification normally present and used to aid in the diagnosis of retroperitoneal dedifferentiated liposarcoma was absent in this case. Lack of MDM2 overexpression has similarly been reported in liposarcomas arising in patients with germ line TP53 mutations. We propose this case may highlight a nonamplified MDM2 phenotype in well- and dedifferentiated liposarcomas arising in patients with germ line mutations of genes involved in p53-associated DNA damage response pathways.
This is a preview of subscription content, log in to check access.
Access options
Buy single article
Instant access to the full article PDF.
US$ 39.95
Price includes VAT for USA
Subscribe to journal
Immediate online access to all issues from 2019. Subscription will auto renew annually.
US$ 199
This is the net price. Taxes to be calculated in checkout.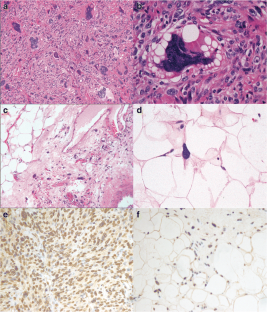 References
1.

Jackson SP, Bartek J (2009) The DNA-damage response in human biology and disease. Nature 461:1071–1078. doi:10.1038/nature08467

2.

Antoni L, Sodha N, Collins I, Garrett MD (2007) CHK2 kinase: cancer susceptibility and cancer therapy—two sides of the same coin? Nat Rev Cancer 7:925–936. doi:10.1038/nrc2251

3.

Walsh T, Casadei S, Coats KH et al (2006) Spectrum of mutations in BRCA1, BRCA2, CHEK2, and TP53 in families at high risk of breast cancer. Jama J Am Med Assoc 295:1379–1388. doi:10.1001/jama.295.12.1379

4.

Manoukian S, Peissel B, Frigerio S et al (2011) Two new CHEK2 germ-line variants detected in breast cancer/sarcoma families negative for BRCA1, BRCA2, and TP53 gene mutations. Breast Cancer Res Treat 130:207–215. doi:10.1007/s10549-011-1548-5

5.

Pilotti S, Della Torre G, Lavarino C et al (1998) Molecular abnormalities in liposarcoma: role of MDM2 and CDK4-containing amplicons at 12q13-22. J Pathol 185:188–190. doi:10.1002/(SICI)1096-9896(199806)185:2<188::AID-PATH53>3.0.CO;2-2

6.

Dal Cin P, Kools P, Sciot R et al (1993) Cytogenetic and fluorescence in situ hybridization investigation of ring chromosomes characterizing a specific pathologic subgroup of adipose tissue tumors. Cancer Genet Cytogenet 68:85–90

7.

Debelenko LV, Perez-Atayde AR, Dubois SG et al (2010) p53+/mdm2-atypical lipomatous tumor/well-differentiated liposarcoma in young children: an early expression of Li-Fraumeni syndrome. Pediatr Dev Pathol Off J Soc Pediatr Pathol Paediatr Pathol Soc 13:218–224. doi:10.2350/09-08-0694-OA.1

8.

Bell DW, Varley JM, Szydlo TE et al (1999) Heterozygous germ line hCHK2 mutations in Li-Fraumeni syndrome. Science 286:2528–2531

9.

Ognjanovic S, Olivier M, Bergemann TL, Hainaut P (2012) Sarcomas in TP53 germline mutation carriers: a review of the IARC TP53 database. Cancer 118:1387–1396. doi:10.1002/cncr.26390

10.

Lynch HT, Mulcahy GM, Harris RE et al (1978) Genetic and pathologic findings in a kindred with hereditary sarcoma, breast cancer, brain tumors, leukemia, lung, laryngeal, and adrenal cortical carcinoma. Cancer 41:2055–2064

11.

Sodha N, Houlston RS, Bullock S et al (2002) Increasing evidence that germline mutations in CHEK2 do not cause Li-Fraumeni syndrome. Hum Mutat 20:460–462. doi:10.1002/humu.10136

12.

Chehab NH, Malikzay A, Appel M, Halazonetis TD (2000) Chk2/hCds1 functions as a DNA damage checkpoint in G(1) by stabilizing p53. Genes Dev 14:278–288

13.

Pilotti S, Della Torre G, Lavarino C et al (1997) Distinct mdm2/p53 expression patterns in liposarcoma subgroups: implications for different pathogenetic mechanisms. J Pathol 181:14–24. doi:10.1002/(SICI)1096-9896(199701)181:1<14::AID-PATH730>3.0.CO;2-O

14.

Roeb W, Higgins J, King M-C (2012) Response to DNA damage of CHEK2 missense mutations in familial breast cancer. Hum Mol Genet 21:2738–2744. doi:10.1093/hmg/dds101

15.

Schneider-Stock R, Walter H, Radig K et al (1998) MDM2 amplification and loss of heterozygosity at Rb and p53 genes: no simultaneous alterations in the oncogenesis of liposarcomas. J Cancer Res Clin Oncol 124:532–540
Acknowledgments
The authors have no financial or commercial obligations to disclose.
About this article
Cite this article
Sadri, N., Surrey, L.F., Fraker, D.L. et al. Retroperitoneal dedifferentiated liposarcoma lacking MDM2 amplification in a patient with a germ line CHEK2 mutation. Virchows Arch 464, 505–509 (2014). https://doi.org/10.1007/s00428-014-1563-0
Received:

Revised:

Accepted:

Published:

Issue Date:
Keywords
Dedifferentiated liposarcoma

CHEK2 mutation

MDM2

DNA damage response