Abstract
Care for patients with colon and rectal cancer has improved in the last 20 years; however, a considerable variation still exists in cancer management and outcome between European countries. Large variation is also apparent between national guidelines and patterns of cancer care in Europe. Therefore, EURECCA, which is the acronym of European Registration of Cancer Care, is aiming at defining core treatment strategies and developing a European audit structure in order to improve the quality of care for all patients with colon and rectal cancer. In December 2012, the first multidisciplinary consensus conference about cancer of the colon and rectum was held. The expert panel consisted of representatives of European scientific organizations involved in cancer care of patients with colon and rectal cancer and representatives of national colorectal registries.
This is a preview of subscription content, log in to check access.
Access options
Buy single article
Instant access to the full article PDF.
US$ 39.95
Price includes VAT for USA
Subscribe to journal
Immediate online access to all issues from 2019. Subscription will auto renew annually.
US$ 199
This is the net price. Taxes to be calculated in checkout.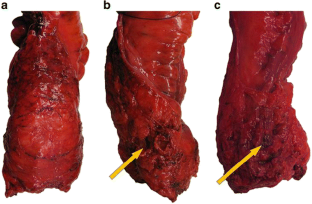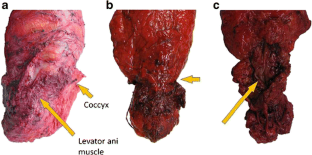 References
1.

van de Velde CJ, Aristei C, Boelens PG et al (2013) EURECCA colorectal: multidisciplinary mission statement on better care for patients with colon and rectal cancer in Europe. Eur J Cancer 49:2784–2790

2.

American Joint Committee for Cancer Staging and End-Results Reporting (1977) Manual for staging of cancer 1977. American Joint Committee, Chicago

3.

UICC (Hermanek P, Sobin LH, eds.) TNM classification of malignant tumors. 4th edn. Berlin: Springer; 1987.

4.

American Joint Committee on Cancer (AJCC) (Beahrs OH, Henson DE, Hutter RVP, Myers MH, eds.) Manual of staging of cancer. 3rd edn. Philadelphia: Lippincott; 1988.

5.

ICC (Sobin LH, Wittekind Ch, eds) TNM classification of malignant tumours. 6th edn. 2002. New York: Wiley; 2002.

6.

American Joint Committee on Cancer (AJCC) (Greene FL, Page DL, Fleming ID et al., eds) Cancer Staging Manual, 6th edn. New York: Springer; 2002.

7.

Hermanek P, Gall FP, Altendorf A (1980) Prognostic grouping in colorectal carcinoma. J Cancer Res Clin Oncol 98:185–193

8.

Newland RC, Chapuis PH, Pheils MT, MacPherson JG (1981) The relationship of survival in staging and grading of colorectal carcinoma. Cancer 47:350–357

9.

Wittekind C, Compton C, Quirke P et al (2009) A uniform residual tumor (R) classification: integration of the R classification and the circumferential margin status. Cancer 115:3483–3488

10.

Quirke P, Dudley P, Dixon MF, Williams NS (1986) Local recurrence of rectal adenocarcinoma due to inadequate surgical resection. Histopathologic study of lateral tumor spread and surgical excision. Lancet 328:996–999

11.

Adam IJ, Mohamdee MO, Margin IG et al (1994) Role of circumferential margin involvement in the local recurrence of rectal cancer. Lancet 344:707–711

12.

Nagtegaal ID, Quirke P (2008) What is the role for the circumferential margin in the modern treatment of rectal cancer? J Clin Oncol 26:303–312

13.

Nagtegaal ID, Marijnen CA, Kranenbarg EK, van de Velde CJ, van Krieken JH (2002) Circumferential margin involvement is still an important predictor of local recurrence in rectal carcinoma: not one millimeter but two millimeters is the limit. Am J Surg Pathol 26:350–357

14.

Wibe A, Rendedal PR, Svensson E et al (2002) Prognostic significance of the circumferential resection margin following total mesorectal excision for rectal cancer. Br J Surg 89:327–334

15.

Birbeck KF, Macklin CP, Tiffin NJ et al (2002) Rates of circumferential resection margin involvement vary between surgeons and predict outcomes in rectal cancer surgery. Ann Surg 235:449–457

16.

Nagtegaal ID, van de Velde CJ, van der Worp E, Kapiteijn E, Quirke P, van Krieken JH (2002) Macroscopic evaluation of rectal cancer resection specimen: clinical significance of the pathologist in quality control. J Clin Oncol 20:1729–1734

17.

Quirke P, Steele R, Monson J et al (2009) Effect of the plane of surgery achieved on local recurrence in patients with operable rectal cancer: a prospective study using data from the MRC CR07 and NCIC-CTG CO16 randomised clinical trial. Lance 373:821–828

18.

Leite JS, Martins SC, Oliveira J, Cunha MF, Castro-Sousa F (2011) Clinical significance of macroscopic completeness of mesorectal resection in rectal cancer. Color Dis 13:381–386

19.

García-Granero E, Faiz O, Muñoz E (2009) Macroscopic assessment of mesorectal excision in rectal cancer: a useful tool for improving quality control in a multidisciplinary team. Cancer 115:3400–3411

20.

West NP, Finan PJ, Anderin C, Lindholm J, Holm T, Quirke P (2008) Evidence of the oncologic superiority of cylindrical abdominoperineal excision for low rectal cancer. J Clin Oncol 26:3517–3522

21.

West NP, Anderin C, Smith KJ, Holm T, Quirke P (2010) Multicentre experience with extralevator abdominoperineal excision for low rectal cancer. Br J Surg 97:588–599

22.

Bosch SL, Nagtegaal ID (2012) The importance of the pathologist's role in assessment of the quality of the mesorectum. Curr Colorectal Cancer Rep 8:90–98

23.

Stelzner S, Koehler C, Stelzer J, Sims A, Witzigmann H (2011) Extended abdominoperineal excision vs. standard abdominoperineal excision in rectal cancer—a systematic overview. Int J Color Dis 26:1227–1240

24.

Morris EJ, Maughan NJ, Forman D, Quirke P (2007) Identifying stage III colorectal cancer patients: the influence of the patient, surgeon, and pathologist. J Clin Oncol 25:2573–2579

25.

Mekenkamp LJ, van Krieken JH, Marijnen CA, van de Velde CJ, Nagtegaal ID (2009) Lymph node retrieval in rectal cancer is dependent on many factors—the role of the tumor, the patient, the surgeon, the radiotherapist, and the pathologist. Am J Surg Pathol 33:1547–1553

26.

Baxandall M, Lewis F, Casali G et al (2006) Disappearing lymph nodes, one explanation for the fall in number with increasing age. J Path 208(S1):29A

27.

Berg M, Guriby M, Nordgård O, et al. Influence of microsatellite instability, KRAS and BRAF mutations on lymph node harvest in stage I–III colon cancers. Mol Med 2013; published online 21st August.

28.

Rullier A, Laurent C, Capdepont M et al (2008) Lymph nodes after preoperative chemoradiotherapy for rectal carcinoma: number, status, and impact on survival. Am J Surg Pathol 32:45–50

29.

Baxter NN, Morris AM, Rothenberger DA, Tepper JE (2005) Impact of preoperative radiation for rectal cancer on subsequent lymph node evaluation: a population-based analysis. Int J Radiat Oncol Biol Phys 61:426–431

30.

Jepsen RK, Ingeholm P, Lund EL (2012) Upstaging of early colorectal cancers following improved lymph node yield after methylene blue injection. Histopathology 61:788–794

31.

Iversen LH, Laurberg S, Hagemann-Madsen R, Dybdahl H (2008) Increased lymph node harvest from colorectal cancer resections using GEWF solution: a randomised study. J Clin Pathol 61:1203–1208

32.

Rödel C, Martus P, Papadoupolos T et al (2005) Prognostic significance of tumor regression after preoperative chemoradiotherapy for rectal cancer. J Clin Oncol 23:8688–8696

33.

Dworak O, Keilholz L, Hoffmann A (1997) Pathological features of rectal cancer after preoperative radiochemotherapy. Int J Colorectal Dis 12:19–23

34.

Ryan R, Gibbons D, Hyland JM et al (2005) Pathological response following long-course neoadjuvant chemoradiotherapy for locally advanced rectal cancer. Histopathology 47:141–146

35.

Maas M, Nelemans PJ, Valentini V et al (2010) Long-term outcome in patients with a pathological complete response after chemoradiation for rectal cancer: a pooled analysis of individual patient data. Lancet Oncol 11:835–844

36.

Capirci C, Valentini V, Cionini L et al (2008) Prognostic value of pathologic complete response after neoadjuvant therapy in locally advanced rectal cancer: long-term analysis of 566 ypCR patients. Int J Radiat Oncol Biol Phys 72:99–107

37.

Quirke P, Cuvelier C, Ensari A et al (2010) Evidence-based medicine: the time has come to set standards for staging. J Pathol 221:357–360

38.

Quirke P, Williams GT, Ectors N, Ensari A, Piard F, Nagtegaal I (2007) The future of the TNM staging system in colorectal cancer: time for a debate? Lancet Oncol 8:651–657

39.

Nagtegaal ID, Quirke P (2010) Revised staging: is it really better, or do we not know? J Clin Oncol 28:e397–e398

40.

Nagtegaal ID, Tot T, Jayne DG et al (2011) Lymph nodes, tumor deposits, and TNM: are we getting better? J Clin Oncol 29:2487–2492

41.

Nagtegaal ID, Quirke P, Schmoll HJ (2011) Has the new TNM classification for colorectal cancer improved care? Nat Rev Clin Oncol 9:119–123
Conflict of interest
PQ and NW are funded by Yorkshire Cancer research. IN declares no conflict of interest.
About this article
Cite this article
Quirke, P., West, N.P. & Nagtegaal, I.D. EURECCA consensus conference highlights about colorectal cancer clinical management: the pathologists expert review. Virchows Arch 464, 129–134 (2014). https://doi.org/10.1007/s00428-013-1534-x
Received:

Revised:

Accepted:

Published:

Issue Date:
Keywords
Colorectal cancer

Pathology

Quality of surgery

Audit

Guidelines