Abstract
There have been recent reports of a rare variant of renal cell carcinoma associated with upregulation of the anaplastic lymphoma kinase gene (ALK) arising as a consequence of chromosomal translocations. The tumours were described as having a characteristic morphology. Here, we describe a case with similar morphology characterised by eosinophilic cells, abundant intracytoplasmic lumina and scattered large ganglion-like tumour cells. There was focal staining for ALK demonstrated by immunohistochemistry. However, rather than exhibiting a chromosomal translocation involving ALK, the use of FISH and a break-apart probe demonstrated that there was increased copy number of intact 2p23, the chromosomal region containing the ALK gene. Furthermore, the use of comparative genomic hybridisation showed increase of the whole of chromosome 2 along with chromosomes 6 and 17. There was no evidence of loss of 3p nor of trisomy of 7 associated with clear cell and papillary carcinoma, respectively. We suggest that this demonstrates a novel mechanism of upregulation of ALK activity by increased copy number occurring during the development of a renal carcinoma with the characteristic ALK-associated morphology.
This is a preview of subscription content, log in to check access.
Access options
Buy single article
Instant access to the full article PDF.
US$ 39.95
Price includes VAT for USA
Subscribe to journal
Immediate online access to all issues from 2019. Subscription will auto renew annually.
US$ 199
This is the net price. Taxes to be calculated in checkout.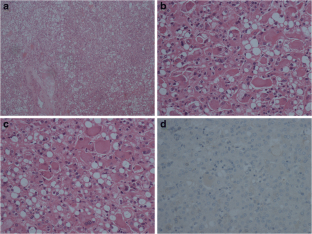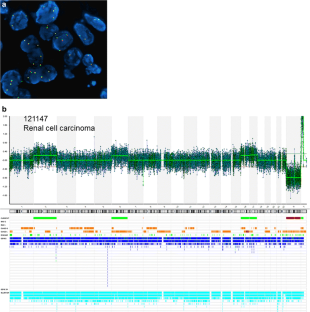 References
1.

Morris SW, Kirstein MN, Valentine MB, Dittmer KG, Shapiro DN, Saltman DL, Look AT (1994) Fusion of a kinase gene, ALK, to a nucleolar protein gene, NPM, in non-Hodgkin's lymphoma. Science 263:1281–1284

2.

Mano H (2012) ALKoma: a cancer subtype with a shared target. Cancer discovery 2:495–502

3.

Minoo P, Wang HY (2012) ALK-immunoreactive neoplasms. Int J Clin Exp Pathol 5:397–410

4.

Lin E, Li L, Guan Y, Soriano R, Rivers CS, Mohan S, Pandita A, Tang J, Modrusan Z (2009) Exon array profiling detects EML4-ALK fusion in breast, colorectal, and non-small cell lung cancers. Mol Cancer Res 7:1466–1476

5.

Debelenko LV, Raimondi SC, Daw N, Shivakumar BR, Huang D, Nelson M, Bridge JA (2011) Renal cell carcinoma with novel VCL-ALK fusion: new representative of ALK-associated tumor spectrum. Mod Pathol 24:430–442

6.

Marino-Enriquez A, Ou WB, Weldon CB, Fletcher JA, Perez-Atayde AR (2011) ALK rearrangement in sickle cell trait-associated renal medullary carcinoma. Genes Chromosomes Cancer 50:146–153

7.

Sugawara E, Togashi Y, Kuroda N, Sakata S, Hatano S, Asaka R, Yuasa T, Yonese J, Kitagawa M, Mano H, Ishikawa Y, Takeuchi K (2012) Identification of anaplastic lymphoma kinase fusions in renal cancer: large-scale immunohistochemical screening by the intercalated antibody-enhanced polymer method. Cancer 118:4427–4436

8.

Sukov WR, Hodge JC, Lohse CM, Akre MK, Leibovich BC, Thompson RH, Cheville JC (2012) ALK alterations in adult renal cell carcinoma: frequency, clinicopathologic features and outcome in a large series of consecutively treated patients. Mod Pathol 25:1516–1525

9.

Srigley JR, Delahunt B, Eble JN, Egevad L, Epstein JI, Grignon D, Hes O, Moch H, Montironi R, Tickoo SK, Zhou M, Argani P, Panel IRT (2013) The International Society of Urological Pathology (ISUP) Vancouver Classification of Renal Neoplasia. Am J Surg Pathol 37:1469–1489

10.

Ren H, Tan ZP, Zhu X, Crosby K, Haack H, Ren JM, Beausoleil S, Moritz A, Innocenti G, Rush J, Zhang Y, Zhou XM, Gu TL, Yang YF, Comb MJ (2012) Identification of anaplastic lymphoma kinase as a potential therapeutic target in ovarian cancer. Cancer Res 72:3312–3323

11.

Bagci O, Tumer S, Olgun N, Altungoz O (2012) Copy number status and mutation analyses of anaplastic lymphoma kinase (ALK) gene in 90 sporadic neuroblastoma tumors. Cancer Lett 317:72–77

12.

Rahilly MA, Fleming S (1992) A tumour promoter induces alterations in vinculin and actin distribution in human renal epithelium. J Pathol 166:283–288
About this article
Cite this article
Ryan, C., Mayer, N., Cunningham, J. et al. Increased ALK1 copy number and renal cell carcinoma—a case report. Virchows Arch 464, 241–245 (2014). https://doi.org/10.1007/s00428-013-1520-3
Received:

Revised:

Accepted:

Published:

Issue Date:
Keywords
ALK

Copy number

Renal cell carcinoma