Abstract
Pancreatic acinar cells are a well-recognized finding at the gastroesophageal junction, but their histogenesis and biological significance are unclear. From the prospective Central European multicenter histoGERD trial, we recruited 1,071 individuals undergoing gastroscopy for various non-selected reasons. Biopsy material was systematically sampled from the gastroesophageal junction and from the stomach. The study aimed to assess the prevalence of pancreatic acinar cells and to relate their presence to various histologic and clinical features. Overall, pancreatic acinar cells were observed in 184 (17.2 %) participants. Individuals diagnosed with pancreatic acinar cells were slightly younger than those without (median 50 vs. 53 years; p = 0.009). There was no association with patients' symptoms and/or complaints or with an endoscopic diagnosis of esophagitis or Barrett's esophagus. Regarding histology, pancreatic acinar cells were not associated with features of the squamous epithelium indicating reflux disease, such as basal cell hyperplasia, papillary elongation, dilation of intercellular spaces, and inflammatory cell number, but were associated with the presence of cardiac mucosa (p < 0.001), oxyntocardiac mucosa (p < 0.001), and intestinal metaplasia (p = 0.038), respectively. No association with Helicobacter pylori infection or diagnosis of gastritis was noted. In conclusion, pancreatic acinar cells are a common finding at the gastroesophageal junction, and no association with either reflux disease (histologically or endoscopically) or diagnosis of gastritis was observed. These data suggest a congenital rather than an acquired (metaplastic) origin of pancreatic acinar cells at the gastroesophageal junction. This questions the term "pancreatic acinar metaplasia" which is currently widely used for their diagnosis.
This is a preview of subscription content, log in to check access.
Access options
Buy single article
Instant access to the full article PDF.
US$ 39.95
Price includes VAT for USA
Subscribe to journal
Immediate online access to all issues from 2019. Subscription will auto renew annually.
US$ 199
This is the net price. Taxes to be calculated in checkout.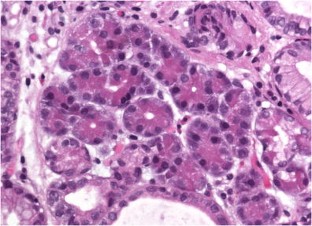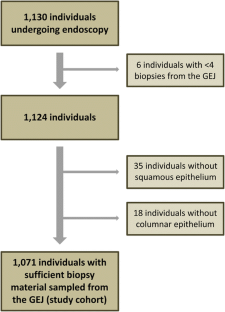 References
1.

Doglioni C, Laurino L, Dei Tos AP, De Boni M, Franzin G, Braidotti P, Viale G (1993) Pancreatic (acinar) metaplasia of the gastric mucosa. Histology, ultrastructure, immunocytochemistry, and clinicopathologic correlations of 101 cases. Am J Surg Pathol 17:1134–1143

2.

Johansson J, Håkansson HO, Mellblom L, Kempas A, Johansson KE, Granath F, Nyrén O (2005) Prevalence of precancerous and other metaplasia in the distal oesophagus and gastro-oesophageal junction. Scand J Gastroenterol 40:893–902

3.

Johansson J, Håkansson HO, Mellblom L, Kempas A, Kjellén G, Brudin L, Granath F, Johansson KE, Nyrén O (2010) Pancreatic acinar metaplasia in the distal oesophagus and the gastric cardia: prevalence, predictors and relation to GORD. J Gastroenterol 45:291–299

4.

Krishnamurthy S, Dayal Y (1995) Pancreatic metaplasia in Barrett's esophagus. An immunohistochemical study. Am J Surg Pathol 19:1172–1180

5.

Håkansson HO, Mellblom L, Johansson J, Bjartell A, Borgström A (2003) Synthesis and localization of pancreatic secretory proteins in pancreatic acinar-like metaplasia in the distal part of the oesophagus. Pancreatic acinar metaplasia: another source of pancreatic enzymes! Scand J Gastroenterol 38:10–13

6.

Wang HH, Zeroogian JM, Spechler SJ, Goyal RK, Antonioli DA (1996) Prevalence and significance of pancreatic acinar metaplasia at the gastroesophageal junction. Am J Surg Pathol 20:1507–1510

7.

Polkowski W, van Lanschot JJ, ten Kate FJ, Rolf TM, Polak M, Tytgat GN, Obertop H, Offerhaus GJ (2000) Intestinal and pancreatic metaplasia at the esophagogastric junction in patients without Barrett's esophagus. Am J Gastroenterol 95:617–625

8.

von Elm E, Altman DG, Egger M, Pocock SJ, Gøtzsche PC, Vandenbroucke JP, STROBE Initiative (2008) The Strengthening the Reporting of Observational Studies in Epidemiology (STROBE) statement: guidelines for reporting observational studies. J Clin Epidemiol 61:344–349

9.

Lagergren J, Bergström R, Lindgren A, Nyrén O (1999) Symptomatic gastroesophageal reflux as a risk factor for esophageal adenocarcinoma. N Engl J Med 340:825–831

10.

Lundell LR, Dent J, Bennett JR, Blum AL, Armstrong D, Galmiche JP, Johnson F, Hongo M, Richter JE, Spechler SJ, Tytgat GN, Wallin L (1999) Endoscopic assessment of oesophagitis: clinical and functional correlates and further validation of the Los Angeles classification. Gut 45:172–180

11.

Hongo M (2006) Minimal changes in reflux esophagitis: red ones and white ones. J Gastroenterol 41:95–99

12.

Sharma P, Dent J, Armstrong D, Bergman JJ, Gossner L, Hoshihara Y, Jankowski JA, Junghard O, Lundell L, Tytgat GN, Vieth M (2006) The development and validation of an endoscopic grading system for Barrett's esophagus: the Prague C & M criteria. Gastroenterology 13:1392–1399

13.

Dixon MF, Genta RM, Yardley JH, Correa P (1996) Classification and grading of gastritis. The updated Sydney System. International Workshop on the Histopathology of Gastritis, Houston 1994. Am J Surg Pathol 20:1161–1181

14.

Fiocca R, Mastracci L, Riddell R, Takubo K, Vieth M, Yerian L, Sharma P, Fernström P, Ruth M (2010) Development of consensus guidelines for the histologic recognition of microscopic esophagitis in patients with gastroesophageal reflux disease: the Esohisto project. Hum Pathol 41:223–231

15.

Stolte M, Meining A (2001) The updated Sydney system: classification and grading of gastritis as the basis of diagnosis and treatment. Can J Gastroenterol 15:591–598

16.

Owen DA (2003) Gastritis and carditis. Mod Pathol 16:325–341

17.

Dixon MF, O'Connor HJ, Axon AT, King RF, Johnston D (1986) Reflux gastritis: distinct histopathological entity? J Clin Pathol 39:524–530

18.

Sepulveda AR, Patil M (2008) Practical approach to the pathologic diagnosis of gastritis. Arch Pathol Lab Med 132:1586–1593

19.

Glickman JN, Fox V, Antonioli DA, Wang HH, Odze RD (2002) Morphology of the cardia and significance of carditis in pediatric patients. Am J Surg Pathol 26:1032–1039

20.

El-Zimaity HM, Verghese VJ, Ramchatesingh J, Graham DY (2000) The gastric cardia in gastro-oesophageal disease. J Clin Pathol 53:619–625

21.

Sarbia M, Donner A, Gabbert HE (2002) Histopathology of the gastroesophageal junction: a study on 36 operation specimens. Am J Surg Pathol 26:1207–1212

22.

Chandrasoma P (2005) Controversies of the cardiac mucosa and Barrett's oesophagus. Histopathology 46:361–373

23.

Huang Q (2011) Controversies of cardiac glands in the proximal stomach: a critical review. J Gastroenterol Hepatol 26:450–455

24.

Jhala NC, Montemor M, Jhala D, Lu L, Talley L, Haber MM, Lechago J (2003) Pancreatic acinar cell metaplasia in autoimmune gastritis. Arch Pathol Lab Med 127:854–857

25.

Faller G, Kirchner T (2005) Immunological and morphogenic basis of gastric mucosa atrophy and metaplasia. Virchows Arch 446:1–9

26.

Hagiwara T, Mukaisho K, Ling ZQ, Sugihara H, Hattori T (2007) Development of pancreatic acinar cell metaplasia after successful administration of omeprazole for 6 months in rats. Dig Dis Sci 52:1219–1224
Acknowledgments
The authors thank Mr. Ralph König for photographic expertise and excellent technical support.
Conflicts of interest
The authors declare no conflict of interest.
About this article
Cite this article
Schneider, N.I., Plieschnegger, W., Geppert, M. et al. Pancreatic acinar cells—a normal finding at the gastroesophageal junction? Data from a prospective Central European multicenter study. Virchows Arch 463, 643–650 (2013). https://doi.org/10.1007/s00428-013-1471-8
Received:

Revised:

Accepted:

Published:

Issue Date:
Keywords
Pancreatic acinar metaplasia

Prevalence

Gastric cardia

Reflux disease

Gastritis