Abstract
The histopathological examination of a prostate biopsy is the basis of prostate cancer diagnostics. Prostate cancer grade and extent of cancer in the diagnostic biopsy are important determinants of patient management. Quality of the prostate biopsy and its processing may influence the outcome of the histopathological evaluation. Further, an unambiguous and concise pathology reporting is essential for an appropriate clinical decision process. Since our initial report in 2003, there have been several practice changes, including the increased uptake of follow-up biopsies of patients who are under active surveillance, increasingly taken under guidance of MRI, or who underwent a prostate-sparing therapy. Therefore, we investigated the literature on the current pathology practices and recommendations with regard to prostate biopsy processing and reporting, both at initial diagnosis and in the context of follow-up biopsies in order to update our guidelines on the optimal processing and reporting of prostate biopsies.
This is a preview of subscription content, log in to check access.
Access options
Buy single article
Instant access to the full article PDF.
US$ 39.95
Price includes VAT for USA
Subscribe to journal
Immediate online access to all issues from 2019. Subscription will auto renew annually.
US$ 199
This is the net price. Taxes to be calculated in checkout.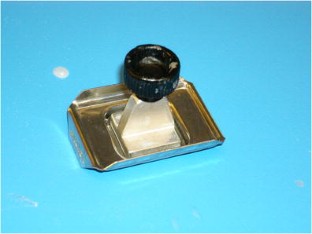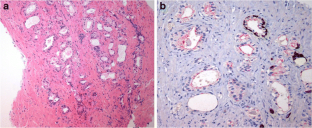 References
1.

Heidenreich A, Bellmunt J, Bolla M, Joniau S, Mason M, Matveev V et al (2011) EAU guidelines on prostate cancer. Part 1: screening, diagnosis, and treatment of clinically localised disease. Eur Urol 59(1):61–71

2.

Epstein JI, Allsbrook WC Jr, Amin MB, Egevad LL, Committee IG (2005) The 2005 International Society of Urological Pathology (ISUP) consensus conference on Gleason grading of prostatic carcinoma. Am J Surg Pathol 29(9):1228–42

3.

Andriole GL, Crawford ED, Grubb RL 3rd, Buys SS, Chia D, Church TR et al (2009) Mortality results from a randomized prostate-cancer screening trial. N Engl J Med 360(13):1310–9

4.

Schroder FH, Hugosson J, Roobol MJ, Tammela TL, Ciatto S, Nelen V et al (2009) Screening and prostate-cancer mortality in a randomized European study. N Engl J Med 360(13):1320–8

5.

Bangma CH, Bul M, Van der Kwast TH, Pickles T, Korfage IJ, Hoeks CM et al (2013) Active surveillance for low-risk prostate cancer. Crit Rev Oncol Hematol 85(3):295–302

6.

Ahmed HU, Hindley RG, Dickinson L, Freeman A, Kirkham AP, Sahu M et al (2012) Focal therapy for localised unifocal and multifocal prostate cancer: a prospective development study. Lancet Oncol 13(6):622–32

7.

Bertaccini A, Fandella A, Prayer-Galetti T, Scattoni V, Galosi AB, Ficarra V et al (2007) Systematic development of clinical practice guidelines for prostate biopsies: a 3-year Italian project. Anticancer Res 27(1B):659–66

8.

Hameed O, Humphrey PA (2005) Immunohistochemistry in diagnostic surgical pathology of the prostate. Semin Diagn Pathol 22(1):88–104

9.

Epstein JI (2004) Diagnosis and reporting of limited adenocarcinoma of the prostate on needle biopsy. Mod Pathol 17(3):307–15

10.

Watson K, Wang C, Yilmaz A, Bismar TA, Trpkov K (2013) Use of immunohistochemistry in routine workup of prostate needle biopsies: a tertiary academic institution experience. Arch Pathol Lab Med 137(4):541–5

11.

Epstein JI, Herawi M (2006) Prostate needle biopsies containing prostatic intraepithelial neoplasia or atypical foci suspicious for carcinoma: implications for patient care. J Urol 175(3 Pt 1):820–34

12.

Robinson B, Magi-Galluzzi C, Zhou M (2012) Intraductal carcinoma of the prostate. Arch Pathol Lab Med 136(4):418–25

13.

Van der Kwast TH, Lopes C, Santonja C, Pihl CG, Neetens I, Martikainen P et al (2003) Guidelines for processing and reporting of prostatic needle biopsies. J Clin Pathol 56(5):336–40

14.

Amin M, Boccon-Gibod L, Egevad L, Epstein JI, Humphrey PA, Mikuz G et al (2005) Prognostic and predictive factors and reporting of prostate carcinoma in prostate needle biopsy specimens. Scand J Urol Nephrol 216:20–33

15.

Moore CM, Kasivisvanathan V, Eggener S, Emberton M, Futterer JJ, Gill IS et al (2013) Standards of reporting for MRI-targeted biopsy studies (START) of the prostate: recommendations from an International Working Group. Eur Urol. doi:10.1016/j.eururo.2013.03.030

16.

Marberger M, McConnell JD, Fowler I, Andriole GL, Bostwick DG, Somerville MC et al (2011) Biopsy misidentification identified by DNA profiling in a large multicenter trial. J Clin Oncol 29(13):1744–9

17.

Raff LJ, Engel G, Beck KR, O'Brien AS, Bauer ME (2009) The effectiveness of inking needle core prostate biopsies for preventing patient specimen identification errors: a technique to address Joint Commission patient safety goals in specialty laboratories. Arch Pathol Lab Med 133(2):295–7

18.

Bostwick DG, Qian J, Drewnowska K, Varvel S, Bostwick KC, Marberger M et al (2010) Prostate needle biopsy quality in reduction by dutasteride of prostate cancer events study: worldwide comparison of improvement with investigator training and centralized laboratory processing. Urology 75(6):1406–10

19.

Obek C, Doganca T, Erdal S, Erdogan S, Durak H (2012) Core length in prostate biopsy: size matters. J Urol 187(6):2051–5

20.

Iczkowski KA, Casella G, Seppala RJ, Jones GL, Mishler BA, Qian J et al (2002) Needle core length in sextant biopsy influences prostate cancer detection rate. Urology 59(5):698–703

21.

Iczkowski KA, Bostwick DG (2000) Sampling, submission, and report format for multiple prostate biopsies: a 1999 survey. Urology 55(4):568–71

22.

Fajardo DA, Epstein JI (2010) Fragmentation of prostatic needle biopsy cores containing adenocarcinoma: the role of specimen submission. BJU Int 105(2):172–5

23.

Fiset PO, Aprikian A, Brimo F (2013) Length of prostate biopsy cores: does it impact cancer detection? Can J Urol 20 (4), in press

24.

Boccon-Gibod L, Van der Kwast TH, Montironi R, Boccon-Gibod L, Bono A, European Society of U et al (2004) Handling and pathology reporting of prostate biopsies. Eur Urol 46(2):177–81

25.

Steyerberg EW, Roobol MJ, Kattan MW, Van der Kwast TH, de Koning HJ, Schroder FH (2007) Prediction of indolent prostate cancer: validation and updating of a prognostic nomogram. J Urol 177(1):107–12, discussion 12

26.

Programme PCRM (2006) Undertaking a transrectal ultrasound guided biopsy of teh prostate. http://www.cancerscreening.nhs.uk/prostate/pcrmp01.pdf.

27.

Varma M, Berney DM, Algaba F, Camparo P, Comperat E, Griffiths DF et al (2013) Prostate needle biopsy processing: a survey of laboratory practice across Europe. J Clin Pathol 66(2):120–3

28.

Lane RB Jr, Lane CG, Mangold KA, Johnson MH, Allsbrook WC Jr (1998) Needle biopsies of the prostate: what constitutes adequate histologic sampling? Arch Pathol Lab Med 122(9):833–5

29.

Vis AN, Kranse R, Nigg AL, Van der Kwast TH (2000) Quantitative analysis of the decay of immunoreactivity in stored prostate needle biopsy sections. Am J Clin Pathol 113(3):369–73

30.

Morales AR, Essenfeld H, Essenfeld E, Duboue MC, Vincek V, Nadji M (2002) Continuous-specimen-flow, high-throughput, 1-hour tissue processing. A system for rapid diagnostic tissue preparation. Arch Pathol Lab Med 126(5):583–90

31.

Emerson LL, Tripp SR, Baird BC, Layfield LJ, Rohr LR (2006) A comparison of immunohistochemical stain quality in conventional and rapid microwave processed tissues. Am J Clin Pathol 125(2):176–83

32.

Helin H, Lundin M, Lundin J, Martikainen P, Tammela T, Helin H et al (2005) Web-based virtual microscopy in teaching and standardizing Gleason grading. Hum Pathol 36(4):381–6

33.

Van der Kwast TH, Evans A, Lockwood G, Tkachuk D, Bostwick DG, Epstein JI et al (2010) Variability in diagnostic opinion among pathologists for single small atypical foci in prostate biopsies. Am J Surg Pathol 34(2):169–77

34.

Camparo P, Egevad L, Algaba F, Berney DM, Boccon-Gibod L, Compérat E, Evans AJ, Grobholz R, Kristiansen G, Langner C, Lopez-Beltran A, Montironi R, Oliveira P, Vainer B, Varma M (2012) Utility of whole slide imaging and virtual microscopy in prostate pathology. APMIS: Acta Pathol Microbiol et Immunol Scand 120:298–304

35.

Bostwick DG, Srigley J, Grignon D, Maksem J, Humphrey P, Van der Kwast TH et al (1993) Atypical adenomatous hyperplasia of the prostate: morphologic criteria for its distinction from well-differentiated carcinoma. Hum Pathol 24(8):819–32

36.

Van der Kwast T, Al Daoud N, Collette L, Sykes J, Thoms J, Milosevic M et al (2012) Biopsy diagnosis of intraductal carcinoma is prognostic in intermediate and high risk prostate cancer patients treated by radiotherapy. Eur J Cancer 48(9):1318–25

37.

Wang W, Sun X, Epstein JI (2008) Partial atrophy on prostate needle biopsy cores: a morphologic and immunohistochemical study. Am J Surg Pathol 32(6):851–7

38.

Hameed O, Humphrey PA (2006) Stratified epithelium in prostatic adenocarcinoma: a mimic of high-grade prostatic intraepithelial neoplasia. Mod Pathol: Off J USA Can Acad Pathol Inc 19(7):899–906

39.

Tavora F, Epstein JI (2008) High-grade prostatic intraepithelial neoplasialike ductal adenocarcinoma of the prostate: a clinicopathologic study of 28 cases. Am J Surg Pathol 32(7):1060–7

40.

Wolters T, Van der Kwast TH, Vissers CJ, Bangma CH, Roobol M, Schroder FH, Van Leenders GJLH (2010) False-negative prostate needle biopsies: frequency, histopathologic features, and follow-up. Am J Surg Pathol 34:35–43

41.

Ali TZ, Epstein JI (2008) False positive labeling of prostate cancer with high molecular weight cytokeratin: p63 a more specific immunomarker for basal cells. Am J Surg Pathol 32(12):1890–5

42.

Van Leenders GJ, Boormans JL, Vissers CJ, Hoogland AM, Bressers AA, Furusato B et al (2011) Antibody EPR3864 is specific for ERG genomic fusions in prostate cancer: implications for pathological practice. Mod Pathol: Off J USA Can Acad Pathol Inc 24(8):1128–38

43.

Fisher G, Yang ZH, Kudahetti S, Moller H, Scardino P, Cuzick J et al (2013) Prognostic value of Ki-67 for prostate cancer death in a conservatively managed cohort. Br J Cancer 108(2):271–7

44.

Kristiansen G (2012) Diagnostic and prognostic molecular biomarkers for prostate cancer. Histopathology 60(1):125–41

45.

Hailemariam S, Vosbeck J, Cathomas G, Zlobec I, Mattarelli G, Eichenberger T et al (2011) Can molecular markers stratify the diagnostic value of high-grade prostatic intraepithelial neoplasia? Hum Pathol 42(5):702–9

46.

Stark JR, Perner S, Stampfer MJ, Sinnott JA, Finn S, Eisenstein AS et al (2009) Gleason score and lethal prostate cancer: does 3 + 4 = 4 + 3? J Clin Oncol: Off J Am Soc Clin Oncol 27(21):3459–64

47.

Fine SW, Amin MB, Berney DM, Bjartell A, Egevad L, Epstein JI et al (2012) A contemporary update on pathology reporting for prostate cancer: biopsy and radical prostatectomy specimens. Eur Urol 62(1):20–39

48.

Tolonen TT, Kujala PM, Tammela TL, Tuominen VJ, Isola JJ, Visakorpi T (2011) Overall and worst Gleason scores are equally good predictors of prostate cancer progression. BMC Urol 11:21

49.

Vis AN, Roemeling S, Kranse R, Schroder FH, Van der Kwast TH (2007) Should we replace the Gleason score with the amount of high-grade prostate cancer? Eur Urol 51(4):931–9

50.

Reese AC, Cowan JE, Brajtbord JS, Harris CR, Carroll PR, Cooperberg MR (2012) The quantitative Gleason score improves prostate cancer risk assessment. Cancer 118(24):6046–54

51.

Evans AJ, Ryan P, Van derKwast T (2011) Treatment effects in the prostate including those associated with traditional and emerging therapies. Adv Anat Pathol 18(4):281–93

52.

Lucia MS, Epstein JI, Goodman PJ, Darke AK, Reuter VE, Civantos F et al (2007) Finasteride and high-grade prostate cancer in the Prostate Cancer Prevention Trial. J Natl Cancer Inst 99(18):1375–83

53.

Epstein JI (2011) Prognostic significance of tumor volume in radical prostatectomy and needle biopsy specimens. J Urol 186(3):790–7

54.

Karram S, Trock BJ, Netto GJ, Epstein JI (2011) Should intervening benign tissue be included in the measurement of discontinuous foci of cancer on prostate needle biopsy? Correlation with radical prostatectomy findings. Am J Surg Pathol 35(9):1351–5

55.

Vis AN, Van Der Kwast TH (2001) Prostatic intraepithelial neoplasia and putative precursor lesions of prostate cancer: a clinical perspective. BJU Int 88(2):147–57

56.

Novis DA, Zarbo RJ, Valenstein PA (1999) Diagnostic uncertainty expressed in prostate needle biopsies. A College of American Pathologists Q-probes Study of 15,753 prostate needle biopsies in 332 institutions. Arch Pathol Lab Med 123(8):687–92

57.

Chan NG, Duggal A, Weir MM, Driman DK (2008) Pathological reporting of colorectal cancer specimens: a retrospective survey in an academic Canadian pathology department. Can J Surg 51(4):284–8
Conflict of interest
We declare that we have no conflict of interest.
About this article
Cite this article
Van der Kwast, T., Bubendorf, L., Mazerolles, C. et al. Guidelines on processing and reporting of prostate biopsies: the 2013 update of the pathology committee of the European Randomized Study of Screening for Prostate Cancer (ERSPC). Virchows Arch 463, 367–377 (2013). https://doi.org/10.1007/s00428-013-1466-5
Received:

Accepted:

Published:

Issue Date:
Keywords
Prostate biopsy

Processing

Quality assurance

Reporting

Guideline