Abstract
Dentin matrix protein 1 (DMP-1) is highly expressed by osteocytes and is a non-collagenous matrix protein found in dentin and bone. In this study, we determined the expression of DMP-1 in mature and immature human bone and examined whether DMP-1 is useful in distinguishing osteoid/bone-forming tumours from other primary and secondary bone tumours. DMP-1 expression was immunohistochemically determined in paraffin sections of a wide range of benign and malignant primary bone tumours and tumour-like lesions (n = 353). DMP-1 mRNA expression was also examined in osteosarcoma and fibrosarcoma cell lines as well as bone tumour specimens (n = 5) using real-time PCR. In lamellar and woven bone, DMP-1 was expressed in the matrix around osteocyte lacunae and canaliculi; osteoblasts and other cell types in the bone were negative. Matrix staining of the osteoid and bone was seen in bone-forming tumours including osteoma, osteoid osteoma, osteoblastoma and osteosarcoma. DMP-1 staining was also seen in fibrous dysplasia, osteofibrous dysplasia and chondroblastoma and in reactive bone in solitary bone cysts and aneurysmal bone cysts. DMP-1 was not expressed in the tumour component of other bone neoplasms including Ewing sarcoma, chondrosarcoma, leiomyosarcoma, fibrosarcoma, giant cell tumour of bone and metastatic carcinoma. DMP-1 mRNA was expressed in osteosarcoma cell lines and tumour samples. DMP-1 is a matrix marker expressed around osteocytes in human woven and lamellar bone and is useful in identifying osteosarcoma and other bone-forming tumours.
This is a preview of subscription content, log in to check access.
Access options
Buy single article
Instant access to the full article PDF.
US$ 39.95
Price includes VAT for USA
Subscribe to journal
Immediate online access to all issues from 2019. Subscription will auto renew annually.
US$ 199
This is the net price. Taxes to be calculated in checkout.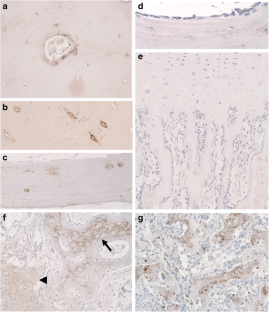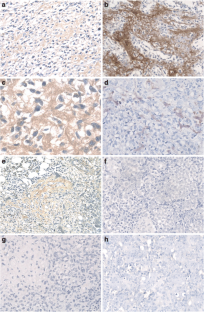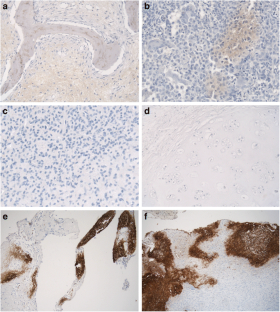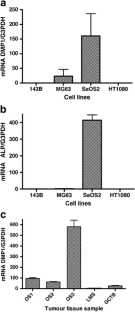 Abbreviations
DMP-1:

Dentin matrix protein 1

ALP:

Alkaline phosphatase

GCTB:

Giant cell tumour of bone

ABC:

Aneurysmal bone cyst

SBC:

Solitary bone cyst
References
1.

Jiang Y, Jahagirdar BN, Reinhardt RL, Schwartz RE, Keene CD, Ortiz-Gonzalez XR, Reyes M, Lenvik T, Lund T, Blackstad M, Du J, Aldrich S, Lisberg A, Low WC, Largaespada DA, Verfaillie CM (2002) Pluripotency of mesenchymal stem cells derived from adult marrow. Nature 418:41–49

2.

Franz-Odendaal TA, Hall BK, Witten PE (2006) Buried alive: how osteoblasts become osteocytes. Dev Dyn 235:176–190

3.

Bonewald L (2007) Osteocytes. In: Marcus D, Nelson D, Rosen C (eds) Osteoporosis. Elsevier, San Diego, pp 169–190

4.

Palumbo C, Palazzini S, Marotti G (1990) Morphological study of intercellular junctions during osteocyte differentiation. Bone 11:401–406

5.

Ling Y, Rios HF, Myers ER, Lu Y, Feng JQ, Boskey AL (2005) DMP1 depletion decreases done mineralization in vivo: an FTIR imaging analysis. J Bone Miner Res 20:2169–2177

6.

Tanaka K, Yamaguchi Y, Hakeda Y (1995) Isolated chick osteocytes stimulate formation and bone-resorbing activity of osteoclast-like cells. J Bone Miner Metab 13:61–70

7.

Xiong J, Onal M, Jilka RL, Weinstein RS, Manolagas SC, O'Brien CA (2011) Matrix-embedded cells control osteoclast formation. Nat Med 17:1235–1241

8.

Schiavi S (2006) Bone talk. Nat Genet 38:1230–1231

9.

Narayanan K, Ramachandran A, Hao J, He G, Park KW, Cho M, George A (2003) Dual functional roles of dentin matrix protein 1. Implications in biomineralization and gene transcription by activation of intracellular Ca2+ store. J Biol Chem 278:17500–17508

10.

Dallas SL, Bonewald LF (2010) Dynamics of the transition from osteoblast to osteocyte. Ann N Y Acad Sci 1192:437–443

11.

Eapen A, Sundivakkam P, Song Y, Ravindran S, Ramachandran A, Tiruppathi C, George A (2010) Calcium-mediated stress kinase activation by DMP1 promotes osteoblast differentiation. J Biol Chem 285:36339–36351

12.

Narayanan K, Ramachandran A, Hao J, George A (2002) Transcriptional regulation of dentin matrix protein 1 (DMP1) by AP-1 (c-fos/c-jun) factors. Connect Tissue Res 43:365–371

13.

Gajjeraman S, Narayanan K, Hao J, Qin C, George A (2007) Matrix macromolecules in hard tissues control the nucleation and hierarchical assembly of hydroxyapatite. J Biol Chem 282:1193–1204

14.

Feng JQ, Ward LM, Liu S, Lu Y, Xie Y, Yuan B, Yu X, Rauch F, Davis SI, Zhang S, Rios H, Drezner MK, Quarles LD, Bonewald LF, White KE (2006) Loss of DMP1 causes rickets and osteomalacia and identifies a role for osteocytes in mineral metabolism. Nat Genet 38:1310–1315

15.

Lorenz-Depiereux B, Bastepe M, Benet-Pagès A, Amyere M, Wagenstaller J, Müller-Barth U, Badenhoop K, Kaiser S, Rittmaster R, Shlossberg A (2006) DMP1 mutations in autosomal recessive hypophosphatemia implicate a bone matrix protein in the regulation of phosphate homeostasis. Nat Genet 38:1248–1250

16.

Fletcher C, Unni K, Mertens F (2002) Tumours of soft tissue and bone. IARC, Lyon

17.

Jaffe HL (1958) Tumors and tumorous conditions of the bones and joints. Lea and Febiger, Philadelphia

18.

Gao Z, Kahn LB (2005) The application of immunohistochemistry in the diagnosis of bone tumors and tumor-like lesions. Skeletal Radiol 34:755–770

19.

Pereira RC, Jüppner H, Azucena-Serrano CE, Yadin O, Salusky IB, Wesseling-Perry K (2009) Patterns of FGF-23, DMP1, and MEPE expression in patients with chronic kidney disease. Bone 45:1161–1168

20.

Toyosawa S, Shintani S, Fujiwara T, Ooshima T, Sato A, Ijuhin N, Komori T (2001) Dentin matrix protein 1 is predominantly expressed in chicken and rat osteocytes but not in osteoblasts. J Bone Miner Res 16:2017–2026

21.

Ferrera D, Poggi S, Biassoni C, Dickson GR, Astigiano S, Barbieri O, Favre A, Franzi AT, Strangio A, Federici A, Manduca P (2002) Three-dimensional cultures of normal human osteoblasts: proliferation and differentiation potential in vitro and upon ectopic implantation in nude mice. Bone 30:718–725

22.

Serra M, Scotlandi K, Sollazzo M, Sarti M, Maurici D, Benini S, Picci P, Bertoni F, Baldini N (1996) Value of immunohistochemical detection of noncollagenous proteins of bone for the diagnosis of bone tumours. Int J Oncol 9:257–261

23.

Tartaix PH, Doulaverakis M, George A, Fisher LW, Butler WT, Qin C, Salih E, Tan M, Fujimoto Y, Spevak L, Boskey AL (2004) In vitro effects of dentin matrix protein-1 on hydroxyapatite formation provide insights into in vivo functions. J Biol Chem 279:18115–18120

24.

Toyosawa S, Kanatani N, Shintani S, Kobata M, Yuki M, Kishino M, Ijuhin N, Komori T (2004) Expression of dentin matrix protein 1 (DMP1) during fracture healing. Bone 35:553–561

25.

Hughes F, Aubin J (1997) Culture of cells of the osteoblast linage. In: Arnett T, Henderson B (eds) Methods in bone biology. Chapman & Hall Ltd, London, p 33

26.

Midura RJ, Midura SB, Su X, Gorski JP (2011) Separation of newly formed bone from older compact bone reveals clear compositional differences in bone matrix. Bone 49:1365–1374

27.

Gluhak-Heinrich J, Ye L, Bonewald LF, Feng JQ, MacDougall M, Harris SE, Pavlin D (2003) Mechanical loading stimulates dentin matrix protein 1 (DMP1) expression in osteocytes in vivo. J Bone Miner Res 18:807–817

28.

Toyosawa S, Yuki M, Kishino M, Ogawa Y, Ueda T, Murakami S, Konishi E, Iida S, Kogo M, Komori T (2007) Ossifying fibroma vs fibrous dysplasia of the jaw: molecular and immunological characterization. Mod Pathol 20:389–396

29.

Mirra J (1989) Bone tumours: clinical, radiologic and pathological correlation. Lea and Febiger, Philadelphia

30.

Aigner T, Loos S, Inwards C, Perris R, Perissinotto D, Unni KK, Kirchner T (1999) Chondroblastoma is an osteoid-forming, but not cartilage-forming neoplasm. J Pathol 189:463–469

31.

Konishi E, Nakashima Y, Iwasa Y, Nakao R, Yanagisawa A (2010) Immunohistochemical analysis for Sox9 reveals the cartilaginous character of chondroblastoma and chondromyxoid fibroma of the bone. Hum Pathol 41:208–213

32.

Romeo S, Oosting J, Rozeman LB, Hameetman L, Taminiau AH, Cleton-Jansen AM, Bovee JV, Hogendoorn PCW (2007) The role of noncartilage-specific molecules in differentiation of cartilaginous tumors: lessons from chondroblastoma and chondromyxoid fibroma. Cancer 110:385–394
Acknowledgments
We would like to thank Chris Lowe for typing the manuscript. The authors acknowledge the support of the Oxford NIHR BRU and BRC. TGK and NAA conceived the study and experiments. TGK and AD carried out the experiments and TGK, UO and NAA analysed the data. All authors were involved in writing the paper and had final approval of the submitted and published versions.
Conflict of interest statement
The authors declare there is no conflict of interest.
About this article
Cite this article
Kashima, T.G., Dongre, A., Oppermann, U. et al. Dentine matrix protein 1 (DMP-1) is a marker of bone-forming tumours. Virchows Arch 462, 583–591 (2013). https://doi.org/10.1007/s00428-013-1399-z
Received:

Revised:

Accepted:

Published:

Issue Date:
Keywords
Bone tumours

Osteoid

DMP-1

Osteocyte

Osteosarcoma