Abstract
Tissue banks constitute decisive and rate-limiting resource and technology platforms for basic and translational biomedical research, notably in the area of cancer. Thus, it is essential to plan and structure tissue banking and allocate resources according to research needs, but essential requirements are still incompletely defined. The tissue bank of the National Center of Tumor Diseases Heidelberg (NCT) was founded with the intention to provide tissues of optimal quality and to prioritize the realization of research projects. We analysed its structure and prospective project management registration as well as tracking records for all projects of the NCT tissue bank as of its start in 2005 in order to obtain information that may be relevant for tissue bank planning. All project proposals submitted to the NCT tissue bank (n = 681) were included in the study. For a detailed evaluation of provided services, only projects that were completed until July 2011 (n = 605) were analysed. For these 605 projects, NCT tissue bank provided 769 specific services. In all projects/services, we recorded project leader, type and amount of material provided, type of research (basic/translational), work load of project and project completion. Furthermore, all completed projects were tracked after 90 days according to a standard protocol to determine principal investigators' (PI) satisfaction and quality of the provided material. Until July 2011, 605 projects had been successfully completed as documented by material transfer agreement. Of the projects, 72.7 % addressed basic research, 22.3 % were translational research projects and 3 % concerned epidemiological research; 91 % (n = 546) concerned a single PI and the NTC tissue bank. For these projects, 769 specific services were provided. Of these services, 288 concerned providing formalin-fixed and paraffin-embedded (FFPE) tissue (extracts, full size sections), 126 providing fresh frozen materials (including fresh frozen sections), 137 providing tissue micro-array (TMA)-based sections and 199 providing immunohistochemical services. Project tracking demonstrated that all projects had started within 90 days after reception of the material by the PIs, and PI satisfaction with provided material exceeded 97 %. Standardized registration and tracking provides valuable structural information for planning and financing of tissue banks and allocation of resources. The high number of completed projects as well as high user satisfaction demonstrates that structuring of tissue banks should be preferably research-oriented and highly efficient. The comparable number of requests for FFPE and fresh frozen tissue as well as TMA-based services underpins the need for a broad approach in terms of methods and material types in order to fulfil research needs.
This is a preview of subscription content, log in to check access.
Access options
Buy single article
Instant access to the full article PDF.
US$ 39.95
Price includes VAT for USA
Subscribe to journal
Immediate online access to all issues from 2019. Subscription will auto renew annually.
US$ 199
This is the net price. Taxes to be calculated in checkout.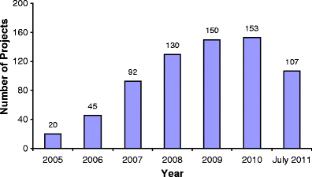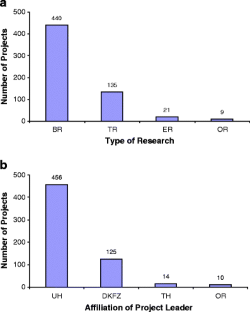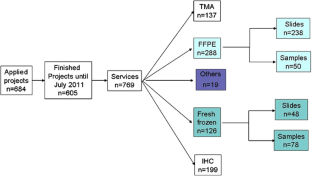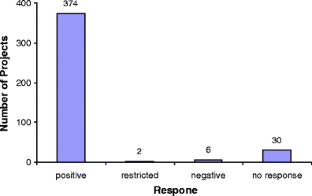 References
1.

Riegman PH, Morente MM, Betsou F, de Blasio P, Geary P (2008) Biobanking for better healthcare. Mol Oncol 2(3):213–222

2.

Herpel E, Koleganova N, Schirmacher P (2008) Tissue bank of the National Centre for Tumour Disease. An innovative platform for translational tumour. Pathologe 29(Suppl 2):204–209. doi:10.1007/s00292-008-1067-2

3.

Riegman PH, Dinjens WN, Oosterhuis JW (2007) Biobanking for interdisciplinary clinical research. Pathobiology 74(4):239–244

4.

Bates S (2010) Progress towards personalized medicine. Drug Discov Today 15(3–4):115–120

5.

Zika E, Paci D, Braun A, Rijkers-Defrasne S, Deschenes M, Fortier I, Laage-Hellman J, Scerri CA, Ibarreta D (2011) A European survey on biobanks: trends and issues. Public Health Genomics 14(2):96–103

6.

Cambon-Thomsen A, Rial-Sebbag E, Knoppers BM (2007) Trends in ethical and legal frameworks for the use of human biobanks. Eur Respir J 30(2):373–382

7.

Hansson MG, Dillner J, Bartram CR, Carlson JA, Helgesson G (2006) Should donors be allowed to give broad consent to future biobank research? Lancet Oncol 7(3):266–269

8.

Stege A, Hummel M (2008) Experience with establishment and operation of a biobank. Pathologe 29(Suppl 2):214–217. doi:10.1007/s00292-008-1043-x

9.

Giannini C, Oelkers MM, Edwards WD, Aubry MC, Muncil MM, Mohamud KH, Sandleback SG, Nowak JM, Bridgeman A, Brown ME, Cheville JC (2011) Maintaining clinical tissue archives and supporting human research: challenges and solutions. Arch Pathol Lab Med 135(3):347–353. doi:10.1043/2010-0044-SA.1

10.

Shickle D, Griffin M, El-Arifi K (2010) Inter- and intra-biobank networks: classification of biobanks. Pathobiology 77(4):181–190

11.

Herpel E, Rocken C, Manke H, Schirmacher P, Flechtenmacher C (2010) Quality management and accreditation of research tissue banks: experience of the National Center for Tumor Diseases (NCT) Heidelberg. Virchows Arch 457(6):741–747. doi:10.1007/s00428-010-0998-1

12.

Villena C, Pozo F, Barbera JA, Vaquer P, Agusti A (2011) The CIBERES Pulmonary Biobank Consortium: an opportunity for cooperative international respiratory research. Eur Respir J 37(1):204–206

13.

Diamandis M, White NM, Yousef GM (2010) Personalized medicine: marking a new epoch in cancer patient management. Mol Cancer Res 8(9):1175–1187

14.

Qualman SJ, France M, Grizzle WE, LiVolsi VA, Moskaluk CA, Ramirez NC, Washington MK (2004) Establishing a tumour bank: banking, informatics and ethics. Br J Cancer 90(6):1115–1119. doi:10.1038/sj.bjc.66016786601678

15.

Ruiz-Godoy L, Meneses-Garcia A, Suarez-Roa L, Enriquez V, Lechuga-Rojas R, Reyes-Lira E (2010) Organization of a tumor bank: the experience of the National Cancer Institute of Mexico. Pathobiology 77(3):147–154

16.

Hallmans G, Vaught JB (2011) Best practices for establishing a biobank. Methods Mol Biol 675:241–260. doi:10.1007/978-1-59745-423-0_13

17.

Ennis DP, Pidgeon GP, Millar N, Ravi N, Reynolds JV (2010) Building a bioresource for esophageal research: lessons from the early experience of an academic medical center. Dis Esophagus 23(1):1–7

18.

Riegman PH, van Veen EB (2011) Biobanking residual tissues. Hum Genet 130(3):357–368. doi:10.1007/s00439-011-1074-x

19.

Bevilacqua G, Bosman F, Dassesse T, Hofler H, Janin A, Langer R, Larsimont D, Morente MM, Riegman P, Schirmacher P, Stanta G, Zatloukal K, Caboux E, Hainaut P (2010) The role of the pathologist in tissue banking: European Consensus Expert Group Report. Virchows Arch 456(4):449–454. doi:10.1007/s00428-010-0887-7

20.

Riegman PH, Bosch AL (2008) OECI TuBaFrost tumor biobanking. Tumori 94(2):160–163

21.

Asslaber M, Zatloukal K (2007) Biobanks: transnational, European and global networks. Brief Funct Genomic Proteomic 6(3):193–201
Conflict of interest
We declare that we have no conflict of interest.
About this article
Cite this article
Herpel, E., Koleganova, N., Schreiber, B. et al. Structural requirements of research tissue banks derived from standardized project surveillance. Virchows Arch 461, 79–86 (2012). https://doi.org/10.1007/s00428-012-1258-3
Received:

Revised:

Accepted:

Published:

Issue Date:
Keywords
Tissue bank

Structural requirements

Biomedical and translational research

Resource allocation