Abstract
Rab25, an epithelial-specific member of the Rab family of small GTPases, was previously shown to be overexpressed in ovarian/primary peritoneal serous carcinoma compared to malignant mesothelioma using gene expression arrays. The objective of this study was to validate this finding at the mRNA and protein level. Quantitative PCR analysis of 112 Müllerian serous carcinomas (84 effusions, 28 primary ovarian carcinomas) and 22 malignant mesotheliomas (19 effusions, 3 solid specimens) showed significantly higher RAB25 mRNA expression in the former tumor (p < 0.001). Immunohistochemical analysis of Rab25 protein expression in 245 effusions showed significantly higher expression of this protein in Müllerian serous carcinoma compared to malignant mesothelioma (189/209 vs. 12/36 positive tumors, respectively; p < 0.001). Immunostaining of 101 patient-matched solid Müllerian carcinoma specimens (34 primary carcinomas, 67 metastases) showed expression levels comparable to effusions (94/101 positive specimens; p > 0.05). Rab25 mRNA and protein expression levels in Müllerian carcinoma effusions did not correlate with overall or progression-free survival. Our data confirm that Rab25 effectively differentiates Müllerian carcinomas from malignant mesothelioma at the mRNA and protein level, suggesting a role in the diagnostic work-up of serosal cancers.
This is a preview of subscription content, log in to check access.
Access options
Buy single article
Instant access to the full article PDF.
US$ 39.95
Price includes VAT for USA
Subscribe to journal
Immediate online access to all issues from 2019. Subscription will auto renew annually.
US$ 199
This is the net price. Taxes to be calculated in checkout.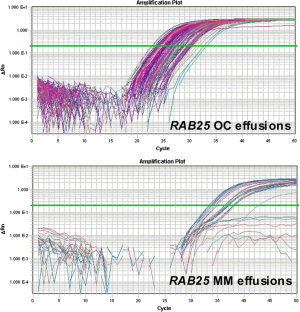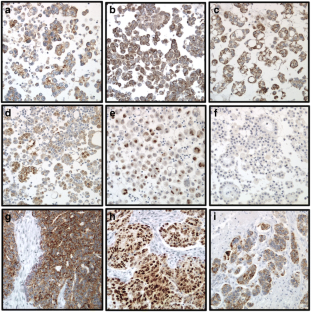 References
1.

Stenmark H, Olkkonen VM. The Rab GTPase family (2001) Genome Biol 2:REVIEWS3007

2.

Stenmark H (2009) Rab GTPases as coordinators of vesicle traffic. Nat Rev Mol Cell Biol 10:513–523

3.

Seabra MC, Mules EH, Hume AN (2002) Rab GTPases, intracellular traffic and disease. Trends Mol Med 8:23–30

4.

Schwartz SL, Cao C, Pylypenko O, Rak A, Wandinger-Ness A (2007) Rab GTPases at a glance. J Cell Sci 120:3905–3910

5.

Colicelli J (2004) Human RAS superfamily proteins and related GTPases. Sci STKE 2004(250):RE13

6.

Stein MP, Dong J, Wandinger-Ness A (2003) Rab proteins and endocytic trafficking: potential targets for therapeutic intervention. Adv Drug Deliv Rev 55:1421–1437

7.

Zerial M, McBride H (2001) RAB proteins as membrane organizers. Nat Rev Mol Cell Biol 2:107–117

8.

Goldenring JR, Shen KR, Vaughan HD, Modlin IM (1993) Identification of a small GTP-binding protein, Rab25, expressed in the gastrointestinal mucosa, kidney, and lung. J Biol Chem 268:18419–18422

9.

Wang X, Kumar R, Navarre J, Casanova JE, Goldenring JR (2000) Regulation of vesicle trafficking in Madin-Darby canine kidney cells by Rab11a and Rab25. J Biol Biochem 275:29138–29146

10.

Casanova JE, Wang X, Kumar R, Bhartur SG, Navarre J, Woodrum JE, Altschuler Y, Ray GS, Goldenring JR (1999) Association of Rab25 and Rab11a with the apical recycling system of polarized Madin-Derby canine kidney cells. Mol Biol Cell 10:47–61

11.

Tang BL (2010) Is Rab25 a tumor promoter or suppressor-context dependency on RCP status? Tumor Biol 31:359–361

12.

Cheng KW, Lahad JP, Kuo WL, Lapuk A, Yamada K, Auersperg N, Liu J, Smith-McCune K, Lu KH, Fishman D, Gray JW, Mills GB (2004) The RAB25 small GTPase determines aggressiveness of ovarian and breast cancers. Nat Med 10:1251–1256

13.

Cheng KW, Lahad JP, Gray JW, Mills GB (2005) Emerging role of RAB GTPases in cancer and human disease. Cancer Res 65:2516–2519

14.

Agarwal R, Jurisica I, Mills GB, Cheng KW (2009) The emerging role of the RAB25 small GTPase in cancer. Traffic 10:1561–1568

15.

Nam KT, Lee HJ, Smith JJ, Lapierre LA, Kamath VP, Chen X, Aronow BJ, Yeatman TJ, Bhartur SG, Calhoun BC, Condie B, Manley NR, Beauchamp RD, Coffey RJ, Goldenring JR (2010) Loss of Rab25 promotes the development of intestinal neoplasia in mice and is associated with human colorectal adenocarcinomas. J Clin Invest 120:840–849

16.

Goldenring JR, Nam KT (2011) Rab25 as a tumour suppressor in colon carcinogenesis. Br J Cancer 104:33–36

17.

Cheng JM, Volk L, Janaki DK, Vyakaranam S, Ran S, Rao KA (2010) Tumor suppressor function of Rab25 in triple-negative breast cancer. Int J Cancer 126:2799–2812

18.

American Cancer Society. Cancer facts and figures 2010. Estimated new cancers cases and deaths by sex for all sites. Available at: http://www.cancer.org/Research/CancerFactsFigures/CancerFactsFigures/cancer-facts-and-figures-2010. Accessed 31 July 2010

19.

Davidson B (2004) Malignant effusions: from diagnosis to biology. Diagn Cytopathol 31:246–254

20.

Davidson B (2007) Biological characteristics of cancers involving the serosal cavities. Crit Rev Oncog 13:189–227

21.

Davidson B, Zhang Z, Kleinberg L, Li M, Flørenes V, Wang TL, Shih leM (2006) Gene expression signatures differentiate ovarian/peritoneal serous carcinoma from diffuse malignant peritoneal mesothelioma. Clin Cancer Res 12:5944–5950

22.

Beillard E, Pallisgaard N, van der Velden VH, Bi W, Dee R, van der Schoot E, Delabesse E, Macintyre E, Gottardi E, Saglio G, Watzinger F, Lion T, van Dongen JJ, Hokland P, Gabert J (2003) Evaluation of candidate control genes for diagnosis and residual disease detection in leukemic patients using "real-time" quantitative reverse-transcriptase polymerase reaction (RQ-PCR)—a Europe against cancer program. Leukemia 17:2474–2486

23.

Bock AJ, Nymoen DA, Brenne K, Kærn J, Davidson B (2011) SCARA3 mRNA is overexpressed in ovarian carcinoma compared with breast carcinoma effusions. Hum Pathol. doi:10.1016/j.humpath.2011.06.003

24.

Yuan Y, Nymoen DA, Dong HP, Bjørang O, Shih leM, Low PS, Trope CG, Davidson B (2009) Expression of the folate receptor genes FOLR1 and FOLR3 differentiates ovarian carcinoma from breast carcinoma and malignant mesothelioma in serous effusions. Hum Pathol 40:1453–1460

25.

Brenne K, Nymoen DA, Hetland TE, Trope CG, Davidson B (2011) Expression of the Ets transcription factor EHF in serous ovarian carcinoma effusions is a marker of poor survival. Hum Pathol. doi:10.1016/j.humpath.2011.05.023

26.

Yuan Y, Nymoen DA, Stavnes HT, Rosnes AK, Bjørang O, Wu C, Nesland JM, Davidson B (2009) Tenascin-X is a novel diagnostic marker of malignant mesothelioma. Am J Surg Pathol 33:1673–1682

27.

Yuan Y, Dong HP, Nymoen DA, Nesland JM, Wu C, Davidson B (2011) PINCH-2 expression in cancers involving serosal effusions using quantitative PCR. Cytopathology 22:22–29

28.

Brenne K, Nymoen DA, Reuven R, Davidson B (2012) PRAME (Preferentially expressed antigen of melanoma) is a novel marker for differentiating serous carcinoma from malignant mesothelioma. Am J Clin Pathol (in press)

29.

Davidson B (2007) Anatomic site-related expression of cancer associated molecules in ovarian carcinoma. Curr Cancer Drug Targets 7:109–120

30.

Oxford G, Theodorescu D (2003) Ras superfamily monomeric G proteins in carcinoma cell motility. Cancer Lett 189:117–128

31.

Mitra S, Cheng KW, Mills GB (2011) Rab GTPases implicated in inherited and acquired disorders. Semin Cell Dev Biol 22:57–68

32.

Agola J, Jim P, Ward H, Basuray S, Wandinger-Ness A (2011) Rab GTPases as regulators of endocytosis, targets of disease and therapeutic opportunities. Clin Genet 80:305–318

33.

Schulmann K, Mori Y, Croog V, Yin J, Olaru A, Sterian A, Sato F, Wang S, Xu Y, Deacu E, Berki AT, Hamilton JP, Kan T, Abraham JM, Schmiegel W, Harpaz N, Meltzer SJ (2005) Molecular phenotype of inflammatory bowel disease-associated neoplasms with microsatellite instability. Gastroenterology 129:74–85

34.

Shibata D, Mori Y, Cai K, Zhang L, Yin J, Elahi A, Hamelin R, Wong YF, Lo WK, Chung TK, Sato F, Karpeh MS Jr, Meltzer SJ (2006) RAB32 hypermethylation and microsatellite instability in gastric and endometrial adenocarcinomas. Int J Cancer 119:801–806

35.

Mori T, Fukuda Y, Kuroda H, Matsumura T, Ota S, Sugimoto T, Nakamura Y, Inazawa J (1999) Cloning and characterization of a novel Rab-family gene, Rab36, within the region at 22q11.2 that is homozygously deleted in malignant rhabdoid tumors. Biochem Biophys Res Commun 254:594–600

36.

Sheach LA, Adeney EM, Kucukmetin A, Wilkinson SJ, Fisher AD, Elattar A, Robson CN, Edmondson RJ (2009) Androgen-related expression of G-proteins in ovarian cancer. Br J Cancer 101:498–503

37.

Montalbano J, Jin W, Sheikh MS, Huang Y (2007) RBEL1 is a novel gene that encodes a nucleocytoplasmic Ras superfamily GTP-binding protein and is overexpressed in breast cancer. J Biol Chem 282:37640–37649
Acknowledgments
This study was supported by grants from the Norwegian Cancer Society and the Research Foundation at the Norwegian Radium Hospital and by the Inger and John Fredriksen Foundation for Ovarian Cancer Research.
Conflict of interest statement
We declare that we have no conflict of interest.
About this article
Cite this article
Brusegard, K., Stavnes, H.T., Nymoen, D.A. et al. Rab25 is overexpressed in Müllerian serous carcinoma compared to malignant mesothelioma. Virchows Arch 460, 193–202 (2012). https://doi.org/10.1007/s00428-011-1191-x
Received:

Revised:

Accepted:

Published:

Issue Date:
Keywords
Rab25

Müllerian carcinoma

Malignant mesothelioma

Serous effusions

Diagnosis

Quantitative real-time PCR

Immunohistochemistry