Abstract
We report a unique case of primary IgG4-related lymphadenopathy showing prominent granulomatous inflammation and Epstein–Barr virus (EBV) reactivation. Involved lymph nodes showed an expanded interfollicular zone with prominent granulomatous inflammation, including a predominance of epithelioid macrophages and occasional Langhans multinucleated giant cells. Bundles of spindle cells were also observed. Intermingled with the granulomatous inflammation were numerous mature plasma cells, eosinophils, and neutrophils. The percentage of IgG4+/IgG+ plasma cells was markedly elevated (70%), along with raised serum IgG4 levels. The plasma cells did not show immunoglobulin light-chain restriction. EBV-positive lymphocytes were scattered throughout the paracortical areas. Corticosteroid treatment was very effective. IgG4-related lymphadenopathy has a broad histological spectrum and might be misdiagnosed due to other conditions which morphologically closely resemble it. The correct diagnosis is important in view of the remarkable response to steroid therapy.
This is a preview of subscription content, log in to check access.
Access options
Buy single article
Instant access to the full article PDF.
US$ 39.95
Price includes VAT for USA
Subscribe to journal
Immediate online access to all issues from 2019. Subscription will auto renew annually.
US$ 199
This is the net price. Taxes to be calculated in checkout.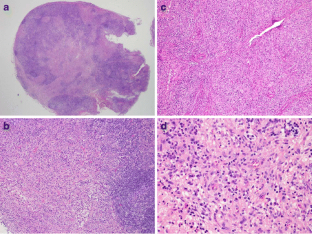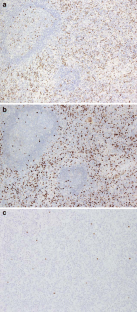 References
1.

Sato Y, Notohara K, Kojima M, Takata K, Masaki Y, Yoshino T (2010) IgG4-related disease: historical overview and pathology of hematological disorders. Pathol Int 60:247–258

2.

Cheuk W, Yuen HKL, Chu SYY, Shiu EKW, Lam LK, Chan JKC (2008) Lymphadenopathy of IgG4-related sclerosing disease. Am J Surg Pathol 32:671–681

3.

Cheuk W, Chan JKC (2010) IgG4-related sclerosing disease: a critical appraisal of an evolving clinicopathologic entity. Adv Anat Pathol 17:303–332

4.

Kojima M, Miyazaki S, Takada S, Kashiwabara K, Igarashi T, Nakamura S (2008) Lymphoplasmacytic infiltrate of regional lymph nodes in Küttner's tumor (chronic sclerosing sialadenitis): a report of 3 cases. Int J Surg Pathol 16:263–268

5.

Armed forces institute of Pathology (2009) Granulomatous inflammation. In: O'malley DP, George TL, Orazi A, Abbondanzo SI (eds) Benign and reactive conditions of lymph node and spleen. American Registry of Pathology, Washington, pp 119–125

6.

Kojima M, Nakamura S, Shimizu K, Hosomura Y, Ohno Y, Itoh H, Yamane N, Yoshida K, Masawa N (2001) Inflammatory pseudotumor of lymph nodes: clinicopathological study of 11 Japanese cases. Int J Surg Pathol 9:207–214

7.

Moran CA, Suster S, Abbondanzo SL (1996) Inflammatory pseudotumor of lymph nodes: a study of 25 cases with emphasis on morphological heterogeneity. Hum Pathol 28:332–338

8.

Niedobitek G, Herbst H, Young LS, Brooks L, Masucci MG, Crocker J, Rickinson AB, Stein H (1992) Patterns of Epstein–Barr virus infection in Non-neoplastic lymphoid tissue. Blood 79:2520–2526

9.

Dojcinov SD, Venkataraman G, Pittaluga S, Wlodarska I, Schrager JA, Raffeld M, Hills RK, Jaffe ES (2011) Age-related EBV-associated lymphoproliferative disorders in the Western population: a spectrum of reactive lymphoid hyperplasia and lymphoma. Blood 117:4726–4735
Acknowledgments
The authors acknowledge the technical assistance of Kaneko Sakurai, Eriko Wada, Mitsunori Sato, Junji Sano, and Yoshimi Mizuno.
Conflict of interest
We declare that we have no conflict of interest.
About this article
Cite this article
Takahashi, E., Kojima, M., Kobayashi, M. et al. Primary IgG4-related lymphadenopathy with prominent granulomatous inflammation and reactivation of Epstein–Barr virus. Virchows Arch 460, 225–229 (2012). https://doi.org/10.1007/s00428-011-1186-7
Received:

Accepted:

Published:

Issue Date:
Keywords
IgG4-related lymphadenopathy

IgG4-related disease

Granulomatous inflammation

Epstein−Barr virus

Reactivation of Epstein−Barr virus