Abstract
Marked peritubular capillary basement membrane (PTCBM) multilayering, the ultrastructural feature of chronic antibody-mediated rejection (ABMR) of kidney allografts, was found to correspond histologically to PTCs with thickened BMs; such PTCs have been suggested as a novel histological marker of chronic rejection. We investigated whether scoring of PTCBM thickening can substitute the ultrastructural search for PTCBM multilayering. The thickening was graded in PAS- and Jones-stained sections in 110 biopsies from recipients with a late dysfunction, all examined ultrastructurally for transplant capillaropathy (≥3 PTCs with ≥5 BM layers). Grade 0 indicated no thickening. Grade 1 and grade 2 were assigned when the PTCBMs were as thick as or thicker than those of the non-atrophic tubules, and duplication/chain-like lamination of the PTCBM was noted in ≤3 or ≥4 high-power fields, respectively. The series was enrolled in subgroups of those with and those without histopathological lesions of chronic rejection. Fifty-six biopsies displayed lesions of chronic ABMR. Transplant capillaropathy was demonstrated in 40 biopsies. Grade 2 thickening furnished a substantial interobserver concordance rate (κ = 0.803) and correlated with the transplant capillaropathy. Jones staining performed somewhat better in scoring than PAS staining. Grade 2 thickening was verified in 35 biopsies involving chronic ABMR, and in one control biopsy (sensitivity 61.4%, specificity 0.98). Grade 1 thickening was not suggestive of chronic ABMR at all. In conclusion, grade 2 thickening can be regarded as the histopathological lesion of chronic ABMR; however, electron microscopy remains the gold standard in the assessment of PTCBM changes.
This is a preview of subscription content, log in to check access.
Access options
Buy single article
Instant access to the full article PDF.
US$ 39.95
Price includes VAT for USA
Subscribe to journal
Immediate online access to all issues from 2019. Subscription will auto renew annually.
US$ 199
This is the net price. Taxes to be calculated in checkout.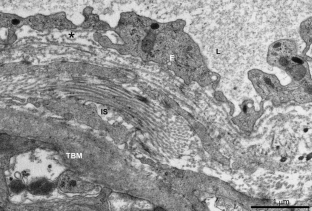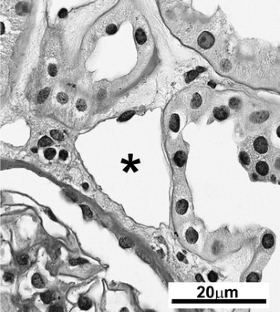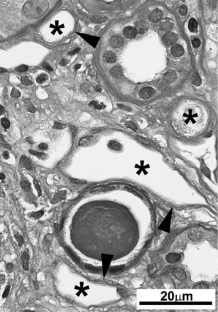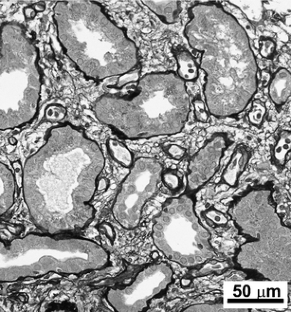 References
1.

Solez K, Colvin RB, Racusen LC et al (2007) Banff'05 meeting report: differential diagnosis of chronic allograft injury and elimination of chronic allograft nephropathy ('CAN'). Am J Transplant 7:518–552

2.

Solez K, Colvin RB, Racusen LC et al (2008) Banff 07 Classification of renal allograft pathology: updates and future directions. Am J Transplant 8:753–760

3.

Hvala A, Ferluga D, Rott T, Kobenter T (2005) Peritubular capillary changes in Alport syndrome, diabetic glomerulopathy, Balkan endemic nephropathy and hemorrhagic fever with renal syndrome. Ultrastruct Pathol 29:451–459

4.

Hvala A, Ferluga D, Rott T, Kobenter T, Koselj-Kajtna M, Kaplan-Pavlovcic S, Bren A (2001) Interstitial capillary in normal and in transplanted kidneys: an ultrastructural study. Ultrastruct Pathol 25:295–299

5.

Aita K, Yamaguchi Y, Horita S, Ohno M, Tanabe K, Fuchinoue S, Teraoka S, Toma H, Nagata M (2007) Thickening of the peritubular capillary basement membrane is a useful diagnostic marker of chronic rejection in renal allografts. Am J Transplant 7:923–929

6.

Mauiyyedi S, Della Pelle P, Saidman S, Collins AB, Pascual M, Tolkoff-Rubin NE, Williams WW, Cosimi AB, Schneeberger EE, Colvin RB (2001) Chronic humoral rejection: identification of antibody-mediated chronic renal allograft rejection by C4d deposits in peritubular capillaries. J Am Soc Nephrol 12:574–582

7.

Wilkinson A, Davidson J, Dotta F et al (2005) Guidelines for the treatment and management of new-onset diabetes after transplantation. Clin Transplant 9:291–298

8.

Racusen LC, Solez K, Colvin RB et al (1999) The Banff 97 working classification of renal allograft pathology. Kidney Int 55:713–723

9.

Ivanyi B, Kemeny E, Szederkenyi E, Marofka F, Szenohradszky P (2001) The value of electron microscopy in the diagnosis of chronic renal allograft rejection. Mod Pathol 14:1200–1208

10.

Ivanyi B, Fahmy H, Brown H, Szenohradszky P, Halloran PF, Solez K (2000) Peritubular capillaries in chronic renal allograft rejection: a quantitative ultrastructural study. Hum Pathol 31:1129–1138

11.

Ivanyi B (2003) Transplant capillaropathy and transplant glomerulopathy: ultrastructural markers of chronic renal allograft rejection. Nephrol Dial Transplant 18:655–660

12.

Nickeleit V, Zeiler M, Gudat F, Thiel G, Mihatsch MJ (1998) Histological characteristics of interstitial renal allograft rejection. Kidney Blood Press Res 21:230–232

13.

Fleiss JL (2003) Statistical methods for rates and proportions, 3rd edn. Wiley, New York

14.

Bhalla V, Nast CC, Stollenwerk N, Tran S, Barba L, Kamil ES, Danovitch G, Adler SG (2003) Recurrent and de novo diabetic nephropathy in renal allografts. Transplantation 75:66–71

15.

Regele H, Böhmig GA, Habicht A, Gollowitzer D, Schillinger M, Rockenschaub S, Watschinger B, Kerjaschki D (2002) Capillary deposition of complement split product C4d in renal allografts is associated with basement membrane injury in peritubular and glomerular capillaries: a contribution of humoral immunity to chronic allograft rejection. J Am Soc Nephrol 13:2371–2380

16.

Sis B, Campbell PM, Mueller T, Hunter C, Cockfield SM, Cruz J, Meng C, Wishart D, Solez K, Halloran PF (2007) Transplant glomerulopathy, late antibody-mediated rejection and the ABCD tetrad in kidney allograft biopsies for cause. Am J Transplant 7:1743–1752

17.

Einecke G, Sis B, Reeve J, Mengel M, Campbell PM, Hidalgo LG, Kaplan B, Halloran PF (2009) Antibody-mediated microcirculation injury is the major cause of late kidney transplant failure. Am J Transplant 9:2520–2531

18.

Sis B, Jhangri GS, Bunnag S, Allanach B, Kaplan B, Halloran PF (2009) Endothelial gene expression in kidney transplants with alloantibody indicates antibody-mediated damage despite lack of C4d staining. Am J Transplant 9:2312–2323

19.

Sis B, Halloran PF (2010) Endothelial transcripts uncover a previously unknown phenotype: C4d-negative antibody-mediated rejection. Curr Opin Organ Transplant 15:42–48

20.

Wavamunno MD, O'Conell PJ, Vitalone M, Fung CL-S, Allen RDM, Chapman JR, Nankivell BJ (2007) Transplant glomerulopathy: ultrastructural abnormalities occur early in longitudinal analysis of protocol biopsies. Am J Transplant 7:2757–2768
Acknowledgement
This study was supported in part by a grant to B.I. (TÁMOP-4.2.1/B-09/1/KONV-2010-0005, Budapest, Hungary). The authors appreciate the highly constructive comments of Reviewer 2.
Conflict of interest
The authors declare that they have no conflict of interest.
About this article
Cite this article
Ivanyi, B., Kemeny, E., Rago, P. et al. Peritubular capillary basement membrane changes in chronic renal allograft rejection. Virchows Arch 459, 321 (2011). https://doi.org/10.1007/s00428-011-1114-x
Received:

Revised:

Accepted:

Published:
Keywords
Chronic antibody-mediated rejection

Electron microscopy

Histology

Kidney allograft

Peritubular capillary