Abstract
Patients with nodal positive prostate cancers are an important cohort with poorly defined risk factors. CD10 is a cell surface metallopeptidase that has been suggested to play a role in prostate cancer progression. CD10 expression was evaluated in 119 nodal positive prostate cancer patients using tissue microarrays constructed from primary tumors and lymph node metastases. All patients underwent radical prostatectomy and standardized extended lymphadenectomy. They had no neoadjuvant therapy and received deferred androgen deprivation. In the primary tumor, high CD10 expression was significantly associated with earlier death from disease when compared with low CD10 expression (5-year survival 73.7% vs. 91.8%; p = 0.043). In the metastases, a high CD10 expression was significantly associated with larger total size of metastases (median 11.4 vs. 6.5 mm; p = 0.015), earlier death of disease (5-year survival 71.5% vs. 87.3%; p = 0.017), and death of any cause (5-year survival 70.0% vs. 87.2%; p = 0.001) when compared with low CD10 expression. CD10 expression in the metastases added independent prognostic information for overall survival (p = 0.029) after adjustment for Gleason score of the primary tumor, nodal tumor burden, and resection margins. In conclusion, a high CD10 expression in prostate cancer predicts early death. This information is inherent in the primary tumors and in the lymph node metastases and might help to personalize patient management.
This is a preview of subscription content, log in to check access.
Access options
Buy single article
Instant access to the full article PDF.
US$ 39.95
Price includes VAT for USA
Subscribe to journal
Immediate online access to all issues from 2019. Subscription will auto renew annually.
US$ 199
This is the net price. Taxes to be calculated in checkout.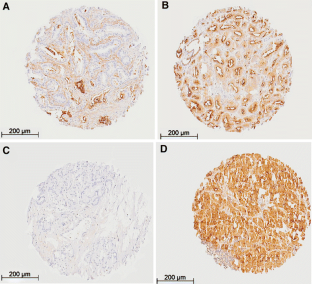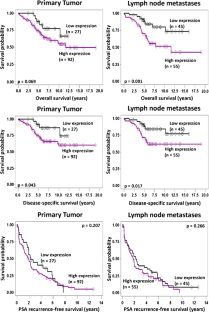 References
1.

Jemal A, Bray F, Center MM, Ferlay J, Ward E, Forman D (2011) Global cancer statistics. CA Cancer J Clin 61:69–90

2.

Swanson GP, Thompson IM, Basler J (2006) Current status of lymph node-positive prostate cancer: incidence and predictors of outcome. Cancer 107:439–450

3.

Fleischmann A, Schobinger S, Schumacher M, Thalmann GN, Studer UE (2009) Survival in surgically treated, nodal positive prostate cancer patients is predicted by histopathological characteristics of the primary tumor and its lymph node metastases. Prostate 69:352–362

4.

Erdos EG, Skidgel RA (1989) Neutral endopeptidase 24.11 (enkephalinase) and related regulators of peptide hormones. FASEB J 3:145–151

5.

Carl-McGrath S, Lendeckel U, Ebert M, Rocken C (2006) Ectopeptidases in tumour biology: a review. Histol Histopathol 21:1339–1353

6.

Sumitomo M, Shen R, Nanus DM (2005) Involvement of neutral endopeptidase in neoplastic progression. Biochim Biophys Acta 1751:52–59

7.

Dall'Era MA, True LD, Siegel AF, Porter MP, Sherertz TM, Liu AY (2007) Differential expression of CD10 in prostate cancer and its clinical implication. BMC Urol 7:3

8.

Freedland SJ, Seligson DB, Liu AY et al (2003) Loss of CD10 (neutral endopeptidase) is a frequent and early event in human prostate cancer. Prostate 55:71–80

9.

Osman I, Yee H, Taneja SS et al (2004) Neutral endopeptidase protein expression and prognosis in localized prostate cancer. Clin Cancer Res 10:4096–4100

10.

Zellweger T, Ninck C, Mirlacher M et al (2003) Tissue microarray analysis reveals prognostic significance of syndecan-1 expression in prostate cancer. Prostate 55:20–29

11.

Fleischmann A, Schlomm T, Huland H et al (2008) Distinct subcellular expression patterns of neutral endopeptidase (CD10) in prostate cancer predict diverging clinical courses in surgically treated patients. Clin Cancer Res 14:7838–7842

12.

Bader P, Burkhard FC, Markwalder R, Studer UE (2003) Disease progression and survival of patients with positive lymph nodes after radical prostatectomy. Is there a chance of cure? J Urol 169:849–854

13.

Fleischmann A, Schobinger S, Markwalder R et al (2008) Prognostic factors in lymph node metastases of prostatic cancer patients: the size of the metastases but not extranodal extension independently predicts survival. Histopathology 53:468–475

14.

Sobin LH, Gospodarowicz MK, Wittekind C (eds) (2009) TNM classification of malignant tumours, 7th edn. Wiley, New York

15.

Kononen J, Bubendorf L, Kallioniemi A et al (1998) Tissue microarrays for high-throughput molecular profiling of tumor specimens. Nat Med 4:844–847

16.

Soreide K (2009) Receiver-operating characteristic curve analysis in diagnostic, prognostic and predictive biomarker research. J Clin Pathol 62:1–5

17.

Zheng R, Shen R, Goodman OB Jr, Nanus DM (2006) Multiple androgen response elements cooperate in androgen regulated activity of the type 1 neutral endopeptidase promoter. Mol Cell Endocrinol 259:10–21

18.

Freedland SJ, Humphreys EB, Mangold LA et al (2005) Risk of prostate cancer-specific mortality following biochemical recurrence after radical prostatectomy. JAMA 294:433–439

19.

Cabanillas R, Rodrigo JP, Astudillo A, Dominguez F, Suarez C, Chiara MD (2007) P53 expression in squamous cell carcinomas of the supraglottic larynx and its lymph node metastases: new results for an old question. Cancer 109:1791–1798

20.

Harigopal M, Berger AJ, Camp RL, Rimm DL, Kluger HM (2005) Automated quantitative analysis of E-cadherin expression in lymph node metastases is predictive of survival in invasive ductal breast cancer. Clin Cancer Res 11:4083–4089

21.

Wang YF, Chen JY, Chang SY et al (2008) Nm23-H1 expression of metastatic tumors in the lymph nodes is a prognostic indicator of oral squamous cell carcinoma. Int J Cancer 122:377–386

22.

Cheng L, Leibovich BC, Bergstralh EJ et al (1999) p53 alteration in regional lymph node metastases from prostate carcinoma: a marker for progression? Cancer 85:2455–2459

23.

Masuda M, Takano Y, Iki M et al (1998) Prognostic significance of Ki-67, p53, and Bcl-2 expression in prostate cancer patients with lymph node metastases: a retrospective immunohistochemical analysis. Pathol Int 48:41–46

24.

Bostwick DG, Qian J, Pacelli A et al (2002) Neuroendocrine expression in node positive prostate cancer: correlation with systemic progression and patient survival. J Urol 168:1204–1211

25.

Quek ML, Daneshmand S, Rodrigo S et al (2006) Prognostic significance of neuroendocrine expression in lymph node-positive prostate cancer. Urology 67:1247–1252

26.

Nanus DM (2003) Of peptides and peptidases: the role of cell surface peptidases in cancer. Clin Cancer Res 9:6307–6309

27.

Erhuma M, Kobel M, Mustafa T et al (2007) Expression of neutral endopeptidase (NEP/CD10) on pancreatic tumor cell lines, pancreatitis and pancreatic tumor tissues. Int J Cancer 120:2393–2400

28.

Mondada D, Bosman FT, Fontolliet C, Seelentag WK (2006) Elevated hepatocyte paraffin 1 and neprilysin expression in hepatocellular carcinoma are correlated with longer survival. Virchows Arch 448:35–45

29.

Tajima Y, Yamazaki K, Nishino N et al (2004) Gastric and intestinal phenotypic marker expression in gastric carcinomas and recurrence pattern after surgery-immunohistochemical analysis of 213 lesions. Br J Cancer 91:1342–1348

30.

Battistini B, Daull P, Jeng AY (2005) CGS 35601, a triple inhibitor of angiotensin converting enzyme, neutral endopeptidase and endothelin converting enzyme. Cardiovasc Drug Rev 23:317–330

31.

Pan C, Cardarelli PM, Nieder MH et al (2003) CD10 is a key enzyme involved in the activation of tumor-activated peptide prodrug CPI-0004Na and novel analogues: implications for the design of novel peptide prodrugs for the therapy of CD10+ tumors. Cancer Res 63:5526–5531
Acknowledgment
This project received funding from the Bernische Krebsliga by Grant 34–904 (AF).
Conflicts of interest
The authors declare that they have no conflicts of interest.
About this article
Cite this article
Fleischmann, A., Rocha, C., Saxer-Sekulic, N. et al. High CD10 expression in lymph node metastases from surgically treated prostate cancer independently predicts early death. Virchows Arch 458, 741–748 (2011). https://doi.org/10.1007/s00428-011-1084-z
Received:

Revised:

Accepted:

Published:

Issue Date:
Keywords
CD10

Prostate cancer

Metastases

Prognosis

Tissue microarray