Abstract
Microsatellite instability-positive (MSI+) colorectal cancers (CRCs) are divided into CpG island methylator phenotype-positive (CIMP+) and CpG island methylator phenotype-negative (CIMP−) tumors. The repertoire of inactivated genes in CIMP+/MSI+ CRCs overlaps with but is likely to differ from that of CIMP−/MSI+ CRCs. Because epigenotypic differences are likely to be manifested as phenotypic differences, CIMP+/MSI+ CRCs are expected to differ from CIMP−/MSI+ CRCs in some clinicopathological features. This study aimed to characterize both common and different features between the two subtypes. A total of 72 MSI+ CRCs were analyzed for their methylation status in eight CIMP panel markers using MethyLight assay. CIMP+/MSI+ and CIMP−/MSI+ CRCs were compared regarding clinicopathologic features and mutation in KRAS/BRAF. An independent set of MSI+ CRCs (n = 97) was analyzed for their relationship of CIMP+ status with clinical outcome. Eighteen cases (25%) were CIMP+, and this CIMP+ subtype was highly correlated with older age (P < 0.001). Polypoid gross appearance without ulceration was observed only in CIMP−/MSI+ CRCs (18.5%, P = 0.057). CIMP+/MSI+ CRCs were closely associated with poor differentiation, medullary appearance, signet ring cell appearance, and acinar-form appearance, whereas the CIMP−/MSI+ subtype was closely associated with intraglandular eosinophilic mucin and stratified nuclei (all P values <0.05). Patients with CIMP+/MSI+ CRCs showed worse overall survival than patients with CIMP−/MSI+ CRCs. Our results demonstrate heterogeneity in the clinicopathological features of MSI+ CRCs depending on CIMP status. The observation that CIMP+ and CIMP− subtypes showed different clinical behaviors may provide a clue for establishing subtype-specific therapeutic strategies for these two subtypes.
This is a preview of subscription content, log in to check access.
Access options
Buy single article
Instant access to the full article PDF.
US$ 39.95
Price includes VAT for USA
Subscribe to journal
Immediate online access to all issues from 2019. Subscription will auto renew annually.
US$ 199
This is the net price. Taxes to be calculated in checkout.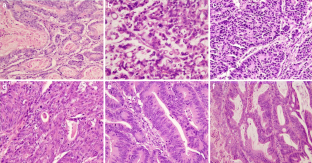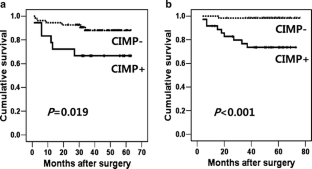 References
1.

Sung JJ, Lau JY, Goh KL, Leung WK (2005) Increasing incidence of colorectal cancer in Asia: implications for screening. Lancet Oncol 6:871–876

2.

Jass JR (2007) Classification of colorectal cancer based on correlation of clinical, morphological and molecular features. Histopathology 50:113–130

3.

Samowitz WS (2008) Genetic and epigenetic changes in colon cancer. Exp Mol Pathol 85:64–67

4.

Snover DC (2011) Update on the serrated pathway to colorectal carcinoma. Hum Pathol 42:1–10

5.

Toyota M, Ahuja N, Ohe-Toyota M et al (1999) CpG island methylator phenotype in colorectal cancer. Proc Natl Acad Sci USA 96:8681–8686

6.

Toyota M, Ohe-Toyota M, Ahuja N, Issa JP (2000) Distinct genetic profiles in colorectal tumors with or without the CpG island methylator phenotype. Proc Natl Acad Sci USA 97:710–715

7.

Issa JP (2004) CpG island methylator phenotype in cancer. Nat Rev Cancer 4:988–993

8.

Kane MF, Loda M, Gaida GM et al (1997) Methylation of the hMLH1 promoter correlates with lack of expression of hMLH1 in sporadic colon tumors and mismatch repair-defective human tumor cell lines. Cancer Res 57:808–811

9.

Cunningham JM, Christensen ER, Tester DJ et al (1998) Hypermethylation of the hMLH1 promoter in colon cancer with microsatellite instability. Cancer Res 58:3455–3460

10.

Goldstein NS (2006) Small colonic microsatellite unstable adenocarcinomas and high-grade epithelial dysplasias in sessile serrated adenoma polypectomy specimens: a study of eight cases. Am J Clin Pathol 125:132–145

11.

Boland CR, Goel A (2010) Microsatellite instability in colorectal cancer. Gastroenterology 138(2073–2087):e2073

12.

Watanabe T, Kobunai T, Toda E et al (2006) Distal colorectal cancers with microsatellite instability (MSI) display distinct gene expression profiles that are different from proximal MSI cancers. Cancer Res 66:9804–9808

13.

Jenkins MA, Hayashi S, O'Shea AM et al (2007) Pathology features in Bethesda guidelines predict colorectal cancer microsatellite instability: a population-based study. Gastroenterology 133:48–56

14.

Young J, Simms LA, Biden KG et al (2001) Features of colorectal cancers with high-level microsatellite instability occurring in familial and sporadic settings: parallel pathways of tumorigenesis. Am J Pathol 159:2107–2116

15.

Kim JH, Shin SH, Kwon HJ, Cho NY, Kang GH (2009) Prognostic implications of CpG island hypermethylator phenotype in colorectal cancers. Virchows Arch 455:485–494

16.

Dahlin AM, Palmqvist R, Henriksson ML et al (2010) The role of the CpG island methylator phenotype in colorectal cancer prognosis depends on microsatellite instability screening status. Clin Cancer Res 16:1845–1855

17.

Ogino S, Odze RD, Kawasaki T et al (2006) Correlation of pathologic features with CpG island methylator phenotype (CIMP) by quantitative DNA methylation analysis in colorectal carcinoma. Am J Surg Pathol 30:1175–1183

18.

Jass JR, Walsh MD, Barker M et al (2002) Distinction between familial and sporadic forms of colorectal cancer showing DNA microsatellite instability. Eur J Cancer 38:858–866

19.

Ward RL, Cheong K, Ku SL et al (2003) Adverse prognostic effect of methylation in colorectal cancer is reversed by microsatellite instability. J Clin Oncol 21:3729–3736

20.

Barault L, Charon-Barra C, Jooste V et al (2008) Hypermethylator phenotype in sporadic colon cancer: study on a population-based series of 582 cases. Cancer Res 68:8541–8546

21.

Halvarsson B, Anderson H, Domanska K, Lindmark G, Nilbert M (2008) Clinicopathologic factors identify sporadic mismatch repair-defective colon cancers. Am J Clin Pathol 129:238–244

22.

Chirieac LR, Shen L, Catalano PJ, Issa JP, Hamilton SR (2005) Phenotype of microsatellite-stable colorectal carcinomas with CpG island methylation. Am J Surg Pathol 29:429–436

23.

Greenson JK, Bonner JD, Ben-Yzhak O et al (2003) Phenotype of microsatellite unstable colorectal carcinomas: well-differentiated and focally mucinous tumors and the absence of dirty necrosis correlate with microsatellite instability. Am J Surg Pathol 27:563–570

24.

Lee S, Cho NY, Choi M et al (2008) Clinicopathological features of CpG island methylator phenotype-positive colorectal cancer and its adverse prognosis in relation to KRAS/BRAF mutation. Pathol Int 58:104–113

25.

Lee S, Cho NY, Yoo EJ, Kim JH, Kang GH (2008) CpG island methylator phenotype in colorectal cancers: comparison of the new and classic CpG island methylator phenotype marker panels. Arch Pathol Lab Med 132:1657–1665

26.

Lee HS, Choi SI, Lee HK et al (2002) Distinct clinical features and outcomes of gastric cancers with microsatellite instability. Mod Pathol 15:632–640

27.

Ogino S, Goel A (2008) Molecular classification and correlates in colorectal cancer. J Mol Diagn 10:13–27

28.

Sanchez JA, Krumroy L, Plummer S et al (2009) Genetic and epigenetic classifications define clinical phenotypes and determine patient outcomes in colorectal cancer. Br J Surg 96:1196–1204

29.

Hawkins N, Norrie M, Cheong K et al (2002) CpG island methylation in sporadic colorectal cancers and its relationship to microsatellite instability. Gastroenterology 122:1376–1387

30.

Pino MS, Mino-Kenudson M, Wildemore BM et al (2009) Deficient DNA mismatch repair is common in Lynch syndrome-associated colorectal adenomas. J Mol Diagn 11:238–247

31.

Goldstein NS, Bhanot P, Odish E, Hunter S (2003) Hyperplastic-like colon polyps that preceded microsatellite-unstable adenocarcinomas. Am J Clin Pathol 119:778–796

32.

Noffsinger AE (2009) Serrated polyps and colorectal cancer: new pathway to malignancy. Annu Rev Pathol 4:343–364

33.

Popat S, Hubner R, Houlston RS (2005) Systematic review of microsatellite instability and colorectal cancer prognosis. J Clin Oncol 23:609–618

34.

Iacopetta B, Kawakami K, Watanabe T (2008) Predicting clinical outcome of 5-fluorouracil-based chemotherapy for colon cancer patients: is the CpG island methylator phenotype the 5-fluorouracil-responsive subgroup? Int J Clin Oncol 13:498–503

35.

Liang JT, Huang KC, Lai HS et al (2002) High-frequency microsatellite instability predicts better chemosensitivity to high-dose 5-fluorouracil plus leucovorin chemotherapy for stage IV sporadic colorectal cancer after palliative bowel resection. Int J Cancer 101:519–525

36.

Ribic CM, Sargent DJ, Moore MJ et al (2003) Tumor microsatellite-instability status as a predictor of benefit from fluorouracil-based adjuvant chemotherapy for colon cancer. N Engl J Med 349:247–257

37.

Carethers JM, Smith EJ, Behling CA et al (2004) Use of 5-fluorouracil and survival in patients with microsatellite-unstable colorectal cancer. Gastroenterology 126:394–401

38.

Benatti P, Gafa R, Barana D et al (2005) Microsatellite instability and colorectal cancer prognosis. Clin Cancer Res 11:8332–8340

39.

Bertagnolli MM, Niedzwiecki D, Compton CC et al (2009) Microsatellite instability predicts improved response to adjuvant therapy with irinotecan, fluorouracil, and leucovorin in stage III colon cancer: cancer and leukemia group B protocol 89803. J Clin Oncol 27:1814–1821

40.

Nosho K, Irahara N, Shima K et al (2008) Comprehensive biostatistical analysis of CpG island methylator phenotype in colorectal cancer using a large population-based sample. PLoS ONE 3:e3698

41.

Ward R, Meagher A, Tomlinson I et al (2001) Microsatellite instability and the clinicopathological features of sporadic colorectal cancer. Gut 48:821–829

42.

Samowitz WS, Curtin K, Ma KN et al (2001) Microsatellite instability in sporadic colon cancer is associated with an improved prognosis at the population level. Cancer Epidemiol Biomark Prev 10:917–923

43.

Samowitz WS, Holden JA, Curtin K et al (2001) Inverse relationship between microsatellite instability and K-ras and p53 gene alterations in colon cancer. Am J Pathol 158:1517–1524

44.

Zhang YZ, Sheng JQ, Li SR, Zhang H (2005) Clinical phenotype and prevalence of hereditary nonpolyposis colorectal cancer syndrome in Chinese population. World J Gastroenterol 11:1481–1488

45.

Hampel H, Frankel WL, Martin E et al (2008) Feasibility of screening for Lynch syndrome among patients with colorectal cancer. J Clin Oncol 26:5783–5788

46.

van Rijnsoever M, Grieu F, Elsaleh H, Joseph D, Iacopetta B (2002) Characterisation of colorectal cancers showing hypermethylation at multiple CpG islands. Gut 51:797–802

47.

Poynter JN, Siegmund KD, Weisenberger DJ et al (2008) Molecular characterization of MSI-H colorectal cancer by MLHI promoter methylation, immunohistochemistry, and mismatch repair germline mutation screening. Cancer Epidemiol Biomark Prev 17:3208–3215

48.

Nystrom M, Mutanen M (2009) Diet and epigenetics in colon cancer. World J Gastroenterol 15:257–263

49.

Christensen BC, Kelsey KT, Zheng S et al (2010) Breast cancer DNA methylation profiles are associated with tumor size and alcohol and folate intake. PLoS Genet 6:e1001043

50.

Schernhammer ES, Giovannucci E, Kawasaki T et al (2010) Dietary folate, alcohol and B vitamins in relation to LINE-1 hypomethylation in colon cancer. Gut 59:794–799

51.

Curtin K, Slattery ML, Ulrich CM et al (2007) Genetic polymorphisms in one-carbon metabolism: associations with CpG island methylator phenotype (CIMP) in colon cancer and the modifying effects of diet. Carcinogenesis 28:1672–1679

52.

Diergaarde B, Braam H, van Muijen GN et al (2003) Dietary factors and microsatellite instability in sporadic colon carcinomas. Cancer Epidemiol Biomark Prev 12:1130–1136

53.

Kaneda A, Yagi K (2011) Two groups of DNA methylation markers to classify colorectal cancer into three epigenotypes. Cancer Sci 102:18–24
Grant information
The study was supported by a grant from the Korea Healthcare Technology R&D Project, Ministry for Health, Welfare and Family Affairs, Republic of Korea (A091081).
Disclosure
The authors declare that they have no conflict of interest.
Additional information
Jeong Mo Bae and Mi Jung Kim equally contributed to this work.
About this article
Cite this article
Bae, J.M., Kim, M.J., Kim, J.H. et al. Differential clinicopathological features in microsatellite instability-positive colorectal cancers depending on CIMP status. Virchows Arch 459, 55–63 (2011). https://doi.org/10.1007/s00428-011-1080-3
Received:

Revised:

Accepted:

Published:

Issue Date:
Keywords
Colon cancer

CpG island

DNA methylation

Microsatellite instability

Prognosis