Abstract
Fibrolamellar hepatocellular carcinoma is a subtype of hepatocellular carcinoma occurring in non-cirrhotic liver at a younger age. The tumor expresses both hepatocellular and cholangiocellular markers. Previously, our group described overexpression of tight junction protein claudin 4 in cholangiocellular carcinoma in contrast to hepatocellular carcinoma. In the present study, tight junction protein expressions were studied to possibly clarify bipotential lineage of fibrolamellar hepatocellular carcinoma. Eleven fibrolamellar hepatocellular carcinomas were compared with seven "conventional" hepatocellular carcinomas, seven cholangiocellular carcinomas, and five normal liver samples. By immunohistochemistry, all fibrolamellar hepatocellular carcinomas were positive for HepPar1 and cytokeratins 7, 8, and 18, but negative for cytokeratin 19. Glypican-3 gave weak staining in two cases. Expression of claudin 1 was lower, while that of claudin 2 was higher in fibrolamellar hepatocellular carcinomas than in other tumors. Claudins 3, 4, and 7 were not detectable in fibrolamellar hepatocellular carcinomas as in the majority of "conventional" hepatocellular carcinomas, contrary to high expression observed in cholangiocellular carcinomas. Focal or diffuse claudin 5 expression was detected in nine of 11 fibrolamellar hepatocellular carcinomas contrary to other tumors. Tricellulin was significantly downregulated in all tumors compared with normal liver. Our findings showed claudins to exhibit specific expression patterns in fibrolamellar hepatocellular carcinomas not observed in other primary liver tumors, with unique claudin 5 expression and pattern features similar to common hepatocellular carcinoma, but different from cholangiocellular carcinoma. This is the first report describing the loss of tricellulin expression in human hepatic tumors.
This is a preview of subscription content, log in to check access.
Access options
Buy single article
Instant access to the full article PDF.
US$ 39.95
Price includes VAT for USA
Subscribe to journal
Immediate online access to all issues from 2019. Subscription will auto renew annually.
US$ 199
This is the net price. Taxes to be calculated in checkout.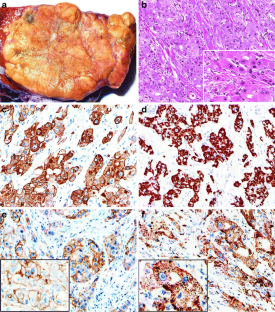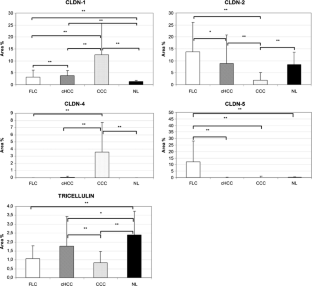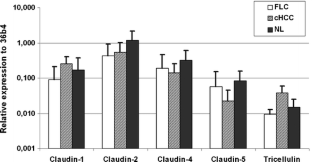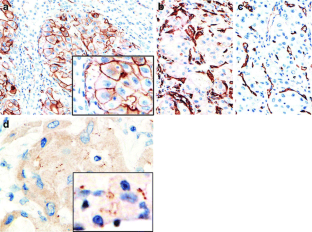 References
1.

Abdul-Al HM, Wang G, Makhlouf HR, Goodman ZD (2010) Fibrolamellar hepatocellular carcinoma: an immunohistochemical comparison with conventional hepatocellular carcinoma. Int J Surg Pathol 18:313–318

2.

Ishak KG, Goodman ZD, Stocker JT (2001) Tumors of the Liver and Intrahepatic Bile Ducts. Atlas of Tumor Pathology, Third Series, Fascicle 31. Armed Forces Institute of Pathology, Washington, DC

3.

Kannangai R, Vivekanandan P, Martinez-Murillo F, Choti M, Torbenson M (2007) Fibrolamellar carcinomas show overexpression of genes in the RAS, MAPK, PIK3, and xenobiotic degradation pathways. Hum Pathol 38:639–644

4.

Liu S, Chan KW, Wang B, Qiao L (2009) Fibrolamellar hepatocellular carcinoma. Am J Gastroenterol 104:2617–2624

5.

Torbenson M (2007) Review of the clinicopathologic features of fibrolamellar carcinoma. Adv Anat Pathol 14:217–223

6.

Ward SC, Huang J, Tickoo SK, Thung SN, Ladanyi M, Klimstra DS (2010) Fibrolamellar carcinoma of the liver exhibits immunohistochemical evidence of both hepatocyte and bile duct differentiation. Mod Pathol 23:1180–1190

7.

Craig JR, Peters RL, Edmondson HA, Omata M (1980) Fibrolamellar carcinoma of the liver: a tumor of adolescents and young adults with distinctive clinico-pathologic features. Cancer 46:372–379

8.

El-Serag HB, Davila JA (2004) Is fibrolamellar carcinoma different from hepatocellular carcinoma? A US population-based study. Hepatology 39:798–803

9.

Arista-Nasr J, Gutierrez-Villalobos L, Nuncio J, Maldonaldo H, Bornstein-Quevedo L (2002) Fibrolamellar hepatocellular carcinoma in Mexican patients. Pathol Oncol Res 8:133–137

10.

Górnicka B, Ziarkiewicz-Wróblewska B, Wróblewski T, Wilczynski GM, Koperski L, Krawczyk M, Wasiutynski A (2005) Carcinoma, a fibrolamellar variant—immunohistochemical analysis of 4 cases. Hepatogastroenterology 52:519–523

11.

Chang YC, Dai YC, Chow NH (2003) Fibrolamellar hepatocellular carcinoma with a recurrence of classic hepatocellular carcinoma: a case report and review of Oriental cases. Hepatogastroenterology 50:1637–1640

12.

Davison FD, Fagan EA, Portmann B, Williams R (1990) HBV-DNA sequences in tumor and nontumor tissue in a patient with the fibrolamellar variant of hepatocellular carcinoma. Hepatology 12:676–679

13.

Lapis K, Zs S, Kopper L, Karácsonyi S, Ormos J (1990) Fibrolamellar carcinomas of the liver. Zentralbl Allg Pathol Pathol Anat 136:135–149

14.

Malouf G, Falissard B, Azoulay D, Callea F, Ferrell LD, Goodman ZD, Hayashi Y, Hsu HC, Hubscher SG, Kojiro M, Ng IO, Paterson AC, Reynes M, Zafrani ES, Emile JF (2009) Is histological diagnosis of primary liver carcinomas with fibrous stroma reproducible among experts? J Clin Pathol 62:519–524

15.

Lee J-S, Heo J, Libbrecht L, Chu IS, Kaposi-Novak P, Calvisi DF, Mikaelyan A, Roberts LR, Demetris AJ, Sun Z, Nevens F, Roskams T, Thorgeirsson SS (2006) A novel prognostic subtype of human hepatocellular carcinoma derived from hepatic progenitor cells. Nat Med 12:410–416

16.

Kakar S, Chen X, Ho C, Burgart LJ, Sahai V, Dachrut S, Yabes A, Jain D, Ferrell LD (2009) Chromosomal changes in fibrolamellar hepatocellular carcinoma detected by array comparative genomic hybridization. Hum Pathol 22:134–141

17.

International Consensus Group for Hepatocellular Neoplasia (2009) Pathologic diagnosis of early hepatocellular carcinoma: a report of the International Consensus Group for Hepatocellular Neoplasia. Hepatology 49:658–664

18.

Libbrecht L, Severi T, Cassiman D, Vander Borght S, Pirenne J, Nevens F, Verslype C, van Pelt J, Roskams T (2006) Glypican-3 expression distinguishes small hepatocellular carcinomas from cirrhosis, dysplastic nodules, and focal nodular hyperplasia-like nodules. Am J Surg Pathol 30:1405–1411

19.

Cs L, Szabó E, Holczbauer Á, Batmunkh E, Szíjártó A, Kupcsulik P, Kovalszky I, Paku S, Illyés G, Kiss A, Schaff Z (2006) Claudin-4 differentiates biliary tract cancers from hepatocellular carcinomas. Mod Pathol 19:460–469

20.

Zs N, Szász AM, Tátrai P, Németh J, Gyorffy H, Somorácz A, Szíjártó A, Kupcsulik P, Kiss A, Schaff Z (2009) Claudin-1, -2, -3, -4, -7, -8, and -10 protein expression in biliary tract cancers. J Histochem Cytochem 57:113–121

21.

Nishino R, Honda M, Yamashita T, Takatori H, Minato H, Zen Y, Sasaki M, Takamura H, Horimoto K, Ohta T, Nakanuma Y, Kaneko S (2008) Identification of novel candidate tumour marker genes for intrahepatic cholangiocarcinoma. J Hepatol 49:207–216

22.

Balda MS, Matter K (2008) Tight junctions and the regulation of gene expression. Biochim Biophys Acta 1788:761–767

23.

Lal-Nag M, Morin PJ (2009) The claudins. Genome Biol 10:235

24.

Saeki R, Kondoh M, Kakutani H (2009) A novel tumor-targeted therapy using a claudin-4-targeting molecule. Mol Pharmacol 76:918–926

25.

Tsukita S, Yamazaki Y, Katsuno T, Tamura A, Tsukita S (2008) Tight junction-based epithelial microenvironment and cell proliferation. Oncogene 27:6930–6938

26.

Evans MJ, von Hahn T, Tscherne DM, Syder AJ, Panis M, Wölk B, Hatziioannou T, McKeating JA, Bieniasz PD, Rice CM (2007) Claudin-1 is a hepatitis C virus co-receptor required for a late step in entry. Nature 446:801–805

27.

Meertens L, Bertaux C, Cukierman L, Cormier E, Lavillette D, Cosset FL, Dragic T (2008) The tight junction proteins claudin-1, -6, and -9 are entry cofactors for hepatitis C virus. J Virol 82:3555–3560

28.

Higashi Y, Suzuki S, Sakaguchi T, Nakamura T, Baba S, Reinecker HC, Nakamura S, Konno H (2007) Loss of claudin-1 expression correlates with malignancy of hepatocellular carcinoma. J Surg Res 139:68–76

29.

Shen L, Weber CR, Turner JR (2008) The tight junction protein complex undergoes rapid and continuous molecular remodeling at steady state. J Cell Biol 181:683–695

30.

Steed E, Balda MS, Matter K (2010) Dynamics and functions of tight junctions. Trends Cell Biol 20:142–149

31.

Förster C (2008) Tight junctions and the modulation of barrier function in disease. Histochem Cell Biol 130:55–70

32.

Martin TA, Jiang WG (2009) Loss of tight junction barrier function and its role in cancer metastasis. Biochim Biophys Acta 1788:872–891

33.

Ouban A, Ahmed AA (2010) Claudins in human cancer: a review. Histol Histopathol 25:83–90

34.

Sawada N, Murata M, Kikuchi K, Osanai M, Tobioka H, Kojima T, Chiba H (2003) Tight junctions and human diseases. Med Electron Microsc 36:147–156

35.

Yoon CH, Kim MJ, Park MJ, Park IC, Hwang SG, An S, Choi YH, Yoon G, Lee SJ (2010) Claudin-1 acts through c-Abl-protein kinase Cdelta (PKCdelta) signaling and has a causal role in the acquisition of invasive capacity in human liver cells. J Biol Chem 285:226–233

36.

Kojima T, Murata M, Yamamoto T, Lan M, Imamura M, Son S, Takano K, Yamaguchi H, Ito T, Tanaka S, Chiba H, Hirata K, Sawada N (2009) Tight junction proteins and signal transduction pathways in hepatocytes. Histol Histopathol 24:1463–1472

37.

Rahner C, Mitic LL, Anderson JM (2001) Heterogeneity in expression and Subcellular localization of claudins 2, 3, 4, and 5 in the rat liver, pancreas and gut. Gastroenterology 120:411–422

38.

Ikari A, Atomi K, Takiguchi A, Yamazaki Y, Miwa M, Sugatani J (2009) Epidermal growth factor increases claudin-4 expression mediated by Sp1 elevation in MDCK cells. Biochem Biophys Res Commun 384:306–310

39.

Bello IO, Vilen S-T, Niinimaa A, Kantola S, Soini Y, Salo T (2008) Expression of claudins 1, 4, 5, and 7 and occludin, and relationship with prognosis in squamous cell carcinoma of the tongue. Hum Pathol 39:1212–1220

40.

Dos Reis PP, Bharadwaj RR, Machado J, Macmillan C, Pintilie M, Sukhai MA, Perez-Ordonez B, Gullane P, Irish J, Kamel-Reid S (2008) Claudin 1 overexpression increases invasion and is associated with aggressive histological features in oral squamous cell carcinoma. Cancer 113:3169–3180

41.

Paschoud S, Bongiovanni M, Pache J-C, Citi S (2007) Claudin-1 and claudin-5 expression patterns differentiate lung squamous cell carcinomas from adenocarcinomas. Mod Pathol 20:947–954

42.

Sobel G, Cs P, Szabó I, Kiss A, Kádár A, Schaff Z (2005) Increased expression of claudins in cervical squamous intraepithelial neoplasia and invasive carcinoma. Hum Pathol 36:162–169

43.

Tőkés AM, Kulka J, Paku S, Szik A, Páska C, Novák PK, Szilák L, Kiss A, Bögi K, Schaff Z (2005) Claudin −1, -3 and -4 proteins and mRNA expression in benign and malignant breast lesions: a research study. Breast Cancer Res 7:R296–R305

44.

Szabó I, Kiss A, Zs S, Sobel G (2009) Claudins as diagnostic and prognostic markers in gynecological cancer. Histol Histopathol 24:1607–1615

45.

Resnick MB, Konkin T, Routhier J, Sabo E, Pricolo VE (2005) Claudin-1 is a strong prognostic indicator in stage II colonic cancer: a tissue microarray study. Mod Pathol 18:511–518

46.

Soini Y (2004) Claudins 2, 3, 4, and 5 in Paget's disease and breast carcinoma. Hum Pathol 35:1531–1536

47.

Soini Y (2005) Expression of claudins 1, 2, 3, 4, 5 and 7 in various types of tumours. Histopathology 46:551–560

48.

Van Itallie CM, Holmes J, Bridges A, Anderson JM (2009) Claudin-2-dependent changes in noncharged solute flux are mediated by the extracellular domains and require attachment to the PDZ-scaffold. Ann NY Acad Sci 1165:82–87

49.

Sobel G, Németh J, Kiss A, Lotz G, Szabó I, Udvarhelyi N, Schaff Z, Páska C (2006) Claudin 1 differentiates endometrioid and serous papillary endometrial adenocarcinoma. Gynecol Oncol 103:591–598

50.

Amasheh S, Schmidt T, Mahn M, Florian P, Mankertz J, Tavalali S, Gitter AH, Schulzke JD, Fromm M (2005) Expression of claudin-5 contributes to barrier properties in tight junctions of epithelial cells. Cell Tissue Res 321:89–96

51.

Kojima S, Rahner C, Peng S, Rizzolo LJ (2002) Claudin 5 is transiently expressed during the development of the retinal pigment epithelium. J Membr Biol 186:81–88

52.

Jakab C, Rusvai M, Gálfi P, Mándoki M, Demeter Z, Szabó Z, Kulka J (2009) Expression of claudin-5 in hepatoid gland biopsies. Vet Dermatol 21:276–281

53.

Comper F, Antonello D, Beghelli S, Gobbo S, Montagna L, Pederzoli P, Chilosi M, Scarpa A (2009) Expression pattern of claudins 5 and 7 distinguishes solid-pseudopapillary from pancreatoblastoma, acinar cell and endocrine tumors of the pancreas. Am J Surg Pathol 33:768–774

54.

Burek M, Arias-Loza PA, Roewer N, Förster CY (2010) Claudin-5 as a novel estrogen target in vascular endothelium. Arterioscler Thromb Vasc Biol 30:298–304

55.

Ikenouchi J, Furuse M, Furuse K, Sasaki H, Tsukita S, Tsukita S (2005) Tricellulin constitutes a novel barrier at tricellular contacts of epithelial cells. J Cell Biol 171:939–945

56.

Westphal JK, Dörfel MJ, Krug SM, Cording JD, Piontek J, Blasig IE, Tauber R, Fromm M, Huber O (2010) Tricellulin forms homomeric and heteromeric tight junctional complexes. Cell Mol Life Sci 67:2057–2068

57.

Krug SM, Amasheh S, Richter JF, Milatz S, Günzel D, Westphal JK, Huber O, Schulzke JD, Fromm M (2009) Tricellulin forms a barrier to macromolecules in tricellular tight junctions without affecting ion permeability. Mol Biol 20:3713–3724
Acknowledgments
This work was supported by grants ETT-089/2009 by the Hungarian Ministry of Health and OTKA T 75468 by the Hungarian National Scientific Research Fund.
Conflict of interest
The authors have no financial relationship with the organizations that sponsored the research. The authors declare that they have no conflict of interest.
Additional information
András Kiss and Zsuzsa Schaff equally contributed to this work.
About this article
Cite this article
Patonai, A., Erdélyi-Belle, B., Korompay, A. et al. Claudins and tricellulin in fibrolamellar hepatocellular carcinoma. Virchows Arch 458, 679 (2011). https://doi.org/10.1007/s00428-011-1077-y
Received:

Revised:

Accepted:

Published:
Keywords
Fibrolamellar hepatocellular carcinoma

Tight junction proteins

Claudins

Hepatocellular carcinoma

Cholangiocellular carcinoma

Tricellulin