Abstract
The aim of this study was to investigate murine double minute-2 (MDM2) gene copy number changes in colon carcinoma and to correlate these findings with an immunohistochemical analysis of MDM2 protein expression and histopathologic prognostic indicators of the tumors. The study included 80 cases of sporadic colon carcinomas. MDM2 protein expression was assessed by immunohistochemistry, and MDM2 gene status by fluorescence in situ hybridization. MDM2 gene amplification was detected in 18% of the 80 cases examined. A strong correlation was found between MDM2 gene amplification and the presence, intensity, and staining proportion of cytoplasmic MDM2 protein expression (p = 0.01). No correlation was found between MDM2 gene amplification and the well-established histopathologic prognostic factors. Given the correlation with gene amplification, we clearly demonstrated that cytoplasmic expression of MDM2 protein is true and relevant and that this finding has to be taken into account when immunohistochemistry would be used as a screening for MDM2 gene amplification in the near future. Targeting MDM2 could be a new approach in colon cancer therapy. The amplification status could be a predictive factor of the response to MDM2-targeted therapy.
This is a preview of subscription content, log in to check access.
Access options
Buy single article
Instant access to the full article PDF.
US$ 39.95
Price includes VAT for USA
Subscribe to journal
Immediate online access to all issues from 2019. Subscription will auto renew annually.
US$ 199
This is the net price. Taxes to be calculated in checkout.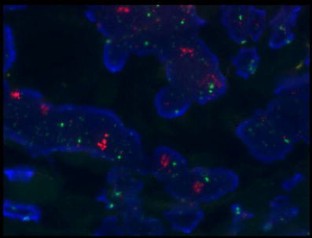 References
1.

Farnebo M, Bykov VJ, Wiman KG (2010) The p53 tumor suppressor: a master regulator of diverse cellular processes and therapeutic target in cancer. Biochem Biophys Res Commun 396(1):85–89

2.

Ventura A, Kirsch DG, McLaughlin ME et al (2007) Restoration of p53 function leads to tumour regression in vivo. Nature 445:661–665

3.

Qian Y, Chen X (2010) Tumor suppression by p53: making cells senescent. Histol Histopathol 25(4):515–526

4.

Zuckerman V, Wolyniec K, Sionov RV, Haupt S, Haupt Y (2009) Tumour suppression by p53: the importance of apoptosis and cellular senescence. J Pathol 219(1):3–15

5.

Momand J, Jung D, Wilczynski S, Niland J (1998) The MDM2 gene amplification database. Nucleic Acids Res 26(15):3453–3459

6.

Forslund A, Zeng Z, Qin Li-Xuan et al (2008) MDM2 gene amplification is correlated to tumor progression but not to the presence of SNP309 or TP53 mutational status in primary colorectal cancers. Mol Cancer Res 6(2):205–211

7.

Spiessl B, Beahrs OH, Hermanek P et al (1992) UICC—TNM atlas. 3rd ed. 2nd Rev. Springer-Verlag, Berlin

8.

Haupt Y, Maya R, Kazaz A, Aron M (1997) MDM2 promotes the rapid degradation of p53. Nature 387:296–299

9.

Honda R, Tanaka H, Yasuda H (1997) Oncoprotein MDM2 is a ubiquitin ligase E3 for tumour suppressor p53. FEBS Lett 420:25–27

10.

Oliner JD, Pictonpol JA, Thiagalingam S, Gyeris J, Kinzler KW, Vogelstein B (1993) Oncoprotein MDM2 conceals the activation domain of tumour suppressor p53. Nature 362(6423):857–860

11.

Jones SN, Roe AE, Donehower LA, Bradley A (1995) Rescue of embryonic lethality in MDM2-deficient mice by absence of p53. Nature 378:206–208

12.

de Oca M, Luna R, Wagner DS, Lozano G (1995) Rescue of early embryonic lethality in MDM2-deficient mice by deletion of p53. Nature 378:203–206

13.

Bond GL, Hu W, Bond EE et al (2004) A single nucleotide polymorphism in the MDM2 promoter attenuates the p53 tumor suppressor pathway and accelerates tumor formation in humans. Cell 119(5):591–602

14.

Grochola LF, Müller TH, Bond GL et al (2010) MDM2 SNP309 associates with accelerated pancreatic adenocarcinoma formation. Pancreas 39(1):76–80

15.

Onel K, Cordon-Cardo C (2004) MDM2 and prognosis. Mol Cancer Res 2(1):1–8

16.

Weaver J, Downs-Kelly E, Goldblum JR et al (2008) Fluorescence in situ hybridization for MDM2 gene amplification as a diagnostic tool in lipomatous neoplasms. Mod Pathololgy 21(8):943–949

17.

Schiebe M, Ohneseit P, Hoffmann W, Meyermann R, Rodemann HP, Bamberg M (2000) Analysis of MDM2 and p53 gene alterations in glioblastomas and its correlation with clinical factors. J Neurooncol 49:197–203

18.

Vanden Bempt I, Van Loo P, Drijkoningen M et al (2008) Polysomy 17 in breast cancer: clinicopathologic significance and impact on HER-2 testing. J Clin Oncol 26(30):4869–4874

19.

Vassilev LT (2007) MDM2 inhibitors for cancer therapy. Trens Mol Med 13:23–31

20.

Vassilev LT, Vu BT, Graves B et al (2004) In vivo activation of the p53 pathway by the small molecule antagonists of MDM2. Science 303:844–848

21.

Shangary S, Qin D, McEachern D et al (2008) Temporal activation of p53 by a specific MDM2 inhibitor is selectively toxic to tumors and leads to complete tumor growth inhibition. Proc Natl Acad Sci 105(10):3933–3938

22.

Shangary S, Wang S (2009) Small-molecule inhibitors of the MDM2-p53 protein-protein interaction to reactivate p53 function: a novel approach for cancer therapy. Annu Rev Pharmacol Toxicol 49:223–241

23.

Dickens MP, Fitzgerald R, Fischer PM (2010) Small-molecule inhibitors of MDM2 as new anticancer therapeutics. Semin Cancer Biol 20:10–18

24.

Azmi AS, Aboukameel A, Banerjee S et al (2010) MDM2 inhibitor MI-319 in combination with cisplatin is an effective treatment for pancreatic cancer independent of p53 function. Eur J Cancer 46(6):1122–1131

25.

Azmi AS, Philip PA, Aboukameel A et al (2010) Reactivation of p53 by novel MDM2 inhibitors: implications for pancreatic cancer therapy. Curr Cancer Drug Targets 10(3):319–331

26.

Tovar C, Rosinski J, Filipovic Z et al (2006) Small-molecule MDM2 antagonists reveal aberrant p53 signaling in cancer: implications for therapy. Proc Natl Acad Sci USA 103:1888–1893

27.

Bond GL, Menin C, Bertorelle R, Alhopuro P, Aaltonen LA, Levine AJ (2006) MDM2 SNP309 accelerates colorectal tumour formation in women. J Med Genet 43:950–952

28.

Bond GL, Hirshfield KM, Kirchhoff T et al (2006) MDM2 SNP309 accelerates tumor formation in a gender-specific and hormone-dependent manner. Cancer Res 66:5104–5110

29.

Ohtsubo C, Shiokawa D, Kodama M et al (2009) Cytoplasmic tethering is involved in synergistic inhibition of p53 by MDMX and MDM2. Cancer Sci 100(7):1291–1299

30.

Broll R, Stark A, Windhovel U et al (1999) Expression of p53 and mdm2 mRNA and protein in colorectal carcinomas. Eur J Cancer 35(7):1083–1088

31.

Lam KY, Lo CY, Wat NMS, Luk JM, Lam KSL (2001) The clinicopathological features and importance of p53, Rb, and mdm2 expression in phaeochromocytomas and paragangliomas. J Clin Pathol 54:443–448

32.

Hori1 M, Shimazaki1 J, Inagawa1 S et al (2002) Overexpression of MDM2 oncoprotein correlates with possession of estrogen receptor alpha and lack of MDM2 mRNA splice variants in human breast cancer. Breast Cancer Res Treat 71:77–84

33.

Hao X-P, Günther T, Roessner A, Price AB, Talbot IC (1998) Expression of mdm2 and p53 in epithelial neoplasms of the colorectum. J Clin Pathol Mol Pathol 51:26–29
Acknowledgement
The authors would like to thank Prof. Nadine Van Roy, Bart Matthys, Isabelle Rottiers, Anne Nuyts, Lyda Kea, and Horiyah Hilal Al-Azri for their technical assistance.
Disclosure/conflict of interest
None of the authors has conflict of interests to declare.
About this article
Cite this article
Hav, M., Libbrecht, L., Ferdinande, L. et al. MDM2 gene amplification and protein expressions in colon carcinoma: is targeting MDM2 a new therapeutic option?. Virchows Arch 458, 197–203 (2011). https://doi.org/10.1007/s00428-010-1012-7
Received:

Revised:

Accepted:

Published:

Issue Date:
Keywords
MDM2

MDM2 protein expression

MDM2 gene amplification

MDM2 in colon carcinoma

Colon carcinoma

Targeted treatment in colon carcinoma