Abstract
To elucidate poorly understood pancreatic neural changes after upper abdominal surgery (UAS), we histologically examined 57 postmortem pancreases after gastrectomy, esophagectomy, and esophageal transection, and also investigated each clinical manifestation. Six pancreases (10.5%) had unique histopathological lesions composed of prominently thickened and/or proliferated neural fascicles. They focally or multifocally involved the pancreatic lobules and/or interlobular septa and mimicked traumatic neuroma. Three of the six lesions were accompanied by moderate to severe chronic pancreatitis/pancreatic fibrosis. All six patients were asymptomatic, although only one exhibited a low-echoic pancreatic mass. There were no statistically significant associations between the pancreatic neural lesions and the patients' sex, age, the time interval between the surgery and the patients' death, impaired glucose tolerance, the presence of hyalinized pancreatic islets, or the presence of moderate to severe chronic pancreatitis/pancreatic fibrosis. No similar prominent neural lesions were identified in an additional 57 age- and sex-matched control pancreases. We concluded that these prominent neural lesions were pancreatic neuroma-like lesions following UAS. This study failed to demonstrate the distinct pathogenesis of the neuroma-like lesions and further investigation may be needed. However, this report is the first to delineate that asymptomatic neuroma-like lesions can occur following UAS. Consideration of this possible development would be useful for accurate follow-up of patients who undergo UAS, although its occurrence may be infrequent.
This is a preview of subscription content, log in to check access.
Access options
Buy single article
Instant access to the full article PDF.
US$ 39.95
Price includes VAT for USA
Subscribe to journal
Immediate online access to all issues from 2019. Subscription will auto renew annually.
US$ 199
This is the net price. Taxes to be calculated in checkout.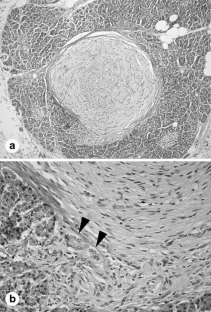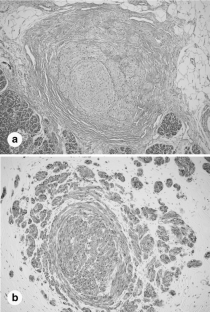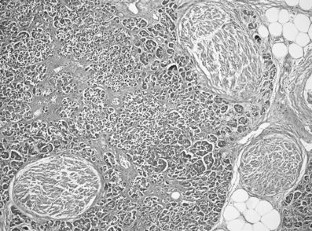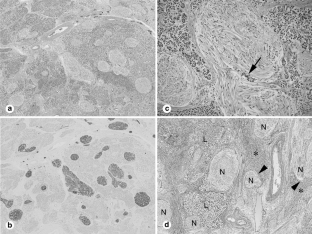 References
1.

Owen DA, Kelly JK (2001) Pathology of the gallbladder, biliary tract and pancreas. In: Livolsi VA (ed) Major problems in pathology, vol 39. Saunders, Philadelphia, pp 1–13, 63–101, 154–187

2.

Klimstra DS, Hruban RH, Pitman MB (2007) Pancreas. In: Mills SE (ed) Histology for pathologists, 3rd edn. Lippincott Williams & Wilkins, Philadelphia, pp 325–333, 723–760

3.

Hruban RH, Pitman MB, Klimstra DS (2007) Tumors of the pancreas. In: Silverberg SG, Sobin LH (eds) AFIP atlas of tumor pathology, 4th series, Fascicle 6. American Registry of Pathology, Washington, pp 1–22, 305–324

4.

Suzuki S, Kaji S, Koike N et al (2010) Pancreatic schwannoma: a case report and literature review with special reference to imaging features. JOP J Pancreas (Online) 11:31–35

5.

Bui TD, Nguyen T, Huerta S, Gu M, Hsiang D Pancreatic schwannoma. A case report and review of the literature. JOP J Pancreas (Online) 5:520–526

6.

Bockman DE, Buchler M, Malfertheiner P, Beger HG (1988) Analysis of nerves in chronic pancreatitis. Gastroenterology 94:1459–1469

7.

Suda K, Takei K, Suzuki F, Kamano T, Yamane T (1997) Histopathologic study of islets of Langerhans in patients after gastrectomy. J Clin Gastroenterol 25:546–549

8.

Itoh H, Takei K (2000) Immunohistochemical and statistical studies on the islets of Langerhans pancreas in autopsied patients after gastrectomy. Hum Pathol 31:1368–1376

9.

Burger PC, Scheithauer BW, Vogel FS (2002) Peripheral nervous system. In: Burger PC, Scheithauer BW, Vogel FS (eds) Surgical pathology of the nervous system and its coverings, 4th edn. Churchill Livingstone, New York, pp 579–648

10.

Fujino Y, Satoh Y (1991) A case report of amputation neuroma of the common bile duct occurred two months after cholecystectomy. Jpn J Gastroenterol Surg 24:2437–2441

11.

Nagata Y, Tomioka T, Chiba K, Kanematsu T (1995) Traumatic neuroma of the common hepatic duct after laparoscopic cholecystectomy. Am J Gastroenterol 90:1887–1888

12.

Geddy PM, Venables CW (1991) Traumatic neuroma at the tail of the pancreas following splenectomy. Postgrad Med J 67:90–91

13.

Kim JW, Choi G, Hwang JE, Kang SK, Han DJ, Jang SJ (2006) Traumatic neuroma in the pancreas head following excision of pseudocyst: a brief case report. Korean J Pathol 40:385–388

14.

Elhag AM, Al Awadi NZ (1992) Amputation neuroma of the gallbladder. Histopathology 21:586–587

15.

Chandrasoma P, Wheeler D, Radin DR (1985) Traumatic neuroma of the intestine. Gastrointest Radiol 10:161–162

16.

Gillesby WJ, Wu KH (1965) Amputation neuromas of vagus nerves. Am J Surg 110:673–676

17.

Kwon JH, Ryu SW, Kang YN (2007) Traumatic neuroma around the celiac trunk after gastrectomy mimicking a nodal metastasis: a case report. Korean J Radiol 8:242–245

18.

Friess H, Shrikhande S, Shrikhande M et al (2002) Neural alterations in surgical stage chronic pancreatitis are independent of the underlying aetiology. Gut 50:682–686

19.

Ceyhan GO, Bergmann F, Kadihasanoglu M et al (2009) Pancreatic neuropathy and neuropathic pain—a comprehensive pathomorphological study of 546 cases. Gastroenterology 136:177–186

20.

Ceyhan GO, Demir IE, Rauch U et al (2009) Pancreatic neuropathy results in "neural remodeling" and altered pancreatic innervation in chronic pancreatitis and pancreatic cancer. Am J Gastroenterol 104:1555–1565

21.

Murphey MD, Smith WS, Smith SE, Kransdorf MJ, Temple HT (1999) From the archives of the AFIP. Imaging of musculoskeletal neurogenic tumors: radiologic–pathologic correlation. Radiographics 19:1523–1580

22.

Tascilar M, van Rees BP, Sturm PDJ et al (2002) Pancreatic cancer after remote peptic ulcer surgery. J Clin Pathol 55:340–345
Acknowledgements
The authors thank Hiroaki Yamaguchi, Takeshi Okada, and Naoya Shin-mura for excellent technical assistance, and Daniel Mrozek for editing the manuscript.
Conflict of interest statement
We declare that we have no conflict of interest.
About this article
Cite this article
Matsukuma, S., Sato, K. Pancreatic neuroma-like lesions after upper abdominal surgery: a clinicopathological postmortem study. Virchows Arch 457, 651–657 (2010). https://doi.org/10.1007/s00428-010-0999-0
Received:

Accepted:

Published:

Issue Date:
Keywords
Neuroma

Traumatic neuroma

Pancreas

Gastrectomy