Abstract
Pancreatic ductal adenocarcinoma (PDCA) is characterized by well-defined tubular units in the vast majority of the cases; however, variations in this theme do occur. It is important to recognize the morphologic spectrum of PDCA to avoid misdiagnosis especially in small specimens and also in metastatic foci. Here, we document a morphologic variant of PDCA that is characterized by a distinctive pattern of infiltrating cribriform nests in a distinctive "microcystic" or "secretory" pattern. Twenty-four cases of PDCA have been identified in a review of 505 cases diagnosed with PDCA. Histologically, this pattern was characterized by infiltrating nests of tumor cells with large vacuoles and "signet-ring" like appearance imparting a cribriform growth pattern. The vacuoles were one to five cells in size, often merging to form multilocular spaces separated by a thin rim of cell membrane. Many of these spaces contained CA19.9 positive granular secretory material. The nuclei were often pushed to the periphery and compressed in a pattern resembling adipocytes, although the nuclei were often densely hyperchromatic and displayed significant atypia. Especially in biopsies from the peripancreatic fat and peritoneum, these neoplastic cells had been misdiagnosed as degenerating adipocytes, and in the lymph nodes, they had been misinterpreted as lipogranulomas. Clinical findings of the patients were similar to that of conventional PDCA, except higher incidence of history of smoking (83% vs. 60%; p = 0.034). In conclusion, vacuolated cell adenocarcinoma is a distinct morphologic variant of PDCA, and the presence of this peculiar pattern in a metastatic site, although not specific, should raise the suspicion of a PDCA.
This is a preview of subscription content, log in to check access.
Access options
Buy single article
Instant access to the full article PDF.
US$ 39.95
Price includes VAT for USA
Subscribe to journal
Immediate online access to all issues from 2019. Subscription will auto renew annually.
US$ 199
This is the net price. Taxes to be calculated in checkout.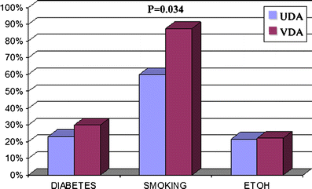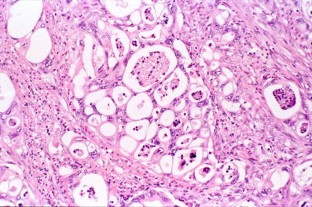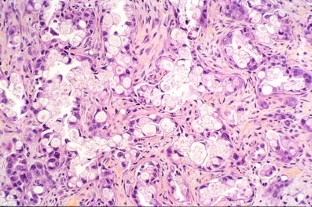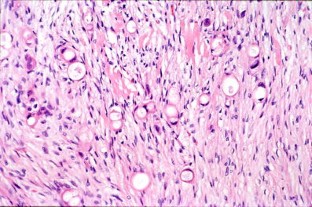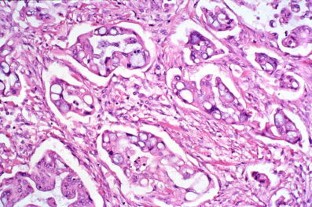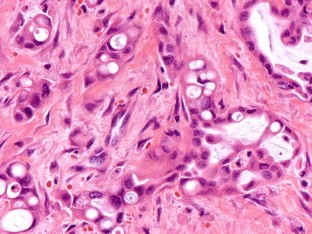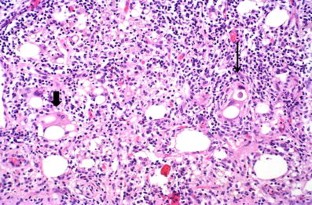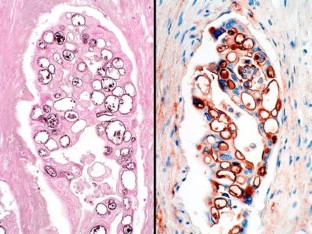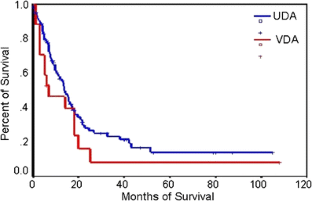 References
1.

Adsay N, Bandyopadhyay S, Basturk O, Kilinc N, Andea A, Cheng J (2005) Chronic pancreatitis or pancreatic ductal adenocarcinoma? Histopathologic criteria for the differential diagnosis. Semin Diagn Pathol 21(4):268–276

2.

Adsay N, Basturk O, Klimstra D, Klöppel G (2005) Pancreatic pseudotumors: non-neoplastic solid lesions of the pancreas that clinically mimic pancreas cancer. Semin Diagn Pathol 21(4):260–267

3.

Cubilla A, Fitzgerald PJ (1978) Pancreas cancer. I. Duct adenocarcinoma. A clinical-pathologic study of 380 patients. Pathol Annu 13:241–289

4.

Hruban RH, Pitman MB, Klimstra DS (2007) Tumors of the pancreas. ARP, Washington

5.

Sari A, Uyaroglu MA, Ermete M, Oder M, Girgin C, Dincer C (2007) Microcystic urothelial carcinoma of the urinary bladder metastatic to the penis. Pathol Oncol Res 13(2):170–173

6.

Delahunt B, Eble JN, Nacey JN, Thornton A (2001) Immunohistochemical evidence for mesothelial origin of paratesticular adenomatoid tumour. Histopathology 38(5):479

7.

Young RH (2008) Testicular tumors—some new and a few perennial problems. Arch Pathol Lab Med 132(4):548–564

8.

Umezu H, Kuwata K, Ebe Y, Yamamoto T, Naito M, Yamato Y et al (2002) Microcystic variant of localized malignant mesothelioma accompanying an adenomatoid tumor-like lesion. Pathol Int 52(5–6):416–422

9.

Kuchna I, Matyja E, Wierzba-Bobrowicz T, Mazurowski W (1994) Microcystic meningioma—a rarely occurring morphological variant of meningioma. Folia Neuropathol 32(4):259–263

10.

Skalova A, Vanecek T, Sima R, Laco J, Weinreb I, Perez-Ordonez B et al (2010) Mammary analogue secretory carcinoma of salivary glands, containing the ETV6-NTRK3 fusion gene: a hitherto undescribed salivary gland tumor entity. Am J Surg Pathol 34(5):599–608

11.

Ghannoum JE, Freedman PD (2004) Signet-ring cell (mucin-producing) adenocarcinomas of minor salivary glands. Am J Surg Pathol 28(1):89–93

12.

Che M, Tornos C, Deavers MT, Malpica A, Gershenson DM, Silva EG (2001) Ovarian mixed-epithelial carcinomas with a microcystic pattern and signet-ring cells. Int J Gynecol Pathol 20(4):323–328

13.

Young RH, Hart WR (1989) Metastases from carcinomas of the pancreas simulating primary mucinous tumors of the ovary. A report of seven cases. Am J Surg Pathol 13(9):748–756

14.

Prat J (2005) Ovarian carcinomas, including secondary tumors: diagnostically challenging areas. Mod Pathol 18 Suppl 2:S99–S111

15.

Seidman JD, Kurman RJ, Ronnett BM (2003) Primary and metastatic mucinous adenocarcinomas in the ovaries: incidence in routine practice with a new approach to improve intraoperative diagnosis. Am J Surg Pathol 27(7):985–993

16.

Adsay NV, Andea A, Basturk O, Kilinc N, Nassar H, Cheng JD (2004) Secondary tumors of the pancreas: an analysis of a surgical and autopsy database and review of the literature. Virchows Arch 444(6):527–535

17.

Young RH, Zukerberg LR (1991) Microcystic transitional cell carcinomas of the urinary bladder. A report of four cases. Am J Clin Pathol 96(5):635–639

18.

Leroy X, Leteurtre E, De La Taille A, Augusto D, Biserte J, Gosselin B (2002) Microcystic transitional cell carcinoma: a report of 2 cases arising in the renal pelvis. Arch Pathol Lab Med 126(7):859–861

19.

Lopez-Beltran A, Sauter G, Gasser T (2004) Infiltrating urothelial carcinoma. IARC, Lyon

20.

Soylu A, Aydin NE, Yilmaz U, Kutlu R, Gunes A (2005) Urothelial carcinoma featuring lipid cell and plasmacytoid morphology with poor prognostic outcome. Urology 65(4):797

21.

Leroy X, Gonzalez S, Zini L, Aubert S (2007) Lipoid-cell variant of urothelial carcinoma: a clinicopathologic and immunohistochemical study of five cases. Am J Surg Pathol 31(5):770–773

22.

Lopez-Beltran A, Amin MB, Oliveira PS, Montironi R, Algaba F, McKenney JK et al (2010) Urothelial carcinoma of the bladder, lipid cell variant: clinicopathologic findings and LOH analysis. Am J Surg Pathol 34(3):371–376

23.

Paris C, Clement-Duchene C, Vignaud JM, Gislard A, Stoufflet A, Bertrand O et al (2010) Relationships between lung adenocarcinoma and gender, age, smoking and occupational risk factors: a case–case study. Lung Cancer 68(2):146–153

24.

Mountzios G, Fouret P, Soria JC (2008) Mechanisms of disease: signal transduction in lung carcinogenesis—a comparison of smokers and never-smokers. Nat Clin Pract Oncol 5(10):610–618

25.

Borras J, Borras JM, Galceran J, Sanchez V, Moreno V, Gonzalez JR (2001) Trends in smoking-related cancer incidence in Tarragona, Spain, 1980–96. Cancer Causes Control 12(10):903–908

26.

Porta M, Crous-Bou M, Wark PA, Vineis P, Real FX, Malats N et al (2009) Cigarette smoking and K-ras mutations in pancreas, lung and colorectal adenocarcinomas: etiopathogenic similarities, differences and paradoxes. Mutat Res 682(2–3):83–93

27.

Tavassoli FA, Norris HJ (1980) Secretory carcinoma of the breast. Cancer 45(9):2404–2413
Acknowledgement
This study is supported in part by the National Cancer Institute Specialized Program in Research Excellence (SPORE) CA101936 in Pancreas Cancer (PAR-02-068) and in part by the Georgia Cancer Coalition Distinguished Cancer Clinicians and Scientists Program.
Conflict of interest
The authors have no conflict of interest.
Additional information
This study was presented in part at the annual meeting of the United States and Canadian Academy of Pathology in Atlanta, GA in 2000.
About this article
Cite this article
Dursun, N., Feng, J., Basturk, O. et al. Vacuolated cell pattern of pancreatobiliary adenocarcinoma: a clinicopathological analysis of 24 cases of a poorly recognized distinctive morphologic variant important in the differential diagnosis. Virchows Arch 457, 643–649 (2010). https://doi.org/10.1007/s00428-010-0978-5
Received:

Revised:

Accepted:

Published:

Issue Date:
Keywords
Pancreas

Pancreatobiliary

Ductal

Adenocarcinoma

Vacuolated

Lipoid

Signet ring

Cribriform