Abstract
Decoration of the nuclear membrane by emerin staining enhances detection of nuclear irregularities typical of papillary thyroid carcinoma (PTC). Our study aims to verify whether staining with emerin is a helpful diagnostic marker in fine-needle aspiration (FNA) cytology. We first designed a prospective study on smears, Thin Prep, and cell block specimens to prove the feasibility of the procedure; subsequently, we designed a retrospective study of 78 FNA cell blocks from cases that, after surgery, turned out to be either benign (34 cases) or malignant lesions (44, of which 31 PTC). From each sample, we obtained two slides, one stained with hematoxylin and eosin (H&E) and the other with emerin. In cases classified as Thy3, HBME-1 and galectin 3 (Gal3) stains had also been performed. Two blinded observers made the judgment concerning Thy categories (as proposed by the British Thyroid Association), first on H&E, then on emerin, HBME-1, and Gal3 stained slides. On cytological preparation, emerin staining represents an effective tool for the detection of nuclear irregularities, allowing for the identification of cases of PTC. In Thy3 cases, emerin staining's sensitivity and specificity (64% and 96%) proved higher than HBME-1's (60% and 88%) and Gal3's (61% and 68%). In conclusion, the immunohistochemical definition of the nuclear membrane, as determined by emerin stain, is a useful tool in the cytological diagnosis of thyroid lesions and can help to solve inconclusive cases by highlighting nuclear irregularities typical of PTC.
This is a preview of subscription content, log in to check access.
Access options
Buy single article
Instant access to the full article PDF.
US$ 39.95
Price includes VAT for USA
Subscribe to journal
Immediate online access to all issues from 2019. Subscription will auto renew annually.
US$ 199
This is the net price. Taxes to be calculated in checkout.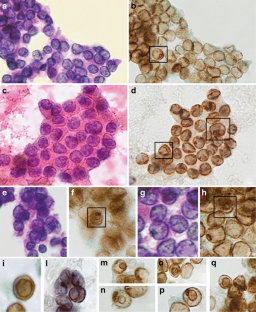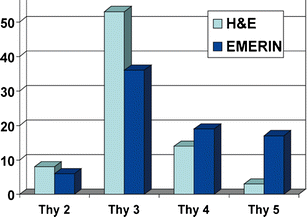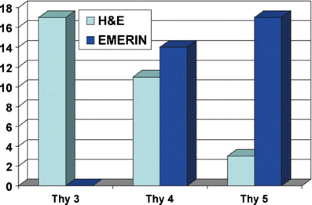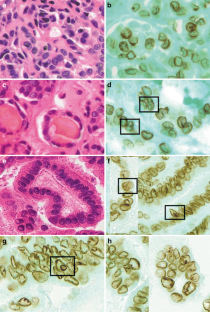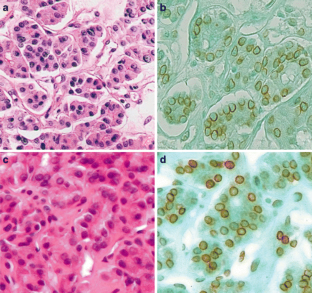 References
1.

Asioli S, Bussolati G (2009) Emerin immunohistochemistry reveals diagnostic features of nuclear membrane arrangement in thyroid lesions. Histopathology 54:571–579

2.

Baloch ZW, LiVolsi VA (2002) The quest for a magic tumor marker: continuing saga in the diagnosis of the follicular lesions of thyroid. Am J Clin Pathol 118:165–166

3.

Slosar M, Vohra P, Prasad M, Fisher A, Quinlan R, Khan A (2009) Insulin-like growth factor mRNA binding protein 3 (IMP3) is differentially expressed in benign and malignant follicular patterned thyroid tumors. Endocr Pathol 20:149–157

4.

Kawachi K, Matsushita Y, Yonezawa S et al (2000) Galectin-3 expression in various thyroid neoplasms and its possible role in metastasis formation. Hum Pathol 31:428–433

5.

Cheung CC, Ezzat S, Freeman JL, Rosen IB, Asa SL (2001) Immunohistochemical diagnosis of papillary thyroid carcinoma. Mod Pathol 14:338–342

6.

Asa SL (2005) The role of immunohistochemical markers in the diagnosis of follicular-patterned lesions of the thyroid. Endocr Pathol 16:295–309

7.

Papotti M, Rodriguez J, De Pompa R, Bartolazzi A, Rosai J (2005) Galectin-3 and HBME-1 expression in well-differentiated thyroid tumors with follicular architecture of uncertain malignant potential. Mod Pathol 18:541–46

8.

Bartolazzi A, Orlandi F, Saggiorato E et al (2008) Galectin-3-expression analysis in the surgical selection of follicular thyroid nodules with indeterminate fine-needle aspiration cytology: a prospective multicentre study. Lancet 9:543–549

9.

Saggiorato E, De Pompa R, Volante M et al (2005) Characterization of thyroid "follicular neoplasms" in fine-needle aspiration cytological specimens using a panel of immunohistochemical markers: a proposal for clinical application. Endocr Relat Cancer 12:305–317

10.

British Thyroid Association, Royal College of Physicians (2007) Fine needle aspiration cytology. In: Perros P (ed) Guidelines for the management of thyroid cancer. Report of the Thyroid Cancer Guidelines Update Group, 2nd edn. Royal College of Physicians, London, pp 9–10

11.

Fadda G, Rossi ED, Raffaelli M et al (2006) Fine-needle aspiration biopsy of thyroid lesions processed by thin-layer cytology: one-year institutional experience with histologic correlation. Thyroid 16:975–981

12.

Rosai J, Carcangiu ML, DeLellis RA (1992) Tumors of the thyroid gland. Armed Forces Institute of Pathology, Washington

13.

Kini SR (1996) Thyroid. In: Guides to Clinical Aspiration Biopsy, 2nd edn. Igaku-Shoin, New York, pp 521

14.

Baloch ZW, Sack MJ, Yu GH, LiVolsi VA, Gupta PK (1998) Fine-needle aspiration of thyroid: an institutional experience. Thyroid 8:565–569

15.

Cooper DS, Doherty GM, Haugen BR et al (2006) The American Thyroid Association Giudelines Taskforce. Management guidelines for patients with thyroid nodules and differentiated thyroid cancer. Thyroid 16:109–142

16.

Volante M, Collini P, Nikiforov YE et al (2007) Poorly differentiated thyroid carcinoma: the Turin proposal for the use of uniform criteria and an algorithmic diagnostic approach. Am J Surg Pathol 31:1256–1264

17.

De Lellis RA, Williams ED (2004) Tumours of the thyroid and parathyroid. In: DeLellis RA, Lloyd RV, Heitz PU, Eng C (eds) Pathology and genetics. Tumours of Endocrine Organs. IARC Press, Lyon, pp 49–77

18.

Gharib H (1994) Fine-needle aspiration biopsy of thyroid nodules: advantages, limitations and effect. Mayo Clin Proc 69:44–49

19.

Williams ED (2000) The Chernobyl Pathologist Group. Guest editorial: two proposals regarding the terminology of thyroid tumors. Int J Surg Pathol 8:181–183

20.

Asioli S, Accinelli G, Pacchioni D, Bussolati G (2008) Diagnosis of biliary tract lesions by histological sectioning of brush bristles as alternative to cytological smearing. Am J Gastroenterol 103:1274–1281

21.

Cohen J (1960) A coefficient for agreement for nominal scales. Education and Psychological Measurement 20:37–46

22.

Fleiss JL (1971) Measuring nominal scale agreement among many raters. Psychol Bull 76:378–382

23.

Baloch ZW, Fleisher S, LiVolsi VA, Gupta PK (2002) Diagnosis of "follicular neoplasm": a gray zone in thyroid fine-needle aspiration cytology. Diagn Cytopathol 26:41–44

24.

Nayar R, Ivanovic M (2009) The indeterminate thyroid fine-needle aspiration: experience from an academic center using terminology similar to that proposed in the 2007 National Cancer Institute Thyroid Fine Needle Aspiration State of the Science Conference. Cancer Cytopathol 117:195–202

25.

Fusco A, Chiappetta G, Hui P et al (2002) Assessment of RET/PTC oncogene activation and clonality in thyroid nodules with incomplete morphological evidence of papillary carcinoma: a search for the early precursors of papillary cancer. Am J Pathol 160:2157–2167

26.

Al-Brahim N, Asa SL (2006) Papillary thyroid carcinoma: an overview. Arch Pathol Lab Med 130:1057–1062

27.

Zhu Z, Gandhi M, Nikiforova MN, Fischer AH, Nikiforov YE (2003) Molecular profile and clinical-pathologic features of the follicular variant of papillary thyroid carcinoma: an unusually high prevalence of ras mutations. Am J Clin Pathol 120:71–77

28.

Chan JK (2002) Strict criteria should be applied in the diagnosis of encapsulated follicular variant of papillary thyroid carcinoma. Am J Clin Pathol 117:16–18

29.

Giorgadze T, Rossi ED, Fadda G, Gupta PK, LiVolsi VA, Baloch Z (2004) Does the fine-needle aspiration diagnosis of "Hürthle-cell neoplasm/follicular neoplasm with oncocytic features" denote increased risk of malignancy? Diagn Cytopathol 31:307–312

30.

Volante M, Bozzalla-Cassione F, DePompa R et al (2004) Galectin-3 and HBME-1 expression in oncocytic cell tumors of the thyroid. Virchows Arch 445:183–188
Acknowledgements
The authors are grateful to Luigi Chiusa, MD (Department of Biomedical Sciences and Human Oncology University of Turin, Italy) for statistical support, to Nicola Palestini, MD (General Surgery 1, San Giovanni Battista Hospital, Turin, Italy), to Marco Gallo, MD (Oncological Endocrinology, San Giovanni Battista Hospital, Turin, Italy) and to Ruth Rossetto, MD (Endocrinology, San Giovanni Battista Hospital, Turin, Italy) for their help in providing clinical and follow-up information.
This study was supported by MIUR (ex-60%, SA); Ricerca Sanitaria Finalizzata Piedmont Region, Italy (SA); Compagnia di San Paolo "Special Project Oncology", Turin, Italy (SA, GB).
Author disclosure statement
No competing financial interests exist.
Additional information
Condensed abstract
Emerin staining is a useful tool in the cytological diagnosis of thyroid lesions. It enhances detection of nuclear irregularities typical of papillary thyroid carcinoma, thus helping to solve inconclusive fine-needle aspiration biopsy cases.
About this article
Cite this article
Asioli, S., Maletta, F., Pacchioni, D. et al. Cytological detection of papillary thyroid carcinomas by nuclear membrane decoration with emerin staining. Virchows Arch 457, 43–51 (2010). https://doi.org/10.1007/s00428-010-0910-z
Received:

Revised:

Accepted:

Published:

Issue Date:
Keywords
Emerin

Thy3

Cytology

Thyroid

HBME-1