Abstract
The occurrence of congenital epididymal malformations with a cystic component has not been fully characterized. Most epididymal cysts occur later in life and are likely acquired. In addition, congenital malformations of the male excretory system are extremely uncommon in fetuses and neonates, and epididymal dysplastic changes have not been reported in these cases. In this study, we report 20 cases (including 19 fetal/neonatal autopsies and one surgical specimen from an older child) showing the same spectrum of histological findings in the epididymis, characterized by cystic ductal dilation with dysplastic ducts of variable diameters and irregular shapes, with ill-defined walls. Efferent ductules also showed dysplastic features. In addition, 18 cases had either renal and/or urinary tract anomalies, including renal dysplasia (eight), pelvicaliceal dilation (eight), renal agenesis (four) and hypoplasia (one), ureteral agenesis (two) and hypoplasia (one), urethra and bladder agenesis (two), prostate agenesis (two), and autosomal recessive polycystic renal disease (two). Our observations led to the recognition of a peculiar, not previously described congenital lesion of the epididymis, and we propose the term cystic dysplasia of the epididymis for this anomaly. Similar to what is observed in other male genital system anomalies (including malformations of the rete testis, vas deferens, and seminal vesicles), most lesions occurred in association with renal and/or urinary tract malformations, suggesting a spectrum of congenital malformations. The shared embryological origin of these structures may explain their simultaneous occurrence, possibly related to disrupted mesonephric duct development.
This is a preview of subscription content, log in to check access.
Access options
Buy single article
Instant access to the full article PDF.
US$ 39.95
Price includes VAT for USA
Subscribe to journal
Immediate online access to all issues from 2019. Subscription will auto renew annually.
US$ 199
This is the net price. Taxes to be calculated in checkout.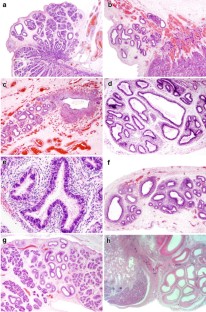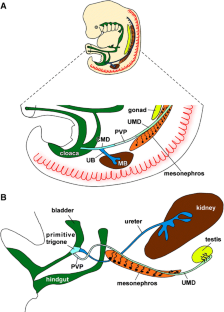 References
1.

Heath AL, Man DWK, Eckstein HB (1984) Epididymal abnormalities associated with maldescent of the testis. J Pediatr Surg 19:47–49

2.

Gill B, Kogan S, Starr S et al (1989) Significance of epididymal and ductal anomalies associated with testicular maldescent. J Urol 142:556–558

3.

Mollaeian M, Mehrabi V, Elahi B (1994) Significance of epididymal and ductal anomalies associated with undescended testis: study in 652 cases. Urology 43:857–860

4.

Vohra S, Morgentaler A (1997) Congenital anomalies of the vas deferens, epididymis, and seminal vesicles. Urology 49:313–321

5.

Kucukaydin M, Ozokutan BH, Turan C et al (1998) Malformation of the epididymis in undescended testis. Pediatr Surg Int 14:189–191

6.

Gill WB, Schumacher GF, Bibbo M et al (1979) Association of diethylstilbestrol exposure in utero with cryptorchidism, testicular hypoplasia and semen abnormalities. J Urol 122:36–39

7.

Whitehead ED, Leiter E (1981) Genital abnormalities and abnormal semen analyses in male patients exposed to diethylstilbestrol in utero. J Urol 125:47–50

8.

Blau H, Freud E, Mussaffi H et al (2002) Urogenital abnormalities in male children with cystic fibrosis. Arch Dis Child 87:135–138

9.

Homayoon K, Suhre CD, Steindhardt GF (2004) Epididymal cysts in children: natural history. J Urol 171:1274–1276

10.

Glasker S, Tran MGB, Shively SB et al (2006) Epididymal cystadenomas and epithelial tumorlets: effects of VHL deficiency on the human epididymis. J Pathol 210:32–41

11.

Mehta GU, Shively SB, Duong H et al (2008) Progression of epididymal maldevelopment into hamartoma-like neoplasia in VHL disease. Neoplasia 10:1146–1153

12.

Van Wingerden JJ, Franz I (1984) The presence of a caput epididymis in congenital absence of the vas deferens. J Urol 131:764–766

13.

Schelegel PN, Shin D, Goldstein M (1996) Urogenital anomalies in men with congenital absence of the vas deferens. J Urol 155:1644–1648

14.

Nistal M, Regadera J, Paniagua R (1984) Cystic dysplasia of the testis: light and electron microscopic study of three cases. Arch Pathol Lab Med 108:579–583

15.

Wojcik LJ, Hansen K, Diamond DA et al (1997) Cystic dysplasia of the rete testis: a benign congenital lesion associated with ipsilateral urological anomalies. J Urol 158:600–604

16.

Van de Ouden D, Blom JH, Bangma C et al (1998) Diagnosis and management of seminal vesicle cysts associated with ipsilateral renal agenesis: a pooled analysis of 52 cases. Eur Urol 33:433–440

17.

Schukfeh N, Kuebler JF, Schirg E et al (2008) Dysplastic kidney and not renal agenesis is the commonly associated anomaly in infants with seminal vesicle cyst. Br J Urol Int 103:816–819

18.

Mickle J, Milunsky A, Amos JA et al (1995) Congenital unilateral absence of the vas deferens: a heterogeneous disorder with two distinct subpopulations based upon the aetiology and mutational status of the cystic fibrosis gene. Hum Reprod 10:1728–1735

19.

Shin D, Gilbert F, Goldstein M et al (1997) Congenital absence of the vas deferens: incomplete penetrance of cystic fibrosis mutations. J Urol 158:1794–1799

20.

Augarten A, Yahav Y, Kerem BS et al (1994) Congenital bilateral absence of vas deferens in the absence of cystic fibrosis. Lancet 344:1473–1474

21.

McCallum TJ, Milunski JM, Munarriz R et al (2001) Unilateral renal agenesis associated with congenital bilateral absence of the vas deferens: phenotypic findings and genetic considerations. Hum Repr 16:282–288

22.

Nistal M, Mate A, Paniagua R (1996) Cystic transformation of the rete testis. Am J Surg Pathol 20:1231–1239

23.

Belet U, Danaci M, Sarikaya S et al (2002) Prevalence of epididymal, seminal vesicle, prostate, and testicular cysts in autosomal dominant polycystic kidney disease. Urology 60:138–141

24.

Engelbrecht K, Bornman MS, Du Plessis DJ (1995) Multicystic epididymis and seminal vesicles in a patient with polycystic kidney disease. Br J Urol 75:554–555

25.

Altiparmak MR, Pamuk ON, Toptas TK et al (2003) Psoriatic arthritis associated with adult polycystic kidney disease, seminal vesicle, and epididymal cysts. Eur J Intern Med 14:265–268

26.

Orhan I, Ergin E, Koksal IT et al (2002) Infertility treatment in autosomal dominant polycystic kidney disease (ADPKD)—a case report. Andrologia 32:91–93

27.

Casey RG, Stunell H, Buckley O et al (2008) A unique radiological pentad of mesonephric duct abnormalities in a young man presenting with testicular swelling. Br J Radiol 81:e93–e96

28.

Leclerc JP, Canet J, Lancret P et al (1971) Polykystose hepato-pancreato-epididymo-renale et polydystrophie thoracique neo-natales. Etude anatomo-clinique d'une observation. Arch Fr Pediatr 28:425–434

29.

Robson WL, Thomason MA, Minette LJ (1998) Cystic dysplasia of the testis associated with multicystic dysplasia of the kidney. Urology 51:477–479

30.

Hannema SE, Hughes IA (2007) Regulation of Wolffian duct development. Horm Res 67:142–151

31.

Joseph A, Yao H, Hinton BT (2009) Development of the Wolffian/epididymal duct, more twists and turns. Dev Biol 325:6–14

32.

Mendelsohn C, Lohnes D, Decimo D et al (1994) Function of retinoic acid receptors (RARs) during development (II). Multiple abnormalities at various stages of organogenesis in RAR double mutants. Development 120:2749–2771

33.

Kato S, Matsubara M, Matsuo T et al (2006) Leucine-rich repeat-containing G protein-coupled receptor-4 (LGR4, Gpr48) is essential for renal development in mice. Nephron Exp Nephrol 104:e63–e75

34.

Hoshii T, Takeo T, Nakagata N et al (2007) LGR4 regulates the postnatal development and integrity of male reproductive tracts in mice. Biol Reprod 76:303–313
Conflicts of Interest Statement
We declare that we have no conflict of interest.
About this article
Cite this article
Nistal, M., González-Peramato, P., Sousa, G. et al. Cystic dysplasia of the epididymis: a disorder of mesonephric differentiation associated with renal maldevelopment. Virchows Arch 456, 695–702 (2010). https://doi.org/10.1007/s00428-010-0906-8
Received:

Revised:

Accepted:

Published:

Issue Date:
Keywords
Epididymis

Kidney

Dysplasia

Cyst

Congenital

Malformation