Abstract
Biliary intraepithelial neoplasia (BilIN), a preneoplastic condition that may precede invasive intrahepatic cholangiocarcinoma (ICC), has been compared to pancreatic intraepithelial neoplasia (PanIN), a precursor lesion of pancreatic carcinoma. Biliary tract carcinoma development and progression is associated with several gene alterations, but BilIN lesions have yet to be studied in detail by molecular techniques. We describe a case of extensive intrahepatic biliary dysplasia, with lesions ranging from BilIN-1 to BilIN-3 lesions, and multifocal microscopic ICC in hepatitis C virus (HCV)- and alcohol-related cirrhosis. The small ICC foci had remained undetected prior to transplantation. Fluorescence in situ hybridization (FISH) analysis was performed on three foci of BilIN-3 lesions and on three microinvasive ICC foci with a combination of three FISH probes directed against genes frequently altered in pancreatic and biliary tract carcinomas. FISH analysis revealed a CDKNA2 heterozygous deletion in one BilIN-3 focus, and in one non-contiguous ICC focus, although the deletion was just above the chosen threshold. No deletions were detected in the genomic regions encoding TP53 and SMAD4. This report documents for the first time the development of multifocal ICC in the setting of extensive biliary dysplasia in a patient with three risk factors, HCV infection, alcohol abuse, and cirrhosis, and suggests heterogeneous carcinogenesis in ICC and possible involvement of the CDKNA2 gene.
This is a preview of subscription content, log in to check access.
Access options
Buy single article
Instant access to the full article PDF.
US$ 39.95
Price includes VAT for USA
Subscribe to journal
Immediate online access to all issues from 2019. Subscription will auto renew annually.
US$ 199
This is the net price. Taxes to be calculated in checkout.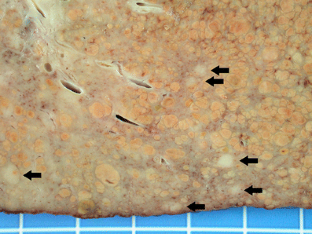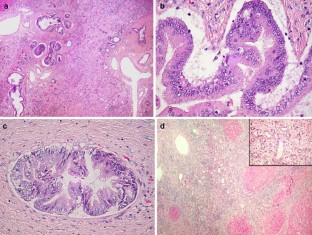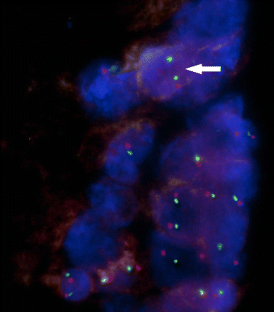 References
1.

Wilentz RE, Iacobuzio-Donahue CA, Argani P et al (2000) Loss of expression of Dpc4 in pancreatic intraepithelial neoplasia: evidence that DPC4 inactivation occurs late in neoplastic progression. Cancer Res 60:2002–2006

2.

Zen Y, Adsay NV, Bardadin K et al (2007) Biliary intraepithelial neoplasia: an international interobserver agreement study and proposal for diagnostic criteria. Mod Pathol 20:701–709

3.

Zen Y, Sasaki M, Fujii T et al (2006) Different expression patterns of mucin core proteins and cytokeratins during intrahepatic cholangiocarcinogenesis from biliary intraepithelial neoplasia and intraductal papillary neoplasm of the bile duct—an immunohistochemical study of 110 cases of hepatolithiasi. J Hepatol 44:350–358

4.

Itatsu K, Zen Y, Ohira S et al (2007) Immunohistochemical analysis of the progression of flat and papillary preneoplastic lesions in intrahepatic cholangiocarcinogenesis in hepatolithiasis. Liver Int 27:1174–1184

5.

Nakanuma Y, Harada K, Ishikawa A et al (2003) Anatomic and molecular pathology of intrahepatic cholangiocarcinoma. J Hepatobiliary Pancreat Surg 10:265–281

6.

Shimonishi T, Sasaki M, Nakanuma Y (2000) Precancerous lesions of intrahepatic cholangiocarcinoma. J Hepatobiliary Pancreat Surg 7:542–550

7.

Bergquist A, Glaumann H, Stal P et al (2001) Biliary dysplasia, cell proliferation and nuclear DNA-fragmentation in primary sclerosing cholangitis with and without cholangiocarcinoma. J Intern Med 249:69–75

8.

Ludwig J, Wahlstrom HE, Batts KP et al (1992) Papillary bile duct dysplasia in primary sclerosing cholangitis. Gastroenterology 102:2134–2138

9.

Martins EB, Fleming KA, Garrido MC et al (1994) Superficial thrombophlebitis, dysplasia, and cholangiocarcinoma in primary sclerosing cholangitis. Gastroenterology 107:537–542

10.

Fleming KA, Boberg KM, Glaumann H et al (2001) Biliary dysplasia as a marker of cholangiocarcinoma in primary sclerosing cholangitis. J Hepatol 34:360–365

11.

Kobayashi M, Ikeda K, Saitoh S et al (2000) Incidence of primary cholangiocellular carcinoma of the liver in Japanese patients with hepatitis C virus-related cirrhosis. Cancer 88:2471–2477

12.

Torbenson M, Yeh MM, Abraham SC (2007) Bile duct dysplasia in the setting of chronic hepatitis C and alcohol cirrhosis. Am J Surg Pathol 31:1410–1413

13.

Aishima S, Nishihara Y, Tsujita E et al (2008) Biliary neoplasia with extensive intraductal spread associated with liver cirrhosis: a hitherto unreported variant of biliary intraepithelial neoplasia. Hum Pathol 39:939–947

14.

Perumal V, Wang J, Thuluvath P et al (2006) Hepatitis C and hepatitis B nucleic acids are present in intrahepatic cholangiocarcinomas from the United States. Hum Pathol 37:1211–1216

15.

Uchida T, Shikata T, Tanaka E et al (1994) Immunoperoxidase staining of hepatitis C virus in formalin-fixed, paraffin-embedded needle liver biopsies. Virchows Arch 424:465–469

16.

El-Serag HB, Engels EA, Landgren O et al (2009) Risk of hepatobiliary and pancreatic cancers after hepatitis C virus infection: a population-based study of U.S. veterans. Hepatology 49:116–123

17.

Rubbia-Brandt L, Brundler MA, Kerl K et al (1999) Primary hepatic diffuse large B-cell lymphoma in a patient with chronic hepatitis C. Am J Surg Pathol 23:1124–1130

18.

Aishima S, Kuroda Y, Nishihara Y et al (2007) Proposal of progression model for intrahepatic cholangiocarcinoma: clinicopathologic differences between hilar type and peripheral type. Am J Surg Pathol 31:1059–1067

19.

Genevay M, Dumonceau JM, Pache JC et al (2010) FISH as a tool to characterize genetic alterations in pancreatic adenocarcinoma. Pancreas (in press)

20.

Mahlamaki EH, Barlund M, Tanner M et al (2002) Frequent amplification of 8q24, 11q, 17q, and 20q-specific genes in pancreatic cancer. Genes Chromosomes Cancer 35:353–358

21.

Schneider G, Schmid RM (2003) Genetic alterations in pancreatic carcinoma. Mol Cancer 2:15

22.

Shiraishi K, Okita K, Harada T et al (2001) Comparative genomic hybridization analysis of genetic aberrations associated with development and progression of biliary tract carcinomas. Cancer 91:570–577

23.

Feldmann G, Beaty R, Hruban RH et al (2007) Molecular genetics of pancreatic intraepithelial neoplasia. J Hepatobiliary Pancreat Surg 14:224–232

24.

Hruban RH, Goggins M, Parsons J et al (2000) Progression model for pancreatic cancer. Clin Cancer Res 6:2969–2972

25.

Luttges J, Galehdari H, Brocker V et al (2001) Allelic loss is often the first hit in the biallelic inactivation of the p53 and DPC4 genes during pancreatic carcinogenesis. Am J Pathol 158:1677–1683

26.

Maitra A, Adsay NV, Argani P et al (2003) Multicomponent analysis of the pancreatic adenocarcinoma progression model using a pancreatic intraepithelial neoplasia tissue microarray. Mod Pathol 16:902–912

27.

Wilentz RE, Geradts J, Maynard R et al (1998) Inactivation of the p16 (INK4A) tumor-suppressor gene in pancreatic duct lesions: loss of intranuclear expression. Cancer Res 58:4740–4744

28.

Anonymous (1994) Intraobserver and interobserver variations in liver biopsy interpretation in patients with chronic hepatitis C. The French METAVIR Cooperative Study Group. Hepatology 20:15–20

29.

Caldas C, Hahn SA, da Costa LT et al (1994) Frequent somatic mutations and homozygous deletions of the p16 (MTS1) gene in pancreatic adenocarcinoma. Nat Genet 8:27–32

30.

Hahn SA, Hoque AT, Moskaluk CA et al (1996) Homozygous deletion map at 18q21.1 in pancreatic cancer. Cancer Res 56:490–494

31.

Hahn SA, Seymour AB, Hoque AT et al (1995) Allelotype of pancreatic adenocarcinoma using xenograft enrichment. Cancer Res 55:4670–4675

32.

Redston MS, Caldas C, Seymour AB et al (1994) p53 mutations in pancreatic carcinoma and evidence of common involvement of homocopolymer tracts in DNA microdeletions. Cancer Res 54:3025–3033

33.

Rozenblum E, Schutte M, Goggins M et al (1997) Tumor-suppressive pathways in pancreatic carcinoma. Cancer Res 57:1731–1734

34.

Ruas M, Peters G (1998) The p16INK4a/CDKN2A tumor suppressor and its relatives. Biochim Biophys Acta 1378:F115–F177

35.

DeHaan RD, Kipp BR, Smyrk TC et al (2007) An assessment of chromosomal alterations detected by fluorescence in situ hybridization and p16 expression in sporadic and primary sclerosing cholangitis-associated cholangiocarcinomas. Hum Pathol 38:491–499

36.

Sirivatanauksorn Y, Sirivatanauksorn V, Bhattacharya S et al (1999) Genomic heterogeneity in synchronous hepatocellular carcinomas. Gut 45:761–765

37.

Nakanishi Y, Zen Y, Kondo S et al (2008) Expression of cell cycle-related molecules in biliary premalignant lesions: biliary intraepithelial neoplasia and biliary intraductal papillary neoplasm. Hum Pathol 39:1153–1161

38.

Soussi T, Beroud C (2001) Assessing TP53 status in human tumours to evaluate clinical outcome. Nat Rev Cancer 1:233–240

39.

Kang YK, Kim WH, Lee HW et al (1999) Mutation of p53 and K-ras, and loss of sheterozygosity of APC in intrahepatic cholangiocarcinoma. Lab Invest 79:477–483
Conflict of interest statement
We declare that we have no conflict of interest.
About this article
Cite this article
Rougemont, A., Genevay, M., McKee, T.A. et al. Extensive biliary intraepithelial neoplasia (BilIN) and multifocal early intrahepatic cholangiocarcinoma in non-biliary cirrhosis. Virchows Arch 456, 711–717 (2010). https://doi.org/10.1007/s00428-010-0899-3
Received:

Revised:

Accepted:

Published:

Issue Date:
Keywords
Biliary dysplasia

Multifocal intrahepatic cholangiocarcinoma

FISH