Abstract
Pleomorphic carcinoma of the breast is considered a rare variant of high-grade ductal NOS carcinoma (NOS-IDC), and the prognosis is poor. However, its clinicopathologic features are not well-characterized. Using the criteria delineated in the World Health Organization breast tumor classification of 2003, ten cases of pleomorphic carcinoma were identified from 9794 NOS-IDC in our archived materials that were originally diagnosed as high-grade infiltrating ductal carcinoma of breast. To investigate the clinicopathologic characteristics and to elucidate the histologic diagnosis and differential diagnosis of this entity, we reviewed the pathology manifestations and clinical features of these cases and examined the tumor expression of ER, PR, PCNA, AE1/AE3, p53, S-100, C-erbB-2, EMA, p63, and Bcl-2 by immunohistochemistry.
This is a preview of subscription content, log in to check access.
Access options
Buy single article
Instant access to the full article PDF.
US$ 39.95
Price includes VAT for USA
Subscribe to journal
Immediate online access to all issues from 2019. Subscription will auto renew annually.
US$ 199
This is the net price. Taxes to be calculated in checkout.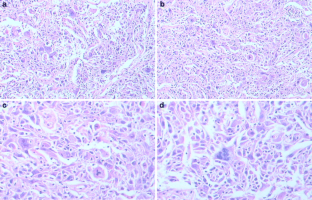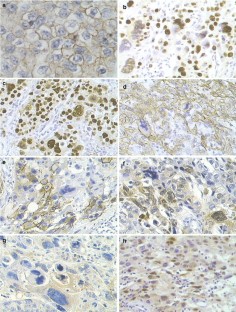 References
1.

Tavassoli FA, Devilee P (2003) Pathology and genetica of tumors of the breast and female genital organs. World Health Organization Classification of Tumors. IARC, Lyon

2.

Douglas-Jones AG, Barr WT (1989) Breast carcinoma with tumor giant cells. Report of a case with fine needle aspiration cytology. Acta Cytol 33:109–114

3.

Gupta RK, Wakefield SJ, Lallu S et al (1992) Aspiration cytodiagnosis of breast carcinoma in pregnancy and lactation with immunohistochemical and electron microscopic study of an unusual mammary malignancy with plomorphic giant cells. Diagn Cytopathol 8:352–356

4.

Gupta RK (1996) Aspiration cytodiagnosis of a rare carcinoma of breast with bizarre malignant giant cells. Diagn Cytopathol 15:66–69

5.

Silver SA, Tavassoli FA (2000) Pleomorphic carcinoma of the breast: clinicopathological analysis of 26 cases of an unusual high-grade phenotype of ductal carcinoma. Histopathology 36:505–514

6.

Kushlinskii NE, Orinovskii MB, Gurevich LE et al (2004) Expression of biomolecular markers (Ki-67, PCNA, Bc1–2, BAX, BclX, VEGF) in breast tumors. Bull Exp Biol Med 137:182–185

7.

Donato R (2001) S100: a multigenic family of calcium-modulated protein of the EF-hand type with intracellular and extracellular functional roles. Int J Biochem Cell Biol 33:637–668

8.

Agrawal AK, Jeleń M, Rudnicki J et al (2008) Molecular markers (c-erbB-2, p53) in breast cancer. Folia Histochem Cytobiol 46:449–455

9.

van der Vegt B, de Roos MA, Peterse JL et al (2007) The expression pattern of MUC1 (EMA) is related to tumour characteristics and clinical outcome of invasive ductal breast carcinoma. Histopathology 51:322–335

10.

Kymionis GD, Dimitrakakis CE, Konstadoulakis MM et al (2001) Can expression of apoptosis genes, bcl-2 and bax, predict survival and responsiveness to chemotherapy in node-negative breast cancer patients? J Surg Res 99:161–168

11.

Tse GM, Tan PH, Chaiwun B et al (2006) p63 is useful in the diagnosis of mammary metaplastic carcinomas. Pathology 38:16–20

12.

Koker MM, Kleer CG (2004) p63 expression in breast cancer: a highly sensitive and specific marker of metaplastic carcinoma. Am J Surg Pathol 28:1506–1512

13.

Eusebi V, Magalhaes F, Azzopardi JG (1992) Pleomorphic lobular carcinoma of the breast: an aggressive tumor showing apocrine differentiation. Hum Pathol 23:655–62

14.

Tavassoli FA, Eusebi V (2009) Tumors of the breast. American Registry of Pathology/AFIP, Washington

15.

Wahed A, Connelly J, Reese T (2002) E-cadherin expression in pleomorphic lobular carcinoma: an aid to differentiation from ductal carcinoma. Ann Diagn Cytopathol 6:349–51
Acknowledgment
We thank Prof. Vincenzo Eusebi, M.D., Director and Professor of Anatomic and Cytopatholofy section of Pathology "M, Malpighi", University of Bologna, Bologna, Italy and Xinmin Zhang, M.D., Department of Pathology and Laboratory Medicine, Temple University Hospital, Philadelphia, USA for their critical review for this manuscript. This study was supported by fundings from Science Foundation of Tianjin Medical University(2006KY24) and National Natural Science Foundation of China (30600225 and 30470667), Program for Changjiang Scholars and Innovative Research Team in University (IRT0743), National "863" Program of China (2006AA02A249), and National "973" Program of China (2009CB521700).
Conflict of interest statement
We declare that we have no conflict of interest.
About this article
Cite this article
Zhao, J., Lang, R., Guo, X. et al. Clinicopathologic characteristics of pleomorphic carcinoma of the breast. Virchows Arch 456, 31–37 (2010). https://doi.org/10.1007/s00428-009-0862-3
Received:

Revised:

Accepted:

Published:

Issue Date:
Keywords
Breast

Carcinoma

Pleomorphic carcinoma

Histological classification

Clinicopathologic feather

Morphology