Abstract
Intrahepatic cholangiocarcinoma is subdivided as mass-forming, periductal-infiltrating, and intraductal-growing types. Intraductal-growing type is an entity described in recent years as mucin-producing intrahepatic cholangiocarcinoma or intrahepatic (biliary) intraductal papillary mucinous neoplasia (b-IPMN). b-IPMN is classified as adenoma, borderline tumor, carcinoma in situ, and carcinoma, from benign to malignant. Using a different classification, b-IPMNs are subdivided into intestinal, pancreatobiliary, gastric, or oncocytic based on morphology of the cells forming the lesion and expression of MUC1, MUC2, and MUC5 gene proteins in the mucin family. The clinical and histopathological features of b-IPMN diagnosed in three cases are presented herein. Case 1 was classified as borderline. Case 2 was diagnosed as carcinoma in situ. Case 3 had large invasive areas, and was diagnosed as carcinoma. In all three cases, immunohistochemical investigation revealed MUC1 and MUC5AC to be positive, and MUC2 to be negative. We present herein three cases diagnosed with the clinical and pathological findings of a new entity in the literature, b-IPMN, and we discuss the macroscopic, histological, and immunohistochemical features.
This is a preview of subscription content, log in to check access.
We're sorry, something doesn't seem to be working properly.
Please try refreshing the page. If that doesn't work, please contact support so we can address the problem.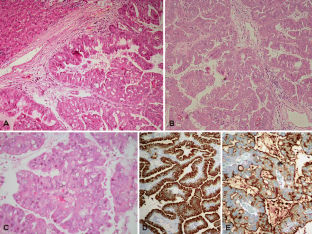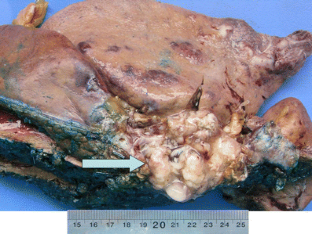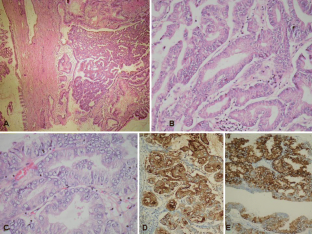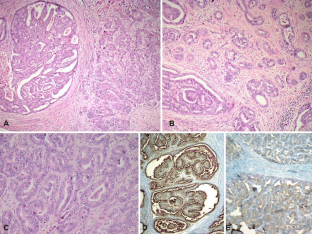 References
1.

Güllüoğlu MG, Ozden I, Poyanlı A et al (2007) Intraductal growth-type mucin-producing peripheral cholangiocarcinoma associated with biliary papillomatosis. Ann Diagn Pathol 11(1):34–38

2.

Ji Y, Fan J, Zhou J et al (2008) Intraductal papillary neoplasms of bile duct. A distinct entity like its counterpart in pancreas. Histol Histopathol 23(1):41–50

3.

Chen TC, Nakanuma Y, Zen Y et al (2001) Intraductal papillary neoplasia of the liver associated with hepatolithiasis. Hepatology 34(4 Pt 1):651–658

4.

Liver Cancer Study Group of Japan (1997) Classification of Primary Liver Cancer. Tokyo: Kanehara-Shuppan 6-7.

5.

Yamamoto M, Takasaki K, Yoshikawa T et al (1998) Does gross appearance indicate prognosis in intrahepatic cholangiocarcinoma? J Surg Oncol 69(3):162–167

6.

Chen MF, Jan YY, Chen TC (1998) Clinical studies of mucin-producing cholangiocellular carcinoma: a study of 22 histopathology-proven cases. Ann Surg 227(1):63–69

7.

Kim YI, Yu ES, Kim ST (1989) Intraductal variant of peripheral cholangiocarcinoma of the liver with Clonorchis sinensis infection. Cancer 63(8):1562–1566

8.

Klöppel G, Kosmahl M (2006) Is the intraductal papillary mucinous neoplasia of the biliary tract a counterpart of pancreatic papillary mucinous neoplasm? J Hepatol 44(2):249–250

9.

Shibahara H, Tamada S, Goto M et al (2004) Pathologic features of mucin-producing bile duct tumors: two histopathologic categories as counterparts of pancreatic intraductal papillary-mucinous neoplasms. Am J Surg Pathol 28(3):327–338

10.

Uchiyama S, Chijiiwa K, Hiyoshi M et al (2007) Mucin-producing bile duct tumor of the caudate lobe protruding into the common hepatic duct. J Gastrointest Surg 11:1570–1572

11.

Furukawa T, Klöppel G, Adsay V et al (2005) Classification of types of intraductal papillary-mucinous neoplasm of the pancreas: a consensus study. Virchows Arch 447(5):794–799

12.

Nakanuma Y, Sripa B, Vatanasapt V et al (2000) Intrahepatic cholangiocarcinoma. In: Hamilton SR, Aaltonen LA (eds) WHO classification of tumors, pathology and genetics, tumours of the digestive system. IARC, Lyon, pp 173–180

13.

Ishikawa A, Sasaki M, Ohira S et al (2004) Aberrant expression of CDX2 is closely related to the intestinal metaplasia and MUC2 expression in intraductal papillary neoplasm of the liver in hepatolithiasis. Lab Invest 84(5):629–638

14.

Zen Y, Fujii T, Itatsu K et al (2006) Biliary cystic tumors with bile duct communication: a cystic variant of intraductal papillary neoplasm of the bile duct. Mod Pathol 19(9):1243–1254

15.

Abraham SC, Lee JH, Hruban RH et al (2003) Molecular and immunohistochemical analysis of intraductal papillary neoplasms of the biliary tract. Hum Pathol 34:902–910

16.

Zen Y, Sasaki M, Fujii T et al (2006) Different expression patterns of mucin core proteins and cytokeratins during intrahepatic cholangiocarcinogenesis from biliary intraepithelial neoplasia and intraductal papillary neoplasm of the bile duct—an immunohistochemical study of 110 cases of hepatolithiasis. J Hepatol 44(2):350–358

17.

Lee SS, Kim M, Lee SK et al (2004) Clinicopathologic review of 58 patients with biliary papillomatosis. Cancer 100:783–793

18.

Zen Y, Fujii T, Itatsu K et al (2006) Biliary papillary tumors share pathological features with intraductal papillary mucinous neoplasm of the pancreas. Hepatology 44(5):1333–1343

19.

Rouzbahman M, Serra S, Adsay NV et al (2007) Oncocytic papillary neoplasms of the biliary tract: a clinicopathological, mucin core and Wnt pathway protein analysis of four cases. Pathology 39(4):413–418

20.

Kim HJ, Kim MH, Lee SK et al (2000) Mucin-hypersecreting bile duct tumor characterized by a striking homology with an intraductal papillary mucinous tumor (IPMT) of the pancreas. Endoscopy 32(5):389–393

21.

Ishida M, Egawa S, Aoki T et al (2007) Characteristic clinicopathological features of the types of intraductal papillary-mucinous neoplasms of the pancreas. Pancreas 35(4):348–352

22.

Nakamura A, Horinouchi M, Goto M et al (2002) New classification of pancreatic intraductal papillary-mucinous tumour by mucin expression: its relationship with potential for malignancy. J Pathol 197:201–210

23.

Yonezawa S, Horinouchi M, Osako M et al (1999) Gene expression of gastric type mucin (MUC5AC) in pancreatic tumors: its relationship with the biological behavior of the tumor. Pathol Int 49:45–54
Conflict of interest statement
We declare that we have no conflict of interest.
About this article
Cite this article
Yaman, B., Nart, D., Yilmaz, F. et al. Biliary intraductal papillary mucinous neoplasia: three case reports. Virchows Arch 454, 589–594 (2009). https://doi.org/10.1007/s00428-009-0767-1
Received:

Revised:

Accepted:

Published:

Issue Date:
Keywords
Papillary neoplasia

Bile ducts

Liver

Mucin

Cholangiocarcinoma