Abstract
Paraffin tissue microarrays (PTMAs) are blocks of paraffin containing up to 1,000 paraffin tissue core biopsies (PTCBs). The growing number of publications in recent years bears eloquent witness to the advantages of these PTMAs in high-throughput molecular profiling of tumor specimens. In order to conserve the often minute quantities of available tumor tissue with precisely recorded follow-up data and to store the greatest possible number of PTCBs in one block, researchers often try to reduce PTCBs to the smallest possible diameter. Until now, the smallest feasible diameter for PTCBs was 0.6 mm. Experiments with diameters below 0.6 mm have failed due to the instability of the paraffin tissue punch. The process described allows the construction of PTMAs with PTCBs only 0.43 mm in diameter utilizing simple, inexpensive, self-made paraffin tissue punches and predrilled recipient blocks.
This is a preview of subscription content, log in to check access.
Access options
Buy single article
Instant access to the full article PDF.
US$ 39.95
Price includes VAT for USA
Subscribe to journal
Immediate online access to all issues from 2019. Subscription will auto renew annually.
US$ 199
This is the net price. Taxes to be calculated in checkout.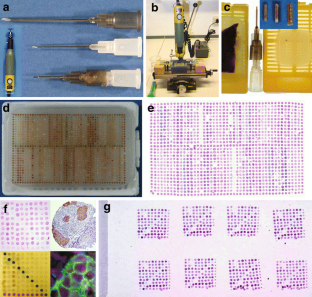 References
1.

Kononen J, Bubendorf L, Kallioniemi A, Bärlund M, Schraml P, Leighton S, Torhorst J, Mihatsch MJ, Sauter G, Kallioniemi O-P (1998) Tissue microarrays for high-throughput molecular profiling of tumor specimens. Nat Med 4:844–847

2.

LeBaron MJ, Crismon HR, Utama FE, Neilson LM, Sultan AS, Johnson KJ, Andersson EC, Rui H (2005) Ultrahigh density microarrays of solid samples. Nat Methods 2:511–513

3.

Mengel M, Kreipe H, von Wasielewski R (2003) Rapid and large-scale transition of new tumor biomarkers to clinical biopsy material by innovative tissue microarray systems. Appl Immunohistochem Mol Morph 11:261–268

4.

Rimm DL, Camp RL, Charette LA, Olsen DA, Provost E (2001) Amplification of tissue by construction of tissue microarrays. Exp Mol Pathol 70:255–264

5.

Rodrigues Cordovil Pires A, da Matta Andreiuolo F, Rabello de Souza S (2006) TMA for all: a new method for the construction of tissue microarrays without recipient paraffin block using custom-built needles. Diagn Pathol 1:14

6.

Vogel UF, Bueltmann BD (2006) Simple, inexpensive, and precise paraffin tissue microarrays constructed with a conventional microcompound table and a drill grinder. Am J Clin Pathol 126:342–348

7.

Vogel UF (2007) Inexpensive and precise paraffin tissue microarrays constructed with a Computer Numerical Control (CNC) drilling machine. Histopathology 51:136–137

8.

Wan WH, Fortuna MB, Furmanski P (1987) A rapid and efficient method for testing immunohistochemical reactivity of monoclonal antibodies against multiple tissue samples simultaneously. J Immunol Methods 103:121–129
Conflict of interest statement
I declare that I have no conflict of interest.
About this article
Cite this article
Vogel, U.F. The construction of high-density paraffin tissue microarrays with 0.43-mm-diameter paraffin tissue core biopsies is technically feasible. Virchows Arch 453, 43–46 (2008). https://doi.org/10.1007/s00428-008-0622-9
Received:

Revised:

Accepted:

Published:

Issue Date:
Keywords
Pathology

Methods

Histologic techniques

Tissue microarrays

Paraffin tissue core biopsies