Abstract
Approximately 10% of gastric carcinomas (GC) worldwide are associated with Epstein–Barr virus (EBV). GC is one of the most frequent human malignancies associated with EBV. The latent expression of the EBV-oncogene BARF1 is restricted to epithelial malignancies. To investigate the underlying BARF1-related mechanisms of oncogenic epithelial transformation, we analyzed gene expression profiles of a BARF1-transfected epithelial (HaCaT+) and the corresponding BARF1-negative (HaCaT−) cell line by cDNA microarray analysis. Real-time PCR was performed to confirm the cDNA microarray results. In addition, immunohistochemistry and fluorescence in situ hybridization were performed on a tissue microarray of 181 GC including 11 EBV-associated GC. Among other genes cyclin D1 expression was significantly upregulated in HaCaT+ on the transcriptional and protein level. Cyclin D1 protein expression in GC revealed a significant overexpression of cyclin D1 in EBV-associated GC (p < 0.012) but not in EBV-negative GC. Cyclin D1 FISH showed that cyclin D1 overexpression was not due to gene amplification in EBV-associated GC. Cyclin D1 is induced in HaCaT+ by BARF1 and is overexpressed in EBV-associated GC indicating an interaction of viral BARF1 and cyclin D1.
This is a preview of subscription content, log in to check access.
Access options
Buy single article
Instant access to the full article PDF.
US$ 39.95
Price includes VAT for USA
Subscribe to journal
Immediate online access to all issues from 2019. Subscription will auto renew annually.
US$ 199
This is the net price. Taxes to be calculated in checkout.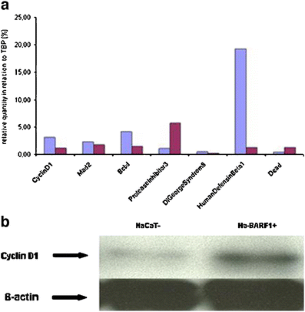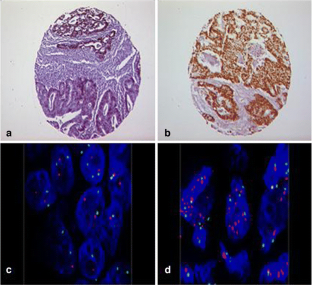 References
1.

Au WY, Pang A, Chan EC, Chu KM, Shek TWH, Kwong YL (2005) Epstein–Barr virus-related gastric adenocarcinoma: an early secondary cancer post hemopoietic stem cell transplantation. Gastroenterology 129:2058–2063

2.

Betticher DC, Thatcher N, Altermatt HJ, Hoban P, Ryder WD, Heighway J (1995) Alternate splicing produces a novel cyclin D1 transcript. Oncogene 11:1005–1011

3.

Bizari L, Borim AA, Leite KR, Gonsalves Fde T, Cury PM, Tajara EH, Silva AE (2006) Alterations of the CCND1 and HER-2/neu (ERBB2) proteins in esophageal and gastric cancers. Cancer Genet Cytogenet 165:41–50

4.

Chang MS, Lee HS, Jung EJ, Kim CW, Lee BL, Kim WH (2005) Cell-cycle regulators, bcl-2 and NF-kappaB in Epstein–Barr virus-positive gastric carcinomas. Int J Oncol 27:1265–1272

5.

Coqueret O (2002) Linking cyclins to transcriptional control. Gene 299:35–55

6.

Correa P, Piazuelo MB, Camargo MC (2004) The future of gastric cancer prevention. Gastric Cancer 7:9–16

7.

De Turenne-Tessier M, Jolicoeur P, Middeldorp JM, Ooka T (2005) Expression and analysis of the Epstein–Barr virus BARF1-coded protein from a tetracycline-regulatable adenovirus system. Virus Res 109:9–18

8.

Decaussin G, Sbih-Lammali F, De Turenne-Tessier M, Bouguermouh A, Ooka T (2000) Expression of BARF1 gene encoded by Epstein–Barr virus in nasopharyngeal carcinoma biopsies. Cancer Res 60:5584–5588

9.

Gao Y, Lu YJ, Xue SA, Chen H, Wedderburn N, Griffin BE (2002) Hypothesis: a novel route for immortalization of epithelial cells by Epstein–Barr virus. Oncogene 21:825–835

10.

Gao P, Zhou GY, Liu Y, Li JS, Zhen JH, Yuan YP (2004) Alterations of cyclin D1 in gastric carcinoma and its clinicopathological significance. World J Gastroenterol 10:2936–2939

11.

Hayes DP, Brink AA, Vervoort MB, Middeldorp JM, Meijer CJ, van den Brule AJ (1999) Expression of Epstein–Barr virus (EBV) transcripts encoding homologues to important human proteins in diverse EBV associated diseases. Mol Pathol 52:97–103

12.

Hosokawa Y, Gadd M, Smith AP, Koerner FC, Schmidt EV, Arnold A (1997) Cyclin D1 (PRAD1) alternative transcript b: full-length cDNA cloning and expression in breast cancers. Cancer Lett 113:123–130

13.

Kurz AK, Graf D, Schmitt M, Vom Dahl S, Haussinger D (2001) Taurourso-desoxycholate-induced choleresis involves p38(MAPK) activation and translocation of the bile salt export pump in rats. Gastroenterology 121:407–419

14.

Lung JC, Chu JS, Yu JC, Yue CT, Lo YL, Shen CY, Wu CW (2002) Aberrant expression of cell-cycle regulator cyclin D1 in breast cancer is related to chromosomal genomic instability. Genes Chromosomes Cancer 34:276–284

15.

Luo B, Wang Y, Wang XF, Liang H, Yan LP, Huang BH, Zhao P (2005) Expression of Epstein–Barr virus genes in EBV-associated gastric carcinomas. World J Gastroenterol 11:629–633

16.

Moonen L, Ong F, Gallee M, Verheij M, Horenblas S, Hart AA, Bartelink H (2001) Apoptosis, proliferation and p53, cyclin D1, and retinoblastoma gene expression in relation to radiation response in transitional cell carcinoma of the bladder. Int J Radiat Oncol Biol Phys 49:1305–1310

17.

Muller W, Noguchi T, Wirtz HC, Hommel G, gabbert HE (1999) Expression of cell-cycle regulatory proteins cyclin D1, cyclin E, and their inhibitor p21 WAF1/CIP1 in gastric cancer. J Pathol 189:186–193

18.

Rickinson AB, Kieff E (2002) Epstein–Barr virus. In: Fields BN, Knipe DM, Howley PM (eds) Fields virology. Lippincott-Raven, Philadelphia, pp 2575–2627

19.

Sall A, Caserta S, Jolicoeur P, Franqueville L, de Turenne-Tessier M, Ooka T (2004) Mitogenic activity of Epstein–Barr virus-encoded BARF1 protein. Oncogene 23:4938–4944

20.

Sarbia M, Hausen AZ, Feith M, Geddert H, von Rahden BH, Langer R, von Weyhern C, Siewert JR, Höfler H, Stein HJ (2005) Esophageal (Barrett's) adenocarcinoma is not associated with Epstein–Barr virus infection: an analysis of 162 cases. Int J Cancer 117:698–700

21.

Sarbia M, Stahl M, Fink U, Heep H, Dutkowski P, Willers R, Seeber S, Gabbert HE (1999) Prognostic significance of cyclin D1 in esophageal squamous cell carcinoma patients treated with surgery alone or combined therapy modalities. Int J Cancer 84:86–91

22.

Sauter ER, Yeo UC, von Stemm A, Zhu W, Litwin S, Tichansky DS, Pistritto G, Nesbit M, Pinkel D, Herlin M, Bastian BC (2002) Cyclin D1 is a candidate oncogene in cutaneous melanoma. Cancer Res 1:3200–3206

23.

Sawa H, Ohshima TA, Ukita H, Murakami H, Chiba Y, Kamada H, Hara M, Saito I (1998) Alternatively spliced forms of cyclin D1 modulate entry into the cell cycle in an inverse manner. Oncogene 16:1701–1712

24.

Sbih-Lammali F, Djennaoui D, Belaoui H, Bouguermouh A, Decaussin G, Ooka T (1996) Transcriptional expression of Epstein–Barr virus genes and proto-oncogenes in north African nasopharyngeal carcinoma. J Med Virol 49:7–14

25.

Sheng W, Decaussin G, Sumner S, Ooka T (2001) N-terminal domain of BARF1 gene encoded by Epstein–Barr virus is essential for malignant transformation of rodent fibroblasts and activation of BCL-2. Oncogene 20:1176–1185

26.

Sheng W, Decaussin G, Ligout A, Takada K, Ooka T (2003) Malignant transformation of Epstein–Barr virus-negative Akata cells by introduction of the BARF1 gene carried by Epstein–Barr virus. J Virol 77:3859–3865

27.

Seto E, Yang L, Middeldorp JM, Sheen TS, Chen JY, Fukayama M, Eizuru Y, Ooka T, Takada K (2005) Epstein–Barr virus (EBV)-encoded BARF1 gene is expressed in nasopharyngeal carcinoma and EBV-associated gastric carcinoma tissues in the absence of lytic gene expression. J Med Virol 76:82–88

28.

Takada K (2000) Epstein–Barr virus and gastric carcinoma. J Clin Pathol: Mol Pathol 53:255–261

29.

van Beek J, zur Hausen A, Klein Kranenbarg E, van de Velde CJH, Middeldorp JM, van den Brule AJC, Meijer CJLM, Bloemena E (2004) EBV-positive gastric adenocarcinomas: a distinct clinicopathologic entity with a low frequency of lymph node involvement. J Clin Oncol 15:664–670

30.

Wang Q, Tsao SW, Ooka T, Nicholls JM, Cheung HW, Fu S, Wong YC, Wang X (2006) Anti-apoptotic role of BARF1 in gastric cancer cells. Cancer Lett 238:90–103

31.

Wei MX, Ooka T (1989) A transforming function of the BARF1 gene encoded by Epstein–Barr virus. EMBO J 8:2897–2903

32.

Wei MX, Moulin JC, Decaussin G, Berger F, Ooka T (1994) Expression and tumorigenicity of the Epstein–Barr virus BARF1 gene in human Louckes B-lymphocyte cell line. Cancer Res 54:1843–1848

33.

Wei MX, de Turenne-Tessier M, Decaussin G, Benet G, Ooka T (1997) Establishment of a monkey kidney epithelial cell line with the BARF1 open reading frame from Epstein–Barr virus. Oncogene 14:3073–3082

34.

Werner M, Mattis A, Aubele M, Cummings M, Zitzelsberger H, Hutzler P, Höfler H (1999) 20q13.2 amplification in intraductal hyperplasia adjacent to in situ and invasive ductal carcinoma of the breast. Virchows Arch 435:469–472

35.

Young LS, Rickinson A (2004) Epstein–Barr virus: 40 years on. Nat Rev Cancer 4(10):757–768

36.

zur Hausen A, Brink AA, Craanen ME, Middeldorp JM, Meijer CJ, van den Brule AJ (2000) Unique transcription pattern of Epstein–Barr Virus (EBV) in EBV-carrying gastric adenocarcinomas: expression of the transforming BARF1 Gene. Cancer Res 60:2745–2748
Acknowledgments
We like to acknowledge the excellent technical assistance of Mrs. Bokla and Deepa Pantulu, both from the Institute of Pathology, University Hospital Freiburg, Germany. We thank Axel Walch for helpful discussions with cyclin D1 FISH analyses.
Conflict of interest statement
None declared.
About this article
Cite this article
Wiech, T., Nikolopoulos, E., Lassman, S. et al. Cyclin D1 expression is induced by viral BARF1 and is overexpressed in EBV-associated gastric cancer. Virchows Arch 452, 621 (2008). https://doi.org/10.1007/s00428-008-0594-9
Received:

Revised:

Accepted:

Published:
Keywords
Epstein–Barr virus

Gastric carcinogenesis

BARF1

Viral oncogene

Cyclin D1