Abstract
Expression of hepatocyte nuclear factor-1beta (HNF-1beta) is significantly up-regulated in ovarian clear cell carcinoma (CCC). The mechanism of up-regulation, however, remains unclear. It has been recognized that hypomethylation of specific gene promoters is involved in aberrant gene expression in carcinogenesis. In the present study, ovarian CCCs were examined whether there was a correlation between the methylation and expression status of HNF-1beta, using combined bisulfite restriction analysis (COBRA), bisulfite-sequencing and immunocyto/histochemistry. In 2 CCC cell lines, hypomethylation of HNF-1beta CpG island strongly correlated with HNF-1beta expression, at both the mRNA and protein levels. In archival surgical specimens, 20 of 20 CCCs were immunohistochemically positive for HNF-1beta, whereas none of 20 serous adenocarcinomas (SAs) or 12 normal ovaries were positive for it. By COBRA, methylation of HNF-1beta CpG island was less frequently detected in CCCs (8 of 20, 40%) than SAs (18 of 20, 90%) or normal ovaries (12 of 12, 100%) (p < 0.01), which was confirmed by bisulfite-sequencing. In addition, HNF-1beta hypomethylation correlated with a high HNF-1beta immunostaining score in CCCs. These results strongly suggest that hypomethylation of the HNF-1beta CpG island participates in the HNF-1beta up-regulation in ovarian CCC.
This is a preview of subscription content, log in to check access.
Access options
Buy single article
Instant access to the full article PDF.
US$ 39.95
Price includes VAT for USA
Subscribe to journal
Immediate online access to all issues from 2019. Subscription will auto renew annually.
US$ 199
This is the net price. Taxes to be calculated in checkout.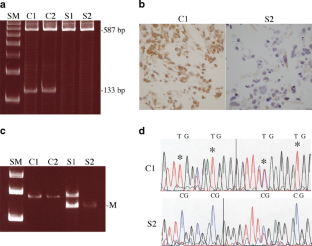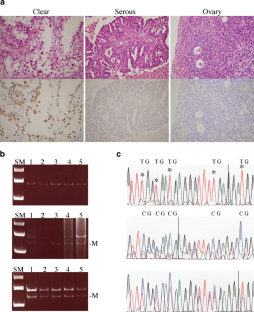 Abbreviations
CCC:

clear cell carcinoma

SA:

serous adenocarcinoma

HNF-1beta :

hepatocyte nuclear factor-1beta

COBRA:

combined bisulfite restriction analysis
References
1.

Benedet JL, Bender H, Jones HW III, Ngan HY, Pecorelli S (2000) FIGO staging classifications and clinical practice guidelines in the management of gynecologic cancers. FIGO committee on Gynecologic Oncology. Int J Gynecol Obstet 70:209–262

2.

Cheah MS, Wallace CD, Hoffman RM (1984) Hypomethylation of DNA in human cancer cells: a site-specific change in the c-myc oncogene. J Natl Cancer Inst 73:1057–1065

3.

De Smet C, De Backer O, Faraoni I, Lurquni C, Brasseur F, Boon T (1996) The activation of human gene MAGE-1 in tumor cells is correlated with genome-wide demethylation. Proc Natl Acad Sci USA 93:7149–7153

4.

Goodman JI, Watson RE (2002) Altered DNA methylation: a secondary mechanism involved in carcinogenesis. Ann Rev Pharacol Toxicol 42:501–525

5.

Haumaitre C, Fabre M, Cormier S, Baumann C, Delezoide AL, Cereghini S (2006) Severe pancreas hypoplasia and multicystic renal dysplasia in two human fetuses carrying novel HNF1beta/MODY5 mutations. Hum Mol Genet 15:2363–2375

6.

Higashiguchi A, Yamada T, Susumu N, Mori T, Suzuki A, Aoki D, Sakamoto M (2007) Specific expression of hepatocyte nuclear factor-1beta in the ovarian clear cell adenocarcinoma and its application to cytological diagnosis. Cancer Sci 98:387–391

7.

Hirasawa A, Saito-Ohara F, Inoue J, Aoki D, Susumu N, Yokoyama T, Nozawa S, Inazawa J, Imoto I (2003) Association of 17q21-q24 gain in ovarian clear cell adenocarcinomas with poor prognosis and identification of PPM1D and APPBP2 as likely amplification targets. Clin Cancer Res 9:1995–2004

8.

Honda T, Tamura G, Waki T, Kawata S, Terashima M, Nishizuka S, Motoyama T (2004) Demethylation of MAGE promoters during gastric cancer progression. Br J Cancer 90:838–843

9.

Jones PA, Takai D (2001) The role of DNA methylation in mammalian epigenetics. Science 293:1068–1070

10.

Jones PA, Baylin SB (2002) The fundamental role of epigenetic events in cancer. Nat Rev Genet 3:415–428

11.

Kato N, Sasou S, Motoyama T (2006) Expression of hepatocyte nuclear factor-1beta (HNF-1beta) in clear cell tumors and endometriosis of the ovary. Mod Pathol 19:83–89

12.

Kato N, Toukairin M, Asanuma I, Motoyama T (2007) Immunocytochemistry for hepatocyte nuclear factor-1beta (HNF-1beta): A marker for ovarian clear cell carcinoma. Diagn Cytopathol 35:193–197

13.

Lu KH, Patterson AP, Wang L, Marquez RT, Atkinson EN, Baggerly KA, Ramoth LR, Rosen DG, Liu J, Hellstrom I, Smith D, Hartmann L, Fishman D, Berchuck A, Schmandt R, Whitaker R, Gershenson DM, Mills GB, Bast RC Jr (2004) Selection of potential markers for epithelial ovarian cancer with gene expression arrays and recursive descent partition analysis. Clin Cancer Res 10:3291–3300

14.

Schwartz DR, Kardia SL, Shedden KA, Kuick R, Michailidis G, Taylor JM, Misek DE, Wu R, Zhai Y, Darrah DM, Reed H, Ellenson LH, Giordano TJ, Fearon ER, Hanash SM, Cho KR (2002) Gene expression in ovarian cancer reflects both morphology and biological behavior, distinguishing clear cell from other poor-prognosis ovarian carcinomas. Cancer Res 62:4722–4729

15.

Sharrard RM, Royds JA, Rogers S, Shorthouse AJ (1992) Patterns of methylation of the c-myc gene in human colorectal cancer progression. Br J Cancer 65:667–672

16.

Sugiyama T, Kamura T, Kigawa J, Terakawa N, Kikuchi Y, Kita T, Suzuki M, Sato I, Taguchi K (2000) Clinical characteristics of clear cell carcinoma of the ovary: a distinct histologic type with poor prognosis and resistance to platinum-based chemotherapy. Cancer 88:2584–2589

17.

Terasawa K, Toyota M, Sagae S, Ogi K, Suzuki H, Sonoda T, Akino K, Maruyama R, Nishikawa N, Imai K, Shinomura Y, Saito T, Tokino T (2006) Epigenetic inactivation of TCF2 in ovarian cancer and various cancer cell lines. Br J Cancer 94:914–921

18.

Tsuchiya A, Sakamoto M, Yasuda J, Chuma M, Ohta T, Ohki M, Yasugi T, Taketani Y, Hirohashi S (2003) Expression profiling in ovarian clear cell carcinoma. Identification of hepatocyte nuclear factor-1beta as a molecular marker and a possible molecular target for therapy of ovarian clear cell carcinoma. Am J Pathol 163:2503–2512

19.

Xiong Z, Laird PW (1997) COBRA: a sensitive and quantitative DNA methylation assay. Nucleic Acids Res 25:2532–2534
Acknowledgement
Conflict of interest statement
We declare that we have no conflict of interest.
About this article
Cite this article
Kato, N., Tamura, G. & Motoyama, T. Hypomethylation of hepatocyte nuclear factor-1beta (HNF-1beta) CpG island in clear cell carcinoma of the ovary. Virchows Arch 452, 175–180 (2008). https://doi.org/10.1007/s00428-007-0543-z
Received:

Revised:

Accepted:

Published:

Issue Date:
Keywords
Clear cell carcinoma

Ovary

HNF-1beta

Hypomethylation