Abstract
Most Barrett's oesophagus-associated cancers are adenocarcinomas which occur in a pure form. They are rarely combined with another type of malignancy, such as endocrine tumours. Within the endocrine spectrum, small cell carcinomas (SmCC) usually have a highly aggressive behaviour with a poor prognosis. We report a case of composite SmCC and adenocarcinoma in the setting of a Barrett's oesophagus, in a 54-year-old man. This tumour was identified on a surgical specimen after neoadjuvant treatment with radiotherapy and 5-FU-Cis-platin based chemotherapy. The SmCC component was positive for chromogranin A, synaptophysin, neural cell adhesion molecule and neuron-specific enolase and negative for high molecular weight cytokeratin. The adenocarcinoma component showed a converse phenotype. In our case, the origin of the SmCC component could be explained by the numerous chromogranin A-positive cells observed in the Barrett's oesophagus or by the potential progenitor cells that may be located in the submucosal oesophageal gland ducts and the Barrett's metaplasia. Our report is thus indicative of the high and totipotential risk of Barrett's oesophagus. Moreover, it is particular because of its favourable behaviour, with a 6-year disease-free survival, after neoadjuvant chemoradiation, surgery and postoperative chemotherapy.
This is a preview of subscription content, log in to check access.
Access options
Buy single article
Instant access to the full article PDF.
US$ 39.95
Price includes VAT for USA
Subscribe to journal
Immediate online access to all issues from 2019. Subscription will auto renew annually.
US$ 199
This is the net price. Taxes to be calculated in checkout.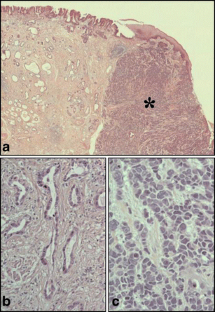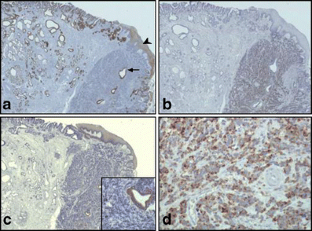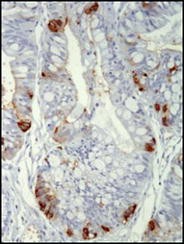 References
1.

Aaltonen LA, Hamilton SR (2007) (ed) World Health Organization classification of tumours. Pathology and genetics of tumours of the digestive system. Lyon 2000 ed. IARC

2.

Brenner B, Tang LH, Klimstra DS, Kelsen DP (2004) Small-cell carcinomas of the gastrointestinal tract: a review. J Clin Oncol 22:2730–2739

3.

Buchan AM, Grant S, Freeman HJ (1985) Regulatory peptides in Barrett's oesophagus. J Pathol 146:227–234

4.

Caldwell CB, Bains MS, Burt M (1991) Unusual malignant neoplasms of the esophagus. Oat cell carcinoma, melanoma, and sarcoma. J Thorac Cardiovasc Surg 101:100–107

5.

Coad RA, Woodman AC, Warner PJ, Barr H, Wright NA, Shepherd NA (2005) On the histogenesis of Barrett's oesophagus and its associated squamous islands: a three-dimensional study of their morphological relationship with native oesophageal gland ducts. J Pathol 206:388–394

6.

Hama Y, Uematsu M, Ichikura T, Tamura E, Aida S, Kohno M, Kusano S (1999) A case of primary small cell carcinoma of the cervical esophagus with long-term survival following concurrent chemoradiotherapy: case report and review of the literature. Tumori 85:284–287

7.

Jani AB, Connell PP, Vesich VJ, O'Brien KM, Chen LM (2000) Analysis of the role of adjuvant chemotherapy for invasive carcinoma of the esophagus. Am J Clin Oncol 23:554–558

8.

Kanamoto A, Nakanishi Y, Ochiai A, Shimoda T, Yamaguchi H, Tachimori Y, Kato H, Watanabe H (2000) A case of small polypoid esophageal carcinoma with multidirectional differentiation, including neuroendocrine, squamous, ciliated glandular, and sarcomatous components. Arch Pathol Lab Med 124:1685–1687

9.

Li H, Walsh TN, O'Dowd G, Gillen P, Byrne PJ, Hennessy TP (1994) Mechanisms of columnar metaplasia and squamous regeneration in experimental Barrett's esophagus. Surgery 115:176–181

10.

Lyda MH, Weiss LM (2000) Immunoreactivity for epithelial and neuroendocrine antibodies are useful in the differential diagnosis of lung carcinomas. Hum Pathol 31:980–987

11.

McFadden DW, Rudnicki M, Talamini MA (1989) Primary small cell carcinoma of the esophagus. Ann Thorac Surg 47:477–480

12.

Mitry E, Baudin E, Ducreux M, Sabourin JC, Rufie P, Aparicio T, Aparicio T, Lasser P, Elias D, Duvillard P, Schlumberger M, Rougier P (1999) Treatment of poorly differentiated neuroendocrine tumours with etoposide and cisplatin. Br J Cancer 81:1351–1355

13.

Noguchi T, Uchida Y, Fumoto S, Wada S, Sato T, Takeno S (2002) Adenosquamous carcinoma arising in Barrett's esophagus. Jpn J Thorac Cardiovasc Surg 50:537–540

14.

Papotti M, Cassoni P, Sapino A, Passarino G, Krueger JE, bores-Saavedra J (2000) Large cell neuroendocrine carcinoma of the gallbladder: report of two cases. Am J Surg Pathol 24:1424–1428

15.

Sarbia M, Becker KF, Hofler H (2004) Pathology of upper gastrointestinal malignancies. Semin Oncol 31:465–475

16.

Saw EC, Yu GS, Wagner G, Heng Y (1997) Synchronous primary neuroendocrine carcinoma and adenocarcinoma in Barrett's esophagus. J Clin Gastroenterol 24:116–119

17.

Shia J, Guillem JG, Moore HG, Tickoo SK, Qin J, Ruo L, Suriawinata A, Paty PB, Minsky BD, Weiser MR, Temple LK, Wong WD, Klimstra DS (2004) Patterns of morphologic alteration in residual rectal carcinoma following preoperative chemoradiation and their association with long-term outcome. Am J Surg Pathol 28:215–223

18.

Shia J, Tickoo SK, Guillem JG, Qin J, Nissan A, Hoos A, Stojadinovic A, Ruo L, Wong WD, Paty PB, Weiser MR, Minsky BD, Klimstra DS (2002) Increased endocrine cells in treated rectal adenocarcinomas: a possible reflection of endocrine differentiation in tumor cells induced by chemotherapy and radiotherapy. Am J Surg Pathol 26:863–872

19.

Takubo K, Nakamura K, Sawabe M, Arai T, Esaki Y, Miyashita M, Mafune K, Tanaka Y, Sasajima K (1999) Primary undifferentiated small cell carcinoma of the esophagus. Hum Pathol 30:216–221

20.

Tateishi R, Taniguchi H, Wada A, Horai T, Taniguchi K (1974) Argyrophil cells and melanocytes in esophageal mucosa. Arch Pathol 98:87–89

21.

Tsubochi H, Suzuki T, Suzuki S, Ohashi Y, Ishibashi S, Moriya T, Fujimura S, Sasano H (2000) Immunohistochemical study of basaloid squamous cell carcinoma, adenoid cystic and mucoepidermoid carcinoma in the upper aerodigestive tract. Anticancer Res 20:1205–1211

22.

Wu Z, Ma JY, Yang JJ, Zhao YF, Zhang SF (2004) Primary small cell carcinoma of esophagus: report of 9 cases and review of literature. World J Gastroenterol 10:3680–3682

23.

Yachida S, Matsushita K, Usuki H, Wanibuchi H, Maeba T, Maeta H (2001) Long-term survival after resection for small cell carcinoma of the esophagus. Ann Thorac Surg 72:596–597

24.

Yamamoto J, Ohshima K, Ikeda S, Iwashita A, Kikuchi M (2003) Primary esophageal small cell carcinoma with concomitant invasive squamous cell carcinoma or carcinoma in situ. Hum Pathol 34:1108–1115
About this article
Cite this article
Bibeau, F., Chateau, M., Guiu, M. et al. Small cell carcinoma with concomitant adenocarcinoma arising in a Barrett's oesophagus: report of a case with a favourable behaviour. Virchows Arch 452, 103–107 (2008). https://doi.org/10.1007/s00428-007-0533-1
Received:

Revised:

Accepted:

Published:

Issue Date:
Keywords
Barrett's oesophagus

Small cell carcinoma

Composite tumour