Abstract
Uniform management of flat DIN 1 (flat epithelial atypia) on core needle biopsy (CNB) concerning surgical excision or clinical follow-up are lacking. In a retrospective review of 1,751 CNB over an 8-year period, we found 63 cases with flat DIN 1 as the most advanced lesion; follow-up was available in 55 cases. Of the 63 patients, 24 had a subsequent biopsy for 15 days to 10 years after the initial CNB, an infiltrating carcinoma was found in nine (14.3%) patients, seven (11.1%) in the ipsilateral, and two (3.2%) in the contralateral breast. Five underwent an excisional biopsy of the ipsilateral breast within less than 3 months of the initial CNB; none had either an invasive or intraepithelial carcinoma. Based on our findings, we consider flat DIN 1 a marker of slightly increased risk for subsequent development of invasive breast carcinoma. When flat DIN 1 is found on CNB as the most advanced lesion after mammographic correlation, an excisional biopsy is not mandatory; however, close follow-up is advised with repeat mammograms for early detection of any clinically occult carcinoma in the vicinity of flat DIN 1 that may have been missed by the CNB.
This is a preview of subscription content, log in to check access.
Access options
Buy single article
Instant access to the full article PDF.
US$ 39.95
Price includes VAT for USA
Subscribe to journal
Immediate online access to all issues from 2019. Subscription will auto renew annually.
US$ 199
This is the net price. Taxes to be calculated in checkout.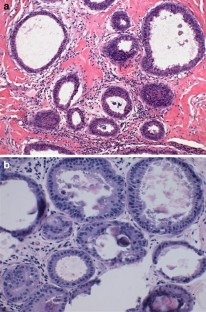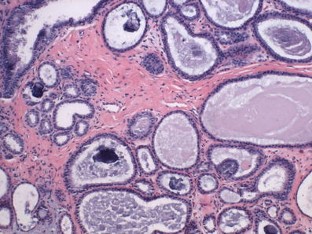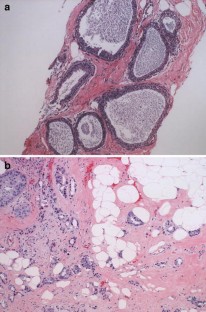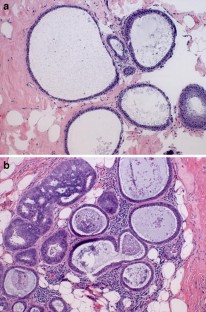 References
1.

Azzopardi JG (1979) Clinging carcinoma. In: Azzopardi JG, Ahmed A, Millis RR (eds) Problems in breast pathology. Saunders, Philadelphia, pp 193–203

2.

Bijker N, Peterse JL, Duchateau L, Julien J-P, Fentiman IS, Duval C, DiPalma S, Simony-Lafontaine J, deMascarel I, van de Vijver MJ (2001) Risk factors for recurrence and metastasis after breast-conserving therapy for ductal carcinoma-in-situ: analysis of European Organization for Research and Treatment of Cancer Trial 10853. J Clin Oncol 19(8):2263–2271

3.

Bodian CA, Perzin KH, Lattes R, Hoffmann P, Abernathy TG (1993) Prognostic significance of benign proliferative breast disease. Cancer 71(12):3896–3907

4.

Bonnett M, Wallis T, Rossmann M, Carolin K, Visscher D (2002) Histologic analysis of atypia diagnosed on needle core breast biopsies. Mod Pathol 15:29A–30A [abstract]

5.

Brogi E, Tan LK (2002) Findings an excisional biopsy (EBX) performed after identification of columnar cell change (CCC) of ductal epithelium in breast core biopsy (CBX). Mod Pathol 15:29A–30A [abstract]

6.

Darling MLR, Smith DN, Lester SC, Kaelin C, Selland D-L, Denison CM, DiPiro PJ, Rose DI, Rhei E, Meyer JE (2000) Atypical ductal hyperplasia and ductal carcinoma in situ as revealed by large-core needle breast biopsy: results of surgical excision. Am J Roentgenol 175:1341–1346

7.

Dupont WD, Page DL (1987) Breast cancer risk associated with proliferative disease, age at first birth, and a family history of breast cancer. Am J Epidemiol 125(5):769–779

8.

Dupont WD, Page DL (1985) Risk factors for breast cancer in women with proliferative breast disease. N Engl J Med 312:146–151

9.

Eusebi V, Foschini MP, Cook MG, Berrino F, Azzopardi JG (1989) Long-term follow-up of in situ carcinoma of the breast with special emphasis on clinging carcinoma. Semin Diagn Pathol 6(2):165–173

10.

Fraser JL, Raza S, Chorny K, Connolly JL, Schnitt SJ (1998) Columnar alteration with prominent apical snouts and secretions: a spectrum of changes frequently present in breast biopsies performed for microcalcifications. Am J Surg Pathol 22:1521–1527

11.

Goldstein NS, O'Malley BA (1997) Cancerization of small ectatic ducts of the breast by ductal carcinoma in situ cells with apocrine snouts: a lesion associated with tubular carcinoma. Am J Clin Pathol 107:561–566

12.

Guerra-Wallace MM, Christensen WN, White RL (2004) A retrospective study of columnar alteration with prominent apical snouts and secretions and the association with cancer. Am J Surg 188:395–398

13.

Jacobs TW, Connolly JL, Schnitt SJ (2002) Nonmalignant lesions in breast core needle biopsies. To excise or not to excise? Am J Surg Pathol 26(9):1095–1110

14.

Koerner FC, Oyama T, Maluf H (2001) Morphological observations regarding the origins of atypical cystic lobules (low-grade clinging carcinoma of flat type). Virchows Arch 439:523–530

15.

Krieger N, Hiatt RA (1992) Risk of breast cancer after benign breast diseases. Variation by histologic type, degree of atypia, age at biopsy, and length of follow-up. Am J Epidemiol 135(6):619–631

16.

Kunju LP, Kleer CG (2006) Significance of flat epithelial atypia (FEA) on mammotome core needle biopsy: should it be excised? Modern Pathol 19:32a [abstract]

17.

Lacroix-Triki M, Mery E, Voigt JJ, Istier L, Rochaix P (2003) Value of cytokeratin 5/6 immunostaining using D5/16 B4 antibody in the spectrum of proliferative intraepithelial lesions of the breast. A comparative study with 34betaE12 antibody. Virchows Arch 442(6):548–554

18.

Moinfar F, Man YG, Bratthauer GL, Ratschek M, Tavassoli FA (2000) Genetic abnormalities in mammary ductal intraepithelial neoplasia-flat type ("clinging ductal carcinoma in situ"): a simulator of normal mammary epithelium. Cancer 88:2072–2081

19.

Moinfar F, Man YG, Lininger RA, Bodian C, Tavassoli FA (1999) Use of keratin 35betaE12 as an adjunct in the diagnosis of mammary intraepithelial neoplasia-ductal-type and malignant intraductal proliferations. Am J Surg Pathol 23(9):1048–1058

20.

Nasser SM, Fan MJ (2003) Does atypical columnar cell hyperplasia on breast core biopsy warrant follow-up excision? Mod Pathol 16:42a [abstract]

21.

Nasser SM (2004) Columnar cell lesions: current classification and controversies. Semin Diagn Pathol 21(1):18–24

22.

O'Malley FP, Mohsin SK, Badve S, Bose S, Collins LC, Ennis M, Kleer CG, Pinder SE, Schnitt SJ (2006) Interobserver reproducibility in the diagnosis of flat epithelial atypia of the breast. Mod Pathol 19:172–179

23.

Oyama T, Iijima K, Takei H, Horeiguchi J, Iino Y, Nakajima T, Koerner F (2000) Atypical cystic lobule of the breast: an early stage of low-grade ductal carcinoma in-situ. Breast Cancer 7(4):326–331

24.

Oyama T, Maluf H, Koerner F (1999) Atypical cystic lobules: an early stage in the formation of low-grade ductal carcinoma in situ. Virchows Arch 435:413–421

25.

Oyama T, Sano T, Hikino T, Xue Q, Iijima K, Nakajima T, Koerner F (2002) Microcalcifications of breast cancer and atypical cystic lobules associated with inifiltation of foam cells expressing osteopontin. Virchows Arch 440(3):267–273

26.

Page DL, DuPont WD, Rogers LW, Rados MS (1985) Atypical hyperplastic lesions of the female breast. A long-term follow-up study. Cancer 55:2698–2708

27.

Reynolds HE, Poon CM, Goulet RJ, Lazaridis CL (1998) Biopsy of breast microcalcifications using an 11-gauge directional vacuum-assisted device. Am J Roentgenol 171:611–613

28.

Rosen PP (1999) Columnar cell hyperplasia is associated with lobular carcinoma in situ and tubular carcinoma. Am J Surg Pathol 23:1561 [letter to the editor]

29.

Schnitt SJ (2003) The diagnosis and management of pre-invasive breast disease. Flat epithelial atypia—classification, pathologic features and clinical significance. Breast Cancer Res 5:263–268

30.

Simpson PT, Gale T, Reis-Filho JS, Jones C, Parry S, Sloane JP, Hanby A, Pinder SE, Lee AHS, Humphreys S, Ellis IO, Lakhani SR (2005) Columnar cell lesions of the breast: the missing link in breast cancer progression? A morphological and molecular analysis. Am J Surg Pathol 29:734–746

31.

Tan PH, Ho BC-S, Selvarajan S, Yap WM, Hanby A (2005) Pathologic diagnosis of columnar cell lesions of the breast: are there issues of reproducibility? J Clin Pathol 58:705–709

32.

Tavassoli FA (2005) Breast pathology: rationale for adopting the ductal intraepithelial neoplasia (DIN) classification. Nat Clin Pract Oncol 2:116–117

33.

Tavassoli FA, Hoefler H, Rosai J, Holland R, Ellis IO, Schnitt SJ, Boecker W, Heywang-Kobrunner SH, Moinfar F, Lakhani SR (2003) Intraductal proliferative lesions. In: Tavassoli FA, Devilee P (eds) World Health Organization classification of tumours: tumours of the breast and female genital organs. IARC, Lyon, France, pp 63–73

34.

Tavassoli FA, Norris HJ (1990) A comparison of the results of long-term follow-up for atypical initraductal hyperplasia and intraductal hyperplasia of the breast. Cancer 65(3):518–529

35.

Tremblay G, Deschenes J, Alpert L, Quenneville LA (2005) Overexpression of estrogen receptors in columnar cell change and in unfolding breast lobules. Breast J 11(5):326–332

36.

Veronesi U, Viale G, Rotmensz N, Goldhirsch A (2006) Rethinking TNM: breast cancer TNM classification for treatment decision-making and research. Breast 15:3–8
About this article
Cite this article
Martel, M., Barron-Rodriguez, P., Tolgay Ocal, I. et al. Flat DIN 1 (flat epithelial atypia) on core needle biopsy: 63 cases identified retrospectively among 1,751 core biopsies performed over an 8-year period (1992–1999). Virchows Arch 451, 883–891 (2007). https://doi.org/10.1007/s00428-007-0499-z
Received:

Revised:

Accepted:

Published:

Issue Date:
Keywords
Flat epithelial atypia

Flat DIN 1

Core needle biopsy

Breast carcinoma

Ductal intraepithelial neoplasia