Abstract
The 2004 WHO classification of lung tumours recognised basaloid carcinoma as a variant of squamous and large cell carcinoma. We report a unique case of primary pulmonary adenocarcinoma with a basaloid component. An 82-year-old man underwent pulmonary lobectomy for a 2.8 cm tumour. The patient is disease-free 13 months after diagnosis. Histologically, an invasive carcinoma having a glandular and a solid component was observed. The former was an adenocarcinoma with mucus containing spaces lined by columnar mucinous cells and basaloid cells. The solid component was an organoid proliferation of basaloid-type cells, as in cutaneous basal cell carcinoma. Basaloid cells, but not mucinous cells, were immunoreactive for high molecular weight cytokeratins (CK), CK 7 and, focally, for TTF-1. High Ki67 index, p53 and EGFR expression were also found. This tumour is unique in several respects: (1) The solid areas resemble a conventional basaloid carcinoma, except for the presence of small mucin-containing spaces. (2) The mucinous adenocarcinoma areas contain two layers of columnar and basaloid cells. (3) Both components are neoplastic based on cell morphology, invasive properties and phenotypic profile. These findings indicate that a basaloid variant of adenocarcinoma is also existing in the spectrum of basaloid carcinomas of the lung.
This is a preview of subscription content, log in to check access.
Access options
Buy single article
Instant access to the full article PDF.
US$ 39.95
Price includes VAT for USA
Subscribe to journal
Immediate online access to all issues from 2019. Subscription will auto renew annually.
US$ 199
This is the net price. Taxes to be calculated in checkout.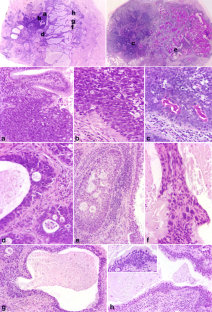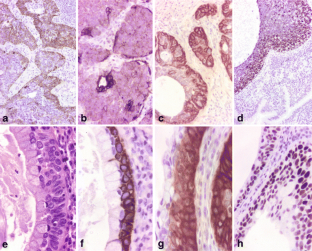 References
1.

Barnes L, Eveson JW, Reichart P et al (2005) World Health Organisation classification of tumors. Pathology and genetics of head and neck tumors. IARC Press, Lyon, pp 221–230

2.

Brambilla E (1997) Basaloid carcinoma. In: Corrin B (ed) Pathology of lung tumors. Churchill Livingstone, New York, pp 71–82

3.

Brambilla E, Moro D, Veale D, Brichon PY, Stoebner P, Paramelle B, Brambilla C (1992) Basal cell (basaloid) carcinoma of the lung: a new morphologic and phenotypic entity with separate prognostic significance. Human Pathol 23:993–1003

4.

Cabibi D, Cipolla C, Maria Florena A, Fricano S, Barresi E, Vieni S, Rodolico V, Napoli L (2005) Solid variant of mammary "adenoid cystic carcinoma with basaloid features" merging with "small cell carcinoma". Pathol Res Pract 201:705–711

5.

Cappuzzo F, Hirsch FR, Rossi E, Bartolini S, Ceresoli GL, Bemis L, Haney J, Witta S, Danenberg K, Domenichini I, Ludovini V, Magrini E, Gregorc V, Dogliosi C, Sidoni A, Tonato M, Franklin WA, Crino L, Bunn PA Jr, Varella-Garcia M (2005) Epidermal growth factor receptor gene and protein and gefitinib sensitivity in non-small-cell lung cancer. J Natl Cancer Inst 97:643–655

6.

Chetty R, Serra S, Hsieh E (2005) Basaloid squamous carcinoma of the anal canal with an adenoid cystic pattern: histologic and immunohistochemical reappraisal of an unusual variant. Am J Surg Pathol 29:1668–1672

7.

Colby TW, Koss MN, Travis WD (1995) Tumors of the lower respiratory tract. Armed Forces Institute of Pathology, Washington, DC, pp 179–234

8.

Emanuel P, Wang B, Wu M, Burnstein DE (2005) p63 immunohistochemistry in the distinction of adenoid cystic carcinoma from basaloid squamous cell carcinoma. Mod Pathol 18:645–650

9.

Franzen A, Koegel K, Knieriem HJ, Pfaltz M (1998) Basal cell adenocarcinoma of the parotid gland: a rare tumor entity: case report and review of the literature. HNO 46:821–825

10.

Grosshans E, Misago N, Sanchez Yus E, Soyer HP, Requena L (2003) A basaloid neoplasm with ductal differentiation. Am J Dermatopathol 25:77–80

11.

Iczkowski KA, Ferguson KL, Grier DD, Hossain D, Banerjee SS, McNeal JE, Bostwick DG (2003) Adenoid cystic/basal cell carcinoma of the prostate: clinicopathologic findings in 19 cases. Am J Surg Pathol 27:1523–1529

12.

Li TJ, Zhang YX, Wen J, Cowan DF, Hart J, Xiao SY (2004) Basaloid squamous cell carcinoma of esophagus with or without adenoid cystic features. Arch Pathol Lab Med 128:1124–1130

13.

Luebke AM, Schlomm T, Gunawan B, Bonkhoff H, Fuzesi L, Erbersdobler A (2005) Simultaneous tumour-like, atypical basal cell hyperplasia and acinar adenocarcinoma of the prostate: a comparative morphological and genetic approach. Virchows Arch 446:338–341

14.

McKenney JK, Amin MB, Srigley JR, Jimenez RE, Ro JY, Grignon DJ, Young RH (2004) Basal cell proliferations of the prostate other than usual basal cell hyperplasia: a clinicopathological study of 23 cases, including four carcinomas, with a proposed classification. Am J Surg Pathol 28:1289–1298

15.

Rapa I, Volante M, Cappia S, Rosas R, Scagliotti GV, Papotti M (2006) Cathepsin K is selectively expressed in the stroma of lung adenocarcinoma but not in bronchioloalveolar carcinoma. A useful marker of invasive growth. Am J Clin Pathol 125:847–854

16.

Rossi G, Murer B, Cavazza A, Losi L, Natali P, Marchioni A, Migaldi M, Capitanio G, Brambilla E (2004) Primary mucinous (so-called colloid) carcinomas of the lung: a clinicopathologic and immunohistochemical study with special reference to CDX-2 homeobox gene and MUC2 expression. Am J Surg Pathol 28:442–452

17.

Teramoto N, Nishimura R, Saeki T, Nogawa T, Hiura M (2005) Adenoid basal carcinoma of the uterine cervix: report of two cases with reference to adenosquamous carcinoma. Pathol Int 55:445–452

18.

Travis WD, Brambilla E, Muller-Hermelink HK, Harris CC (2004) World Health Organization classification of tumors. Pathology and genetics of tumors of the lung, pleura, thymus and heart. IARC Press, Lyon

19.

Varella-Garcia M (2006) Stratification of non-small cell lung cancer patients for therapy with epidermal growth factor receptor inhibitors: the EGFR fluorescence in situ hybridization assay. Diagn Pathol 1:19–20

20.

Yamagata K, Oka K, Yoshida H, Yanagawa T, Onizawa K, Yusa H, Ishikawa A, Okada N (2006) Basal cell adenocarcinoma arising from the minor salivary gland in the soft palate: a case report. Pathol Res Pract 202:475–480
Acknowledgements
This work was partially supported by grants from the Italian Ministry of University and Research (60% to MP) and from the Regione Piemonte, Turin (CIPE 2004, D.D. no. 67 dated 6/12/05).
About this article
Cite this article
Marci, V., Volante, M., Cappia, S. et al. Basaloid adenocarcinoma. A new variant of pulmonary adenocarcinoma. Virchows Arch 451, 729–736 (2007). https://doi.org/10.1007/s00428-007-0458-8
Received:

Revised:

Accepted:

Published:

Issue Date:
Keywords
Lung

Adenocarcinoma

Basaloid

Mucinous

New variant