Abstract
A 44-year-old Japanese man with elevated growth hormone levels and gradual deterioration of mental and renal function was admitted to the hospital. With his deteriorated general condition and renal failure, the patient developed pulmonary thromboembolism and died of respiratory failure. Autopsy examination was conducted, which revealed abnormal accumulation or intracytoplasmic storage of lipid-rich material in the small blood vessels, kidney, heart, and nervous system. After postmortem pathologic studies, including light-microscopic histochemistry, electron microscopy, and biochemical analysis of the stored lipid contents, a final diagnosis of Fabry disease was made. Histopathologic examination revealed a unique vasculopathy characterized by the presence of abnormal intracytoplasmic lipid inclusions and vascular remodeling. With regard to the clinical presentation of acromegaly, hyperplasia but not adenomatous transformation of the acidophils of the anterior pituitary gland with immunohistochemical detection of growth hormone within the cells was noted. In this case, the complication of acromegaly with hyperplasia of the acidophilic cells of the anterior pituitary gland and the unique vasculopathy causing significant organ failure, mainly of the kidney, heart, and central nervous systems, possibly as a result of microcirculatory failure, are considered to be not incidental findings but to be intimately involved in the pathogenesis of Farby disease.
This is a preview of subscription content, log in to check access.
Access options
Buy single article
Instant access to the full article PDF.
US$ 39.95
Price includes VAT for USA
Subscribe to journal
Immediate online access to all issues from 2019. Subscription will auto renew annually.
US$ 199
This is the net price. Taxes to be calculated in checkout.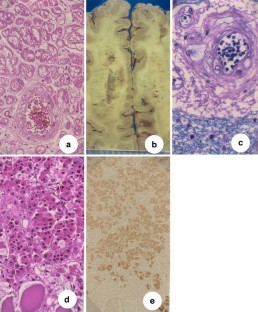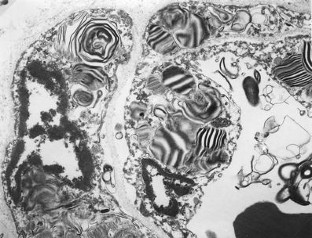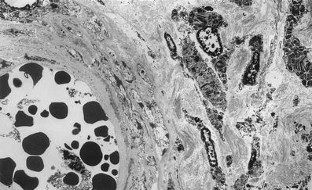 References
1.

Anderson W (1898) A case of 'Angiokeratoma'. Br J Dermatol 10:113–117

2.

Bernstein HS, Bishop DF, Astrin KH, Kornreich R, Eng CM, Sakuraba H, Desnick RJ (1989) Fabry disease: six gene rearrangements and an exonic point mutation in the alpha-galactosidase gene. J Clin Invest 83:1390–1399

3.

Colucci WS, Lorell BH, Schoen FJ, Warhol MJ, Grossman W (1982) Hypertrophic obstructive cardiomyopathy due to Fabry's disease. N Engl J Med 307:926–928

4.

Dabbs D (2002) Diagnositic immunohistochmeistry. Churchill Livingstone, New York

5.

Dempsey H, Hartley MW, Carroll J, Balint J, Miller RE, Frommeyer WB Jr (1965) Fabry's disease (angiokeratoma corporis diffusum): case report on a rare disease. Ann Intern Med 63:1059–1068

6.

Desnick R, Ioannou Y, Eng C (1995) alpha-galactosidase A deficiency: Fabry disease. In: Scriver CR, Beauder AL, Sly WS, Valle D (eds) The metabolic and molecular bases of inherited disease. McGraw-Hill, New York, pp 2741–2784

7.

Elleder M, Bradova V, Smid F, Budesinsky M, Harzer K, Kustermann-Kuhn B, Ledvinova J, Belohlavek M, Kral V, Dorazilova V (1990) Cardiocyte storage and hypertrophy as a sole manifestation of Fabry's disease. Report on a case simulating hypertrophic non-obstructive cardiomyopathy. Virchows Arch A Pathol Anat Histopathol 417:449–455

8.

Fabry J (1989) Ein Beitrag Zur Kenntnis der Purpura haemorrhagica nuduralis (Purpura papulosa hemorrhagica Hebrae). Arch Dermatol Syph 43:187–200

9.

Fone DJ, King WE (1964) Angiokeratoma corporis diffusum (Fabry's Syndrome). Australas Ann Med 13:339–348

10.

Franceschetti AT, Philippart M, Franceschetti A (1969) A study of Fabry's disease. I. Clinical examination of a family with cornea verticillata. Dermatologica 138:209–221

11.

Ghadially F (1997) Ultrastructural pathology of the cell and matrix. Butterworth-Heinemann, Boston

12.

Ko YH, Kim HJ, Roh YS, Park CK, Kwon CK, Park MH (1996) Atypical Fabry's disease. An oligosymptomatic variant. Arch Pathol Lab Med 120:86–89

13.

Kodama H, Hirotani T, Suzuki Y, Ogawa S, Yamazaki K (2002) Cardiomyogenic differentiation in cardiac myxoma expressing lineage-specific transcription factors. Am J Pathol 161:381–389

14.

Kornreich R, Bishop DF, Desnick RJ (1989) The gene encoding alpha-galactosidase A and gene rearrangements causing Fabry disease. Trans Assoc Am Physicians 102:30–43

15.

Mendez MF, Stanley TM, Medel NM, Li Z, Tedesco DT (1997) The vascular dementia of Fabry's disease. Dement Geriatr Cogn Disord 8:252–257

16.

Nakao S, Kodama C, Takenaka T, Tanaka A, Yasumoto Y, Yoshida A, Kanzaki T, Enriquez AL, Eng CM, Tanaka H, Tei C, Desnick RJ (2003) Fabry disease: detection of undiagnosed hemodialysis patients and identification of a "renal variant" phenotype. Kidney Int 64:801–807

17.

Nistal M, Paniagua R, Picazo ML (1983) Testicular and epididymal involvement in Fabry's disease. J Pathol 141:113–124

18.

Puccio D, Coppola G, Corrado E, Muratori I, Pistone G, Buongiorno MR, Arico M, Novo S (2005) Non invasive evaluation of endothelial function in patients with Anderson–Fabry disease. Int Angiol 24:295–299

19.

Rolfs A, Bottcher T, Zschiesche M, Morris P, Winchester B, Bauer P, Walter U, Mix E, Lohr M, Harzer K, Strauss U, Pahnke J, Grossmann A, Benecke R (2005) Prevalence of Fabry disease in patients with cryptogenic stroke: a prospective study. Lancet 366:1794–1796

20.

Spada M, Pagliardini S, Yasuda M, Tukel T, Thiagarajan G, Sakuraba H, Ponzone A, Desnick RJ (2006) High incidence of later-onset Fabry disease revealed by newborn screening. Am J Hum Genet 79:31–40

21.

Schiffmann R, Rapkiewicz A, Abu-Asab M, Ries M, Askari H, Tsokos M, Quezado M (2006) Pathological findings in a patient with Fabry disease who died after 2.5 years of enzyme replacement. Virchows Arch 448:337–343

22.

Schiffmann R (2006) The significance of lysosomal inclusions in Fabry disease. Virchows Arch 449:134

23.

Suzuki K (1987) Enzymatic diagnosis of sphingolipidoses. Methods Enzymol 138:727–762

24.

Sweeley CC, Klionsky B (1963) Fabry's disease: classification as a sphingolipidosis and partial characterization of a novel glycolipid. J Biol Chem 238:3148–3150

25.

Tabira T, Goto I, Kuroiwa Y, Kikuchi M (1974) Neuropathological and biochemical studies in Fabry's disease. Acta Neuropathol (Berl) 30:345–354

26.

Tsukada N, Hanu N, Oguchi K, Yanagisawa N, Tsukagoshi H, Hattori H (1980) [Fabry's disease with malocclusion and acromegalic-appearance: clinical and electronmicroscopic studies (author's transl)]. No To Shinkei 32:311–319
Acknowledgement
The authors would like to acknowledge the technical assistance of T. Nagai and K. Fujita with the electron microscopic studies, T. Kohno, M. Furihata, K. Nagawatari, A. Furusawa, and T. Oyama for their assistance with the immunohistochemical and conventional histologic studies, and the valuable discussions and help offered by Dr. J. Shiraishi.
About this article
Cite this article
Takao, M., Mori, T., Orikasa, H. et al. Postmortem diagnosis of Fabry disease with acromegaly and a unique vasculopathy. Virchows Arch 451, 721–727 (2007). https://doi.org/10.1007/s00428-007-0456-x
Received:

Revised:

Accepted:

Published:

Issue Date:
Keywords
Fabry disease

Pituitary

Growth hormone

Microcirculation

Ceramide trihexoside