Abstract
OLIG2 is a basic helix–loop–helix transcription factor regulating the generation of oligodendrocytes from neural progenitor cells, and the function of OLIG2 is inhibited posttranslationally through the interaction with ID2. This study aims to examine if the analysis of OLIG2 and ID2 expression in glioma tissues helps the differential diagnosis of chemosensitive oligodendroglial tumors from astrocytic tumors. Expression levels of OLIG2 and ID2 in 11 oligodendroglial and 27 astrocytic tumors were analyzed by reverse transcription-polymerase chain reaction (RT-PCR), real-time quantitative PCR, and immunohistochemistry. The mean expression level of OLIG2 was higher in oligodendroglial tumors than astrocytic tumors, but some astrocytic tumors showed high OLIG2 expression, indicating that OLIG2 cannot be an independent marker of oligodendroglial tumors. No significant difference was observed between ID2 expression in oligodendroglial tumors and astrocytic tumors. It was notable that OLIG2 expression was predominant over ID2 expression in oligodendroglial tumors, while ID2 expression was predominant over OLIG2 expression in astrocytic tumors. Comparative genomic hybridization revealed that gliomas with loss on chromosome 1p, which is closely associated with chemosensitivity, also showed the predominant expression of OLIG2 over ID2. These results indicate that the immunohistochemical study on the relative expression level of OLIG2 to ID2 can be a useful screening for oligodendroglial tumors.
This is a preview of subscription content, log in to check access.
Access options
Buy single article
Instant access to the full article PDF.
US$ 39.95
Price includes VAT for USA
Subscribe to journal
Immediate online access to all issues from 2019. Subscription will auto renew annually.
US$ 199
This is the net price. Taxes to be calculated in checkout.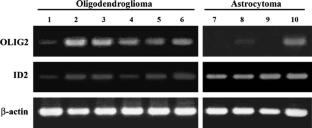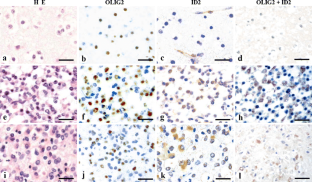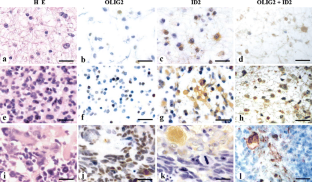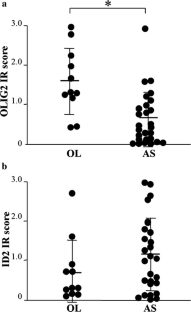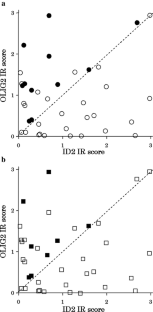 References
1.

Benezra R, Davis RL, Lockshon D, Turner DL, Weintraub H (1990) The protein Id: a negative regulator of helix–loop–helix DNA binding proteins. Cell 61:49–59

2.

Bouvier C, Bartoli C, Aguirre-Cruz L, Virard I, Colin C, Fernandez C, Gouvernet J, Figarella-Branger D (2003) Shared oligodendrocyte lineage gene expression in gliomas and oligodendrocyte progenitor cells. J Neurosurg 99:344–350

3.

Burton EC, Prados MD (2000) Malignant gliomas. Curr Treat Options Oncol 1:459–468

4.

Cairncross JG, Ueki K, Zlatescu MC, Lisle DK, Finkelstein DM, Hammond RR, Silver JS, Stark PC, Macdonald DR, Ino Y, Ramsay DA, Louis DN (1998) Specific genetic predictors of chemotherapeutic response and survival in patients with anaplastic oligodendrogliomas. J Natl Cancer Inst 90:1473–1479

5.

Coons SW, Johnson PC, Scheithauer BW, Yates AJ, Pearl DK (1997) Improving diagnostic accuracy and interobserver concordance in the classification and grading of primary gliomas. Cancer 79:1381–1393

6.

Fortin D, Cairncross GJ, Hammond RR (1999) Oligodendroglioma: an appraisal of recent data pertaining to diagnosis and treatment. Neurosurgery 45:1279–1291

7.

Hirose Y, Aldape K, Takahashi M, Berger MS, Feuerstein BG (2001) Tissue microdissection and degenerate oligonucleotide primed-polymerase chain reaction (DOP-PCR) is an effective method to analyze genetic aberrations in invasive tumors. J Mol Diagnostics 3:62–67

8.

Hirose Y, Aldape KD, Chang S, Lamborn K, Berger MS, Feuerstein BG (2003) Grade II astrocytomas are subgrouped by chromosome aberrations. Cancer Genet Cytogenet 142:1–7

9.

Kleihues P, Burger P, Collins V, Newcomb E, Ohgaki H, Cavenee W (2000) World Health Organization Classification of Tumours of the Central Nervous System. International Agency for Research on Cancer (IARC)/World Health Organization (WHO)

10.

Lu QR, Park JK, Noll E, Chan JA, Alberta J, Yuk D, Alzamora MG, Louis DN, Stiles CD, Rowitch DH, Black PM (2001) Oligodendrocyte lineage genes (OLIG) as molecular markers for human glial brain tumors. Proc Natl Acad Sci U S A 98:10851–10856

11.

Lu QR, Yuk D, Alberta JA, Zhu Z, Pawlitzky I, Chan J, McMahon AP, Stiles CD, Rowitch DH (2000) Sonic hedgehog-regulated oligodendrocyte lineage genes encoding bHLH proteins in the mammalian central nervous system. Neuron 25:317–329

12.

Mason WP (2005) Oligodendroglioma. Curr Treat Options Neurol 7:305–314

13.

Mitsui Y, Mochizuki S, Kodama T, Shimoda M, Ohtsuka T, Shiomi T, Chijiiwa M, Ikeda T, Kitajima M, Okada Y (2006) ADAM28 is overexpressed in human breast carcinomas: implications for carcinoma cell proliferation through cleavage of insulin-like growth factor binding protein-3. Cancer Res 66:9913–9920

14.

Mokhtari K, Paris S, Aguirre-Cruz L, Privat N, Criniere E, Marie Y, Hauw JJ, Kujas M, Rowitch D, Hoang-Xuan K, Delattre JY, Sanson M (2005) Olig2 expression, GFAP, p53 and 1p loss analysis contribute to glioma subclassification. Neuropathol Appl Neurobiol 31:62–69

15.

Oh S, Huang X, Chiang C (2005) Specific requirements of sonic hedgehog signaling during oligodendrocyte development. Dev Dyn 234:489–496

16.

Ohnishi A, Sawa H, Tsuda M, Sawamura Y, Itoh T, Iwasaki Y, Nagashima K (2003) Expression of the oligodendroglial lineage-associated markers Olig1 and Olig2 in different types of human gliomas. J Neuropathol Exp Neurol 62:1052–1059

17.

Ruzinova MB, Benezra R (2003) Id proteins in development, cell cycle and cancer. Trends Cell Biol 13:410–418

18.

Samanta J, Kessler JA (2004) Interactions between ID and OLIG proteins mediate the inhibitory effects of BMP4 on oligodendroglial differentiation. Development 131:4131–4142

19.

See SJ, Gilbert MR (2004) Anaplastic astrocytoma: diagnosis, prognosis, and management. Semin Oncol 31:618–634

20.

Stege EM, Kros JM, de Bruin HG, Enting RH, van Heuvel I, Looijenga LH, van der Rijt CD, Smitt PA, van den Bent MJ (2005) Successful treatment of low-grade oligodendroglial tumors with a chemotherapy regimen of procarbazine, lomustine, and vincristine. Cancer 103:802–809

21.

Vandeputte DA, Troost D, Leenstra S, Ijlst-Keizers H, Ramkema M, Bosch DA, Baas F, Das NK, Aronica E (2002) Expression and distribution of id helix–loop–helix proteins in human astrocytic tumors. Glia 38:329–338

22.

Wang S, Sdrulla A, Johnson JE, Yokota Y, Barres BA (2001) A role for the helix–loop–helix protein Id2 in the control of oligodendrocyte development. Neuron 29:603–614

23.

Yokoo H, Nobusawa S, Takebayashi H, Ikenaka K, Isoda K, Kamiya M, Sasaki A, Hirato J, Nakazato Y (2004) Anti-human Olig2 antibody as a useful immunohistochemical marker of normal oligodendrocytes and gliomas. Am J Pathol 164:1717–1725

24.

Zhou Q, Wang S, Anderson DJ (2000) Identification of a novel family of oligodendrocyte lineage-specific basic helix–loop–helix transcription factors. Neuron 25:331–343
Acknowledgements
We thank Mr. Hitoshi Abe, Department of Pathology, School of Medicine, Keio University, for the excellent technical assistance.
This study was supported in part by the Grant-in-Aid for Young Scientists (B), from the Ministry of Education, Culture, Sports, Science and Technology of Japan (no. 16790216).
About this article
Cite this article
Mikami, S., Hirose, Y., Yoshida, K. et al. Predominant expression of OLIG2 over ID2 in oligodendroglial tumors. Virchows Arch 450, 575–584 (2007). https://doi.org/10.1007/s00428-007-0394-7
Received:

Revised:

Accepted:

Published:

Issue Date:
Keywords
OLIG2

ID2

Oligodendroglioma

CGH

1p