Abstract
We describe a phyllodes tumor of borderline malignancy in the labium majus of a 49-year-old woman. The histogenetic origin of phyllodes tumors in the vulva is controversial. Strong immunoreactivity for NY-BR-1, a novel breast differentiation antigen, was demonstrated within the epithelial components of the phyllodes tumor. A similar expression pattern was observed in mammary-like glands of the vulva. These findings provide further evidence that phyllodes tumors of the vulva might derive from mammary-like glands in the labium majus or from ectopic breast tissue.
This is a preview of subscription content, log in to check access.
Access options
Buy single article
Instant access to the full article PDF.
US$ 39.95
Price includes VAT for USA
Subscribe to journal
Immediate online access to all issues from 2019. Subscription will auto renew annually.
US$ 199
This is the net price. Taxes to be calculated in checkout.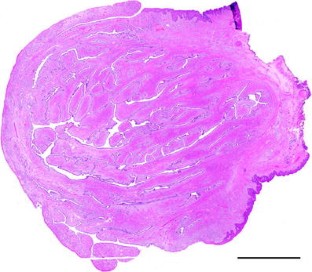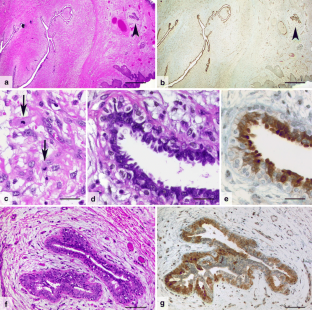 References
1.

Baisre A, Heller DS, Lee J, Zheng P (2002) Fibroadenoma of the vulva. A report of two cases. J Reprod Med 47(11):949–951

2.

Baykal C, Tulunay G, Usubutun A, Kucukali T, Ozer S, Demir OF (2004) Fibrocystic disease of vulvar ectopic breast tissue. Case report and review of the literature. Gynecol Obstet Investig 58(3):151–154

3.

Boscaino A, Sapere P, De Rosa GD (1996) Fibroadenoma of the vulva. Report of a case. Pathologica 88(5):444–446

4.

Chulia MT, Paya A, Niveiro M, Ceballos S, Aranda FI (2001) Phyllodes tumor in ectopic breast tissue of the vulva. Int J Surg Pathol 9(1):81–83

5.

Degrell I (1979) Fibroadenoma in an accessory breast. A case of polythelia and fibroadenoma in the left breast region and a perivulvar accessory breast. Fortschr Med 97(29):1269–1270 [in German]

6.

Erb-Gremillet S, Gunther M, Amiaux F, Parache RM (1999) Breast-like carcinoma of the vulva. Ann Pathol 19(2):124–127 [in French]

7.

Fiks A (1981) Cystosarcoma phyllodes of the mammary gland—Müller's tumor. For the 180th birthday of Johannes Müller. Virchows Arch A Pathol Anat Histopathol 392(1):1–6

8.

Foushee JH, Pruitt AB Jr (1967) Vulvar fibroadenoma from aberrant breast tissue. Report of 2 cases. Obstet Gynecol 29(6):819–823

9.

Grossl NA (2000) Supernumerary breast tissue: historical perspectives and clinical features. South Med J 93(1):29–32

10.

Jager D, Stockert E, Gure AO, Scanlan MJ, Karbach J, Jager E, Knuth A, Old LJ, Chen YT (2001) Identification of a tissue-specific putative transcription factor in breast tissue by serological screening of a breast cancer library. Cancer Res 61(5):2055–2061

11.

Jager D, Unkelbach M, Frei C, Bert F, Scanlan MJ, Jager E, Old LJ, Chen YT, Knuth A (2002) Identification of tumor-restricted antigens NY-BR-1, SCP-1, and a new cancer/testis-like antigen NW-BR-3 by serological screening of a testicular library with breast cancer serum. Cancer Immun 2:5

12.

Jager D, Taverna C, Zippelius A, Knuth A (2004) Identification of tumor antigens as potential target antigens for immunotherapy by serological expression cloning. Cancer Immunol Immunother 53(3):144–147

13.

Kazakov DV, Bisceglia M, Mukensnabl P, Michal M (2005) Pseudoangiomatous stromal hyperplasia in lesions involving anogenital mammary-like glands. Am J Surg Pathol 29(9):1243–1246

14.

Mariappan MR, Lagera JE, Fadare O, Sibley RK (2006) A 69-year-old woman with a vulvar lesion. Phyllodes tumor of the vulva. Arch Pathol Lab Med 130(1):e11–e12

15.

Marshall MB, Moynihan JJ, Frost A, Evans SR (1994) Ectopic breast cancer: case report and literature review. Surg Oncol 3(5):295–304

16.

Prasad KR, Kumari GS, Aruna CA, Durga K, Kameswari VR (1995) Fibroadenoma of ectopic breast tissue in the vulva. A case report. Acta Cytol 39(4):791–792

17.

Tbakhi A, Cowan DF, Kumar D, Kyle D (1993) Recurring phyllodes tumor in aberrant breast tissue of the vulva. Am J Surg Pathol 17(9):946–950

18.

Tresserra F, Grases PJ, Izquierdo M, Cararach M, Fernandez-Cid A (1998) Fibroadenoma phyllodes arising in vulvar supernumerary breast tissue: report of two cases. Int J Gynecol Pathol 17(2):171–173

19.

van der Putte SC (1991) Anogenital "sweat" glands. Histology and pathology of a gland that may mimic mammary glands. Am J Dermatopathol 13(6):557–567

20.

van der Putte SC (1994) Mammary-like glands of the vulva and their disorders. Int J Gynecol Pathol 13(2):150–160

21.

Varga Z, Theurillat JP, Filonenko V, Sasse B, Odermatt B, Jungbluth AA, Chen YT, Old LJ, Knuth A, Jager D, Moch H (2006) Preferential nuclear and cytoplasmic NY-BR-1 protein expression in primary breast cancer and lymph node metastases. Clin Cancer Res 12(9):2745–2751
About this article
Cite this article
Giger, O.T., Lacoste, E., Honegger, C. et al. Expression of the breast differentiation antigen NY-BR-1 in a phyllodes tumor of the vulva. Virchows Arch 450, 471–474 (2007). https://doi.org/10.1007/s00428-007-0377-8
Received:

Accepted:

Published:

Issue Date:
Keywords
Vulva

Phyllodes tumor

NY-BR-1

Mammary-like glands